Back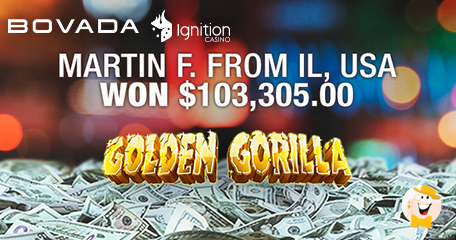 Happy days! At LCB, there's nothing we love more than when we have some joyful news to share, news that usually means someone, somewhere, has struck it big. Well, that's the beans we are about to spill...times two!
The breaking news for this week in the realm of jackpots hails from Bovada Casino, where a certain Martin F., resident of Illinois, has played his cards...ahem, slots right and pretty much turned his life around in an instant. It was on January 8th when the lucky moment occurred, whilst Martin was playing the Golden Gorilla slot game. He wagered, innocently enough, a mere $1 and ended up taking home $103,305 in cash! That's what we call an investment with a good return. Our congratulations of the fondest kind go out to Martin F.
If you haven't encountered the Golden Gorilla slot yet, it's obviously worth playing and here's why: the 5-reel slot game has three gorilla symbols, all bearing unique "powers." Gorilla #1 will pay out 50,000 coins on a max 10-coin bet, whilst gorilla #2 works as an expanding wild that will fill an entire reel. Gorilla #3 is the Golden Gorilla itself and it triggers the extra spin bonanza of up to 50 spins possible plus the Super Free Spins Mode!
Now that we've given you the run-down of the game that made one man so happy, it's time for the winning story number two. The venue: Ignition Casino. The game: Lion's Roar slot. The outcome: a $64,000 jackpot win! Amber S., hailing from sunny California, was playing this lion-themed video slot on February 6th and, identical to Bovada's Martin, only wagered $1. Little did she know that the click of a "spin" button would win her a huge random jackpot…
Animal-themed slots were harbingers of good fortune before at Ignition Casino: a Texas man once won $18,000 on Mystic Wolf while another inhabitant of California scored half a million dollars on Crazy Camel Cash.
So, there you have it, fellow LCB'ers – another cautionary tale that good things come to those who spin. Try your luck and who knows – next time, we might be doing an article on you.
"He wagered, innocently enough, a mere $1"
General Gambling News
Back to articles