Back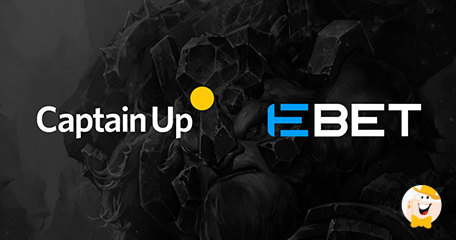 EBET, Inc, an established provider of esports wagering solutions and technology, has just unveiled an agreement sealed between its subsidiary Esports Marketing Technologies Ltd. and Captain Up. Based on the terms of the deal, Captain Up will deliver thrilling in-play challenges, rewards shops, and achievements for EBET platforms.
Captain Up is known for entertaining incentives, split according to customer behavior, that connects a reward with an action. Their offer for EBET will entice players to gather badges, accomplish trophies, advance through personalized missions, and score daily and weekly rewards.
Moreover, progressive gamification will be included in loyalty programs across EBET-powered platforms, such as free-to-play games created by Incentive Games. Both of them will work symbiotically to provide an enhanced user experience for EBET players. EBET will be looking to boost revenue, business success, and user lifetime, with added engagement and acquisition.
Commenting on the new deal, Captain Up CEO Uri Admon said:
"This is the future of gaming: personal journeys, gamified shopping, and dynamic challenges. We are proud to join forces with the EBET family to add layers of gamification and customization that are tailored to each user in real-time."
Also commenting, Michael Barden, Director of Loyalty and Retention at EBET, says that their deal with Captain Up is another key element in their mission to capitalize on the 'gamification' strategy and enhance customer retention and engagement. Captain Up is an excellent strategic partner with key technologies that enable them to create and scale a rewards system that will be well accepted by esports customers.
More About New Partners
EBET is a premium provider of award-winning wagering products for players across the world. It is focused on providing better odds and tech solutions that impress players of the new generation. EBET runs several online sportsbook and casino platforms such as Karamba, Hopa, Griffon Casino, BetTarget, Dansk777, GenerationVIP, and Gogawi. It has recently received an award for Esport Product of the Year at the 2021 SiGMA Europe and 2022 SiGMA Asia Awards while Karamba was recognized at SBC for Innovation in Casino & Gaming Entertainment. EBET is also listed on the Nasdaq exchange and many know the company under its previous name, Esports Technologies, Inc.
Captain Up, on the other hand, is known for maximizing player engagement and retention with gamification, communication tools, and mechanics across different channels. Its suite of solutions enhances overall offerings with behavioral economics and machine learning. The platform also provides real-time challenges, messages, rewards, and promos suited to match user's preferences.
Source:
"EBET, Inc. Announces Agreement with Captain Up", prnewswire.com, May 19, 2022.
"Captain Up is known for entertaining incentives"
General Gambling News
Back to articles