Back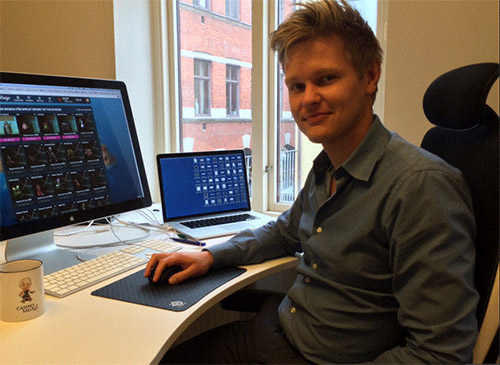 Latest Casino Bonuses was privileged enough to interview the very busy CEO, Georg Westin, about the soon to launch Casino Saga. We wanted to get to know a little bit more about this unique concept and virtual island.
LCB: You are one of the 5 creators of Casumo, another unique, popular and more social brand. Why leave to start something all over again?
Georg: Part of my decision was that we were running Casumo from two offices and when deciding to put them both together as one down in Malta, it was not the best time for me to move to Malta again. Also, it is quite fun to create new things and push things a bit further on all areas.
What sets Casino Saga apart from any other online Casino?
There are quite a few innovations in Casino Saga and I can explain a few of them.
Story & being a Casino Hero - You select to play one of the 10 avatars we have and you are sent on a journey to get back a golden crown that has been stolen by the biggest of the bosses, Betser! Your avatar gets stronger and stronger as you play and you move forward on the beautiful map by playing great casino games.
Boss games - Betser is one of 40 bosses that you need to beat at Casino Saga and you do this in games we have created our selves. In these games you don't have to bet any of your own money but can win a lot. Beating bosses unlocks games, machines and gives you XP, money and free spins.
Social features - On the map you can see the things happening in the casino saga islands. You can follow people and like things that happen in the islands.
Saga Edition Games - Each of the 40 regions in Casino Saga has its own favorite casino game, the bosses have taken them and you cannot play them until you have beaten the corresponding boss. Once you have, you have access to the Saga Edition version of these games, providing even more winnings.
Selecting a machine or table - For all the great casino games from Netent and Betsoft we have created a set of virtual "instances" so the player can if they want, make a wiser decision on which machine or table to play. When selecting a certain machine, for example of Starburst, the player can see the total payout percentage the last hour for all players for the different machines.
What was the inspiration behind this ground-breaking concept?
Whilst sitting in my home in the southern Swedish forests drawing on the story and the concept I received inspiration from social casinos, from series like Game of Thrones, video games such as Super Mario Brothers and the game design features of games like Candy Crush Saga.
Tell us a little more about Ars Thanea and Behance, the creators of the animations and design. What role did you play in the creative process?
We have a strategic cooperation with the great graphical firm Ars Thanea that is one of the main contributors to Behance. They are really great to work with, we defined the 40 different regions and corresponding themes as well as the 40 bosses and 10 casino hero avatars and they have created such amazing graphics from our ideas.
What has been the biggest challenge with creating such a unique and large project?
The biggest challenge has been that we built our own software platform from scratch, we wanted to have full control and be able to continue our innovative approach together with our players. Most casino operators choose to buy into one of the pre built platforms, this makes the time to market short but then they are not in a position to do anything unique in the product area.
There are 10 heroes in Casino Saga, which one do you most relate to?
For some reason my favorite is Wolfenheart, the knight that only shows his face once a year at the yearly Casino Saga Olympics. I also like Dragunia, the blond girl with the mini dragon:)
Do you anticipate this "saga" concept will revolutionize the online gambling industry and be the wave of the future?
Yes, I think as the social games and other video games take advantage of gamefication and game design mechanics, players in the gambling area will raise their expectations and will expect more than just another black jack game.
Other operators simply cannot compete with our level of creativity and innovation; no matter how much money they spend in marketing.
Do you feel this will revolutionize games in general that have an ongoing storyline into a new concept offering players a chance to win real money through wagering?
We have seen and heard about the plans of Zynga and other social games companies looking at the real money sector but I think they have underestimated the complexity. They will surely continue to try to get into the sector but they will need to understand the player behavior and the legal aspect of our industry before they will be very successful.
Do you think it will open new doors and target a broader audience of not only gamblers but non-gambling gamesters with this brilliant never before cash winning potential?
Yes I am quite sure of this and our beta testers not being hard core gamblers all say that when it is embedded in another context they see casino gaming as something really fun and exciting.
Will players have the freedom to choose between slot machines and table games on their journey through Casino Saga?
Yes, they player can choose most of the games before unlocking them, initially they are from Netent and Betsoft.
As a player you start off in the region of Sagaville and make your way towards the second one, Ely, where Willie the Giant is waiting to be challenged. There is a progress bar on top of each casino game, showing how far you are from the next region. You also have your "My Saga" profile page where you can see your way forward.
Once players advance and unlock games from the boss, what type of games are made available?
Each region has its own Saga Edition version of casino games and you get hold of them when beating the bosses. Also for each boss beaten, a new virtual instance of each game is unlocked so the choice gets wider as you continue.
After players have successfully unlocked games will new locked games be added to the platform?
Likely yes.
Players earn XP (experience points) as they move their way through Saga Island. What makes these XPs so valuable? What do players use them for?
The XPs are important as you are about to challenge a boss, the more you have, the more likely is it that you win and the more you have the more you can win.
Are there comp points that can be earned on wagering, if so what can they be redeemed for?
XP points are connected to the wagering and the more you have, the more you can win in the boss games.
We have seen some info that you will be launching an ad campaign in Sweden. What other markets will you be targeting?
We will take on most of Europe initially but the major add campaigns are currently to be focused on the Scandinavian markets.
Back to articles