Back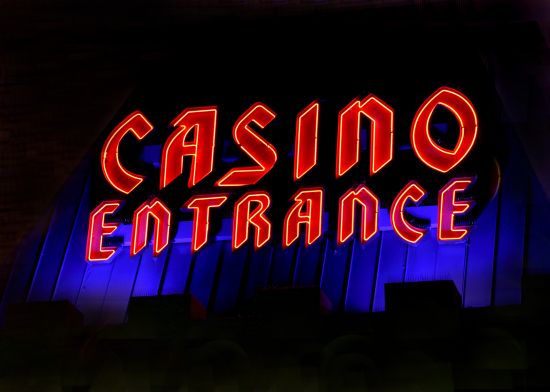 If lost in the middle of the desert, Laughlin, Nevada would be a pretty good place to be stranded. It is no malarkey here that there is beach front property on this stretch of desert. A strip of Casinos rest along the shoreline of the Colorado River. The 1,450 mile long river runs through 7 states including 2 in Mexico. The beautiful backdrop of the mountains against the dazzling Casinos lights that reflect on the water makes this gambling destination a breathtaking landscape.
Laughlin is a conveniently located vessel to other major cities including Las Vegas, Los Angeles, Ca and Phoenix, Az.
A Man with a Vision
The man behind this gambling nirvana is Donald J. Laughlin. Born May 4th, 1931 he was raised in Owatonna, Minnesota. As a youth Don worked the winter months as a fur trapper and saved his money to buy Slot machines where they were installed in hunting lodges. It soon became a booming business earning him $500 a week at the tender age of only 14. Still in school the principal not impressed with the success of the Slot machine venture gave young Don an ultimatum to give it up or get kicked out of school. Concluding he was making more than three times as much as the principal he considered his decision a no brainer and soon became an 8th grade drop out.
Several years later Don now married and a father decides to relocate to Las Vegas. To support his family he was a bartender, went to night dealers school and saved money. By the late 1950's is in the big league now after purchasing 101 Club Casino. It wasn't until 1964 he sold the club and during that year had a defining moment. In his private plane flying over California, Arizona and the Nevada tri state area he envisions a resort and gambling destination. Having a gut feeling it was an ideal spot that would attract 150,000 people within a 30 mile radius to gamble plus is part of the famous Route 66.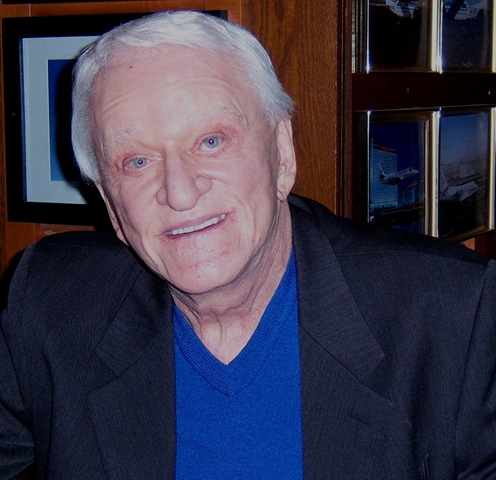 Located on the border of California this lonesome desert town known as South Pointe had some of hottest recorded temperatures in the country ranging up to 120 degrees. Close to the California border the town did provide few run down motels, bars and small casinos. Don purchased an 8 room, boarded up riverfront motel on 6 acres for $250,000.
Packing up his wife and three children in 1966 the family moves to South Pointe with big business dreams. During that time the Colorado River Commission gained a large parcel of land from the federal government increasing the city size to 2,500 acres. By 1968 a post office was needed in the area and that is when the town name changed to Laughlin after a postal worker's suggestion.
Riverside Resort Hotel & Casino
Within two years the riverfront motel was open for business with four of the 8 guest rooms available. The other 4 rooms were occupied by the Laughlin family. Gaming consisted of twelve Slot machines and two table games.
A massive transformation is underway in 1972 and the property is now named the Riverside Resort Hotel & Casino with 48 guest rooms and an additional 52 in 1975. Today there are two towers with 1,400 guest room, bowling alley, car museum and Movie Theater on 92 acres.
Don Laughlin has a penthouse suite on the top floor of the casino and split his time on his ranch at Owatonna. At 83 years old he is still going strong and can often be seen strolling the casino floor and chatting with visitors. Next time you visit check out the overhead door on the side of the resort. This is Don's personal garage and has been known to drive his white Rolls Royce in.
Guide to Visiting Laughlin
If you are going to plan a trip to Laughlin it is important to know there is no commercial flights available. The only way you're going to get there is through a charter flight. Riverside Resort does have hotel and flight packages as well as other casinos like Harrah's Laughlin.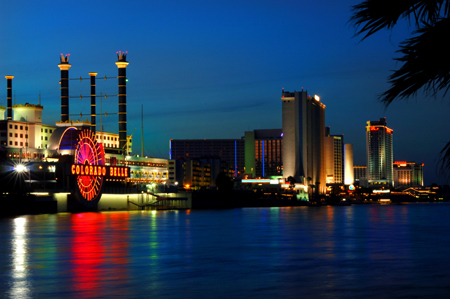 There are currently several Casinos on the Colorado River besides Riverside including Aquarius (formerly the Flamingo), Edgewater, Golden Nugget, Colorado Belle, Pioneer and Harrah's Laughlin. A walkway along the river is available to go from one casino to the next. For a small fee a water taxi will transport visitors and arrives every 15 minutes or so. Across the street is away from the river is Tropicana Express Casino.
Rent a car directly at the Laughlin Airport that is located just minutes from the strip. Visit other major cities during your stay that are a short distance away including Los Angeles, Phoenix, San Diego and Las Vegas. Shuttle bus service is available to and from Las Vegas which is only a 1.5 hour drive. An outlet mall featuring designer stores like Coach is directly across the street from the strip.
The best time of year to visit is in the spring with temperatures from the 80's to 90's. During the summer months temps reach over a scorching 100 degrees. For those who want to cool off at the beach the only casino on the strip to offer it is Harrah's.
Don Laughlin is an entrepreneur that built a mega gambling destination. His net worth is reported at $1 billion. Despite his tremendous wealth and genius business sense he hasn't let it go to his head building a reputation of a down to earth man. He remains very active and involved in the day to day operations.
Resource:
Los Angeles Times, Eric Goodman.
Celebrity Networth
Back to articles