Back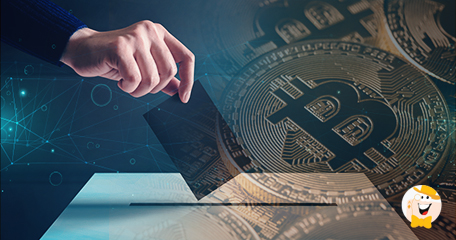 Blockchain is being rapidly accepted by enterprise business worldwide compounded by imminent Bitcoin scalability. China considers a nationwide ban on cryptocurrency mining. The U.S. Federal Election Commission allows residents to donate political campaigns by virtual money. The 2020 presidential elections will be the first in the post-PASPA era.
Is there a connection between these four seemingly separate storylines? If so, can gamblers and sports bettors benefit from it?
Here is the hypothesis.
The improvements in blockchain processing capacities and eventual increase of Bitcoin block size substantiate profitability and credibility of cryptocurrency resulting in implementation by Fortune 500 companies.
Crypto miners in China may have to pivot their operations elsewhere, not necessarily in a hurry but eventually, due to potential ban hanging in the balance. They might be open for new business ventures providing for a smooth transition, while at the same time being attractive to third parties pursuing means to achieve their ends. The situation might be considered as an opportunity — specialized equipment, mining more in the same timeframe, delivering increased yield, rate, and availability. By definition, those are attributes of potential.
The 2020 United States presidential elections could be the most important in the history of the nation. To have an option to finance efforts in an impending electoral confrontation by anonymous, unlimited, and legal cryptocurrency donations might be one of the decisive factors. Available to all parties involved.
To any entity with high cryptocurrency production capacities, elections may be the break; to presidential candidates, such possibility might be part of the solution.
Finally, three torrents converge in the bet on the next POTUS. Not only a political bet, serving a variety of establishment goals, but good old fashion money bet with odds, side bets, and whole nine yards of sports betting folklore.
Someone, in the right place at the right time, could benefit immensely from these four developments, in much, much more than one way.
Is all of this a bitcoincidental (a.k.a. bit coincidental)? Is there a valid betting opportunity here? Is anyone gambling on the scale beyond recognition? Or, perhaps, it's just a way too much coffee in yours truly and vivid imagination?
(It is just a coffee, you teasing, double entendre yet brilliant, entertaining, educative, and funny LCB Twitch Stream minds.)
For any hypothesis — as a proposed explanation for a phenomenon — to become relevant, it needs to be further tested and researched before an educated guess or thought is deemed worthy.
The future will provide the test. We intend to do the research.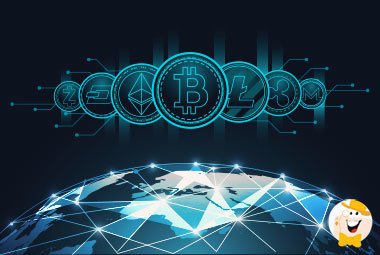 Corporate Cryptocurrency
Just as 2018 turned out to be a seminal year for the U.S. gambling, 2019 might prove to be evolutionary in cryptocurrency formation.
More than fifty companies around the world, each valued with minimum revenues of $1 billion, are adopting blockchain. We're talking about the virtual currency being deployed in enterprise businesses and corporate banks.
Amazon, Allianz, BNP Paribas, Citigroup, Comcast, Facebook, Google, HTC, IBM, Intel, JPMorgan Chase, Maersk, Mastercard, Microsoft, Nasdaq, Nestle, Oracle, Samsung, Ripple, Santander, SAP, Siemens, UBS, Visa, Walmart.
The IMF Spring Meetings conference, held in Washington D.C. on April 12-14, 2019, is perhaps the most telling. Christine Lagarde, the IMF managing director, is on the record:
"You have incumbents, the banks, commercial banks, and you have the disrupters. And clearly, the disrupters are having an impact on the incumbents. We've just heard a very large, systemic bank saying that they're launching their digital coin, currently piloted, in a way, within institutional clients but to be scaled beyond that… The voice that we heard, which was I thought really interesting, were those of regulators and central bank governors who said 'well, yes, this is good and this is helpful and it is changing the business model of commercial banks'. But we have to be mindful of two things: trust and stability of the system."
The voice heard on the panel hosted by Lagarde belongs to representatives of European Central Bank, Circle, Central Bank of Kenya, and JPMorgan Chase.
Corporate banks and enterprise institutions deploying blockchain in economic transactions is a monumental breakthrough. The endorsement of the IMF managing director is one step beyond that.
Notwithstanding any other segments of this story, the outcome is great news for iGamers. They will be able to enjoy virtual casinos that accept Bitcoin knowing that cryptocurrencies are here to stay and scale while being accepted by major players in various vertical industries.
The rest is just the granulation.
On the other hand, regardless of the major stir in the virtual currencies market in 2018, caused by Bitcoin hard fork in November, this cryptocurrency remains the number one in the world. In April 2019, Bitcoin broke $5,000 for the first time since last year.
Perhaps all of this might explain why Bitcoin massive scaling ranks so high on the agenda of Calvin Ayre and his conference in Toronto next month.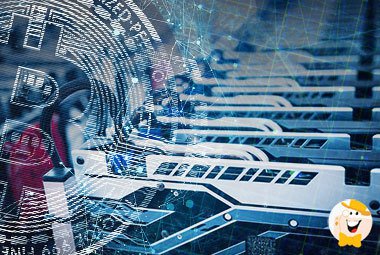 Equipment Surplus
Then, there are the latest developments in China, a country holding 70% of the world's crypto mining capacity due to an abundant hydroelectric power that makes kilowatt price among the cheapest in the world.
The National Development and Reform Commission seek "public opinions on a revised list of industries it wants to encourage, restrict or eliminate". Cryptocurrency mining ended up on a list of businesses that "should be phased out as they did not adhere to relevant laws and regulations, were unsafe, wasted resources or polluted the environment".
The public can comment on the draft until May 7, 2019.
A number of reasons may be at play here. Easy manipulation, lack of control, security risks, government's own cryptocurrency introduction that could lead to instant monopoly, country's need to address its environmental degradation (China is the world reforestation leader), and anything in between.
The potential ban could force a number of powerful crypto miners to pivot their operations across the globe. Consequentially, there are few Chinese mining facilities to be opened in Tennessee, Washington, and Texas.
Even without any special and beneficial treatment to host sudden crypto-nomads, such development could paint a different industry picture.
A number of companies planned surge in their crypto investments in China counting on cheap hydroelectric power during the rainy season. The procured equipment is far more profitable for mining than to sell as inventory. The void will need to be filled.
The key challenge is electricity cost: it is way higher worldwide than in China.
But corporate business could find a way — it always does, like the water — to welcome potential equipment capacities in a cost-beneficial way.
For instance, according to Renewables Readiness Assessment by International Renewable Energy Agency, Antigua and Barbuda possess "abundant renewable energy resources, including considerable solar, wind, ocean, and biomass potential". Same goes for the whole Caribbean region and a number of countries in the world.
Could such resources have something to add to this discussion?
For, used in support of far larger, much different, and more lucrative agenda, the cost-effectiveness can be interpreted differently.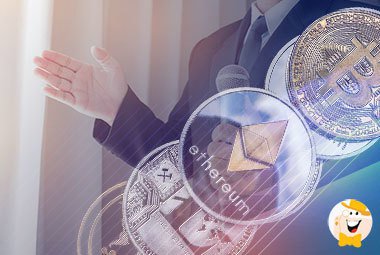 Crypto Support of Political Candidates
In November 2018, the United States Federal Election Commission — the official body charged with conducting elections in the country — issued an advisory opinion allowing citizens to financially support their favorite candidates in cryptocurrency.
Voters can provide their computers (or any device connected to the internet) for crypto mining activities. Whatever is mined through pooled resources will be converted to USD and sent to the candidate of voters' choice.
Contrary to individual contributions limits of $2700 in accordance with the U.S. laws, there are no restrictions in place for crypto mining donations at the time — residents can throw in as much as they want.
Legitimate bitcoin contributions are not a new thing in the American political arena.
Back in 2015, Senator Rand Paul (R, KY) was the first presidential candidate to accept crypto donation ever. In the 2017/18 election cycle, nine federal candidates received close to $570,000 in cryptocurrency.
In this cycle, however, all contributions will be processed by one company — OsiaNetwork LLC, based in Delaware.
The legal back and forth regarding the exact terminology of voters' engagement — whether it's a contribution or volunteering, which, of course, is not only the question of terminology — is still on, but basically…
"OsiaNetwork will allocate the mining rewards it receives among its clients proportionately to the number of hashes that each committee's volunteers generate in order to solve the block that generates the mining reward. […] OsiaNetwork will then subtract its processing fee and transfer to each political committee funds in the United States currency equivalent to the cryptocurrency value allocated to that committee."
At the moment, the digital footprint of OsiaNetwork is close to the hairline: a couple of hashtags, static page website, and scarce company info in Delaware register.
It's one thing to have cryptocurrency donations and the U.S. presidential elections in the same sentence.
It may be a completely different beast when spiced up with processing company, corporate endorsement of cryptocurrency, Bitcoin scaling, potentially huge availability of mining equipment, and limitless anonymous donations.
Particularly in light of impact 2020 presidential elections may have.
The country will be deciding on a number of questions and directions in terms of economy, relations between executive, legislative, and judicial branches, the global geopolitical disposition, national unity, questions of immigration, gender equality, and climate change — to name only a few.
But in their essence, the next presidential elections will be a nationwide referendum on the single question — are you for Donald Trump or not?
While this may not be the best possible setup to elect the president, the 2020 race might require a brand new perspective on the term financial resources for any candidate with the ultimate prize in sight.
The bar is set way much higher than ever before. The incumbent will not be underestimated again. And last three years provide for a myriad of inspirations for all challengers.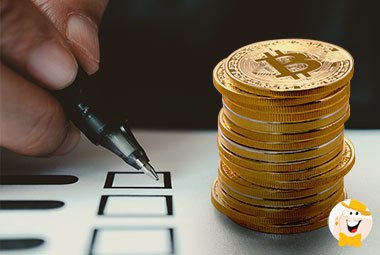 Election Betting Odds
Regardless of affiliations, all interested parties can donate as much as they want, incognito, in a virtual currency that is about to be scaled. Specialized equipment to dig endlessly might be at disposal, though even without, those resources can be procured. Big corporate guys are in the picture in so many ways. Calvin Ayre is an Economic Envoy of Antigua and Barbuda.
The playing table? Most powerful office in the world.
Is this, perhaps, such far larger, much different and more lucrative agenda to interpret crypto mining cost-effectiveness differently?
If that is the case, what does it mean in terms of sports betting in the post-PASPA era? Can the bettors benefit and if so, how?
It all depends on the way you define the term bettors. There are two prongs emerging at this point.
For the first prong — that's us, regular gambling Joes making a simple sports bets with odds potentially stimulated by personal crypto mining activities — things look adventurous.
If you were to bet in April 2019, at Bovada, on $100 stake you'd get $300 if Bernie Sanders wins.
On the same wager Kamala Harris would pay $350, Joe Biden $400, Beto O'Rourke $450, Andrew Yang $900, Amy Klobuchar $1000, Pete Buttigieg $1400, Elizabeth Warren and Corry Booker $1800, Kirsten Gillibrand $2000, Oprah Winfrey $3300, believe it or not Michelle Obama $3000, and good old fashion Hillary Clinton $5000.
The same bet on the Republican Party nominee would pay $120.
At Intertops you'd get almost a double with the same stake.
Thus, if you're into betting, stay up to date and do due diligence. Also, avoid predatory casinos already on the hunt with crazy offers.
Odds will significantly change once the real campaigns begin and will be shaped in accordance with candidates' advertising, rallies, social networks feed, and propaganda, in conjunction with drop-outs endorsements.
This time, though, funds to fuel candidates marketing budgets might be unrestrained through cryptocurrency mining donations.
In such a scenario, one betting devotee with a well-educated and thought out guess could earn nice money.
However…
The second betting prong is much more serious, at least in this literary exploration.
It is reserved for bettors investing a huge amount of money both on bets and side bets while influencing odds through heavy involvement in crypto mining, not to mention making donations to candidates supportive of their own agenda.
If you think this is overkill, please remember that such side bets were common among major banks in a year leading to the financial crisis in 2008, so we're not talking about anything that has not happened before.
If you have an entity with means to anonymously contribute millions of dollars to candidates in cryptocurrency, it's difficult to envision them not doing so. If there's a possibility to earn extra money in betting while doing so, the best just got better.
The Outcome and Rewards
All in all, bit too many coincidences building up, way too much connectable dots popping up on the radar, or simply overclocked imagination?
Just the food for your thoughts.
See, we're in the business of bringing more value to players — not in investigative or speculative journalism. We're not evaluating nor guesstimating how things will happen or who may benefit, although so much may come to mind.
Instead, we want to keep all options, including hypothetical variables, open for gamblers and sports bettors before they deploy. Two key words here are: be informed.
One thing is for sure. There is the ultimate bet to be made in the 2020 presidential elections in the United States. The bet is…
The outcome shall be only based on the will of the American people and shall reflect the unhindered opinion of the majority in the greatest country in the world. (Never again should this political race be part of any report except the one that cherishes democracy.)
Therefore, we hope that any potentially shady elements of this literary expedition and starting hypothesis will be proven wrong and will fail the test of reality. With such an outcome, regardless of the next POTUS, we'd consider we've won!
For here and now, we bet on inherent good in every human being and the right of personal choice.
If by some chance we lose, at least we'll know we gave our best in laying out thoughts in a benevolent way while trying to provide more for all players in any game of life around the world.
"to presidential candidates, such possibility might be part of the solution"
Back to articles