Back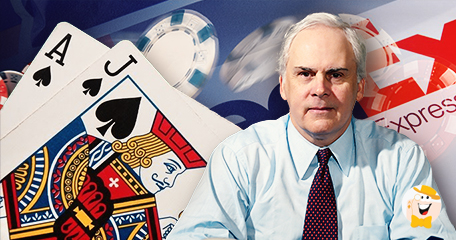 The CEO was sitting in the lounge at Chicago airport, waiting for a flight home, at his wits' end.
Two years ago, the company he founded have carried the first load of 186 packages nationwide; the fleet of 14 Falcon jets took off at Memphis, Tennessee, and flew to 25 cities in the United States, from Rochester, New York, to Miami, Florida. Being an overnight success, the initial volume rapidly picked up and service expanded.
Nonetheless, the endeavor immediately ran into financial troubles. Lacking venture capital and bleeding money, operational costs and rapidly inflating fuel prices were threatening to ground the aircraft and cause the business to a standstill, making bankruptcy not a far-fetched possibility at all.
It was Friday; the man just got turned down by General Dynamics for the crucial loan needed to keep his business and 389 employees afloat. He mentally reassessed the invoice in his bag, a $24,000 jet fuel bill, due Monday, and again visualized the amount on the bank account — the company had only $5,000.
Desperate times dictate desperate measures. Desperate measures require extraordinary people. Extraordinary people deserve outstanding opportunities.
Instead of heading for Memphis, the CEO hopped a flight to Las Vegas. He took all the money from account and went straight to the Strip to play blackjack.
He won big, $27,000 — enough to pay the fuel bill and keep his operations running for another week.
On Monday, Roger Frock — his General Manager, COO, and founding partner — noticed $32,000 in the bank account.
Astonished by the explanation, he asked, "You mean you took our last $5,000 — how could you do that?" The CEO shrugged his shoulders and replied, "What difference does it make? Without the funds for the fuel companies, we couldn't have flown anyway."
Shortly afterward…
Frederick Wallace Smith, the founder, chairman, and CEO of FedEx was able to raise another $11 million and the company rode out of this threatening patch.
Today, the behemoth carrier market cap is $41.60 billion and it operates the largest cargo air fleet in the world, with more than 650 aircraft. Close to 60,000 surface vehicles deliver an average of 6 million packages daily and the company employs 375,000 people worldwide. Fred Wallace's net worth is $5.4 billion.
But, back in April 1973, it all came down to skills and luck at blackjack tables.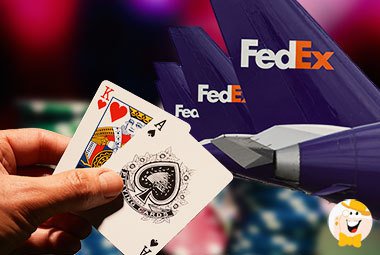 Full-time Visionary Piloting Flight 21
Indeed, the history of FedEx is the extraordinary story "full of cliffhangers, the dramatic last-minute saves, and turnarounds the company engineered from its inception to the present," as Frock vividly describes in his book Changing How the World Does Business: Fedex's Incredible Journey to Success – The Inside Story.
Moreover, it is a remarkable testimonial to the dedication and contribution of the people involved.
Pilots used personal credit cards to fuel planes. The driver hocked his watch to fill a delivery van with gas. Employees held their paychecks while the company waited for the next wave of financing.
Wrestling with operational crises, dwindling financial resources, unforeseen emergencies like the Arab oil embargo, legal predicaments, and regulatory roadblocks, impassionate employees built this pioneer startup into one of the greatest success stories ever, showcasing again that "it is the people within any enterprise and their interactions that ultimately produce excellence or mediocrity."
Standing on its own, in the entirely separate category of the most memorable episodes in the history of FedEx, is Las Vegas casinos visit during which the founder "literally gambled the company's last remaining funds to keep the planes flying."
To deliver such a feat, one has to be quite a character.
Frederick Wallace Smith certainly fills the bill — a graduate of Yale University, a former Marine officer, decorated Vietnam vet, an amateur pilot since his teen years, a highly articulate and very intelligent individual with a tenacious drive and brilliant leadership traits, a logistics visionary who revolutionized flight courier service and navigated its daunting voyage to business stardom.
The concept behind FedEx is the outcome of his long-time belief in the automation of society and the vertical integration — the idea he submitted in an economics term paper, elaborating on the need for reliable overnight delivery in a computerized age, in the mid-1960s. He got a grade of C, accompanied the professor's note: "The concept is interesting and well-formed, but in order to earn better than a 'C', the idea must be feasible."
Believing otherwise, Smith invested in FedEx $4 million he'd inherited from father and raised $80 million in loans and equity investments. His vision was spot-on…
But the company had lost close to $13.4 million in its first two years, 1971-1973. Even a year after blackjack intervention, FedEx was losing more than a million a month; first profit was scored in 1976.
Failure, however, was not an option.
"I was very committed to the people that had signed on with me, and if we were going to go down, we were going to go down with a fight. It wasn't going to be because I checked out and didn't finish."
With such a fighting spirit, courage, and determination, he didn't opt for blackjack by chance.
To the contrary, selecting the most popular table game in Las Vegas casinos with a simple rules was a well-educated choice.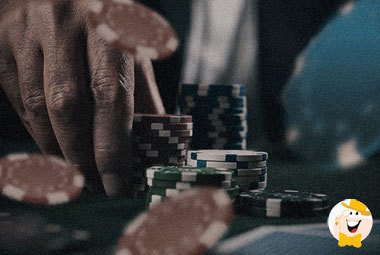 House Don't Always Have to Win
To be able to do it in the first place, though, Smith owes gratitude to Miguel de Cervantes and his short story Rinconete y Cortadillo, published in 1613, where he wrote about ventuina (twenty-one in Spanish).
It is the first written record of blackjack and the beginning of its history.
The game further evolved in French casinos around 1700. Called Vingt-en-Un (twenty-one in French), it was a favorite pastime of Napoleon. Spread to North America by the French colonists, it quickly gained popularity across the continent in the 20th century.
Among many attributes of blackjack, one thing that contributed to its wide acceptance is the low house edge.
When it comes to odds at table games, only craps can match 21. In both, it is fairly easy to get the house edge well under 1% and, depending on rules, often under 0.5% when proper strategy is employed.
At the time of Fred's visit to Las Vegas, the notion was nothing new.
Ever since the three privates and a sergeant of the U.S. Army — all of them with master's degrees — got intrigued to discover the optimal gaming strategy while playing blackjack in their spare time at the oldest active proving ground at Aberdeen, Maryland, in 1953, gamblers around the world have practiced on what Four Horsemen of the Apocalypse, as originators became to be known, preached.
This scientific and mathematical attempt became The Optimum Strategy in Blackjack — written by Roger Baldwin, Wilbert Cantey, Herbert Maisel, and James McDermott — published at the Journal of the American Statistical Association in September 1956.
While authors continued with their lives far away from gambling, dedicating their careers to research, education, and business, their work became the basis for further elaborations, improvements, and exploits of a number of well-known blackjack players and many others.
To no surprise, blackjack is nowadays the most prevailing game in Silver State, excluding slot machines.
According to the 2018 Gaming Win Report by the Center for Gaming Research at the University of Nevada in Las Vegas, there are 2,478 blackjack units in the state — half of which are on the Strip. To put it into perspective, the second game on the list is roulette with 457 units. (As the rule of thumb, one blackjack table can accommodate five or seven units.)
The report shows blackjack annual handle of $8.36 billion with a win amount of $1.14 billion.
Notwithstanding slots, the only game surpassing these figures is baccarat: $9.78 billion handle resulted with $1.2 billion win amount. However, the game is played at 361 tables, being driven by a small percentage of whales and high-rollers and their heavy betting.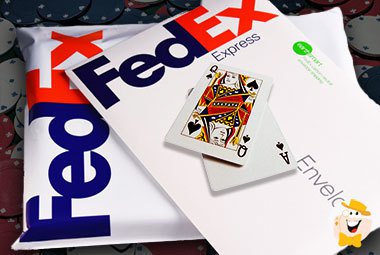 Unopened Box of the Game
In a way, figures are not surprising at all, for blackjack is a game offering the best chance to clever, knowledgeable, and tactful player.
Fred Smith must have been well aware of those traits.
While today a number of casinos in Las Vegas host the game on a regular basis, in 1973, at the time of his visit, there was only a handful available.
Flamingo, Sahara (nowadays SLS), The Tropicana, The Linq, Aladdin (today Planet Hollywood), Hacienda (present Mandalay Bay), Landmark (demolished in 1995), Las Vegas Hilton (former International, nowadays Westgate), Caesars Palace, The Frontier, El Cortez, Circus Circus, The Golden Nugget, Nevada (currently Golden Gate), New Bonanza (at the site of future MGM Grand, today Bally's)…
Being shrewd businessman, Smith almost never elaborated in detail which casino, or even casinos, he visited. Maybe he didn't want to create additional publicity for gambling houses ('Yes, I would very much like to play at FedEx table, please, I just might get lucky!') or he simply didn't want his legacy to be defined by this episode.
In addition, later in his life, he downplayed it a bit.
In 2008, recounting the story to Charlie Rose (starts at 09:24), he said he "went to Las Vegas with a few hundred dollars and the man [he] was flying with got [him] a credit line, about $1,000" he used to win $25,000.
"Well, the myth is that that man made the payroll for the company. That's not true at all. Although I won the money, we owed so much money than that, it would have been a drop in the bucket. But it symbolically probably was important and it is true, and it's a great story."
However…
Not trying to take away anything from his gambling accomplishment — after all, his skills and luck at gambling tables helped save the company, underlining the notion they are plain just — the real protagonist of this amazing narrative is blackjack itself.
To that end, Smith's endeavor was, in a way, just a harbinger of things to come in the history of 21.
With the advent of the internet, blackjack became a prevalent choice in online table games for a number of reasons and advantages.
Most obvious ones, of course, are bonuses availability compounded with possibilities to improve existing skills while practicing strategies at hand. Because, at the end of the day…
Blackjack is a game of luck and skill requiring "discipline to identify and play only positive opportunities."
To perfect such self-control necessitates time and rehearsals.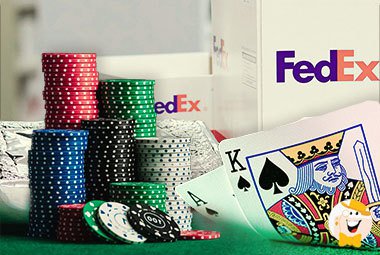 Unpack Properly
Technology provides for both. Not in terms of online gambling but by online blackjack training.
For, in the end, preparation is what separate extraordinary people from others. As Smith's experience points out, only they are able to handle desperate measures in desperate times properly and efficiently.
In doing so through educated choice and determinate effort, Fred Smith gave us flight courier service revolution and paved the way for others to come.
But if it wasn't for blackjack, the table game for prudent and astute gamblers, who knows how his story would develop?
Who knows if we would ever get to watch Tom Hanks — playing dedicated FedEx systems engineer — being marooned on an uninhabited island in Cast Away.
Both of those survival endeavors, real-life and imaginary one, cross each other's path in the analogy of FedEx commercial at the end of this editorial, convenient enough to be used as our sound off.
Blackjack, as well as gambling, might be considered as the unopened box.
If we open it responsibly, wisely, in a knowledgeable manner, identifying positive opportunities, including a couple of faithful ones, it might give us everything we need at the moment.
It's not a guarantee but a possibility. But if we do it for the right reasons, we may get what is for a survivor an equivalent of a satellite phone, GPS locator, fishing rod, water purifier, and food seeds.
If we don't, we might find ourselves in a violent storm, crashing down into the ocean of unresolvable challenges, ending up stranded and alone.
Fred Smith provided us with a valuable lesson on why to unpack the blackjack box. The rest is on dedication, preparation, and other attributes of extraordinary people, including great fun.
"his skills and luck at gambling tables helped save the company"
Back to articles