Back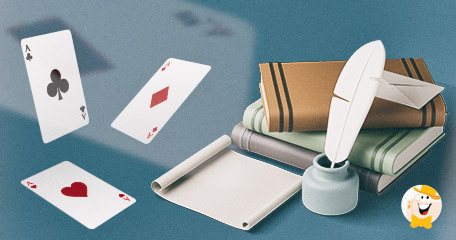 "Pure Mathematics Is, In Its Way, The Poetry of Logical Ideas"
Talking about the connection between literature and gambling, Dostoyevsky's "The Gambler" is probably the first literary work that comes to your mind, isn't it? This novel is undoubtedly the best-known masterpiece associated with gambling, but it's just one of the many paying homage to or drawing inspiration from this activity.
Even nowadays, when the popularity of online gambling surpasses traditional brick-and-mortar entertainment, poets find inspiration at casino tables. We all know that gambling is associated with a wide spectrum of intense feelings, and so is poetry, so it doesn't come as a surprise that these two have a long history.
Celebrated on March 21, World Poetry Day aims to support linguistic diversity through poetic expression and a unique opportunity for endangered languages to survive. Poetry helps people create meaningful bonds with each other, deepens their knowledge of other cultures, and enables them to express feelings.
Paying tribute to this day, we'd like to introduce you to 6 poets who found inspiration in gambling!
#1 Homer
If you think that gambling is something that has to do with modern times, you are so wrong. As intriguing as it may sound, the literature has records of ancient Greeks playing dice and other luck-based games. Even Homer, a Greek poet who is credited as the author of the Iliad and the Odyssey, mentioned it in his works.
Though not fully confirmed, Homer is said to have been a great supporter of gambling, and so were the vast majority of Gods of Olympus. Some claim he enjoyed playing "Alea", an early form of dice game. Come to think of it, there are so many slot games inspired by ancient Greece, aren't there? Now we have an explanation for that.
#2 George Gordon Byron (1788-1824)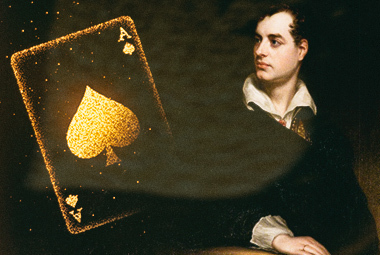 Known simply as Lord Byron, he is considered one of the best English romantic poets of all time. A long narrative poem about travel and romance, Childe Harold's Pilgrimage, is inspired by the author's own youthful travels around Europe.
As silly as it may sound, Byron, who became a Lord when he was just 10 years old, is considered one of the first major celebrities to receive en-masse fan mail. This craze even had its name- Byromaia, as coined by his wife Annabella. During his years at Trinity College, he was engaged in boxing, horse riding, and gambling.
#3 Charles Baudelaire (1821-1867)
Credited as the first Modernist, Baudelaire is a famous French poet, but also a notable essayist, art critic, and translator. A book of lyric poetry titled Les Fleurs du mal (The Flowers of Evil) is one of his most famous works. Its central topic is the changing nature of beauty in the rapidly industrializing Paris during the mid-nineteenth century.
Depicting female gamblers who waste their hard-earned money on bets, Le Jeu (Gambling) is a poem about decadence, aging, and death. Although he refers to it as a never-ending vicious cycle, in one of the verses Baudelaire still notes how he's "envying the stubborn passion of those people"
#4 Rudyard Kipling (1865-1936)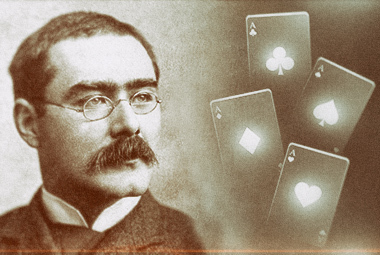 Widely known for his novels, short stories, and poems, the Nobel Prize winner Rudyard Kipling was also among poets who occasionally referenced gambling. Taking a risk is what gamblers often do, and is precisely what Kipling immortalized in his most famous poem "If", written around 1895.
"If you can make one heap of all your winnings
And risk it on one turn of pitch-and-toss,
And lose, and start again at your beginnings
And never breathe a word about your loss (…)"
#5 Charles Bukowski (1920-1994)
An American poet, novelist, and short story writer, Charles Bukowski is also known as the "laureate of American lowlife", as described by Time in 1986. What characterizes his work is direct and descriptive language, full of cynicism. Bukowski was a passionate gambler himself, and referenced gambling in multiple works of his.
"and you'll do it
despite rejection and the worst odds
and it will be better than
anything else
you can imagine."
(Quote from "Roll the Dice")
"It's been a tough fight worth fighting
as we all drive along
betting on another day."
(Quote from "Gamblers All")
#6 David Lehman (1948)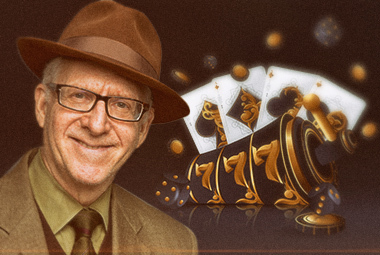 David Lehman is an American poet, non-fiction writer, and literary critic. He's also the founder and series editor for The Best American Poetry, the annual poetry anthology each encompassing 75 poems.
His poem "The Morning Line" depicts gambling as an aspect of human nature, concluding that life itself is a gamble. As Lehman himself says, his decision to become a full-time freelance writer is some sort of gambling, which is why he doesn't visit casinos to actually gamble.
Poetry & Gambling: A Perfect Match
Like it or not, we have no other but to agree that life indeed is a gamble. If nothing, it's an intergal part of our everyday lives, incorporated in music, movies, fashion industry, mathematics, art, adverisements, pop culture, proverbs...everywhere!
We've introduced you to 6 great names, but the list of writers who were involved in gambling, either by paying homage to it in their works or by exercising it themselves is actually quite a lengthy one. James Joyce, Fyodor Dostoevsky, Ernest Hemingway, Ian Fleming, and Mario Puzo are just some of the big ones involved in gambling in one way or another.
With so many different feelings involved in both these activities, it becomes obvious that this connection is only meant to become stronger. As a result, we'll keep on enjoying countless thought-provoking pieces of writing.
Is there an anecdote about poets and gambling you'd like to share with us? If so, hit the comments section below, we'd like to hear from you!
"poets find inspiration at casino tables"
Back to articles