Back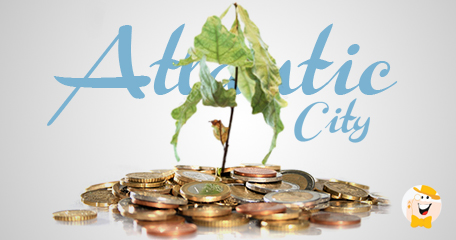 Having taken a look at both the monthly revenues as well as the first quarter results for Atlantic City last month, we saw a continuing trend of positive gaming win (revenue) increases for the city. When combined with the fact that Atlantic City saw its first year-over-year revenue improvement in a decade for 2016 compared to 2015, things have been looking up for that market in spite of increased out of state competition.
This time around, we're going to take a look at AC's performance for the month of April as compared to last year, as well as seeing how the overall year-to-date revenues have changed as a result of last month's performance. Will Atlantic City continue to enjoy overall gains as well as gains in the live casino segment? If there is any kind of a slip, are there individual casinos or gaming segments that appear to be improving? Let's find out:
The first thing that we notice is that Atlantic City, unfortunately, did not have as strong of a month for April of 2017 as compared to the same month last year. If there is one positive takeaway, it is that the slip in revenue only amounts to 1.6%. That means that the year-to-date results for the market remain highly positive. In terms of actual dollars and cents, gaming win from all sources was 211.7 million for last month as compared to the 215.0 million from the year before.
Furthermore, it is also notable that the revenue slip was not entirely across the board with online gaming win, overall, has improved compared to the year prior. That is completely expected as online gaming has experienced double-digit percentage increases for each month thus far this year, and April was no exception in that regard.
In terms of live casino win, the decrease was 3.6% as compared to last year, which takes a significant bite out of the gains enjoyed by Atlantic City over the first quarter of this year. However, overall Live Gaming Win for the location remains positive on a year to date basis, just not as much so. As we will soon see, there were still winners and losers in the live gaming segment, so the decrease was hardly across the board.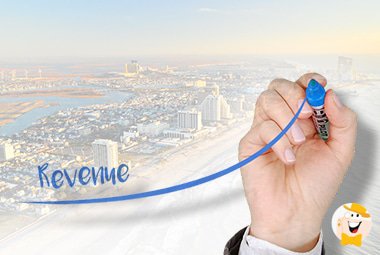 Another thing that should be mentioned is that, even in a slightly down overall market, the average casino's win improved due to the fact that the Trump Taj Mahal numbers are still reflected in overall Atlantic City live gaming win, but that casino no longer exists. As far as the month of April is concerned, there was a slightly smaller pie in that market segment, but everyone still at the table (on average) still enjoyed a larger slice. The overall pie, though, was 7.1 million dollars smaller which is roughly half of the Trump Taj Mahal's live casino win for April of the previous year.
The overall market should be concerned about any figures that do not point towards a steady increase in the area, however, as the Hard Rock Hotel and Casino (which will replace the acquired Trump Taj Mahal beginning in Summer of next year) will certainly grab some of the revenues in the city. That effect will be slightly offset by the fact that the Hard Rock should be able to bring entirely new market share to town by marketing directly to strong customers in their other casino locations. There are Hard Rock casinos in many areas such as Florida, Vegas and Biloxi as well as racinos in nearby states such as Ohio. It's difficult to believe that the Hard Rock will bring in so much new revenue that they will not also be cutting small pieces out from competing properties, though. Thus, some of the properties with barely any profit (or taking small losses) should be extremely concerned about what effects the new casino may have.
It also remains possible that the former Revel, owned by Glenn Straub, will reopen as the proposed TEN casino one of these days. That's starting to seem decreasingly likely, though, as the TEN continues to miss opening date after opening date. In fact, Straub most recently hinted at a potential Summer opening, but that would only be for the hotel operation rather than any gambling.
As mentioned before, the live gaming losses compared to the previous year were, at least, partially mitigated by gains in the Internet Gaming segment. The 20.8 million dollars in internet win (an increase of 3.8 million, or 22.6%) certainly helped to make the overall gaming win numbers look better. The overall decrease compared to last year would be more than double without improvements on the interactive side of the equation. This is a market that seems to have steadily increased ever since it kicked off, so the websites should continue to perform very well even if the Hard Rock decides to kick one off.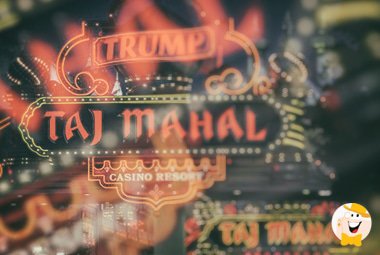 Besides that, the year to date numbers is still highly positive with gains in both the online gaming and brick-and-mortar markets. Online gambling is up 29.5% overall while the total gambling win is up 3.8%. The total gaming win from all sources is 843.6 million as compared to roughly 811 million last year. Thus, despite the down month, the whole picture for the first third of this year is steady, if not rosy.
When it comes to look at continuing operators rather than the overall market, we would take the Taj out of the equation which would have it that the average operator gained 4.2% for live casino win in April. By that standard, the average operator gained about 9.3% in live casino win, overall. Internet numbers are not affected by the lack of a Trump Taj Mahal because the only website ran by an Icahn owned casino is and was through the Tropicana.
Individual segments of gambling performed well for the city with glaring exceptions of table games on the live casino side as well as online poker on the interactive side. Were it not for the decrease of 6.18 million dollars, over eleven percent, in live table games; the city would have enjoyed gains for April compared to last year. To that effect, the slots continued to perform well.
Online Poker, termed, "Peer-to-Peer," gaming in the revenue report was a loss leader interactively and plunged by 23.9% as compared to last year. Obviously, other casino win improved substantially, but the reports do not differentiate between online slots and online table games, so hard to tell there. Either way, poker was down $620,000 online as well as a comparable amount of the brick-and-mortar games as the entire game continues its steady popularity decline.
Another thing to pay attention to is whether or not the United States Supreme Court declares PAPSA unconstitutional in a case to be heard later this year. If that happens, then individual states would have the ability to offer sports betting, both online and live, and that would be sure to result in a revenue improvement for the city. Not surprisingly, New Jersey is leading the legal charge in this regard as they have both the technological capacity and facilities in place to give them a jump on other jurisdictions in rolling out the offerings. That might give them an edge over other nearby competing states who may be slower to effectuate regulated punting.
In the overall sense, other than peer-to-peer online gambling, live slots are experiencing the slowest percentage growth at a 1.2% gain for the year. While that may not seem like too much, the fact that live slots make up such a large overall component of the market also means that they are the overall dollars and cents leader.
Let's determine who are our winners and losers in an overall slightly losing month, for your convenience, here is a chart of the April 2017 results compared to the previous year:
| | | | | | | |
| --- | --- | --- | --- | --- | --- | --- |
| Casino | Live 4/2017 | Live 4/2016 | +/- % | Internet 2017 | Internet 2016 | +/-% |
| Bally's | 17,164,046 | 18,127,758 | (5.3%) | CET | CET | N/A |
| Borgata | 58,451,270 | 55,978,951 | 4.4% | 4,213,109 | 3,983,139 | 5.8% |
| Caesar's | 27,897,388 | 24,715,744 | 12.9% | CET | CET | N/A |
| Golden Nugget | 18,071,420 | 16,692,696 | 8.3% | 5,377,943 | 3,305,283 | 62.7% |
| Harrah's | 26,986,401 | 29,074,040 | (7.2%) | CET | CET | N/A |
| Resorts | 13,958,453 | 13,880,756 | 0.6% | 3,775,370 | 3,478,108 | 8.5% |
| Tropicana | 28,337,636 | 24,620,261 | 15.1% | 3,939,115 | 3,056,349 | 28.9% |
| Caesar's Interactive (Three Casinos, Technically) | N/A | N/A | N/A | 3,516,489 | 3,157,870 | 11.4% |
The most glaring figure is that Harrah's and Bally's are the only two casinos to experience overall losses in the live gaming segment, but combined with the loss of the Trump Taj Mahal this was enough to pull the jurisdiction down for the month as a whole. These losses were led by a poor performance on the live tables, which we will dissect in a moment, but for the time being, we will focus on the positives.
Tropicana is the leader in both percentage and dollars and cents increase for improvements in April of 2017 as compared to the same month of the previous year. That should come as no surprise given the fact that they had access to the mailing lists of the shuttered Trump Taj Mahal (which was owned by Trop owner, Carl Icahn) so all they really had to do was successfully draw a segment of the market that effectively already belonged to them.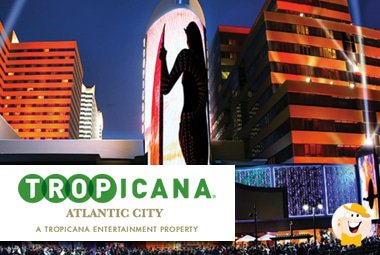 Interestingly enough, while the gains seem impressive, there can be some question as to whether the marketing was as effective as it arguably should have been. While the Trop did enjoy live casino win gains of about 3.72 million, that figure represents only 25% of what the Trump Taj Mahal did for the month last year, so arguably, they have not retained their own customers. Granted, Atlantic City experienced overall declines for the month, which means that some of the markets simply wasn't there. Even then, the Tropicana still did not match the revenue of (Trop + Taj) for April of last year even taking that fact into consideration.
Perhaps more embarrassingly, the Tropicana sustained a 1.1 million dollar revenue DECREASE on live table games, despite the fact that they should have unfettered access to the Taj's former table game players!
The Tropicana has performed very well online, regarding both dollars and cents and percentage, they experienced the second largest gains for the month as compared to the previous year. Maybe they marketed the online product to previous visitors of the Taj who never really visited the Trop before that, or it could be just variance. Again, the real standout for the year online has been Golden Nugget followed by Resorts. Either way, Trop's gains are consistent with the overall gains in the Internet market, so they aren't a standout in that respect.
There's no shame in taking second place, just ask Caesar's who came in second place in live gaming gains on both a percentage and dollars and cents basis. The overall live gaming gains, in terms of cash, were 3.812 million dollars. The 12.9% overall gain was also consistent across the two major live gaming segments with gains of 1.14 million (12.1%) on tables as well as 2.04 million (13.4%) on slots. Either way, the CET property performed admirably.
Regarding the CET casinos as a whole, the gains enjoyed by Caesar's were mitigated by the substantial decreases compared to last year suffered by both Bally's and Harrah's. As a whole, the CET properties made $72,047,835 in total live gaming win for April of 2017 compared to $71,917,542 for the previous year, which represents gains of not even 0.2%. While the individual Caesar's Palace casino has reason to celebrate, the overall CET presence is arguably underperforming.
Concerning the CET online product, CET did not impress with the month of April as they came in third of five regarding percentage with an 11.4% increase as well as actual cash gains of $358,619, which was also third of five in gains. In terms of total online gaming revenues, the CET product ranks dead last for 04/2017.
Golden Nugget experienced an increase of 8.3% in Live Gaming Win, which is the third largest percentage increase in that regard. Golden Nugget, as we know, did the best to capitalize on the rash of casino closures in 2014 and also made a concerted effort to market to disaffected customers of the former Taj Mahal. Golden Nugget undoubtedly led the charge in Internet Gaming Win gains with an eyebrow-raising 62.7%! Why are they so much better at marketing the online product than anyone else? Who knows? But, customers going through from the self-parking garage being able to view the (hot) online live dealers through the glass can't possibly hurt! In money terms, the ones that really matter, the interactive product gained over two million dollars.
Regarding the live segment, Golden Nugget is one of the few Atlantic City casinos to enjoy gains in both major segments. When it comes to the table games, Golden Nugget improved by roughly $716,000, which represents an improvement of 17.8% in gains compared to last year. The machines also held more money for the property as well. After gains of approximately $673,000 in that segment, the percentage increase was 5.34%. In total, it's just under a 1.4 million dollar increase in live gaming win, which is fourth in cash terms.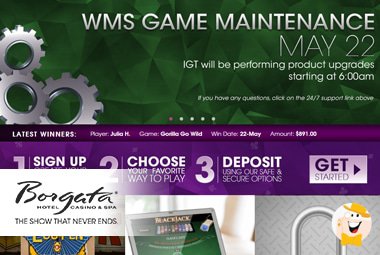 The perpetual leader in total cash, Borgata, flip-flopped with the Golden Nugget in terms of improvements over April of last year. Whereas, the Golden Nugget was third in percentage and fourth in cash, Borgata was fourth in percentage and third in cash gains. The Borgata was up roughly 2.47 million dollars in live casino gain which represents an improvement of 4.4% as compared to last year. Borgata also gained in both major market segments with gains of 2.05 million dollars (15.4%) coming by way of table games while < $500,000 was gained on machines, but it was still (1.21%).
The internet product also improved in revenues, as compared to last month when it did not perform as well as the previous year. Also, recent news has revealed the reason for the slow growth in the Internet Gaming segment since MGM International fully took over the property. It is because MGM International fully took over the property!
That's not to say that MGM International sucks at running the online casino, quite the opposite, in fact. MGM has a wide range of social gambling products, but for the first time, they and the company that they utilize are putting together an entirely new online casino site. In other words, it'll be out with the old and in with the new in terms of the product representing Borgata, so this could be a simple matter of phasing it out. Either way, while the online outlet gained 5.8%, that was the lowest percentage gain (all of them did gain) and represents an increase well under a quarter of a million.
While the lack of a next door neighbor in the Trump Taj Mahal seemed to have a meaningfully positive effect on Resorts for the first quarter of this year, it does not appear that they continued to enjoy having that side of the Boardwalk to themselves as much in April. It could almost be said that they didn't perform all that well compared to last year with growth of only 0.6% in April despite the lack of a physically immediate competing casino. Resorts' mediocrity continued into the interactive gaming market in which it performed the second-worst in percentage at +8.5% and total revenue with $3,775,370.
Compared to last year, Resorts also had a remarkably poor performance at the tables and it took an exceptional gain on the slots side to pull themselves out of the gutter overall. Down $585,000 (a very substantial amount for a property that size) live table games at Resorts dropped by just short of 20% as compared to the same month last year. The property performed very well on slots, over 6% in gains, and an increase of roughly $663,000. As you will soon see, they still look really good from a year-over-year standpoint for the first third of the year.
In terms of percentages, Bally's experienced the second-smallest percentage decrease, as well as dollars and cents, increase compared to last year. However, down 5.3% and $963,712, that's hardly a consolation. They experienced a terrible performance on tables, down 21.61% (1.48 million) and that decrease was only partially mitigated by their performance on the machines. While up 4.77%, that percentage only accounts for about $523,000 in actual cash.
CET must be diverting all of the table actions to Caesar's because our leader in decreases compared to last year in both percentage and cash terms is the second of the three CET properties remaining in the city, Harrah's. The roughly 3.67 million decrease on tables compared to last year is so close to 50% (49.9%) as to be a rounding error essentially. The casino literally only had half as much won on the tables. Tagged by a high roller, maybe? As with all AC casinos, they did see an improvement on the machines, up 6.96% (almost a million and a half) in that segment. As with Bally's, the slot increases didn't even cover half of the table decreases in cash terms.
Rough month for CET without Caesar's pulling the numbers up and CET Interactive making some money for them. Let's see where we stand year-to-date now:
| | | | | | | |
| --- | --- | --- | --- | --- | --- | --- |
| Casino | Live 4/2017 | Live 4/2016 | +/- % | Internet 2017 | Internet 2016 | +/-% |
| Bally's | 64,509,524 | 66,581,606 | (3.1%) | CET | CET | N/A |
| Borgata | 237,134,483 | 220,459,250 | 7.6% | 16,080,750 | 17,015,894 | (5.5%) |
| Caesar's | 108,239,500 | 89,564,573 | 20.9% | CET | CET | N/A |
| Golden Nugget | 69,306,700 | 65,821,597 | 5.3% | 21,506,471 | 11,999,843 | 79.2% |
| Harrah's | 114,211,824 | 114,766,940 | (0.5%) | CET | CET | N/A |
| Resorts | 57,774,474 | 50,758,410 | 13.8% | 14,189,918 | 8,108,838 | 75% |
| Tropicana | 112,299,062 | 90,271,931 | 24.4% | 14,136,726 | 12,169,577 | 16.2% |
| Caesar's Interactive (Three Casinos, Technically) | N/A | N/A | N/A | 14,195,779 | 12,573,748 | 12.9% |
Even with the Trump Taj Mahal helping the city overall last year, the overall live casino market is up 1.7% for the year. If you take out the Taj completely and look only at existing operators, those operators are up 9.3% for the year. By that standard, though, only three of the seven casinos have improved in total live gaming win while two have experienced a decline. For the first quarter, Harrah's was about even, but last month's performance was sufficient to knock them into a loss for the year.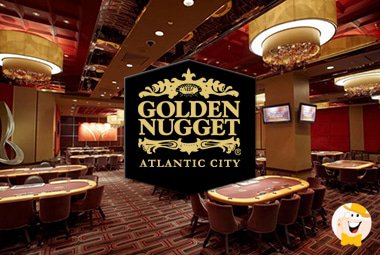 The Internet gains are up 29.5% overall, but Golden Nugget and Resorts lead that charge with others failing to live up to the standard. Despite April's gains, the Borgata online casino product remains the only one that is down for the year overall. Once again, they will essentially be directly replaced by the MGM site later this year, though no specific rollout date or the process of transferring customers has been mentioned.
In terms of overall live gaming win, the closure of the Taj, again, directly had a positive effect on the Tropicana, which has gained almost 25% in gaming win in the live segment as compared to last year. Their positive difference though does not serve to have acquired even half of the former Taj Mahal revenue, though, as their gains represent just slightly more than two-fifths of what Trump made YTD in 2016. Furthermore, that doesn't even take into consideration new revenues and market that have come into the city, as evidenced by the (albeit slight) overall gain in total live win as compared to the prior year.
Caesar's has experienced the second-largest gain year-over-year in both dollars and cents terms as well as in cash money. That is somewhat offset by the poor live gambling performance of their other two casinos in the city, which have both run at a loss. CET has still enjoyed live gaming gains of $16,047,729 as an overall company, though, so they're hardly hurting. Again, look for the opening of the Hard Rock Hotel and Casino next year to pose a threat to the future of Bally's.
Resorts is third in percentage gains followed by Borgata and Golden Nugget. In terms of dollars and cents, Golden Nugget and the Borg switch places with Borgata third in the city in overall cash gains compared to last year.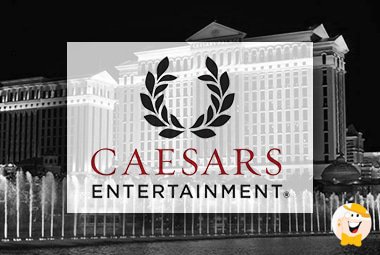 Conclusion:
This was definitely a strange month that saw Harrah's performing so poorly on table games that it not only resulted in losses for the month but also brought them a revenue decrease concerning the year-to-date numbers compared to 2016. Bally's also experienced a decline, but they were already in the hole for the first quarter as compared to last year, so Harrah's is the only casino whose overall position has changed.
Of the seven casinos remaining, five of them have improved for the first four months of this year compared to last and ALL five remaining casino companies have improved. Taken as a whole, despite a slight drop in live gaming win for the month of April, Atlantic City is still doing better in that department than last year even with one fewer casino.
We will have to wait until next year and see if the opening of the Hard Rock Hotel and Casino next year removes any of the current operators from a sustainable position. The two who (by far) are at the most at risk are Bally's and Resorts. Resorts is a Mohegan Sun property and their Connecticut properties aren't fairing terribly well lately, but they might use the Resorts mailing lists to market to people looking for them to come to their other properties. In the meantime, Bally's is just redundant and I'm not even sure why it is open other than the fact that CET must fear that revenue will not be distributed across the remaining casinos in a way favorable to them. Hell, maybe they just need the hotel rooms there for the Summer.
Overall, this month alone is not a cause for alarm for the Atlantic City market, but we would have certainly preferred to see another consecutive month of improved live gaming win.
"This was definitely a strange month"
Back to articles