Back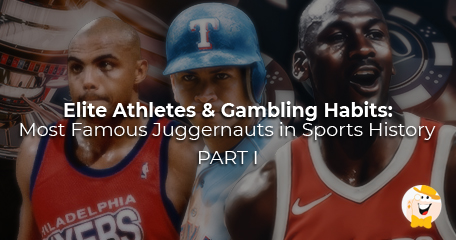 There must be some chemical reaction or deep neural process which takes place in the human brain when a person makes first million, major currency irrelevant. A life-altering event doesn't only change the standard of living or lifestyle but perception and perspective too. As we climb the slopes of life in an effort to reach six zeroes plateau, either as a final destination or a pit-stop on ascending to three-comma pinnacle, we cannot perceive nor comprehend the volume of transformation taking place at the million-dollar vantage point. Until we get there. Afterward, nothing is the same. Including the way we gamble.
One peculiar group of people is immune to such inner evolution — elite athletes. For, they undertook their own revolution on the way up.
While our conventional gambling Joe may approach its table games differently with a new-found million in the bank account, these people don't. They crave more, do more, they are more. Regardless of the number of zeroes shaping their net-worth, the game of elite athletes is always the same — unstoppable and relentless.
They gamble in quite a similar manner.
To understand super athletes' viewpoint on casinos, we need to realize their unique mindset.
We breathe the air, they inhale oxygen energy molecules. We consume food to get full, they consider it the fuel. We test the waters, they test everything. We stress, even crack under pressure; they revel in it. We control things and try to tame nature; they control and tame themselves.
We reach our limits and freeze; they go through theirs like a speeding truck. We believe in unobtanium; they don't understand the word. We get ecstatic when we hit the target no one else can hit; they hit a target no one else can see, to paraphrase Arthur Schopenhauer. We do difficult immediately and take a bit longer for impossible; they do impossible on the spot and a few moments later perform unthinkable.
We keep trying; they die trying. We ponder whether a glass is half-empty or half-full; they know "you either have something in that glass or you don't." We "worry about hitting the ceiling or the floor"; they know "there is no ceiling, no floor either." We evaluate and hesitate; they know and deploy.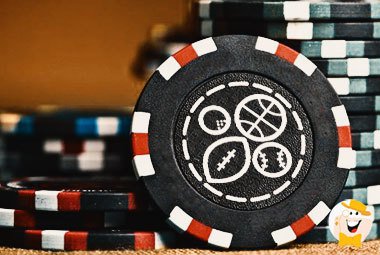 Why Elite Athletes Gamble?
We seek the gratifying company of others; they thrive in solitude and stretch. We crave public and instant recognition; they recognize only the intrinsic one. We care about money; they care about achievements. We want to have followers; they strive to be remembered. We want to be heard; they want to echo.
Consequentially…
Mindboggling feats emerging from within such peculiar mental setup is what we love to watch and pay to see, what makes us frenzy and what we admire, regardless of courts or competition.
The way elite athletes view the world is an infinite source of advice on leadership, perseverance, and improvement, equally applicable to professional workshops, personal relationships and street wisdom.
However…
When it comes to the way they gamble, these traits don't always harvest the same yield.
While the outcome of their casino adventures may confuse the bejeezus out of many people — who in a world would dice away such lifestyle — elite athletes are exceptionally fecund soil for gambling.
On occasion, they start early in their careers.
As the data for 2016, in the study of Trends in NCAA Student-Athlete Gambling Behaviors and Attitudes shows, once college players decide to gamble — 35% of men play cards for money as their first activity while 26% try in sports betting. In 2004, the same ratio was 46.8% and 23.5% respectively.
That's a lot of gambling to start with. Sometimes, it overspills when they start earning really good money in professional leagues. But why do it in the first place?
Super athletes by default excel in high-stress, high-risk, pressure situations. In fact, short of being go-to guys and team leaders, they possess a rare hunger for these circumstances. Hence the high-stakes table games — their most often choice and great adrenalin package.
They know no limits nor acknowledge them; there is no can't, won't, or maybe in their vocabulary — they shall not be denied. They know no other way. Gambling provides for the perfect environment and range to measure such egos. Orca is the apex predator only in the oceans.
They have a lot of time on their hands. Between games, training, and travel, they need to recover and give their bodies much-needed maintenance time. Their options are to sleep, read a book, watch a movie, listen to music, or talk to team buddies. Time passes by faster, with more fun when playing poker.
Professional elite athletes also have quite a dark side only they know of. To achieve the required level of excellence — exercised as a principle, not for revenue; the latter comes as the consequence — requires unbelievable discipline and renunciation. Desires they cannot fulfill are disposed at the inner dark side of the Moon. Gambling is a fantastic release valve.
Finally, they have a lot of money — way beyond casinos' high-rollers. Thus, they lack our inhibitions, fears, and precautions, enjoying in steady and huge replenishment of bankrolls. Will they indulge in crazy bets or high-limit games is only the question of the moment.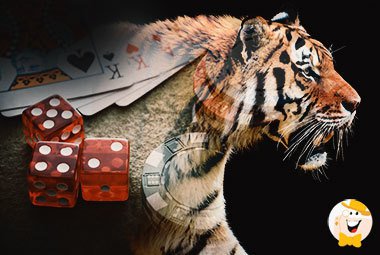 Tigers, Ferocity, and Habits
And therein, in such uniquely tuned mind to govern the perfectly maintained bodies under very specific circumstances fueled by big budgets, emerges…
The gambling rub of supreme athletes.
When unstoppable and relentless meets the Goddess of Fortuna — the ultimate and actual ruler of the gambling kingdom regardless of players' knowledge and skills — they meet their match. The ensuing clash is of monumental proportions.
Objectively incapacitated to grasp 'no' as the final answer, elite athletes approach any land-based casino game as uncertainty with a certain end; little do they know no one ever subdued choices and chances completely. In no time, they learn there is another entity in charge of their achievements.
All of a sudden, certainties become quite uncertain.
Finally, when luck does unfathomable — deny them — elite athletes cannot hack, break, outmaneuver, or outwait such notion. Embarking on usually the first unchartered voyage in their lives…
They often stay in gambling wilderness until they learn the right answer to a question Alejandro Jodorowsky poses in his book Mystical Cabaret.
"Who can remove the collar from the ferocious tiger?"
Looking to realize such simple yet hard to find truth in gambling, elite athletes have provided us with breaking headlines and amazing storylines for the last one hundred years.
In our centennial celebration of these two quite complementary and compatible yet different categories of human existence — sports and gambling — we already wandered into the most famous scandals in gambling history.
In this two-part series, we take a glancing overview of the most famous elite athletes and juggernauts with gambling habits and problems.
(On the side note. Supreme athletes and sports superstars are not quite the same. They are two similar yet different breeds. The closest comparison is the distinction between baccarat whales and diamond cards. Regardless, we've prepared a little bit of both.)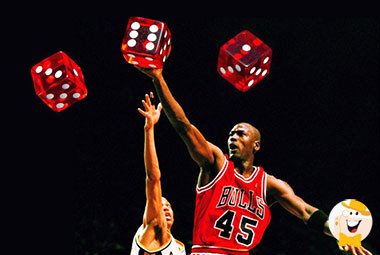 Michael Jordan
To have #23 on any list and not put him in the first place is equal to traveling violation.
The greatest basketball player of all time, six-time NBA champion and five-time league MVP — truth to be told, to list all accomplishments of Jordan would see you scroll down next 5,000 words in order to get back to original narrative; to save you the effort of reading what the whole world already knows, we'll get right to the point — is also an avid gambler with a locker full of high-stakes gambling stories.
At the high of his days, Jordan was regular rock, paper, and scissors bettor. One of his former teammates stated that once Michael bet as much as $100,000 on the game.
His exploits in the night before 1992 Barcelona Olympics Finals with Croatia are stuff legends are made of — word is he was awake until 6 am playing poker along with Scottie Pippen, Charles Barkley, and Magic Johnson, which might explain why he scored only 22 points in the ensuing game.
Like that wasn't enough, waiting in Portland on a return flight after the Olympics, he bet $900 on his bags coming first out of luggage conveyor belt; of course, he won (though later admitted he bribed the airport staff).
In 1993, Richard Esquinas, the former San Diego Sports Arena manager, claimed in his book that Jordan owed him close to $1.3 million after ten days of golfing. While the issue remains engulfed in controversy to this day, Charles Barkley told media that six-time NBA Finals MVP once betted him $300,000 on a single putt.
Ranking high above any other story, though, is MJ's gambling at the Atlantic City Bally's Grand casino in 1993, in what New York Times called — turning "the Knicks' home-court advantage into the Knicks' home-casino advantage."
Michael was seen at the baccarat pit and reportedly lost $5,000 at blackjack in a private area, staying up until 2:30 in the morning. Bulls lost that second game of Conference Finals, dug themselves into 2:0 hole before Jordan came to his senses and Chicago rolled four consecutive wins in claiming the final title of their first three-peat.
Esquinas' and Knicks' stories, at least in rumors' circles, contributed in no small part to Jordan's first retirement widely attributed to involuntary NBA suspension due to gambling.
David Stern allegedly didn't want to taint the reputation of the League's face, hence this option. Commissioner even commented to Chicago Tribune "gambling is good […] it supports higher education, lower education, senior citizens, you name it," at the time.
Not much has changed since Jordan started enjoying his real and full retirement.
In June 2002, Washington Post ran a story depicting MJ in an all-night blackjack session at a Connecticut casino. Down $500,000 at one point, he rallied and went up to $600,000.
In 2007, he reportedly lost $5 million at the craps table in Las Vegas, according to Adam Pacman Jones, another athlete and gambler.
It appears that Jordan keeps playing high-stakes golf matches to this day, which, in turn, only solidify his gambling history. So typical of Michael — why only be part of one legacy when you can have two?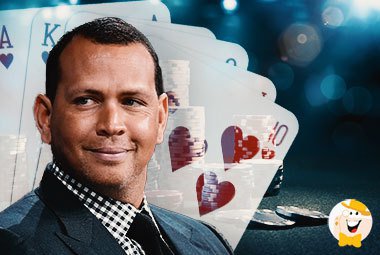 Alex Rodriguez
A-Rod is widely accredited as one of the greatest baseball players of all time. During his 22-season career, he amassed close to 700 home runs, over 2,000 RBIs, batting .295 with over 3,000 hits while playing for Seattle Mariners, Texas Rangers, and New York Yankees.
A 14-time Midsummer Classic player is also remembered for his PEDs exploits and gambling activities.
Contrary to Jordan, A-Rod was a personality gambler indulging in illegal, underground poker games for years.
He was already warned by the MLB about such excursions in 2005 and 2007. So, when the new bombshell erupted in 2011, it was not his losses or frequency that put him in the spotlight, nor it was not paying his dues on time (which he did, as he should).
It was with whom he was playing, plus a $500,000 incident and cocaine that got him in trouble.
As the ESPN writes, Rodriguez was supposedly involved in games which reportedly included Tobey Maguire, Leonardo DiCaprio, Ben Affleck, and Matt Damon.
The allegations were that A-Rod took part in at least two games. At one game at Beverly Hills mansion, "cocaine was openly used," while fight nearly broke out after one player declined to pay a loss of "more than a half-million dollars."
It appears that none of it has anything to do with Rodriguez, though. According to the whistle-blower, A-Rod distanced himself from the violence, "not knowing what the hell happened." He apparently lost a couple of thousand dollars, paid up, and left.
What we know today is — those games were part of Molly Bloom's illegal poker ring she explained in detail in her book and Jessica Chastain epitomized in Molly's Game. Huge scandal, indeed.
Enough to trigger the instant MLB investigation. Irritated by A-Rod's disregard of earlier warnings, League dug deep enough to unearth alleged PED use which set the stage for what was to be known as the Biogenesis baseball scandal.
While Rodriguez was not suspended for illegal poker gambling in 2011, he was for PEDs. In 2013, the League handed a draconian 211-game suspension later reduced to 162 matches. Without the resulting appeal reduction, it would be the longest non-lifetime suspension in MLB history.
A-Rod retired in 2016.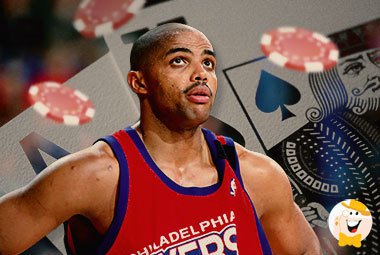 Charles Barkley
The Round Mound of Rebound, one of the fifty greatest players in the NBA history and ten best defensive rebounders ever, a two-time Olympic gold medal winner, a full-time controversy stirrer and fighter (on- or off-court) was also very popular with fans for sixteen years of the NBA career and — is a serious table games player.
Gambling since 1988, Barkley acknowledged having lost close to $10 million in casinos while speaking to ESPN back in 2006.
Devoting his skills almost exclusively to blackjack, he recalls wins in excess of $700,000 for weekend as well as $2.5 million loss "in a six-hour period." Speaking about it outspokenly and honestly, as always, he provided for a few bits of advice to all gamblers.
"Do I have a gambling problem? Yeah, I do have a gambling problem but I don't consider it a problem because I can afford to gamble. […] I gamble for too much, I gamble for too much money, and it's something I have to address. […] I think the most difficult thing, No. 1, I've got to realize no matter how much I win it ain't a lot — it's only a lot when I lose. And you always lose. I think it's fun, I think it's exciting. I'm gonna continue to do it but I have to get to a point where I don't try to break the casino 'cause you never can."
When New York Times released the story — following up on report by the Las Vegas Sun — about Barkley's $400,000 debt to Wynn Las Vegas resort stemming from a wager on 2008 Super Bowl which had to be addressed by the Clark County district attorney after casino filed a civil complaint in a Nevada state court, Charles owned the mistake and promptly reimbursed the debt.
Nowadays involved in broadcasting while working for TNT, he still gambles on occasion though not even close to high-stakes games he used to play. By remaining out of media spotlight in this regard, it seems Barkley left his gambling clouds behind, though his capacity to astonish will probably never fade away.
Just as such ability to amaze haven't subsided when it comes to other elite athletes who lost tens of millions of dollars in casinos and while betting on sports. Some of them spent decades in jail for doing so, while others offer interesting stories and useful experiences about their gambling habits and practices.
Let's check Part Two and learn more about their overall legacy.
Back to articles