Back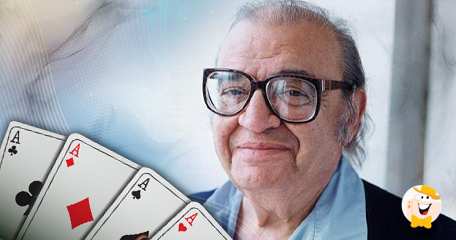 The author of The Godfather and two-time Academy Award winner was an avid gambler. His lifework includes insightful writings and memorable worldview on gaming, equally attractive to a general readership, casual players, and professional patrons.
Several famous writers indulged in gambling and betting in their own time. Dostoevsky, Hemingway, Fleming, Dahl, Descartes, Bukowski. A few of them also wrote about passion, mindset, panache of gamblers' world, and even explored the casinos' inner works.
Throughout the American history of the 20th century, the latter was prone to the influence of the Mafia.
Books, official records of the U.S. government, and efforts of wealthy individuals — think Howard Hughes — offers testimonials on the hard work required to release Las Vegas and Atlantic City from the firm grasp of organized crime.
Yet, seldom does one meet an author who was a passionate gambler, the most famous writer on the Mafia, and an in-depth explorer of land-based casino operations.
Enter Mario Puzo…
An intriguing figure at the intersection of gambling, entertainment, vice, success, literature, and wisdom any player could use.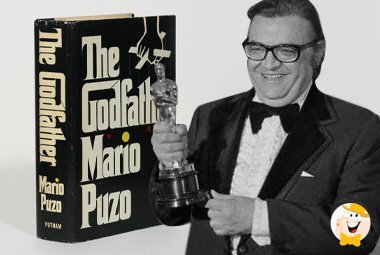 The Writer & The Godfather
Of course, Mario Puzo is forever intertwined with The Godfather, his 1969 novel, which introduced the Corleone family, the folklore of Cosa Nostra, and featured an era of the Five Families in post-war New York City and the Mafia operations in Nevada.
The book was an instant hit.
It remained for 67 weeks on The New York Times Best Seller List. The Wall Street Journal estimates that between 20 million and 30 million copies have been sold in the last forty years. To this day, The Godfather is one of the Top-10 bestselling pieces of American fiction.
The ensuing eponymous movie revitalized the career of Marlon Brando, catapulted Francis Ford Coppola and Al Pacino into Hollywood stardom, and won three Academy Awards — including first of two Puzo won while working on this cinematic trilogy. The sequel won six Oscars and launched the career of Robert de Niro.
Puzo's groundbreaking novel, which took three years to finish, fashioned the modern Mafia movie genre and labeled him as Mafia writer. "I'm gonna make him an offer he can't refuse," and "revenge is a dish that tastes best when it is cold," became colloquialisms around the world.
Some of his critics were harsh, pointing out that Puzo romanticized, even glamorized the ways of organized crime.
In his collective autobiography — The Godfather Papers and Other Confessions, written in 1972 — Puzo notes: "I used all the obvious ironies, and when I came to the writing of The Godfather, I was much more oblique. So oblique in fact that most of the critics missed the irony in the novel and attacked me for glorifying the Mafia."
Puzo knew the Mafia was dreadful, even though he wrote the book 'entirely from research.' His depiction of the abominable moral decay of Michael Corleone throughout time is perhaps the best illustration.
Furthermore…
As David Schwartz, Ph.D. — the Associate Vice Provost for Faculty Affairs at the University of Nevada in Las Vegas, former Director of the Center for Gaming Research at UNLV, and the world-renowned expert on gambling history — elaborate in-depth in his paper, Puzo "had written a best-selling novel based on the premise that every enterprise touched by humanity is irredeemably corrupt."
The Godfather runs equally on sublime cynicism and sardonic tone of Mafia's transgressions as well as on ostensibly appealing view of the dark side, especially in terms of humanization of characters and importance of family.
But, what makes Mario Puzo additionally attractive to gaming patrons are his life and devotion to gambling, the ensuing viewpoints on the pastime, and his later work, the book Inside Las Vegas, published in 1977.
The Gambler & His Philosophy
Puzo grew up in an Italian immigrant family as the youngest of seven children his mother raised on her own. Born in 1920 in the Hell's Kitchen area of Manhattan, his worldview was shaped during the appalling financial segregations of the Great Depression.
He stayed off the streets, grew up affectionate to reading and learning. As a teenager, Puzo declared he wants to be a writer. His high school writings drew teachers' attention; he was told he's good enough to be published.
Yet again…
He was forced to abandon school to help the indomitable mother in sustaining the family.
Puzo began to gamble early in his life. As Schwartz notes, Puzo loved to play Christmastime card games with his family. He "simply had to win — so much so, that he thought himself how to double deal. He did not do it out of greed, as he spent his ill-gotten gains on treats for his siblings, but as a need to feel the magic of winning."
When World War II broke out, Puzo volunteered for service. Due to his poor eyesight, he was kept out of the fight and served in non-combat roles, notably as a public relations officer in post-war Germany.
He finished college through the financial provisions of GI Bill, and went on to work as a civil servant in New York, writing short stories for magazines in his spare time.
Before he rose to prominence, he wrote two novels; both were praised by critics but sold poorly. At that time, Puzo was married, putting food on the table for a wife and five children.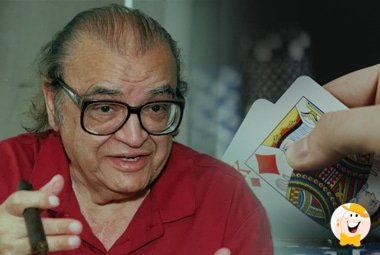 During those lean years…
…he tried to sustain his family through gambling; he played roulette, cards, and indulged in sports betting. The way Puzo gambled was to blame for at least segment of debts he accrued before writing his seminal work, as he explains in The Godfather Papers.
In Inside Las Vegas, Puzo writes he wanted to win everything while playing: "Is that so different from those religious fanatics who dare to think that after death they will go to their particular heaven?"
Puzo was an atheist. Still, winnings in gambling were seemingly able to dial in spiritual sensations, at least to a certain extent, as he explains in the same book.
"What non-gamblers do not know is the feeling of virtue when the dice rolls as one command… And that omniscient goodness when the card you need rises to the top of the deck… It is as close as I have ever come to a religious feeling."
Moreover…
A childhood spent in harsh times of history shaped Puzo's conception of the American reality, "in which things are never quite as they seem, a sure bet is guaranteed rip-off, and the only chance for success is to be on the side of those who rig the game," as Schwartz notes.
Hammered by debts on the anvil of poverty, Puzo reluctantly embraced encouragement from his editor to write something that can sell well, with "more Mafia in it," and came up with a 10-page outline of The Godfather.
An acquaintance arranged meeting at G.P. Putnam's Sons — the publisher behind the works of Edgar Allan Poe — and Puzo walked away with 'go-ahead' and a $5,000 advance.
When he finished the Corleone saga, Puzo was so broke that he and his wife were thinking about selling their house.
The predicament never came to life.
The Godfather publisher sold the paperback rights for $410,000 — a little over 3 million today — even before the book went into hardback circulation. The rest, and the ensuing stratospheric rise of Mario Puzo, is history.
The Author & Las Vegas Views
In a way, Puzo's approach to writing and prevailing was the reflection of his mindset of table games player.
As Schwartz observes, "it was the worldview of a gambler, who like all gamblers, had lost far more than he had won, and could not wait for the chance to play again."
Consequentially…
Puzo revisited the world of gambling he was so fond of, one he gave in so much money — he calls himself "mildly degenerate gambler" — in the Inside Las Vegas, eight-by-ten-inch book with 25,000 words ornamented by photographs of the most famous landmarks on the Strip.
The book takes so friendly view of gambling that some critics wondered whether such a piece of flackery had been financed by the Las Vegas Chamber of Commerce or some of the casinos along The Strip.
Puzo's prevailing notion is that gambling is fun, and even if it's not good for you, it certainly isn't as damaging as TV, religion, or commerce.
(This message should come with a disclaimer: The writing stunt is performed by professional and you should not attempt to recreate or reenact it on your own.)
Puzo claims that casinos won't cheat on patrons because they simply don't have to (provoking thought). The food is inexpensive, with airport-level quality (interesting). Las Vegas has many churches (it has three). The city is almost free of petty crime (the emphasis is on 'petty'; Sin City of 1977 heads the list of Top-10 metropolitan areas of the South or Southwest in serious crimes rates per capita).
Finally…
In Inside Las Vegas, Puzo writes that the Nevada authorities should not legalize gambling debts collection. He argues that city casinos have so many bad papers on players that such activity would thrust the national economy into depression.
It was an intriguing statement, considering the enormous volumes of unpaid markers by patrons in Nevada at the time — and the barrage of harassment customers were exposed to by creditors and debt collectors.
(The Silver State and New Jersey enacted appropriate legislation a few years later, regulating gambling debts responsibilities and rights of both casinos and players.)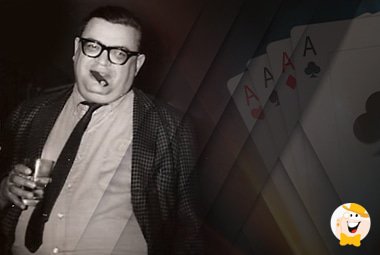 The Legacy & The Players
As Schwartz observes, Puzo trusted "the authority of no one." The only sure thing in life, according to Mario, "was the exhilaration [of] being dealt the perfect card — and even that was subject to more than chance."
Perhaps such a viewpoint may explain such affectionate views on gambling presented in Inside Las Vegas.
But…
Puzo's influence to patrons around the world does not end here.
He believed in operating outside the system — in the exterior of the world's governing rules.
When Michael Corleone explains his father to Kay Adams, his future wife, he says that Don Vito "doesn't accept the rules of the society we live in because those rules would have condemned him to a life not suitable to a man like himself."
Twelve years later, Al Alvarez will have used a very similar description of Texas Hold'em players in his book The Biggest Game in Town, detailing the 1981 World Series of Poker.
Alvarez notes that many patrons strive to live "outside the system," — "the straight world," as he calls it — opting to inhabit the self-made, discrete sphere of the professional player.
Puzo's world of The Godfather is also one of strategic thinking.
Each Corleone, except for impulsive Sonny, is continually planning future actions, fully committed to anticipating the opponent's countermoves.
Don Vito is a believer in personal discipline and awareness of one's strengths — important traits of responsible gamblers. In one of his exchanges with Sonny, the eldest Corleone explains that there's "no greater natural advantage in life than having an enemy overestimate your faults."
Not surprisingly, one of the poker legends, Doyle Brunson — a two-time World Series of Poker Champion and a Poker Hall of Fame inductee — is nicknamed The Godfather.
Finally…
If there is one thing that puts Puzo in the category of his own, it's his unique view on gambling afterlife.
"Should I go to heaven, give me no haloed angels riding show-white clouds, no, not even the sultry houris of the Moslems. Give me rather a vaulting red-walled casino with bright lights, bring on horned devils as dealers. Let there be a Pit Boss in the Sky who will give me unlimited credit. And if there is a merciful God in our Universe, he well decree that the Player have for all eternity, an Edge against the House."
If that's what awaits us, then all the bucks we gave to casinos might make sense. And, that would put quite a favorable betting odd onto the legacy Mario Puzo left behind.
"Let there be a Pit Boss in the Sky who will give me unlimited credit."
Back to articles