Back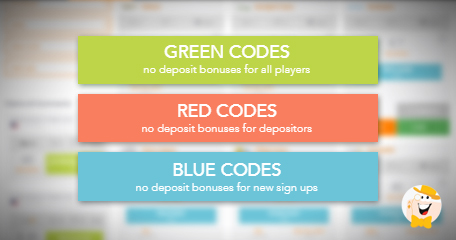 As one of the most popular LCB sections, the No Deposit Codes page deserves an article of its own. This segment of the portal, as well as all else related to freebies, has been visited by vast multitudes of eager gamblers lately, that we decided it was time to give due attention to this important aspect of e-gaming.
What we want to achieve with this piece, is mainly to clear up some lingering confusion and answer frequent questions about the basics of the ND section as it was designed and managed by the team. As you may have noticed...
...offers without strings attached are not as common as they used to be, and it is in our best interest not to miss the ones that pop up once in a while.
Some time ago, when the iGaming industry was just starting to develop, casinos looking to attract new players were generously handing out free bonuses as the most treasured incentives.
We gamblers make for a somewhat UNIQUE consumer group:
Unlike customers in the majority of trading sectors, we invest and stake money not for goods of real value, but for a chance to obtain them, and what a small chance that really is!
There are no guaranteed gains and no reassuring promises; we are left at the mercy of luck with all odds stacked against us. It is no wonder then, that every gambler appreciates a good old freebie! But, the golden era of abundant free chips has long since ended, not in small part due to our own greed.
Somewhere along the line, no deposit bonuses became precious rarities, and we played a big part in this unfortunate occurrence. Free bonuses and promotions were abused by players who tried to always gamble free of charge, without ever having to deposit anything. The situation escalated to the point where casinos retaliated by terminating this type of incentive and stopped offering freebies altogether.
Some kept faith in customers, however, and we can still encounter an ND bonus here and there, but they are getting increasingly hard to find, making them all the more desirable. That is not to say the scene is lacking in frugal operators who simply do not wish to give anything on the house.
As all things RARE...
...ND bonuses are infrequent, elusive and often come with stringent terms of use.
Nonetheless, a TRUE no-deposit chip is an excellent way to get to know casino services and payment habits, to put a venue to the test before registering an account and depositing real money. For online gamblers, finding a trustworthy site is imperative, and one of the ways to ascertain their integrity is to cash out winnings from a completely free offer successfully.
How No Deposit Codes Page Works
The LCB No Deposit Bonus page is a collection of freebies posted by members and moderators alike, in the designated topics on the forum. Every day, we search through the forums looking for new posts, and once found, a code is promptly added to the ND page, along with any relevant information we can find.
It is a quicker and easier way to help you find active offers without having to search the many topics on LCB or other internet sources yourselves. The section has been revamped recently to make it more intuitive and simple to use.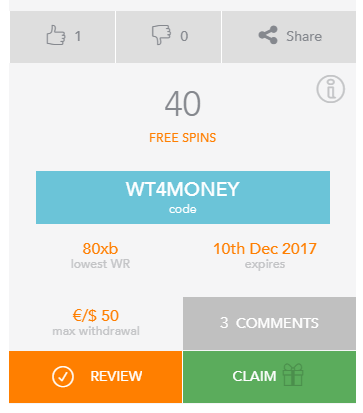 It is important to note that only codes from the REPUTABLE casinos already included in our directory can be added here. This is to ensure no rogue or predatory venues are accidentally promoted or recommended to members. You can be sure that each brand is green-lighted before their bonus is published on our site.
Additionally:
This page is only for bonuses that require codes to be redeemed; we have separate sections for other types of free chips.
Before adding any offer, we do our best to verify the available information by doing our own research. The number of free spins or cash, eligible players, wagering requirements, maximum cash-out, allowed/restricted countries, valid games and expiry date are vital, but additional details that may be of significance are posted in the comment box below each code. If any of these are missing, that simply means said information was not available at the time of the posting.
Casinos will issue different ND codes for different types of customers, depending on their status and activity. Some offers will not be available to you, depending on when you signed up, and how often, if ever, is your account funded. To make eligible bonuses immediately evident to individual members, we assigned a different color for each of the three types:
Green: valid for all players
Blue: valid for newly registered players
Red: valid for depositing players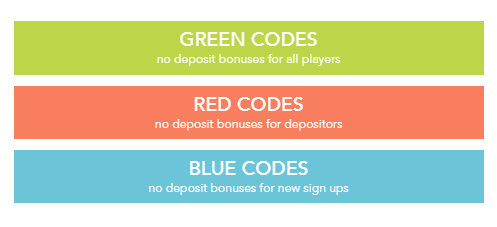 Search filters on the left side of the page serve to make hunting for bonuses even easier. Due to LCB's automatic geolocation tracker, only codes available in your country will be displayed. Even so, you can choose the option to view all added bonuses, or further adjust the filters to narrow down the search according to the desired casino, software, month and type of bonus.
Don't forget to check the comments!
This is where essential details can be found that are otherwise not included by default.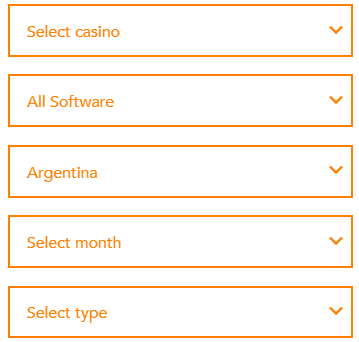 Things To Know
Once in a while, a code will slip through the cracks that is either expired or invalid, or perhaps has wrong information listed, such as wagering requirements, restricted countries or the type of eligible customers. Despite our best efforts to prevent this...
...it is not always possible to find, scrutinize and publish 100% correct info. Keep in mind that the majority of codes on the forums are shared by other members as received via e-mails, SMS, various gaming portals or directly into casino accounts.
Sometimes, you will not be able to use certain bonuses even though you seem to qualify as per stated requirements - it can and does happen for various reasons, but we do our best to prevent misinformation and false offers.
Here are some crucial facts to remember when visiting the ND page:
In such cases when no expiration date is posted, the consensus is that a code expires after a week! But, we noticed a trend in recent times, where free-for-all offers (green) are often available for 24 hours only;
LCB has a policy of not removing old codes, due to the fact they are part of the history of the portal, and we feel it is essential to keep our written records unaltered. Nonetheless, we have made an exception to this rule, and will automatically remove entries in the following circumstances:

Codes over 1-year-old, without an expiry date, and with 1 thumb down more than thumb up
Codes that are not past the expiry date, but have 3 or more thumbs down than thumbs up

Keep in mind that most casinos do NOT allow claiming and withdrawing winnings from several no-deposit offers in a row; if your last transaction was from a free bonus, you will need to deposit before claiming another one again;
Always rate a code appropriately: make sure to read all requirements carefully before giving a thumbs up or thumbs down. Reckless rating may cause working offers to be removed;
Since free stuff is less common these days, we must stick together and share what few of these short-lived gems are out there.
This also means keeping ND boards clean, being concise and to the point when posting in this section. It is incredibly crowded over there, and we'll want to keep this helpful and popular part of our portal the best it can be. As always, all suggestions are welcome.
Good luck members!
"It is a quicker and easier way to help you find active offers"
Back to articles