Back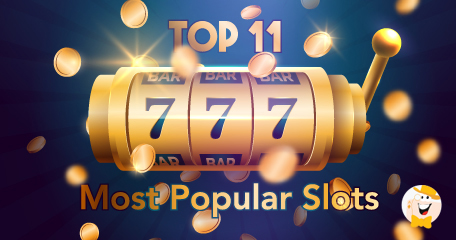 Statistics are emotionless. Numbers don't get carried away, don't resort to wishful thinking, never get personal. They just tell the story as it is. Sometimes people like what they hear, other times not. When the latter occurs…
…on occasion we witness the interpretation of data. It's an art form itself; pretty much any number can be bent, in any walk of life, particularly in gambling.
There are, however, statistics that won't tolerate even the most sophisticated manipulation or obfuscation — popularity.
Originating in the Latin word popularis, the term itself describes what belongs to the people, is devoted to people, and accepted by the people.
Indeed, when statistical outcome is of the people — it stands in its own truth.
The same can be said for the most popular free online slots played at LCB.
The statistical voice of our community is loud and clear, provided by a transparent system dedicated to delivering more value to the players. Our data are based on rankings of 4,310 free slots collected at one place, available for you to play with no download.
According to the statistics, the wide choice of themes and software games providers was obviously great fun to enjoy, thus it was only natural to write a story about it. In doing so, the only thing left to do was to pivot our viewpoint as we give you…
The Top Eleven most popular free online slots you played and voted for.
We've decided to present slots based on the most played category, in conjunction with the best rating and most voted categories. All data are as of May 3rd, 2019.
It is important to underline the relation between rating and number of votes. Some games have better ratings based on fewer votes; others rank higher in votes, while retaining the same rating. To avoid any confusion, you'll be informed on both.
Let's go!
No. 11: Red Baron
The first on our countdown list is Aristocrat Gaming video slot based on Manfred von Richthofen, a fighter pilot with the German Air Force during World War I. Red Baron has been played 447,351 times with 4.7/5 rating based on 2,588 votes.
This 5-reels, 243 pay-lines slot with 95.70% payout, explores the legendary German ace-of-aces and his legacy. The theme correlates to biplanes, aeronautics, dog fighting, triplanes, zeppelins, iron sights, medals, and the encompassing era.
Red Baron ranks 17th in the most voted category, while it holds 38th place in the most rated category. (Note: 4.7 rating is actually second level rating, thus 38th place is a technical one.)
The life of von Richthofen has been the subject of numerous films and books; this video slot builds up on it, providing players with interesting mix of history and slots features.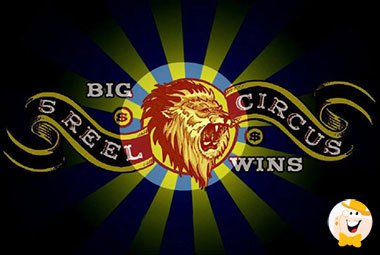 No. 10: 5 Reel Circus
Next to follow is Rival Gaming video slot played 461,465 times with 3.4/5 rating based on 1,909 votes. A rather curious statistic, if you will, considering the ratio between the volume of plays and the rating/votes category, but nonetheless enough to be present.
The 5-reels, 15 pay-lines slot with 95.56% payout, 5 Reel Circus correlates to the circus theme. There are Big Top Clowns, the Ringmaster, the Bearded Lady, the Contortionist, then the tiger, bear, lion, and the Trainer of the Elephant — all adding up to the nostalgic feel of a fascinating, good old times circus.
While 5 Reel Circus ranks way low in terms of rating and votes, it obviously provides something in return, worthy of being played almost half a million times!
No. 9: Jack and the Beanstalk
A fairytale everyone can relate to, this NetEnt video slot with its colorful and realistic graphics is the only remaining contestant below half a million mark in the most played category. Jack and the Beanstalk has been played 471,444 times with 4.7/5 rating based on 8,587 votes.
The 5-reels, 20 pay-lines video slot with 96.3% payout is immersed into the classic childhood tale of a poor boy in the pursuit of wealth. Enriched by animated introduction and wrapped up in exquisite 3D artwork, this rather remarkable game obviously turned some heads since…
It ranks 2nd based on votes number.
On the other hand, with a second level rate, it holds the 20th place based on rating.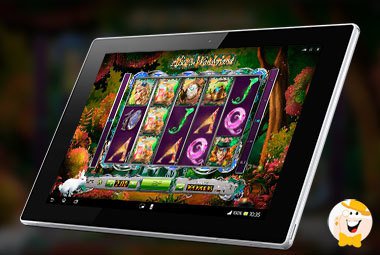 No. 8: Alice in Wonderland
The popularity of this fairytale and rabbit hole is so well known that it's not surprising to see this OpenBet slot on the list. Alice in Wonderland, based on the famous book, possess the outlook worthy of 560,246 plays and rating of 4.5/5 based on 2,204 votes.
The five reels, 20 pay-lines video slot with presumably 95% payout, features the all too well-known Red Queen, the Mad Hatter, the twins, the Cheshire Cat, the Caterpillar, not to mention Alice itself. A bit old fashioned and classical approach is compounded by a gamble feature offering to stake the win while correctly guessing the card color.
Alice in Wonderland ranks 24th based on votes number and holds 217th place based on rating.
The reason for such a mediocre position in the ranking list is in the volume of votes: as you've probably noticed, it's rather low. The ranking itself is the fourth level.
No. 7: Great Blue
Our fascination with oceans is understandable: they cover 71% of the Earth's surface. Thus, it's only natural to extend it to Great Blue, a video slot featuring the underwater world. So much so, that it has been played 620,142 times and rated 4.8/5 out of 4,288 votes.
Created by Playtech, this 5-reels slot with 25 lines and 96.03% payout is a deep blue themed game that involves ocean mammals such as whales, sea turtles, fish, shells, seahorses, and omnipresent underwater bubbles. Naturally, orca whale, the apex predator of the oceans, makes up the wild symbol.
Great Blue ranks 9th in the best-ranking category — it actually shares the first place with others — and is on the 11th place based on votes number.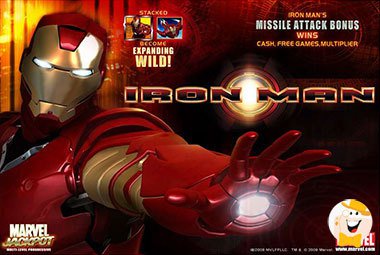 No. 6: Iron Man
The comic books by Marvel Comics delivered us a fictional superhero impersonated by Robert Downey Jr. in three blockbuster movies. Courtesy of Playtech, iGamers could enjoy the adventures of Tony Stark by playing Iron Man free video slot.
To no surprise, it has been played 629,859 times while being rated 4.8/5 based on 5,339 votes.
The five reels, 25 pay-lines game with 94.89% payout features all paraphernalia used by the billionaire playboy as he embodies the Iron Man and uses superhuman powers to protect the world. The authentic icons include briefcases, missiles, flying hero, and Tony Stark in several poses.
Released in 2009, as a part of an agreement to license Marvel brands for Playtech games, Iron Man ranks 7th in the most voted category and 14th in rating (though with first level rating).
However…
Since the existing agreement between Playtech and Marvel has ended — which is to say that, as of April 1st, 2017, this game is no longer available — it is safe to assume that, in time, other games will surpass Iron Man.
No. 5: Big Ben
An iconic British landmark positioned next to the houses of Parliament in London provides for the background in Big Ben, online slot created by Aristocrat Gaming played 655,397 times with an average rating of 4.6/5 based on 3,276 votes.
Like with a number of games from this provider, the 5 reels slot with 25 pay-lines and 95.54% payout additionally offers the depth of color and intricate backgrounds that interchange through day and night mode views of London. The folklore of the UK capital is further enriched by typical double-decker buses, red phone box, and Queens Guards.
While Big Ben is not ranked in the Top 11 in the most voted category (ranks 13th) and resides in 61st place in rating (third level), it appears the attention to detail used on the icons and interesting features has contributed to the popularity of this slot.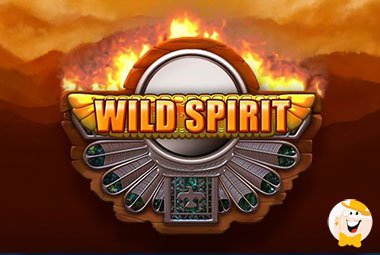 No. 4: Wild Spirit
Leading the games placed outside of the podium is online slot that delivers beliefs, heritage, and artifacts of Native Americans created by Playtech. Wild Spirit has been played 828,033 times and rated 4.7/5 based on 5,783 votes.
This 5-reels online slot with 20 pay-lines and 91.97% payout embraces the rich ritual history of Native America encompassed with ideals and artifacts associated with various tribes. The theme encapsulates the tribal Indian times with vast orange desert and mountains, including a female scatter icon resembling Pocahontas and the Chief of the tribe himself.
Ranking 6th in the accompanying most voted category and 21st in rating (technically, second level rating), Wild Spirit probably stands true to its name, offering an exploration into spirits that sometimes don't want to be tied down.
No. 3: Where's the Gold
The first game to rise above one million plays mark — resulting in podium placement — is one of the most popular pokie machines in Australia, and its online version created by Aristocrat Gaming. Where's the Gold has been played 1,023,894 times, and is rated 4.8/5 from 6,122 votes.
Five reels slot offers 25 pay lines and 94.92% payout packed in the silhouetted backgrounds of cactus plants, tall grasses, and mountains. Featuring Prospector, the main character, with a plethora of gold mining equipment (shovels, picks, wagons, lamps, dynamite) and mine shafts, the game successfully transpires the charm of its land-based cousin with a fresh look attractive to all types of players.
Consequently, this free online slot is in 3rd place on rating list and on the 4th place in the most voted category.
No. 2: Choy Sun Doa
The second podium place is reserved for this oriental themed slot, created by Aristocrat Gaming. You played Choy Sun Doa 1,330,236 times and rated it 4.7/5 from 5,991 votes.
Five reels slot provides for 243 different ways to win, with payout ranging from 94.51% to 94.60%. Based on an extensive oriental theme and featuring breathing dragons, jade rings, and golden crowns, the name of this slot literarily translates to the God of Prosperity or Wealth. Naturally, there are Emperors and dynasties present as well!
While Choy Sun Doa holds a firm second place in the most played category, it ranks fifth in the most voted category and 31st based on rating (second level rate).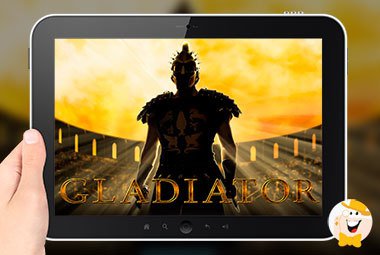 No. 1: Gladiator Slot
The undisputed winner is Gladiator, created by Playtech in conjunction with DreamWorks. Members of our community played it 2,281,332 times, which resulted in a rating of 4.8/5 from 19,056 votes.
An officially licensed video slot based on Ridley Scott's timeless movie — with 5 reels, 25 pay lines and 94.09% payout — features cut scenes, animations, and sound effects to thrill players. The game includes all characters from the Gladiator saga, except for Maximus itself.
As history teaches, there could be only one at the end of the games in the Colosseum. Based on voices of our community, this video slot obviously followed the rule to the letter.
Gladiator leads not only in the most played category, but also in the most voted category and the best rating category.
Which might make it the one to begin your roll with.
Honorable Mentions
Only three other free online slots were played more than 400,000 times in all. Thus, in the most played category, the list would not be complete if we don't mention…
In the best rating category, there are few games that didn't make it to the list, but are among Top 11 when it comes to rating. Worthy of mention are the following, all rated 4.8/5:
In the most voted category, there are three slots that are among the Top 11 voted, but outside our list. To their credit, they are…
Wipeout (voted 5,146 times with 4.8/5 rating);
Batman (voted 4,534 times with 4.8/5 rating); and
2 Million BC (voted 4,418 times with 4.6/5 rating).
Closing Remarks
When the popularity is based on the outcome that comes from the people and for the people, it always stands in its own truth. It can rarely be bent.
Longevity, on the other hand, can be a challenge.
One of the best ways to secure the long-lasting impact is to perpetually deliver quality. Be devoted enough to provide value, strive to offer what will belong to the people, and the product or service will be accepted by the people.
The reward of the most dedicated? To end up as the most popular.
In addition, popularity also ensues in riches since people usually have to pay more for the top-ranking items.
However…
When it comes to the most popular online slots at LCB.org that is not the case.
On the contrary, here at LCB, you can enjoy them freely, with no funds required whatsoever, providing you with the possibility to test them as you improve on your skills.
Those two attributes — to test and improve — are by definition the elements of responsibility, which is what the gambling should always be about. Short of outstanding fun.
So, go ahead and tell us afterwards about your take.
Back to articles