Back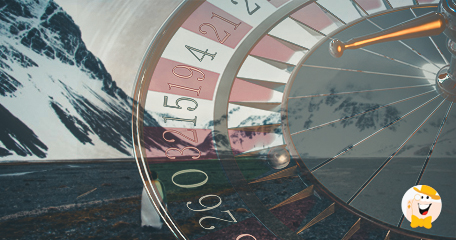 Sea, air, land, and anything in between, or below, might not always accompany brick-and-mortar venues' descriptions. But it doesn't mean there aren't gambling resorts that encompass those domains perfectly.
Self-explanatory terms deserve more recognition. Nothing beats words understandable without further explanation. Such precise terms are gems not only to readers, writers, and conversationalists, for they save time and bring clarity, but to consumers and companies as well, as they instantly address needs and define offerings.
A land-based casino is one of these phrases.
There's nothing to elucidate here: We instantly know it's about a brick-and-mortar venue hosting table games and slots.
The remaining clarifications may, of course, include how spacious or opulent a casino is, available loyalty programs, whether you can meet eccentric high rollers or celebrities as you play, does such a resort has enticing hospitality arrangements — and other peculiarities.
But we cannot mistake a land-based casino for a cab, a basement of a medieval building, a desert cave, Boeing 777, a state prison, a train, nor put it in any similar surroundings.
Or, can we?
Being who we are — an exceptionally ingenious species with a peculiar penchant for gambling in the last four thousand years — the humans have considered or enjoyed, and still do, or plan to do so, many different places with one thing in common: A land-based casino.
Thus…
If we were to travel distances — or pay a visit to the past and future — we could enjoy roulette wheels, slots' reels, hits, rolls, and folds in very unusual places and weird locations across the globe.
With that in mind, there's only one thing left to do: To check the most interesting ones.
(Editor's note: Good day, ladies and gentlemen, this is your captain speaking. I want to welcome you to Leisure Cruising Beyond Airlines. This is flight number 2021, heading to multiple countries. We will be in the air reading mode for a total time of 18 minutes. Please be sure you are seated and your gambling seatbelt is fastened responsibly. As we take off, you may relax, take pleasure in exciting facts about our destinations, and enrich your experience with our exclusive onboard offerings. Thank you for choosing LCB Airlines, have a fun and pleasant trip.)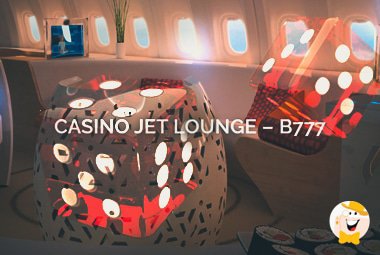 Gambling Up in the Air? Done.
Very well, then, since we're in the airplane, let's begin with that Boeing 777-200.
The Casino Jet Lounge is essentially a conceptual proposal to modify the airframe hosting 305 passengers in its three-class configuration, with a range of 5,240 nautical miles.
Envisioned by AirJet Designs in collaboration with Designescence as "a refined entertainment and a social area designed for long-haul commercial flights," the gambling venue consists of a single blackjack table, a bar counter, and a luxury lounge available to all passengers.
A fully customizable interior is available to private-jet owners and airline companies.
Featuring stylish attributes, holographic screens, leather sofas and armchairs, natural materials such as minerals and woods, this casino is everything you'd expect of French style. Throughout the night, tranquil lightning with changing hues illuminates the wall sconces, ceiling domes, and panels housing wine bottles.
Pictures available online paint one of a kind experience to play the skill-based game with a low house edge and well-devised gaming strategy. To win big through prudent choices while facing chances at cruising altitude of 35,000 feet, in such a lavish interior, could top even the mile high club experience.
Unfortunately, considering current flight regulations, the Casino Jet Lounge remains only a concept.
Still, we can reasonably hope to see it airborne one day.
Namely, as the airline industry faces unprecedented financial challenges due to the global pandemic, the community has recently begun to contemplate casino games during flights. A quote from the article exploring these revenue potentials is indicative: "What if the solution to airline solvency were right in front of us? What if it took just a tweak to one law to make [it] happen?"
There seems to be only one question about in-flight gambling: With whom to partner?
The options boil down to Las Vegas operators and iGaming providers, and the former is infinitely more attracted to this possibility considering a heavy blow Covid-19 delivered to land-based casinos.
To hint at the seriousness…
…in exploring "a new captive market in the skies," the companies are weighing options to allow passengers to gamble not only with cash but with frequent flyer miles too, opening up "a new path towards earning elite status with the airline."
The initiative is not new, though.
While the Gambling Devices Act of 1962 prohibits gambling on U.S. commercial aircraft, the other airlines flying to America experimented with this option before.
In 1981, Singapore Airlines offered one-arm bandits on the Singapore-San Francisco route using lightweight machines to consume less fuel. Although all devices broke on the inaugural run, they turned out to be quite popular, causing service issues during the flight as too many passengers congregated in the isles to play.
Swissair tried a similar concept in the 1990s, using an onboard software solution for seat-based, interactive in-flight gambling, enabling passengers to bet up to $350 on poker, blackjack, and keno.
Ryanair and Virgin Atlantic evaluated the same approach in 2005, although their initiatives never took off.
So, fingers crossed.
Maybe the Casino Jet Lounge will see the light of day sometime soon. As far as the iGaming-in-the-clouds idea goes, well, that would be, like, the best just got better — and we're not talking about the mile high club.
(Editor's note: I like seeing how the airline industry seems to recognize the economic potentials of well-regulated gambling markets, taking notes from the U.S. states that legalized sports betting and online gambling in the last year couple of years. It's such a shame I'm not too fond of flying.)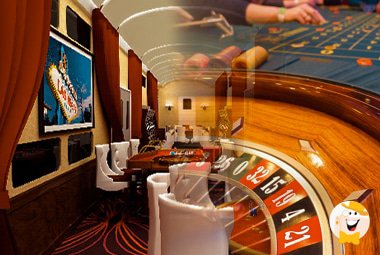 Casino on the Rails? Sure.
In that case, you could have enjoyed playing on a luxury Club X-Train — almost — and you might be able to do so in the foreseeable future.
Envisioned in 2011 as casino-style railroad experience from Fullerton, CA, to Las Vegas and back, the idea was to offer table games and a sports bar with food and beverages during a five-and-a-half-hour long, good old-fashioned, diesel train journey.
Seventeen fully-equipped cars were to run on the Union Pacific Railroad track. The company planned inaugural rides of this 'party train' for New Year's Eve 2013 and 2015, but funding never came together, as the project required approximately $100 million to launch.
However...
X-Train's CEO Michael Barron rekindled his concept a few years ago and began operational consultations with Amtrak and Union Pacific.
Branded as Las Vegas Xpress — all-inclusive, excursion casino business — rail line was to launch in November 2019. Then, the pandemic happened and delayed the effort.
As of August 2020, the project is slated to kick-off in the spring of 2021, with a couple of notable modifications.
This time…
According to Barron, the California terminal would be in downtown Los Angeles, per Amtrak's request. With social distancing fully in force, the initial plans for 10-car, 500 passengers train had to be reduced, although X-Train states it could deploy as many as fourteen cars to make up for lost seating.
Therefore, if the stars align and this initiative indeed comes to fruition, and you're willing to invest in a $500 round trip to test your chances and choices in Agatha Christie-style gambling adventure, you might as well give it a try.
(Editor's note: I can totally envision myself as a player who writes delicate plots surrounding games and patrons at this train, prompting one of our Hercule Poirots to embark and investigate. Then again, considering how busy I am, I wouldn't mind being able to play a few poker hands in a cab — my time-saving service.)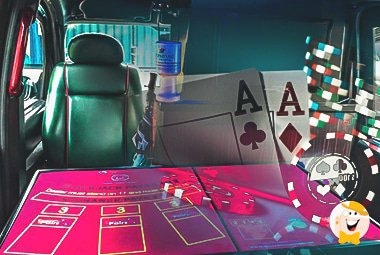 Wheels of Fortune & Underground Experiences?
Well, if you were to visit London, United Kingdom, a couple of years back, you could have done precisely that.
Yup, we're talking about Grosvenor Taxi Casino.
Launched as a brand awareness campaign for operator's brick-and-mortar venues and iGaming hubs, "the world's smallest traveling casino" encompassed the back of a black hackney carriage.
All passengers who requested a ride via Twitter enjoyed live dealer poker and blackjack games, a wet bar, two TV sets tuned to sports events, and online gambling on a tablet device — including a short tutorial on games.
London debut…
…involved Phil Tufnell, an English cricket player, as a promoter, while the extended itinerary comprised Birmingham, Manchester, Leeds, and Glasgow, Scotland.
In line with prevailing corporate social responsibility trends among leading worldwide gambling operators, Grosvenor's London promotion included a trip to anywhere in the city pending a donation to the Carers Trust as a designated charity.
(Editor's note: That's what I'm talking about! Now, imagine spinning online slots in America's most populated cities. Don't you even think about patenting this one, or someone will slap you with an injunction!)
But what about actual locations operational nowadays?
Since our LCB Airlines flight is still above the United Kingdom, if you look through your windows, you can see the North Cadbury Court, near Yeovil, England — home of the Montgomery family for over one hundred years.
This epic 16th-century country house features 25 bedrooms, a dining hall, ballroom, Georgian library, indoor swimming pool, spa, upscale kitchen amenities, and even a disco. Its 1,500 acres include a golf course, archery facilities, tennis court, the Yacht Club at a freshwater lake, and a private entrance to a nearby church.
Naturally, the family is in the hospitality business.
But…
You won't see the actual casino, for the venue is housed in the underground cellar room.
And yet, this brick-and-mortar resort — in a true sense of these words — has full-size casino tables for roulette, blackjack, and poker. Moreover, it's not a crowded place: Only thirty people may fit, together with professional dealers and croupiers.
(Editor's note: That's an intriguing concept — gambling underneath the Elizabethan mansion.)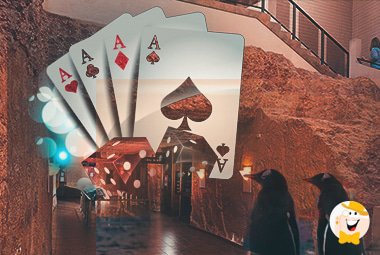 Caves and Even Penguins?
As we slowly turn our plane towards the Southern Hemisphere — and while we're still at the underground facilities — have you perhaps heard of the Desert Cave Hotel at Coober Pedy, Australia?
In a nutshell…
If you like outdoor adventures in remote areas, prefer to avoid the heat, have a penchant for opals, star-lit canopy, breathtaking sunsets, sparkling wines, and gambling, you might fancy this casino carved out of the rocky desert.
Aside from nineteen rooms below the ground, a display center, and the usual bells and whistles you'd expect from the only internationally rated underground resort, the cave gambling venue stands out.
More than…
…fifteen poker devices, slot machines, and several other games await regular patrons, including free VIP membership, while high-rollers enjoy the usual red-carpet treatment.
As players progress through a loyalty program, the casino elevates comps such as buffet coupons, additional hotel deals, free slots plays, personalized services, dedicated hosts, tickets for cruise lines, and such.
(Editor's note: I am so checking this one out on my first visit to LCB's Aussie founder! Founder's remark: I am so taking my girlfriend to Coober Pedy at the earliest opportunity!)
As you two sync your schedules…
…and since we're flying above Australia, we might as well hop across the Southern Ocean — LCB Airlines is, as you know, a reputable long-haul carrier; thus, we have enough fuel — to see the casino in Antarctica.
As we reach Hope Bay at Trinity Peninsula — the northernmost part of the Antarctic Peninsula — you can see Esperanza Base. This all-year-round research station, belonging to Argentina, is stationed in one of only two civilian settlements on the continent.
As expected…
The casino over there is nothing like Las Vegas-style venue: It's a wooden, communal hall kind of a hut decorated in Argentinean patriotic posters, flags, and maps on the walls. Nonetheless, it's still a place where scientists, residents, and presumably even penguins may play a few hands in what appears to be a modest selection of table games.
(Editor's note: Brrr. I'll visit that one virtually. Founder's remark: All right, I'm pausing my reading right here to check my winter gear: This is way too much to pass for an adrenaline-driven adventurer!)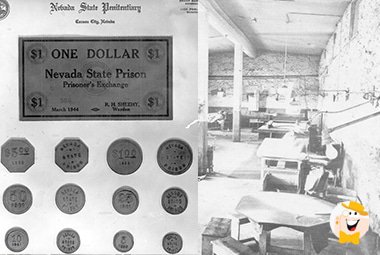 Jungle, Wildlife, and Debarking
As the night slowly falls on this inter-continental literary journey, you might not be able to see other unusual casinos we're flying over. To compensate, our flight attendants will give you a glimpse of a few honorable mentions.
From 1932 to 1967…
The Nevada State Prison ran the casino in a dining hall. Inmates, some of the roughest bunch in America at the time, were allowed to play craps, poker, blackjack, and legitimately place a few sports bets at the only gambling venue in the history of penology in America.
Prisoners self-policed the joint, served as dealers, and had zero tolerance for cheating or strong-arming. They used food and laundry brass coins as the currency, while the handle percentage went as a deposit for the inmate welfare fund.
Twelve years after the state established the Nevada Gaming Control Board, the prison ceased the casino operations as a new warden looked to develop other recreational activities for inmates.
Then…
If you prefer to compound your photo safari expeditions with table games, check out the Sun City Casino in the North West Province of South Africa.
It must be quite an experience to pet any of the Big Five in the Pilanesberg National Park with your camera, only to poke a poker bear later in the evening.
(Editor's note: Blimey, that just about leaves us with, what, the jungle, and perhaps scuba-diving? I mean, seriously?)
But of course!
SkyCasino at Genting Resort in Malaysia's Pahang Mountains fits the former's bill, with its exotic flora in the middle of the wilderness. The luxury venue on par with the operator's reputation includes seemingly all conceivable games.
And yes — there is an underwater casino at Shipwreck Park on Pompano Beach, Florida.
A former tanker, named Lady Luck, serves as a scuba diving attraction at the length of a football field, as divers observe slot machines and poker tables. Quite understandably, though, this casino is not operational.
Nonetheless, imaginary explorations of submerged gambling captivate an enticing thought: To win twenty thousand dollars under the seas, pay homage to Jules Verne, and surface to spend it wisely would be a truly genuine experience.
And, with that one…
We see the terminus point of our flight on the radar.
While all of those casinos might put self-explanatory terms in a more iridescent light, the clarity of human inventiveness when it comes to gambling remains the same. We love doing it wherever we can, as long as the surroundings remain well-regulated, allowing us to prudently and responsibly pit our skills against luck.
In closing, why don't you hitch your creative airplanes to the star and give us thoughts on weird locations and unusual land-based casinos? How could they look like? Where would you place them?
Please land your ideas on this runway, and park them on the tarmac of our comments section.
(Editor's note: Ladies and gentlemen, as we start our descent, please fasten your seatbelts again. On behalf of LCB Airlines, I thank you for choosing us. I hope you enjoyed your stay and made some memories. Have a fun, safe, and lucky gambling adventures.)
"an exceptionally ingenious species with a peculiar penchant for gambling"
Back to articles