Back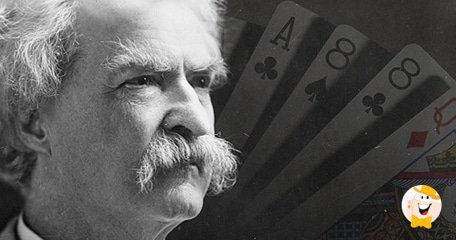 Before I sat down to write this rather controversial column, I did a lot of heavy thinking. I know, for example, that I am bound to offend a lot of people, including some of my friends like Oklahoma Johnny Hale.
Johnny is a fan of Mark Twain, the pen-name of the beloved author who grew up riding the steamboats in Mississippi and who served as editor of a newspaper in Virginia City, NV.
Clemens, aka Mark Twain, even served as captain of a steamboat during his early literary career. As captain, he no doubt rubbed elbows with a lot of professional riverboat gamblers who made a good living robbing the wealthy riverboat passengers of their money, cattle and other valuables.
When you are traveling on a passenger boat, there isn't much to do except relax in lounge chairs, drink tea or whiskey depending on your choice, and gamble.
In those years, there was no eye in the sky to protect the innocent from the guilty. Security was lax on steam boats and at night if somebody protested too much about being cheated in a card game, it was relatively easy to dump the irritant overboatd without anyone hearing the splash.
Clemens was a known gambler. He enjoyed a stout drink, smoked cigars, had an eye for the ladies, and fit in well with the professional card sharks who populated those floating palaces.
I visited the Bucket of Blood saloon and casino in Virginia City. This was a favorite hangout for Clemens. The bullet holes in the walls and ceilings of the gambling establishment were still visible, put there by drunken gamblers who were convinced they had been cheated. It wouldn't surprise me to learn that Clemens had been present when some of those shots were fired.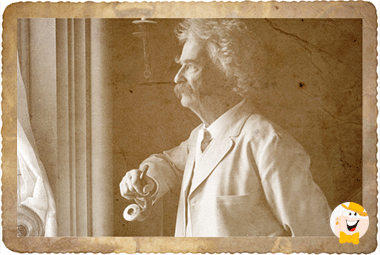 Twain was known for making friends of ladies and children who were passengers on the steamboats. He joked with them, flattered them, bought treats for them, and was thought of as a charming gentleman who could be trusted with the rent money.
But was he as honest as his cultivated image? I don't think so.
There's a saying that if it waddles like a duck, quacks like a duck, and ruffles its feathers like a duck, it probably is a duck.
Samuel Langhorne Clemens, aka Mark Twain, was a gambler. He drank like a gambler, smoked cigars like a gambler, and consorted with some of the best-known gamblers of his generation.
He was a good businessman who made shrewd deals with his publishers for royalties from the sale of his books. He kept meticulous records of those sales and knew if a publisher was cheating him. Therefore it only stands to reason that he knew a little about cheating when it came to playing poker, rolling dice, or playing one of the other games of chance that filled the saloons of those notorious steamboats.
Sorry, Johnny. I know you adored Samuel Clemens, Huckleberry Finn and Tom Sawyer, but I am only reporting the facts. I will leave my readers be the judge as to Clemens' honesty.
"Clemens was a known gambler."
Back to articles