Back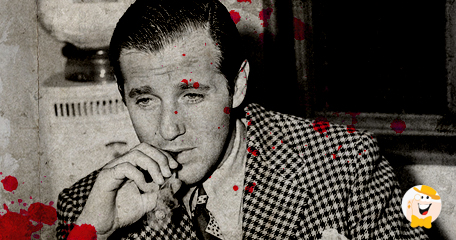 He hated the nickname Bugsy. He preferred to be called by his real name, Ben, or Mr. Siegel, especially by people he didn't know.
Born in Brooklyn, N.Y., Benjamin Siegel grew up in a poor neighborhood. At a very young age he vowed to change that. He would not be poor like his parents.
He dropped out of school and joined a gang. They learned how to steal and fight. Somewhere along the line, Siegel became proficient with a gun. He learned how to use it and would become proficient when he joined Murder Inc. and became a hitman for the mob.
Siegel had the Hollywood good looks of an actor and probably could have been a successful one in Hollywood. He became friends with some of the leading actors of all time -- Clark Gable, Gary Cooper, George Raft, Phil Silvers, and Frank Sinatra. He was charming and generous with his money. He donated a lot of cash to the Damon Runyan Cancer Fund.
But somewhere along the line, this genial handsome killer upset the wrong people and died the way he lived -- violently. He was relaxing at the rented Beverly Hills mansion of his girl friend Virginia Hill when somebody opened fire through a plate glass window and put two bullets from a military carbine through his head, killing him instantly.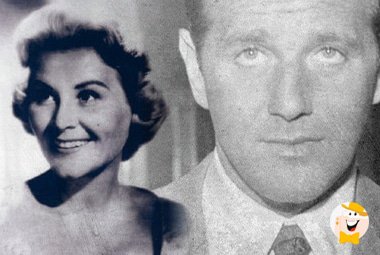 The crime has never been solved.
A few years back, I interviewed one of Siegel's girl friends. She was Rose Marie who starred for years on 'The Dick Van Dyke' television show.
Rose Marie was vacationing in Phoenix, AZ. where I was working as a reporter for the Phoenix Gazette. I was also the Arizona Correspondent for People Magazine and one of my friends who owned a resort hotel where Rose Marie was staying arranged the interview.
Over a two-hour period we talked about a lot of things. She told me about her career as a singer before she became 'fat, frumpy and fifty...that's when I turned to comedy.'
She was in her early 20s, attractive and a successful vocalist who was singing with Xavier Cugat's orchestra when she met Bugsy Siegel.
'Cugat's band had been hired to open the Flamingo Hotel, a new resort in Las Vegas that Siegel was building for the mob,' Rose Marie said. 'I was walking through the casino to rehearse with the band when I passed a table where Siegel was seated along with a couple of other men.
'As I neared the table, he called me over. He knew I was nervous and he tried to relax me by giving me some money to gamble until the show went on. He pushed some money into my hand. It was $10,000 in cash. I almost fainted. I played a little keno but it made me so nervous, I had to go back to him and give the money back. He smiled. From then on he trusted me and became my benefactor. We even did some dating.'
She described Siegel as charming and a total gentleman who did a lot to help her professional career.
Siegel was friends with Del Webb, a construction company owner who built several casinos in Las Vegas and who founded the retirement community of Sun City near Phoenix, AZ. Webb had heard about Siegel's reputation as a hit man and member of organized crime.
When he saw how nervous Webb was around him, he smiled and said, 'Relax Del. We only kill each other.'
Siegel was in his late teens when he joined Meyer Lansky's crime syndicate. He became one of the mob's top hit men and took part in bootlegging during Prohibition. He also helped run illegal gambling sites, stole cars, and committed other crimes for the syndicate.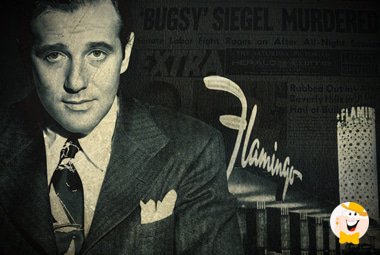 During his 41 years, Siegel was arrested numerous times on a variety of charges, including armed robbery, rape and murder. Using the services of mob attorneys, he was able to beat all the charges and never served time in prison.
One report also states that he enjoyed smoking opium for the high it gave him.
Siegel married his childhood sweetheart. They stayed married 16 years until she tired of his womanizing and filed for divorce.
He became part of the Hollywood crowd and was on a first name basis with film producers Louis B. Mayer and Jack L. Warner. He was friends with Tony Curtis and dated Jean Harlow.
After gambling became legal in Nevada, Siegel saw the possibilities that existed and took an interest in developing casinos on what would become the Las Vegas Strip. He tried to turn the Flamingo into a top gambling resort but ran into problems with cost overruns. The mob was not thrilled with his performance and thought he was skimming money from the casino operations and construction costs.
On June 20, 1947, shortly after he celebrated his 41st birthday, Siegel was shot to death. An intense investigation by police turned up nothing and nobody was ever charged with the murder.
Rose Marie said she would never forget Siegel and the way he and his fellow mobsters showered her with champagne, high salaries and the good life.
'When they did something, they did it with style,' she said. 'That's something I will always remember.'
"He preferred to be called by his real name, Ben, or Mr. Siegel"
Back to articles