Back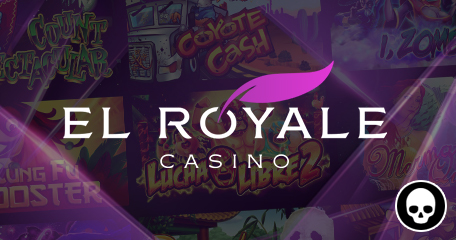 It has recently come to our attention that players at El Royale Casino are allegedly having troubles with regards to delayed payments. The US-friendly RTG hub regularly scores high marks as an all-around respectable gaming site and any serious offense, such as withdrawal issues, shouldn't be part of the package of any solid casino.
LCB set out to investigate the withdrawal process of the site in an attempt to either corroborate or dispel the claims made by several patrons, and also find out the reason why in case of the former.
Overview
Over the course of 3 days – 18, 19 and 20 September 2020. – we played several slot and video poker games with a deposit of $1000 worth of BTC made via Coinbase. The registration and depositing processes, as well as the lobby, are typical of an average RTG-powered operator, with nothing out of the ordinary to report.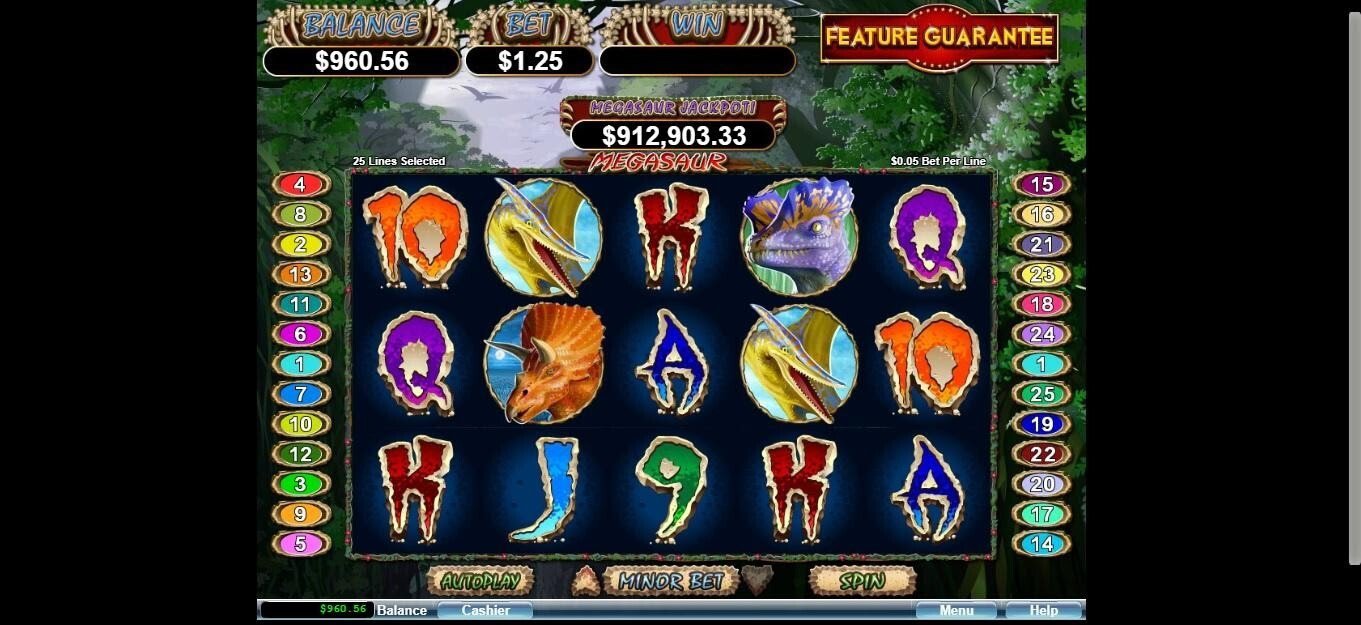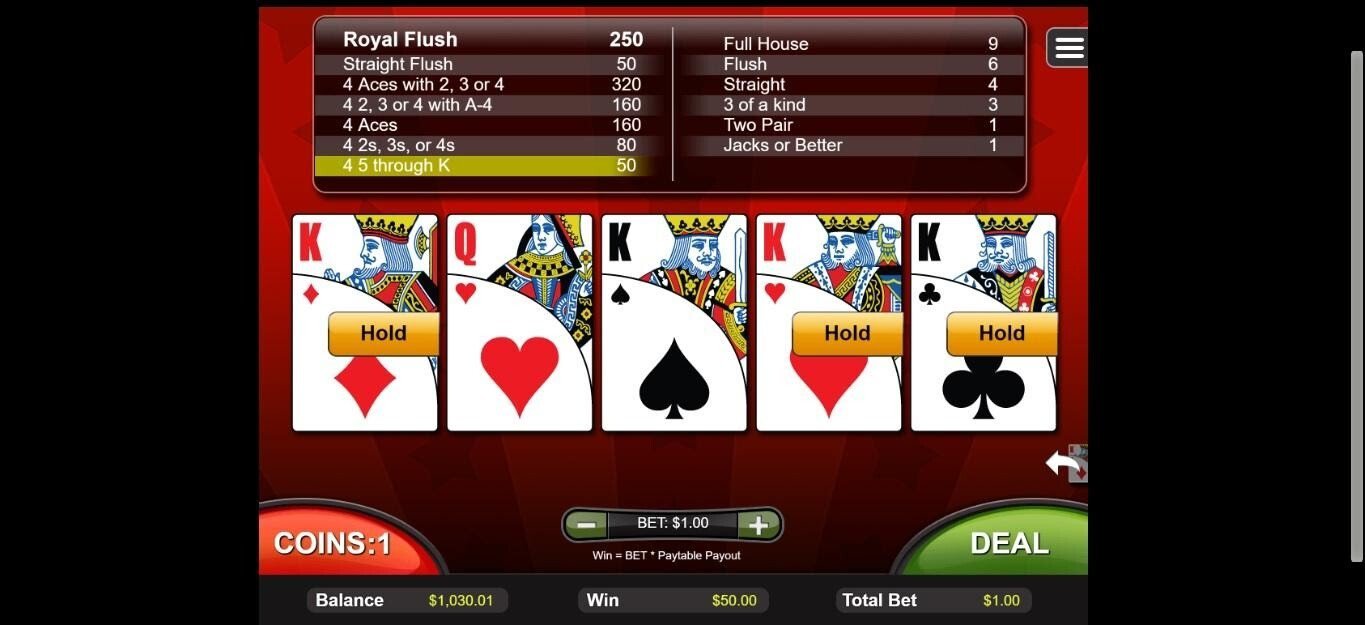 Verification Documents Approved
Once our balance reached $750, we decided the amount is sufficient to make an attempt at a cash-out request and see how well the casino handles it. As per their T&Cs, withdrawal requests are approved only after identity verification has been successfully completed. We submitted the necessary documents on September 20, right before we were ready to cash-out.
Four days later…
…on September 24, the casino emailed and notified us that the logo was not visible on our Account Validation Form. Apparently, we made a few typos and errors somewhere in the process which caused this slight delay.
However, it took the operator 4 days to respond in between each of the emails we exchanged in an attempt to correct the errors. Once resolved, we were able to continue the verification procedure, which also included one verification call on September 24. Another week went by before the documents were approved and the withdrawal made on September 30. Although these delays were partly our fault, we still felt the time it took to finally verify our identity was longer than necessary.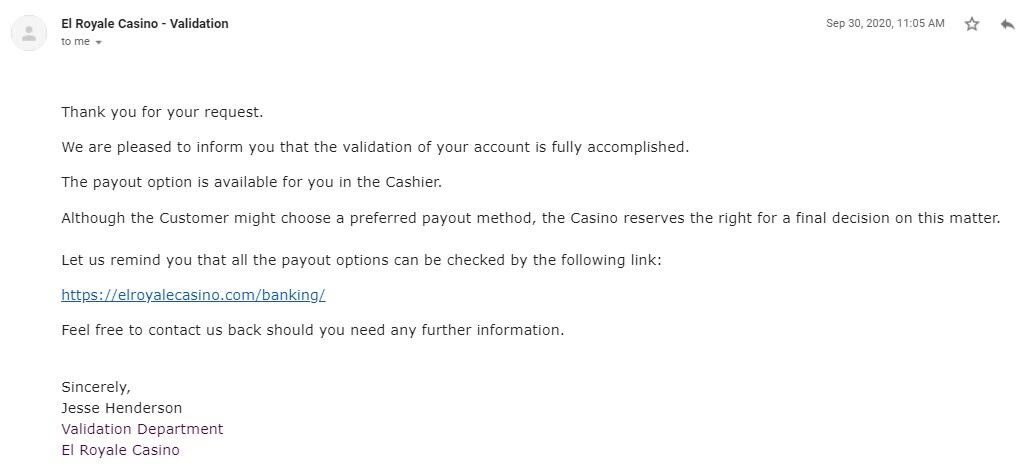 Up until this point, everything went quite smooth without major issues on the part of El Royale, however, the next step is where they failed to deliver a satisfying outcome.
$750 Withdrawal Request and an Unpleasant Surprise
Namely, we sent a withdrawal request for the full amount of $750, but received only $350 on October 5. The pending time was reasonable, even if slightly longer than stated 3 business days. Our email inquiry went unanswered for a full day, and we subsequently turned to Live Chat for help.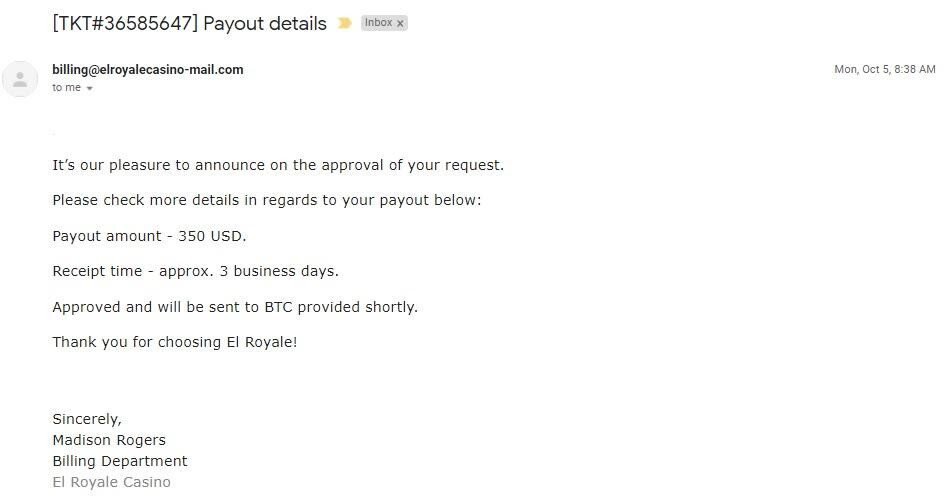 They informed us that "the casino reserves the right to send winnings divided into smaller amounts", so we had to make another payout request for the remaining sum.
Via email, the operator offered a more elaborate explanation: maximum payout amount and approval times are determined by the Customer Level that depends on a range of factors including reputation with El Royale, credit scores, deposit type and frequency, duration and outcome of gaming sessions, adopted payout methods, the frequency of reversing payouts and membership duration.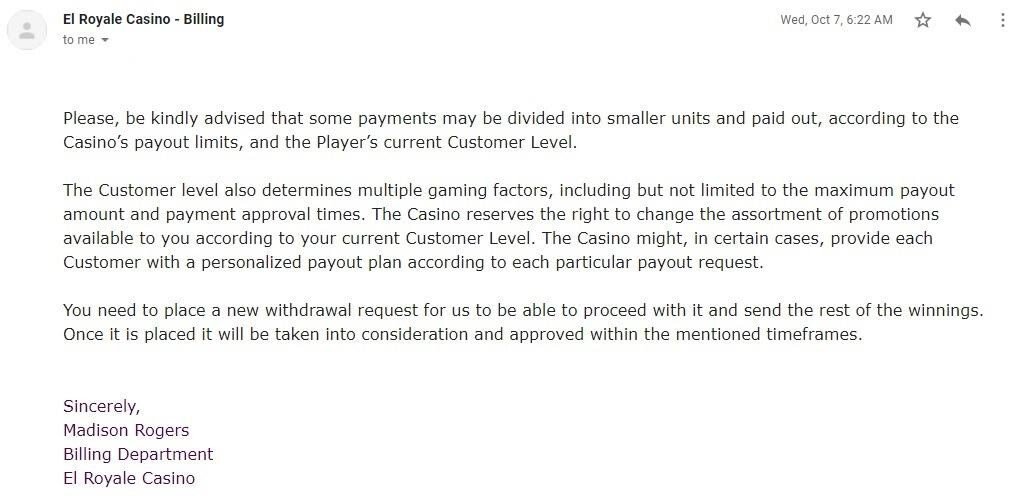 Having played for only 3 days…
…the progress made was insufficient to account for a higher-ranking status and better terms on withdrawals. This somewhat justifies the incremental payments but not another week which passed before we received the final payment of $400 on October 12.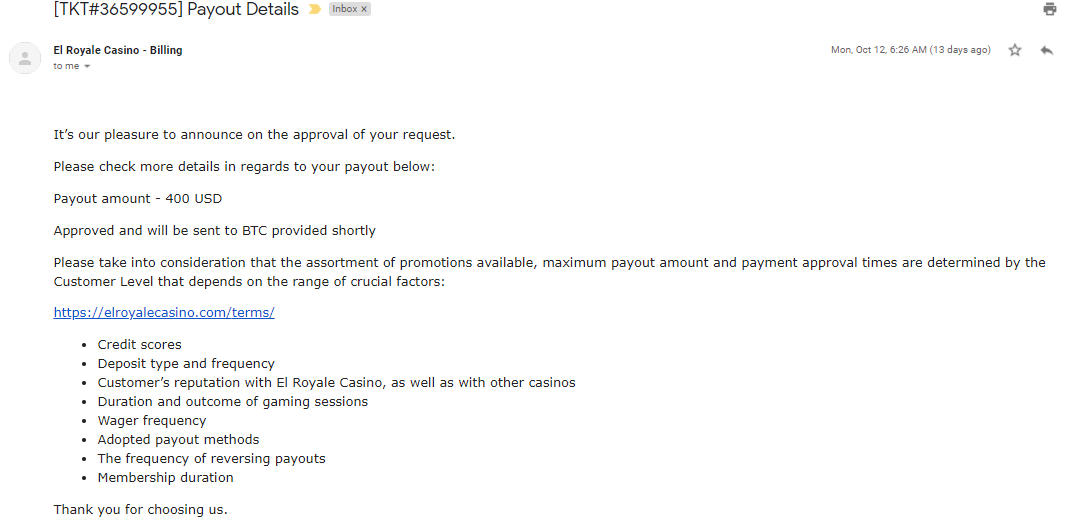 To Summarize
It took El Royale Casino around 3 weeks to pay the requested amount of $750 in full – in two installments on September 30 and October 12. Aside from sending partial amounts, the casino had no other reason to delay the payment.
The responsiveness during the ID verification process was unsatisfactory, with 4 days in between each email exchange.
We found the cash-out times of El Royale to be quite long, especially for new customers who haven't yet made it to the higher reputation levels to secure more favorable terms. Even though the incremental payments rule is mentioned in the T&Cs, we feel that amounts below $1000 should be excluded from this rule.
However, the casino proved fair, addressed our questions and paid our earnings in full. Let's hope they can improve the withdrawal processing speed and reconsider if incremental payments for small winnings are worth all the trouble.
"having troubles with regards to delayed payments"
Casino Warnings & Rogue Reports
From the Players for the Players
Back to articles