Back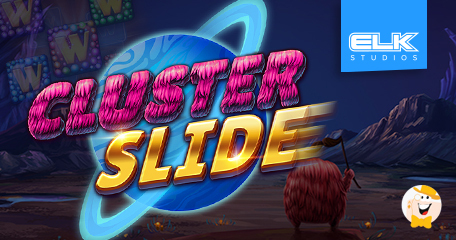 One of the most inventive providers of online slot games ELK Studios is about to boost its colorful portfolio with one more game. Taking punters to Jellyton, an unusual planet inhabited by square-shaped monsters, Cluster Slide is unlike any other monster-themed adventure delivered so far.
Aside from authentic characters, this story bolsters an abundance of rewarding features. One of the most prominent is X-iter™ Mode, designed to bring more action to the reels.
Meet the Monsters
As far as the team hints, those monsters from Cluster Slide are social creatures… but they do have some occasional tendencies to grab a bite of a human being for a snack. Interestingly, they like to gather in order to stay warm, but when 5 of them group, they blow up.
Structured as an 8-row slot…
…with 7 columns, this story brings sliding symbols, which move from right to left. When 5 or more of them form a cluster, a win is triggered, with some additional surprises. They come in form of multipliers, wild icons, bonus games, and more.
Worth mentioning is that this release incorporates no less than 5 different wild symbols. Each of them comes with some superpowers, to say so. Those are- Multiplier, Removing, Upgrading, Random, and Big Wild.
Also, there's a Generator, which is filled when winning icons appear. When the meter is full, it awards Feature Wilds, which brings some of the abovementioned wild icons.
Are you curious to catch a glimpse of the atmosphere from the Cluster Slide online slot by ELK Studios? Take a look at the official trailer, and don't forget to share your impressions with us in the comments section below right after you finish reading the article!
How Does X-iter™ Mode Work?
Wanting to bring more innovations to the reels, the provider came up with one more ingenious solution. Dubbed X-iter™ Mode, this component comes as a part of the platform and doesn't require additional updates or integrations.
Furthermore…
…it is designed to fit each slot, allowing punters to customize their playing sessions and select their favorite scenario. These elements are game-specific, and they range from spins with growing multipliers, base game features, and many more. There are up to 5 versatile modes, each of them adjustable to one's individual preferences.
As a small reminder, this is not the first time the studio has introduced some inventive tools. In 2018, the team launched ELK Compete, taking the contest to a completely new level. Also fully modifiable, this solution enables punters to determine who can join the competitions, which achievements will be unlocked, and so on.
An Homage to Arcade Games
The game which premiered the X-iter™ Mode was Bompers, presented in March 2021. Paying tribute to pinball, this retro game brought 6 columns, 8 rows, and lots of features. Also, it is the third title from the producer's ELK Gravity Series. Aside from this collection, the provider also has Gold series, which follows Kane on his quests for hidden treasures all over the globe.
Source:
"Cluster Slide", elk-studios.com
"Cluster Slide is unlike any other monster-themed adventure"
Casino Games
Back to articles