Back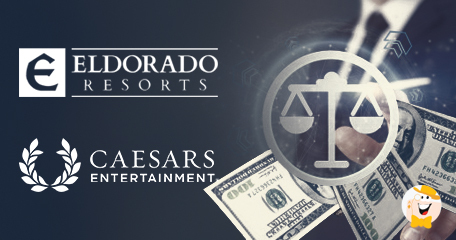 Eldorado Resorts has been looking for a while to acquire Caesars Entertainment and create one of the hugest properties in the United States of America. The operator slowly eliminates all doubts about the finalization of the transaction and more approvals arrive all the time. The latest positive word comes from Missouri regulators which approved the idea this past December. Additionally, the Louisiana Gaming Control Board authorized the idea earlier this month. With additional endorsements, the merger reached the final phase with the expectation to be closed in the first part of this year.
Operator's Notification
Following the previous approvals, Eldorado Resorts has just issued a statement claiming that three more regulatory bodies have authorized the transaction. According to the company's words, it had "received approval from the Louisiana Racing Commission (LRC), the Pennsylvania State Horse Racing Commission [PSHRC], and the Illinois Gaming Board (IGB) in connection with its pending acquisition of Caesars Entertainment Corporation, subject to customary conditions."
The Louisiana Racing Commission (LRC) approval was necessary due to Harrah's Louisiana Downs, a venue held by Caesars. Additionally, the Pennsylvania State Horse Racing Commission [PSHRC] granted endorsement because of Harrah's Philadelphia Caesars property which features a sports gambling option.
More Permissions
In the upcoming period, the Pennsylvania Gaming Control Board (PGCB) should give additional approval and operators expect the positive outcome. At the moment, Eldorado is not active in the state while Caesars operates only the Harrah's property in the same area.
One of the most important authorizations of the merger has been provided by Illinois Gaming Board. The current situation in the state is turbulent and gambling expansion is happening regularly. Despite operating three casino venues in the state, Eldorado and Caesars merger has been accepted by the regulator.
The deal between two operators waits for an additional 15 approvals from the US states. The most significant words should be given by Nevada and New Jersey regulators and operators are assured about the positive response. Both providers are active in each state, but they have been shortening the portfolio while anticipating the finalization of the merger.
While waiting for Jersey approvals, other jurisdictions should also discuss the authorization of the transaction. Iowa regulators will organize consultations in the following week to decide whether the merger represents a threat to the local market.
Source:
"Regulator approvals of Caesars/Eldorado continue to arrive", Erik Gibbs, calvinayre.com, January 31, 2020.
"the merger reached the final phase"
Land Based Casino News
Back to articles