Back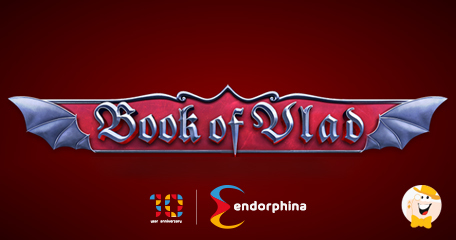 Ready for a Bedtime Story with Vampires?
This month, it's time for another great story about vampires, set deep within the mountains, where a majestic hidden castle casts a large shadow over its daring visitors.
After giving us Glory of Egypt earlier in July, Endorphina is back to present a new take on the Transylvanian legend in a gothic horror with beautiful vampires, deadly creatures, and gigantic demonic wins.
If you are ready to take your chances and grow thirsty for big wins, stick around to learn more about Book of Vlad!
A New Bite on the Legendary Classic
Unlike one of its earliest releases, The Vampires, this bite on Stoker's legendary horror novel is set deep within the mountains. In a majestic castle surrounded by gargoyles is a blood-thirsty inhabitant Vlad, who will greet only the most fearless of players…
However, this otherworldly creature does not allow just anyone into his home. Only if you are worthy of entering the chateau may you get a shot at winning over his heart. According to Endorphina, its latest bite on the legendary classic will get your blood pumping like never before, so…
If you can survive a beautiful gothic horror full of seductive vampires and gigantic wins inside, take your chance on Book of Vlad! It plays out on a 5-reel, 3-row grid backed with 10 paylines.
In terms of features, you will encounter some bonus spins, a chance to double your winnings up to 10 times during the Classic Risk Game, while the Bonus Pop is also there to raise some hair…
Don't be afraid to look the vampire straight into the eyes and keep in mind that the book acts as the scatter and wild. All matching symbols, except for the scatter, must be aligned from the leftmost reel to the right, in order to trigger a prize.
Entering Chile
While Endorphina uses each moment to promote its latest video slot, Book of Vlad, it is also important to say that the prominent B2B online slots provider will soon launch in LatAm.
The latest partnership with Latamwin, a leading technological solution for companies and online gaming platforms in South America, will help the company expand in Chile.
In the upcoming weeks, Latamwin will successfully provide its players with fascinating new slot content from the Czech-based studio.
"It is a great pride for us that Endorphina joins us as a provider of our platform since it is a well-known company in its line of business, which complies with the best industry standards and also has a very attractive catalog of games," commented Wilfred Adelsdorfer, CEO at Latamwin.
Zdenek Llosa, senior sales manager at Endorphina, said that the studio is very excited about strengthening its position in South America. Thanks to their partner's expertise in the market, the development company will ensure a mighty reach towards a new audience and even gain more regional players.
Among the most popular titles to launch will be Fisher King, Cyber Wolf, and Book of Vlad.
Source:
"Our Newest Book Of Vlad Slot Is Calling For Fresh Players!", endorphina.com, August 16th, 2022.
"Endorphina is back to present a new take on the Transylvanian legend"
Casino Games
Back to articles