Back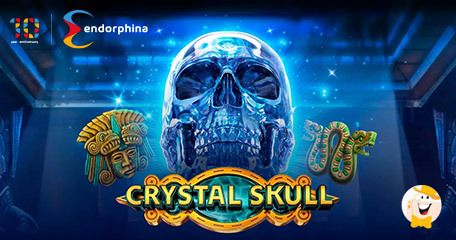 Endorphina Sets off on a Journey to Uncover the Last Lost Secret in Crystal Skull
After rolling out Football: 2022 and Wild Streak ealier this month, Endorphina is ready to start a new adventure by joining a courageous antique investigator in Crystal Skull.
His mission is to uncover the last of all lost secrets by finding these ancient mysterious relics and, of course, add them to a gorgeous artifact collection.
Get ready for a story full of adventure and surprises as the studio tries to decipher the secrets of our world once protected by Ancient Mayan civilization.
Alien Treasure Awaits
The mystery around crystal skulls dates back to the 1970s or perhaps a bit earlier when the world entered into a New Age mythology era. So far, thirteen skulls have been found across the globe, and many believe that they were carved thousands, perhaps tens of thousands of years ago.
Mainly presumed to be of Aztec or Mayan origin, it is also said that each skull contains mysterious properties that may be exploited to one's advantage, like earning as much money as they can imagine.
Others claim that skulls are evidence of alien encounters. Some think that they may even reveal the secrets of our globe that were once guarded by the mysterious Ancient Mayan civilization.
Crystal Skull by Endorphina is an epic adventure slot that will take you to the treasury of ancient civilizations on a 3-row, 5-reel, 25-payline grid. Next to scatters, wilds, multipliers, and a Bonus Pop feature, you will also encounter the studio's classic risk game.
On that note, the wild symbol will substitute for all symbols except for the bonus icon. It can emerge only on reels 2, 3, and 4, but there is a catch. The wild expands vertically to complete combinations and increase your winning potential.
Its counterpart, the scatter symbol, must appear in triplets to trigger the bonus game, Wheel of Fortune. To be precise, the scatter will appear on reels 3, 4, and 5 only. Once you're in the bonus, the wheel starts rotating and stops at a random position. Potential rewards are multipliers of the total bet ranging from x10 to x25 or bonus section that activates the Treasure Hunt Bonus.
There are 3 attempts to try to get the maximum multiplier.
The best part of the game occurs during the Treasure Hunt Bonus. There are 5 levels of 5 stone skulls, which hide either the riches or ancient snakes. Note that you can only check a skull per level. However, all wins received during the pick game are added up and contributed to the balance but once complete, the bonus cannot be won again during the feature.
Ultimately, it is possible to double the winnings up to 10 times by entering the Classic Risk Game, but don't squander your chances of locating the final surviving skull because of greed!
If you're ready to unravel the story of ancient skulls, make sure not to leave a single stone unturned and check out the video to get acquainted with Endorphina's latest journey into the unknown!
See the video here.
Other similar slots from this provider are also Solar Eclipse from November 2021 and Mystery of Eldorado, released in June 2019.
A New Partnership in Italy
The Czech-based studio has sealed a new partnership with Microgame this month, one of the largest online gaming platforms in Italy. It's been active for over 2 decades now, and the company is thrilled to offer its roster to a new audience in a fully regulated market.
Crystal Skull is also going live in Italy, so put on some explorer's gear and hit the road!
Source:
"Will You be Able to Track Down the Last Amazing Crystal Skull?", endorphina.com, November 22nd, 2022.
"an epic adventure slot that will take you to the treasury of ancient civilizations"
Casino Games
Back to articles