Back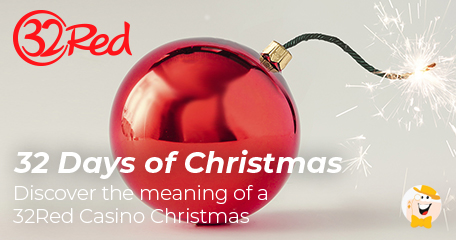 The party is already under way over at 32Red Casino but, thankfully, it will be an epic one so there's still plenty of time to make an entrance. This year's Christmas jamboree is already shaping up into something memorable – due, in large part, to the casino's "32 Days of Christmas" promo, a glorious feat of prizes, gifts and awards that will be running until we all pass out from celebrations – until January 1st 2018!
So, what's the gist of this grand event the casino has in store for us? Needless to note, it is available for casino members only – so, if you're not that already, have a go at a quick registration procedure over at their website as it will be worth your while (you get a nice welcome package on your first deposit reserved for all novices). After that, make sure you deposit at least once and voila: your path to daily goodies of all sorts have been paved. Simply opt in for the promo and revisit the website on a daily basis, as every day there will be something special waiting. For instance, so far we were treated to a £2,000 Santa's Stocking Filler, the Dish of the Day, bonus boosts, free games, cashback offers, Triple Loyalty Points, 5x Loyalty Points (!), double helpings of seasonal bonuses and so on! All of these are making a regular recurrence, so don't worry – you won't miss out on anything and never see it again.
Free games, with 10 to 50 extra spins, are being given away on such phenomenal slots like Secret Santa, Deck the Halls https://lcb.org/games/deck-the-halls and Holly Jolly Penguins, to name a few. Playing casino games can get you selected by pure chance to have your loyalty points either tripled or quintupled! Santa's Triple Treats are appearing every Tuesday and will catapult your loyalty points by three times, while enjoying your favorite slots. Also, based on the total amount wagered, total payout and total bonus credited, you may get a nice 10% cashback!
Before opting in, make sure you read thoroughly through the Terms & Conditions for each and every offer during this promo, to save yourself a lot of aggravation for not knowing the rules. Oh and – have a merry, festive 32 Days of Christmas!
""32 Days of Christmas" promo, a glorious feat of prizes"
Promotions & Bonuses
Back to articles