Back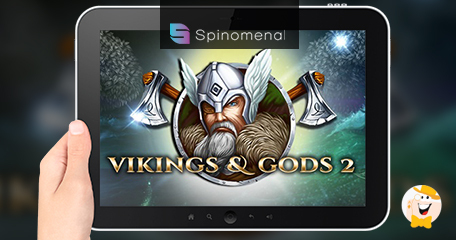 Mythology has always been one of those topics that give plenty of space to express creativity. It's not surprising at all that developers like to use it as an inspiration for their games. Vikings seem to be endlessly interesting…
…which is why almost every studio has at least one release of this sort in their portfolio. Spinomenal is not an exception from that. With Norse myths as a starting point, they created Viking & Gods 2, which takes us on a quest in the mystical realms of the Yggdrasil tree.
Top-Quality Animation And Graphics
Though relatively new in the industry, Spinomenal is recognized for using advanced technology to upgrade the content quality and performances. This doesn't mean that they overlook the other aspects of the game, namely design. The new release is more than well-packed with…
…top-notch animations which contribute to the overall dynamism of the game. The storm clouds blowing across the screen, well-portrayed characters and items, and a flash that invokes Thor's lightning when the hammer is charged, are just some of the highlights. Let us not forget the effective music which pays tribute to Viking Iore and provides a final touch to the entire atmosphere.
Dynamic Features For More Mystery
When you have such a visually complete game, it's only natural to expect that features will be equally purposeful. With multiple options such as Extra Wilds, Bonus Games, additional spins and many more, there are certainly more than enough ingredients…
…to keep the action going on. Of course, when developers want to spice things up a bit, multipliers is what they opt for. Appearing randomly, they certainly maintain the constant unpredictability, which is, you will agree, what makes any of the games challenging.
Powerful Technology For Upgraded Experience
It's become mandatory to do anything it takes to deliver the best-possible quality of content. With an increasing number of players enjoying their favorite picks while on the go, developers need to pay special attention to make this segment as smooth as possible. With that being said, Lior Shvartz, CEO from Spinomenal comments as follows:
"Vikings and Gods 2 is definitely one of our most intense HTML5 games and is suitable for desktop, tablets and most importantly to serve a market that's constantly on-the-go via mobile. This showcases the development work we're putting in behind-the-scenes to create entertaining high-quality content and further expand our available portfolio. It combines all of the modern features that make for great gameplay and a truly immersive HTML5 slot. We're convinced players and operators are going to love it."
Source:
"Spinomenal Newsletter", April 8, 2019.
"Spinomenal is recognized for using advanced technology"
Casino Games
Back to articles