Back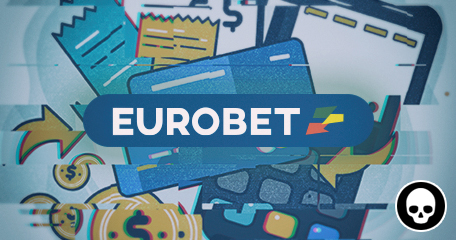 Yet another online casino tumbles down the rabbit hole of venues with poor practices. The brand in question is EuroBets Casino, which ended up among rogue operators for failing in multiple fields.
Slow payouts? Check. Delays or no payments at all? Check. Unresponsive customer support? Check. No license? Check. Perhaps the only thing missing are fake games and predatory terms.
We have prepared an insightful report where you will find out more about all the issues with EuroBets casino and its poor business practices. Keep reading for more!
Promising Beginnings
When this brand became part of our thriving directory, impressions were rather positive. Judging by the following description, things look more than promising:
"Built by a team of professionals who have been around this industry long enough to know exactly what you are looking for and what you expect of an online casino. Our commitment to excellence is clearly proven with fast download every time and unique games that surpass the constantly evolving standards of online gaming."
Equipped with Betsoft, Rival, and Genii content…
… EuroBets Casino quickly captured the attention of punters who appreciate feature-filled adventures with top-notch graphics. On top of that, the venue hosts a dedicated section with numerous rewarding promotional campaigns, as well as a VIP scheme with multiple levels of advancement.
So far, it's hard to find the reason why EuroBets casino ended up on warning, but when you keep exploring and take a look beneath the fancy surface, some imperfections appear. The most obvious one is…
Attention- No License!
While this is not the first (and chances are neither the last) venue that operates without a certification from a regulator, it certainly is a signal to be careful. When a venue has no license, that means no one can assist players when some serious problems happen.
Nevertheless…
…no punter enters an online casino assuming that something bad will happen by default. After all, we all assume that a hub is interested in attracting and keeping the clients by treating them fairly.
With this irregularity poking us in the eyes, we couldn't resist investigating a bit deeper. Another thing that's missing aside from the license is the information on which company operates this website.
Furthermore…
…analyzing Terms and Conditions, you will also see that withdrawal limits are not in line with industry standards. The min permitted amount is too high, whereas the max is too low. Also, wagering requirements for promotional offers are on the higher end.
As we said, the very beginnings were more than promising, judging by the comments left on the review page. Then, suddenly…
Multiple Problems with Cashouts
In July 2020, a member left a message on our forum informing us about unpaid withdrawals. Specifically, the member requested a cashout on May 23rd, 2020. One of our support agents mediated here, but unfortunately on August 17, we had to mark the case as unresolved. Despite several reminders, we received no update from EuroBets casino, and as far as we know- the player didn't manage to withdraw the funds.
Then in December 2020…
…another problem occurred. Our member explained the issue to the tiniest details, stating that the casino denied the amount of bonus she rightfully won. The casino claimed the sum was drastically less than the one punter believed it is. Once again, the case was marked as unresolved, as till January 25, 2021, we haven't heard back from the venue.
Finally, in January this year, one shamefully long delay of cashout escalated to quite a serious situation. Our member, who created the thread, hasn't had his request processes for 12 days till the date the post on our forum was made.
After multiple attempts to get some reasonable explanation from the hub on this matter, there was no success. In the end, we had to mark the case as unresolved on March 3rd.
What do the Terms say?
"It is our objective to approve the withdrawals in 48 hours under normal circumstances. This time allotment can differ because of processor accessibility yet we will dependably give it our best shot to pay our players as quickly as possible so they can get their rewards rapidly and easily. For accounts that require further investigation may take some longer approval time."
So, 48 hours VS one month- it's too much, isn't it?
While we are all pretty much aware that various glitches and bugs may happen, three members having so many issues with this brand is simply not a coincidence.
A True Example of Poor Customer Support
Delayed withdrawals which finally have a positive outcome are much easier to stomach when you have a professional support agent on the other side. Unfortunately, EuroBets casino failed in this field as well, bringing another layer of disappointment.
One of the abovementioned members was left waiting for A COUPLE OF HOURS on live chat!! It's more of a "dead" chat if you get the point. As for those other situations, all we can say is that…
Promises Keep Coming
…but none of them fulfilled so far. Regarding the most recent issue, our member kept receiving versatile pledges that:
the finance team has his data
his request was a top priority
he can rest assured he will get his money, and so on
To date or writing this article, the situation is still unresolved. All of these represent the best illustrative example of how the support department should NOT treat its clientele.
Final Thoughts
After reading about all these experiences, we want to ask you a simple question:
Should "Your Favorite Online Gaming Destination" look like this?
Of course it shouldn't. Not all the entertainment establishments are willing to cooperate and keep a positive reputation. And the least we can do to help our players to make a difference between such and trustworthy brands by marking them as a rogue.
If you have been following our team's work lately, you have surely spotted another successful catch of ours- BeepBeep casino hosting fake games. Take time to read it and see another example of poor business practices.
Have you had any issues with EuroBets casino? Please, post your experience in the comments section below and give players an extra reason to avoid it.
Gamble responsibly and avoid blacklisted casinos!
"find out more about all the issues with EuroBets casino"
Casino Warnings & Rogue Reports
Back to articles