Back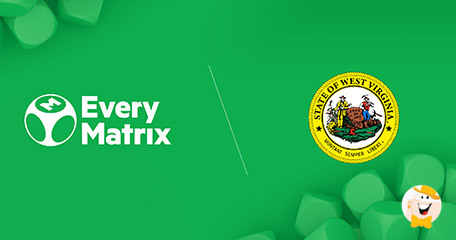 Award-Winning Distributor of iGaming from Malta Secures Entrance to Another Territory in the U.S.
Among the most recent breakthroughs of EveryMatrix is certainly a strong financial report for 2021, whose EBITDA growth of 65% has increased the company's earnings to EUR 19.7 million.
After signing a patent license agreement with IGT earlier this month, the leading B2B iGaming technology provider is back to proudly announce a new license in the U.S. market for which it applied in December last year.
Green Light in The Mountain State
Following recent announcements about being shortlisted at EGR B2B Awards in 2022 in 10 categories, the industry's fastest-growing iGaming platform provider, EveryMatrix, is happy to confirm the official rollout in West Virginia.
The Mountain State has given the Maltese provider green light to join the market upon a successful review of all license applications, conducted by the West Virginia Lottery Commission.
EveryMatrix was granted a license to launch its offering in the state along with its gaming products upon the approved certification, some six months posterior to applying.
As expected, the award-winning software developer is currently in the final stages to introduce its solutions right after setting up hosting facilities and cerfifying all services.
"EveryMatrix has filed several licenses in states that have regulated casino and sports, and we are pleased to see these efforts are paying off," commented Erik Nyman, president of the EveryMatrix Americas division.
Nyman reminded the customers that alongside licensing, there are also multiple deals with large U.S. operators in talks, including the recent agreement with IGT about patent features in North America.
The president of EveryMatrix Americas expressed his concerns though about becoming a leading supplier of turnkey services for gaming in the U.S., as such an endeavor will require a lot of time and dedication in the upcoming years.
Nonetheless, the company is determined to take another crucial step in that direction, concluded Nyman.
The report further reveals that EveryMatrix will distribute gaming content in West Virginia from Armadillo Studios and Spearhead Studios, the company's top-performing and rapidly-growing content suppliers.
All games will be available through an easy integration with the company's Casino Integration Platform, CasinoEngine.
Strong Results for Q1
As reported by the company on May 11, the latest Q1 update shows a staggering gross profit growth across all business segments, including casino, sports, and platform.
The reinvested funds in proprietary game studios (Spearhead Studios, Armadillo Studios and SlotMatrix RGS) and expansion into the U.S. market have made a great impact on the positive cash flow for EveryMatrix, which is set to support the company's further growth around the world.
The report further reads that the Net Cash grew from €5.9 million in Q1 2021 to €11.1 million in Q1 2022. Totally debt-free, the group will focus on stabilizing its German revenues after the regulatory changes have been completed.
Source:
"EveryMatrix secures West Virginia license", everymatrix.com, May 10th, 2022.
"happy to confirm the official rollout in West Virginia"
Land Based Casino News
Back to articles