Back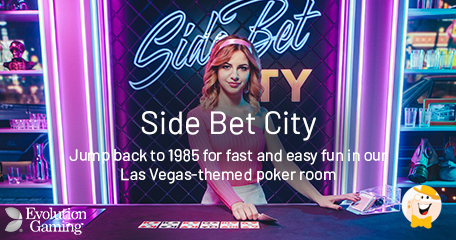 Leading software provider, Evolution Gaming, has prepared an official release of its exclusive new poker room. It's called, Side Bet City and is inspired by the 1980s. With this latest creation, Evolution will extend its online offer via an exclusive poker room.
Theme
The poker room displays a beautiful Las Vegas vibe and transports players back to 1985. The game background is appealing with neon lights and the stunning beauty of Vegas' nightlife.
Side Bet City is an action-packed experience for poker enthusiasts. It is played against the pay table which allows the game to stand out from similar poker chances. Players have four bet options: 3 Card Hand, 5 Card Hand, 7 Card Hand or All Lose wager. In addition, users can bet on a combination of previous bets.
Once a bet is places, additional decisions are not required. If the player hits the winning combination, a winning message is displayed on the screen.
Words from the provider
Commenting on the latest addition, Evolution Gaming Chief Product Officer Todd Haushalter said:
"We are very excited by the potential of Side Bet City because it adds something very different and distinctive to our already wide choice of poker variants. Side Bet City is a fast, simple live poker game with big payouts, all wrapped in a 1980s' theme."
He added:
"We feel the game will attract the widest range of players with the way the game plays out. Players new to poker will love it because it's an easy and entertaining introduction to the game. More experienced poker players, meanwhile, will also find the game huge fun because it presents a different kind of poker challenge and also because there are big payouts on offer of up to 1000 to 1."
More on Evolution
Evolution Gaming is a world-class provider of live casino products. The company is dedicated to delivering both an innovative and premium experience to customers. At the moment, the company employs over 6000 people who work across the globe in the UK, USA, Canada, Spain, Sweden, Belgium, Holland, Estonia, Romania, and Georgia. It is listed on the famous Nasdaq list and based on three values: ALIVE, DO RIGHT and WORK TOGETHER.
Source:
"Evolutions 80s-Themed Side Bet City Extends Live Poker Line-Up", evolutiongaming.com, June 27, 2019.
"The poker room displays a beautiful Las Vegas vibe"
Casino Games
Back to articles