Back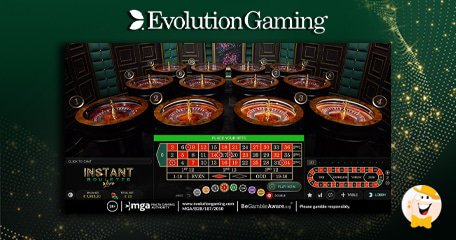 Evolution Gaming, a superior provider of live dealer products, has added another promising game to its portfolio. Going forward, players will have a possibility to select multi-wheel instant roulette experience, with some of the newest features. The game is originally introduced earlier this year at ICE 2020 and it follows the launch of similarly successful versions, Lightning Roulette and Immersive Roulette.
Details of the Game
If you commence the instant roulette experience, you will see 12 synchronized wheels spinning around. At the same time, balls are falling one by one in the various wheels which brings a new experience to players. The title is specific in terms of time management, allowing players to enjoy the game at their own pace. Instant roulette stands out with limitless betting time which enables users to press the Play Now button when they are sufficiently ready. Once you place the wager, you will get an instant result, with the wheel closest to the following ball drop being automatically selected.
Instant Roulette was created to support players in their experience, enabling them to control playing time and additional functions.
From the Company
Speaking on the release of the new title, Chief Product Officer at Evolution, Todd Haushalter said:
"With Instant Roulette we really wanted to allow the player to control the pace of the game, similar to the RNG experience but with the trustworthiness of live. Each and every player can take as much time as they like setting up their bets. Then, when they are ready, they push the 'Play Now' button and boom, they are right there playing on the next available wheel!"
About:
Evolution Gaming is a unique provider of B2B live casino content, focused on delivering premium products and innovative solutions. The company is determined to change the typical player experience while adhering to three main values - ALIVE, do RIGHT, and work TOGETHER. Evolution consists of 6000 people who are situated across the world and knowledgeable in their tasks. The brand is licensed by the Malta Gaming Authority and additionally approved in UK, Canada, South Africa, and Romania.
Source:
"Evolution Launches Instant Rulette, a Unique Multi-Wheel Live Roulette Game", evolutiongaming.com, July 30, 2020.
"another promising game to its portfolio"
Casino Games
Back to articles