Back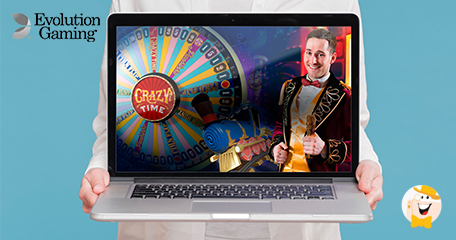 Live game specialists Evolution Gaming have announced the release of a brand new game, the exclusive title Crazy Time which is a multi-layered game packed with bonuses and multipliers. It was originally showcased during the ICE 2020 in London, in February, and will present the latest addition to the company's portfolio of game show titles.
Crazy Time is based on Evolution's Dream Catcher money wheel concept and offers four action-packed bonus games, which is the most Evolution has included in a base game ever.
The Most Expensive Game Ever
At the center of the game is the spinning money wheel that features four bonus bet spots…
…called Cash Hunt, Coin Flip, Pachinko and Crazy Time. All of these take players into new bonus rounds.
It is interesting to note that Crazy Time is the most expensive game Evolution Gaming has ever produced and it took a year to complete!
The pre-launch test period proved that there is a huge interest from players which we hope will continue as we now bring it to a wider audience.
A Mixture of Elements
Crazy Time gameplay is very unique and keeps players entertained throughout…
…thanks to a varied mixture of entertainment, action, succession of potential multiplier wins and betting opportunities. The game, based on Dream Catcher, also captures the audience in a way a TV game show does, with the extra layer of excitement of being able to partake in the action.
What also sets the game apart is the integration of multiple cutting-edge technologies in one game. This includes the Random Number Generator (RNG) multipliers, augmented reality, video-gaming elements and slots-style elements.
Evolution Gaming is adamant that these will make the game appeal to a wide and varied audience.
To Entertain Slot Players
Evolution's Chief Product Officer, Todd Haushalter, said:
"The goal was to make a game that is so entertaining that people would enjoy just watching it as they would a game show on television. To achieve this, we knew we needed lots of variety and to make the players the contestants on the show. The variety comes in the form of copious bonus rounds that bring the players into different side games, all of which are distinctively different and entertaining in their own right.
We know this game will appeal to slot players and we wanted to really entertain them, and to do that we packed each game round with lots of action, also making it longer than a typical slot-round. We feel players get great entertainment value with each bet in this game."
He added that he is proud of the people who worked on this project because this is some of the best work Evolution has ever done and deems it the "most dun casino game ever made".
Check out the official game teaser video below!
Source:
"Evolution Launches Crazy Time, Its Most Entertaining and Bonus-Packed Game Ever!", evolutiongaming.com, July 1st, 2020.
"the release of a brand new game"
Casino Games
Back to articles