Back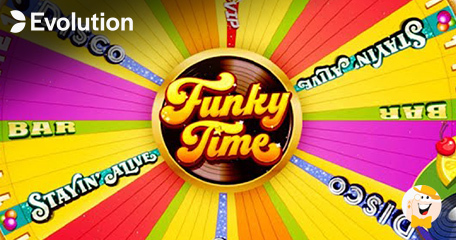 Evolution is back to unveil the launch of its latest exciting endeavor.
After enjoying massive popularity worldwide for years, the company's megahits in the style of Crazy Coin Flip and Dream Catcher will finally be accompanied by a worthy successor.
The all-new Funky Time live game show is promising hours of fun by transporting players back to the groovy disco era of the '70s. If you're into experiencing the retro club atmosphere, featuring infectious funky beats and exhilarating dancefloor moves, make those hips move!
Play, Funk, Time
With an abundance of bonuses and multipliers, Funky Time is destined to deliver a spectacular extravaganza, rivaling the success of Evolution's previous hit game show, Crazy Time.
The core of the game revolves around a captivating feature called the spinning DigiWheel, or a money wheel if you like. In each round, this wheel generates a multitude of random multipliers, capable of amplifying winnings across numbers, letters, and bonus games.
With 64 segments on the wheel spelling out the words PLAY, FUNK, and TIME, along with a variety of number 1s and bonus game segments, players have a myriad of opportunities to win and progress throughout the game:
For example, landing on a number 1 or letter segment guarantees instant wins, allowing the player to cash out right away
Landing on a bonus segment, on the other hand, will take players on an exciting journey into one of four distinct bonus games: Bar, Stayin' Alive, Disco, and VIP Disco
As the game progresses, players will notice that each bonus game ensures a thrilling experience, but Disco and VIP Disco truly epitomize the essence of FUNKY.
In these stages, the charismatic Mr. Funky takes to the virtual dance floor, collecting even more multipliers while skillfully avoiding falling off the edge.
Todd Haushalter, the chief product officer at Evolution, expressed his enthusiasm for Funky Time, stating:
"At Evolution, we pioneered the live Game Show gaming category with Dream Catcher, and we haven't looked back since."
Haushalter added that the company has created numerous top-ranking games in the past five years, but Funky Time will achieve an even greater level of success.
According to the chief product officer, nearly 100 people were involved in bringing Funky Time to life. It is the group's most ambitious and intricate game to date, he explained, but above all, it exudes pure fun.
Funky Time to Captivate Wide Audience
Haushalter didn't hide his excitement about the inspiration on getting new game ideas, either.
He said that the answer lies in asking the question: "What is the most enjoyable game a company like Evolution can create?"
Funky Time is sure to captivate a wide audience, concluded the CPO. It will be as just as entertaining as Crazy Time, but with its own unique atmosphere and additional surprises.
Make sure to try it if you're a fan and have loads of fun!
Source:
"Evolution Launches Funky Time, A Disco-Themed Live Game Show And Its Biggest New Development Since Crazy Time", evolution.com, 24.05.2023.
"Funky Time is destined to deliver a spectacular extravaganza"
Casino Games
Back to articles