Back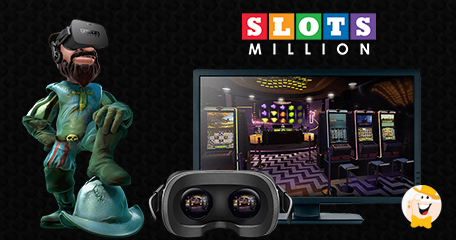 Virtual Reality technology still has some of that sci-fi-esque charm to it, despite being the norm for years now – there is just something still equally alluring and surreal in transporting to make-believe environments simply by putting on a helmet and not actually going anywhere.
As VR is slowly but surely taking over every facet of everyday life, the casino industry is treading the same path. SlotsMillion has made it possible to roam their lobby in a 360-degree view by using the Oculus Rift headset and enjoy a new take on their slots across the site. You can play and win on virtual slots such as Starburst, Scarface and Gonzo's Quest. As a reminder, registering at SlotsMillion Casino gets you a big welcome bonus along with 20 free spins.
VR for casinos has been a long time in the making, and it seems the stage is set for this technology to go full-on mainstream in this industry. In 2015, Microgaming has won the Digital Innovation of the Year award for their VR Roulette game, paving the way for the VR market which is now picking up the pace. The advent of technology - more specifically, the internet infrastructure, affordable hardware and reliable software that could deliver the experience seamlessly – has peaked this year in a way that the coming months may bring more groundbreaking news regarding the innovative way of play.
What are your predictions? Who do you think will be next to introduce VR and in what way? Let's hear some interesting scenarios in the comments below!
"roam their lobby in a 360-degree view by using the Oculus Rift"
General Gambling News
Back to articles