Back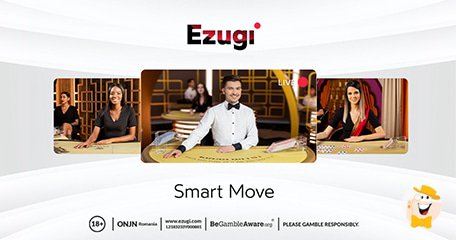 Are Rebranding Trends in iGaming Accelerating?
As current industry trends dictate, rebranding is taking a full swing towards repositioning on the market, making many leading names in the industry facelift and rethink their strategies.
After Evolution, Evoplay, and SOFTSWISS, the next in line software producer to reinvent its brand's identity is Ezugi, an exclusive developer of live dealer games, focused on creating cutting-edge gaming and retention solutions.
It took almost 10 years in the live casino space for the provider to enter a new business phase, allowing it to further underline the importance of data and innovation in the rapidly expanding and competitive iGaming market.
New Logo and Slogan to Match Company Values
Although it's part of the Evolution Group since 2018 thanks to the $18m transaction deal, Ezugi has been building up its corporate identity and is now finally ready to reveal a new brand personality.
It is concentrated around a new visual recognition, logo and slogan that are synonymous with the company values.
Ever since the acquisition in 2018, the live dealer aggregator has enhanced Evolution's geographic footprint and helped its parent company to accelerate growth in many key markets. For Ezugi, the recent endeavor to revitalize identity is on a par with streaming quality, speed, and user experience, which have now been enhanced to a whole new level, said Kfir Kugler, CEO.
The company is also famous for its bold and agile approach to live gaming, meaning that the rebranding is in the line with staying contemporary and competitive in the present online gaming sector.
On a different note, Ezugi's aim is to highlight its "sharpness of vision" in regard to launching fresh ideas. The provider's new slogan 'Smart Move' is supposed to reflect innovative localized content that is both sophisticated and promotes 'first-to-market' mentality.
As a rebranded live casino solutions provider, Ezugi will continue to use cutting-edge innovation systems to become a unique and driving force on the market. The company is proud of forging a strong reputation in the online gaming space and it represents a significant player on the market since the foundation in 2012.
Integrity and Trust is Key
As one of the leading live dealer providers on the market, operating 12 studios with over 20 different game types and partnering with more than 200 international platforms, Ezugi is committed to compliance and expanding its footprint in regulated jurisdictions too.
The company is actively pursuing a stronger market reach in New Jersey and South Africa, but also within the EU states like Romania, Belgium, Hungary and Bulgaria.
"We have come a long way from where we were almost 10 years ago, when the company was founded. Today, we offer an extensive suite of live casino games and numerous innovative solutions. Our visual identity should reflect all those changes and all the hard work of our creative minds," concluded Kfir Kugler about rebranding.
Thanks to the second-stage branding introduction of a new website and portal, Ezugi clients will experience an entirely new user-friendly structure that is created to meet their standards, explains chief executive.
Source:
"Ezugi unveils its new brand identity – contemporary, fresh, and competitive", ezugi.com, August 17th, 2021.
"ready to reveal a new brand personality"
Casino Software
Back to articles