Back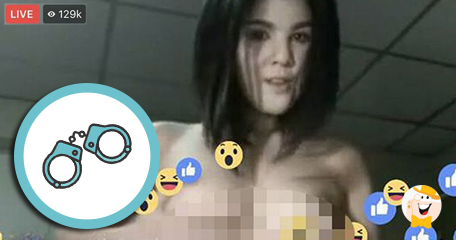 Gambling isn't a welcomed pastime in Thailand. In fact, unless it's the local lottery, wagers aren't accepted at all. Conservative minds were blown when social media 'net idol', Ponpan Mayple Promdum, aka Mayple Pink Pink, took to Facebook live to parade around in the buff to promote an online casino. The 30-minute paid advertisement only cost the unknown gambling site THB 3k, or about USD $86. How's that for a marketing on a budget?
The 26-year-old's risqué display is a violation local law, Thailand's Computer Crime Act, and quickly caught the attention of Thai police when a reported 150,000 voyeurs logged on to watch the show. Following her arrest, she apologized for violating the law and was handed a small fine.
Vowing never to make a naked internet appearance again, Mayple said, ''I do not want other net idol pretties and models to fall into the same trap as me.
''I am very sorry for damaging the image of Thai women and I will not do this again. I hope that people can forgive me.''
Needless to say, she won't be quitting her day job, which has her doing stripteases in adult clubs and doing online product reviews, which as long as she keeps her pants on, she should be fine.
As for the police, they'll be patrolling Facebook for more naughty shenanigans. Tough job, eh?
Source:
'Thai police bust woman for live stream striptease betting promo', Peter Amsel, calvinayre.com, February 17, 2017
"Conservative minds were blown"
Gambling Law & Society News
Back to articles