Back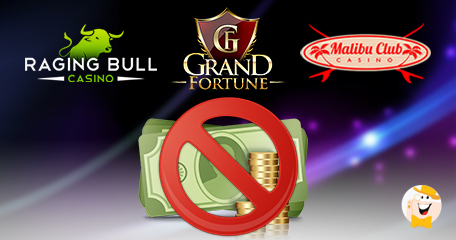 Raging Bull used to be an excellent casino and we acknowledged this fact by giving them our Seal of Approval. Until recently, they were regarded as one the best RTG powered brands and had a 4-star rating at LCB. The same was thought of the sister sites Grand Fortune and Malibu Club. What has been particularly great about them was their top-notch customer support. Jason the Rep represented the company in the best way possible - he was an awesome guy, always actively participating on the site, and his friendly and pleasant character made collaboration with him easy for both the LCB team and members. But that all changed around February 2017 when the casinos changed owners - that's when things started going downhill.
All three Fast Track Affiliates brands were bought off by a known rogue organization Virtual Casino Group and placed under the GWages affiliate program. Nothing was officially announced, there was no information of any kind released to the public and we had no idea what was happening with the sites. Only when complaints started pouring in by distraught players did we realized something's not quite right here. Two of our members had it pretty bad with the group, Cobra with Raging Bull and Yobaboy with Grand Fortune, having had their cash-out requests denied or delayed for months without a good reason. With Jason gone, we had a lot of trouble establishing communication with these casinos. However, they did eventually answer back telling us about the management change and asking for patience and understanding until things settle down and the order is resumed. Since they have, allegedly, went through three management shifts and had the headquarters in shambles, we decided to give them the benefit of the doubt, wait for a while and see what happens. We did strip their recommended status immediately, removing them from the list of approved casinos. Weeks later, the situation remains the same: the complaints are still unresolved, the support is silent, the websites not updated according to the new terms and conditions that the company has set out. It is clear that the brands have lost all integrity and there is really no point in waiting for any improvement. That is why they are now on the Warning list - a sad, but inevitable outcome.
Virtual Casino Group has several other online venues under its wing, all shady sites with hundreds of unresolved complaints. They have been in the business for a while now and seem to have developed a trademark feature the whole industry knows them for: they do not pay out winnings. Simply put, if you happen to win anything at any of their brands, they will confiscate your money, close your account and you won't hear from them ever again. As soon as we found out it was this notorious group that bought Raging Bull, we knew it was time to say goodbye to this once fantastic casino. We gave them enough time to sort out this mess but, in all honesty, they should not have been given that chance at all. Because, if they were still in the business, still running the sites and accepting deposits, then why not process and pay to customers what they are due? There is simply no excuse for this kind of negligence and treatment of players.
With that said, we urge you to avoid all Virtual Casino Group brands and keep up with our rogue reports to stay safe.
"avoid all Virtual Casino Group brands"
Casino Warnings & Rogue Reports
Back to articles