Back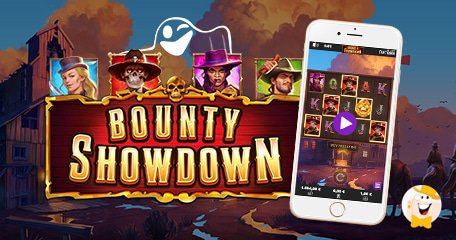 Old West Comes to Life in a New Shootout
On 8 June 2021, the developer of innovative casino games for mobile platforms founded in 2016 has officially released Bounty Showdown, a classic Wild West shooter with a somewhat familiar synopsis: players are taken to a small town under attack where they must take on three raiders to claim their share of the bounty.
As the story unfolds and raiders descend on the town hungry for revenge after their friend, Mr. Joe Boneson, players realize that the bounty of $50,000 is now up for grabs and ready to be claimed. Meanwhile, a mysterious gunslinger is on the loose, promising to deliver the criminals to justice by combining bonus wilds, double bonus re-spins and Shadowdown extra spins.
A story that followed that very evening after Boneson's hanging from the gallows surprised the poor townspeople who had already tossed his corpse to the desert dogs. When the raiders came into town, they ransacked it so wildly that their actions "bordered on madness" as described by the studio. Not even the dead could sleep soundly that night.
To help locate and defeat the raiders, players are given three bonus features for building their gunslinger abilities, such as the Bonus Wild that substitutes for all regular symbols, the Double Bonus Respin when two wilds appear simultaneously and up to 20 honorary spins including the Gatling Wheel mode.
That being said, if three, four or five Bonus Wild symbols land during the Respin feature or the base game, players will get 10, 15 or 20 Showdown Spins. This feature plays automatically and there are 16 positions on The Wheel.
Each section comes with a multiplier value, ranging from 1 to 100. Players receive 3 spins on the wheel, while the multiplier is selected at the end of each spin and added together as complimentary spins get underway. If Bonus Wilds land during this feature, they pay an equal to the bet multiplied by the current sum.
"The game punches hard and when it does, it's a great result for the player. That combined with the classic Wild West graphics and music makes the whole experience feels just "right" for players who love classic slot games," commented Tianzhi Zhou about the studio's latest release, game producer at Fantasma Games.
Zhou also added that Bounty Showdown represents a fine example of how the company creates games, now known for going that extra mile and delivering an engaging narrative, like in Golden Castle Titanways. The entire team looks forward to seeing players enter the bounty showdown and hopefully hit the ultimate reward of $50,000.
QTech Agreement
Earlier in April, Fantasma Games announced an agreement with QTech, the fastest growing distributor of online gaming content in Asia. As reported, the arrangement will extend until the end of 2021 and even renew until one party chooses to terminate the cooperation.
Aside from the latest slot release, Bounty Showdown, QTech will maintain continued access to other hit titles such as Twisted Turbine, Maze Escape Megaways and Serpent Shrine, to name a few.
Source:
"Lansering av Bounty Showdown från Fantasma Games", fantasmagames.com, June 8th, 2021.
"Fantasma Games, is back this June to deliver a real Wild West classic "
Casino Games
Back to articles