Back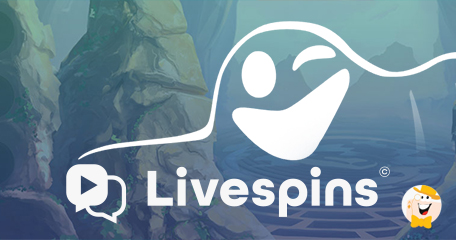 Leading Provider of Social Casino Gaming Signs Agreement with a New Studio
After signing partnerships with Paddy Power nad Scientific Games in December 2021, Fantasma Games returns with a new announcement in regard to expanding the reach of its chart-topping slots across a social streaming platform.
One of the leading providers of socially charged online casino experiences, Livespins, has officially signed an agreement with the studio to integrate its exciting suite of slots and bolster its ground-breaking live streaming network, already preparing to collaborate with some of the biggest names in the industry.
Streamers to Put up a Show in Flower Fortune Megaways
As a result of this partnership, Livespins will use its growing army of hugely entertaining streamers to promote some of the most popular titles from Fantasma Games. During these live streams, players can even join the show and bet behind the streamer.
Famous for creating a new category of play, Livespins is always looking for innovative and cutting-edge studios whose top-ranking titles could give streamers and players an experience to remember. Thanks to its highly-acclaimed suite of slots designed to offer player experiences that go beyond iGaming, Fantasma certainly fits the bill, explains the streaming service.
Among the first games to go live is Flower Fortune Megaways, which allows players to climb through levels, unlock additional bonus features and score big prizes along the way. In addition, the studio's major hits, Heroes Hunt and Heroes Hunt 2, will also join the show, as players can unlock different characters in both games as they progress through the storyline.
In terms of integration, Livespins makes a direct connection with online casinos and its proprietary streaming platform even allows multiple players to watch their favorite streamer at the same time. The audience is allowed to bet along, create a group bet and share betting experience on the same spin.
The greatest thing about online streaming is that each player is free to choose the bet amount and the number of spins they prefer. Of course, to maintain user engagement, there is the ability to chat with streamers and other players, but also add reactions as the anticipation and excitement builds throughout gameplay.
"Livespins is here to socially charge online casinos and offer an entirely new category of player experience by combining a well-known bet format – bet behind – with the uniquely immersive and highly entertaining world of streaming," explains Michael Pedersen, CCO at Livespins.
A Series of Integrations Expected in the Coming Weeks
The chief commercial officer also has also revealed that at the heart of an engaging streaming session is a slot full of thrills and spills. It is important to bring something new that both the streamer and the viewer can get excited about and Fantasma Games is one of the providers that knows how to deliver on both counts.
According to Pedersen, this partnership is only the first in a series of integrations that will happen over the coming weeks and months. He has promised to ramp up the Livespins product and proposition, while Fredrik Johansson, founder at Fantasma Games is absolutely thrilled to be the platform's first studio partner and has high hopes for the project.
Source:
"Fantasma Games först ut på helt ny streamingplattform", fantasmagames.com, January 18th, 2022.
"designed to offer player experiences that go beyond iGaming"
General Gambling News
Back to articles