Back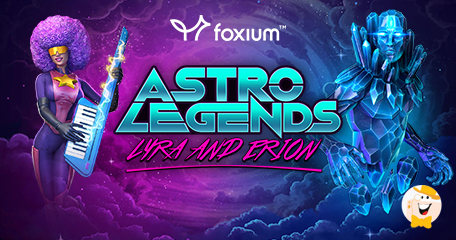 For those who don't like to keep their feet on the ground, it's time to find a groove with an entirely new addition from Foxium, an independent Estonian provider. The company's latest contribution to the slot market is called Astro Legends: Lyra and Erion, and it represents a true "stardust-studded intergalactic tour."
The game is released through Microgaming's Quickfire platform and it follows the story of Lyra, the lead character who also happens to be a frontwoman of a famous synthfunk band from the future. On her quest throughout the cosmos, the author of earth-shattering solos from Oratorio (a long-abandoned planet) must quickly bring a positive change to other worlds she visits or…
Gig of a Galactic Lifetime
As the story unwraps, Lyra finds herself lured to the surface of the trading post planet Libretto, where she meets her big-time synthfunk fan – Erion. Together, the musicians will claim the heroine's ancient birth-right to break Erion's hold on the planet's materials and leave just in time to join other bandmates before the biggest gig in the galaxy begins.
Foxium founder, Ake Andre, explains:
"Astro Legends is the embodiment of everything we stand for. It contains a strong female lead, a unique theme, an engaging narrative with well-drawn characters, deep slot mechanics, and cutting-edge presentation. But the game is also a launch pad for a lot of new technologies that we believe set us apart from the competition; as well as our new real-time renderer, Astro Legends is the first outing for our achievements system. Across the board, our aim is to break the boundaries set by other studios, and to challenge the industry's perception of what is possible in a story-driven slot game."
Gem-Shaped Mechanical Complexity
This science-fiction story takes place on a gem-shaped grid, which comprises of 22 crystal cells. According to the supplier, the cluster pays whenever any 5 of the same symbols appear adjacently.
Behind the introduction, this game offers incredible mechanical complexity, including wilds that appear randomly, respins that raise the stakes and, of course, payouts that carry thousands of times the total bet. Not to forget the unique bonus game, which allows Lyra to "shape-shift into her spirit form" and sprint for freedom while gathering more gems…
This product from Foxium is developed on an entirely new in-house engine, which includes 3D models, dazzling animations, and incredible support for desktop and mobile devices.
In case you want to take a look, visit the supplier's official streaming channel or take a sneak peek at our review. Anyway, have lots of fun!
Source:
"In a groove with the launch of Astro Legends: Lyra and Erion", foxium.com, November 21, 2018.
"latest contribution to the slot market is called Astro Legends"
Casino Games
Back to articles