Back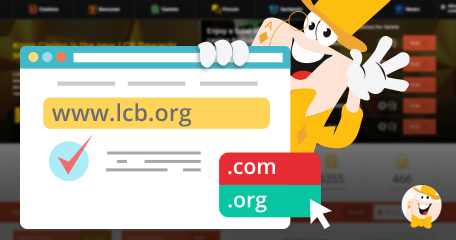 It should come as no surprise that corporate changes are a part of everyday life, especially when a company is ready to take the next step in evolution of branding. If you at some point got hooked on our newsletter, you probably already know that we are about to make a huge shift towards presenting our label, given that our team has reached a well-established reputation and awareness level in the industry.
At this point in time, the vast majority of those familiar with the network are inclined to refer to it as the simpler and much catchier, 'LCB,' dropping the lengthy, 'LatestCasinoBonuses' moniker…
…So, without further ado, the team has made the choice to make it official and has agreed on changing the company's domain to a much more suitable and recognizable omen – lcb.org. Those of you, who are not familiar with technical terms, the org stands for organization, which corresponds with the brand's current position in the iGaming industry.
Passion Changes Everything
"If you want something new, you have to stop doing something old" – a famous entrepreneur once said, and we, as a team, are extremely proud of what has been achieved since the foundation back in 2006. Soon after becoming a multiply awarded site, dedicated to delivering top-notch reviews and bonuses, but also access to free games and premium tournaments, the site became home to more than 80,000 registered users…
…Thanks to our amazing members, who helped us to improve our portal by providing feedback, first hand comments, tips and shared posts, we grew to a place with over 2,000,000 visitors in a single month!
In 2007, other networks joined, and LCB slowly began its walk of fame. After the launch of Casino Listings, an elite directory with trusted online casino reviews, the network established three more sites in 2009, and extended its outreach to bingo, poker and sports vertical. You might know our sister brands as Latest Bingo Bonuses (LBB), Latest Poker Bonuses (LPB) and Latest Sports Bonuses (LSB) whose exclusive offers are always up-to-date, thanks to our dedicated team.
Best Casino Affiliate
To show its true capacities, as well as to meet the needs of players on a global scale, LCB continued with acquisitions through 2011, when two more brands were added to the portfolio – Casino Slots and Bingo Reviewer. The expansion eventually led to more affiliate awards, so the company received multiple accolades at iGB Affiliate Awards, including:
iGB Best Overall Affiliate 2014
iGB Best Casino Affiliate 2013
iGB Best Casino Affiliate 2014 and more.
Since the expansion required more experts from other verticals, LCB acquired a portal for amateur and professional blackjack players with onlineblackjack.com as well as a database of highest-rated casinos with almost 7,000 pages.
Nothing Changes
Perhaps the most important part of our growth as a company lies within our members, whose number reached an astronomical 100,000 back in December 2017. They are the reason why we still rock the industry on all fronts, and we're forever grateful for that! It gives us the power to move forward and continue to be the best in business, and what is more important, it gives us the right to call LCB an organization. Cheers!
Note: LCB Network operates far more sites than any other affiliate, and Wizard of Odds, Wizard of Macau, Wizard of Vegas, and Bj21 are just some of them. If you're interested in learning more about our directory, check out our 'About Us' section or contact our customer support.
"a much more suitable and recognizable omen – lcb.org"
LCB News
Back to articles