Back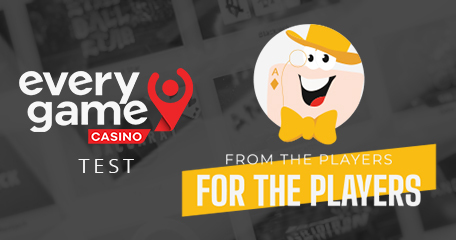 When Verifying the Account Gets out of Player's Control
As we enter a new month in 2022 with more and more iGaming test reports in our large-scale project, "From the Players, for the Players", checking a casino's reputation and feeding the players' curiosity becomes an ever-growing challenge.
While shedding interesting new results about betting and knowing where it is safe to play for real money makes all the difference at the end of the day, it is sometimes hard to decide where it might have gone wrong.
Earlier this year, our tester made a survey of the recently rebranded Intertops Casino, now known as Everygame. Having spent more than two decades on the market, this operator has rocked the stage for quite some time, and we thought you'd like to know what it's like to roll with one of the world's largest sites for sports betting, casino, and poker right after refurbishing.
Getting this highly valuable information wasn't easy (as it turned out. Although our tester Juggaloroscoe has followed the established procedure of signing up, depositing, playing, verifying and cashing out at Everygame Casino, it took quite a while to complete the test.
For starters, here's a quick recap of the test:
Tester of the day: Juggaloroscoe
Date of registering: FRI, January 7th 2022
Deposit: $200 via Bitcoin on WED, January 12th 2022
KYC: Personal ID, utility bill, bank statement
Payout: Withdrawal request of $100.04 submitted on THU, February 7th 2022
Payment received on MON, February 21st 2022
As you can see, certain things got pretty mixed up, so let's find out who made a wrong turn at Albuquerque.
Registration
Our tester began the registration procedure at Everygame Casino on Monday, 7 January 2022. This process consists of 5 steps and it starts by choosing your country of origin. One account provides access to sportsbook, poker, casino Red and casino Classic.
After providing an email, username and password, players are required to add personal information, contact details and comply with the casino's terms and conditions. The final step before entering the casino's lobby gives you a choice to fund the account or leave it for later.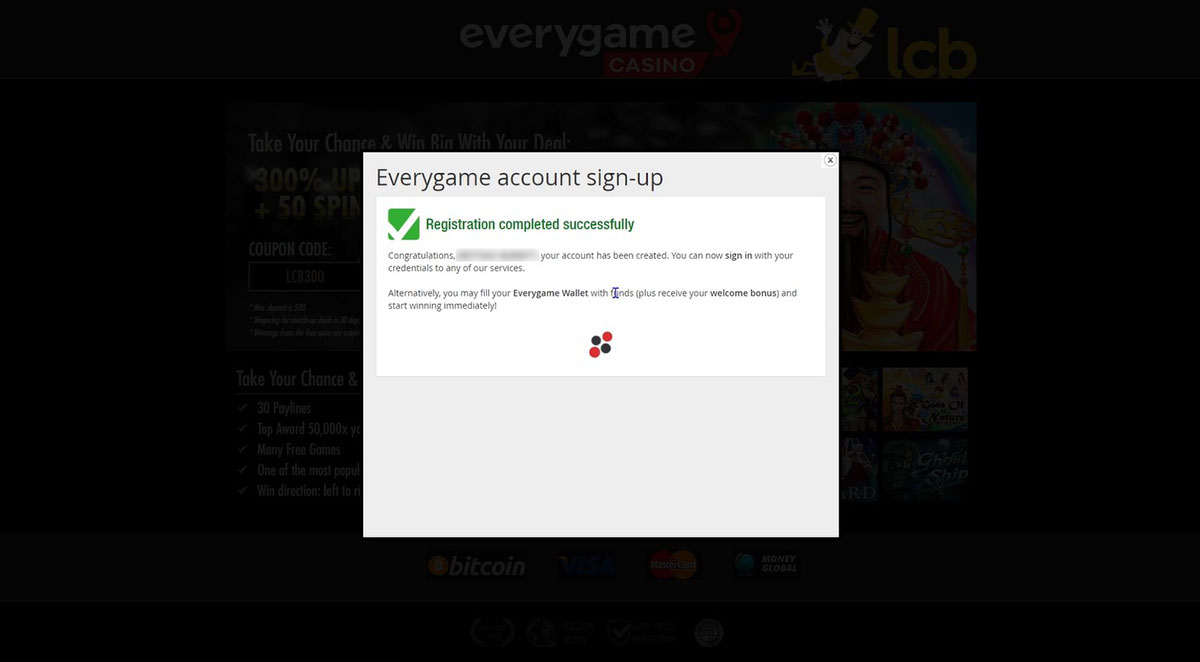 Depositing
There are multiple ways to fund your account at Everygame Casino, such as ecoPayz, MasterCard, American Express, Discover, Money Global, Neteller, Paysafecard, Skrill, Skrill 1-Tap, VISA, Bitcoin, Litecoin, Bitcoin Cash, SEPA, and EZeeWallet.
Our tester picked Bitcoin to top up his account with $200 on Wednesday, January 12th 2022.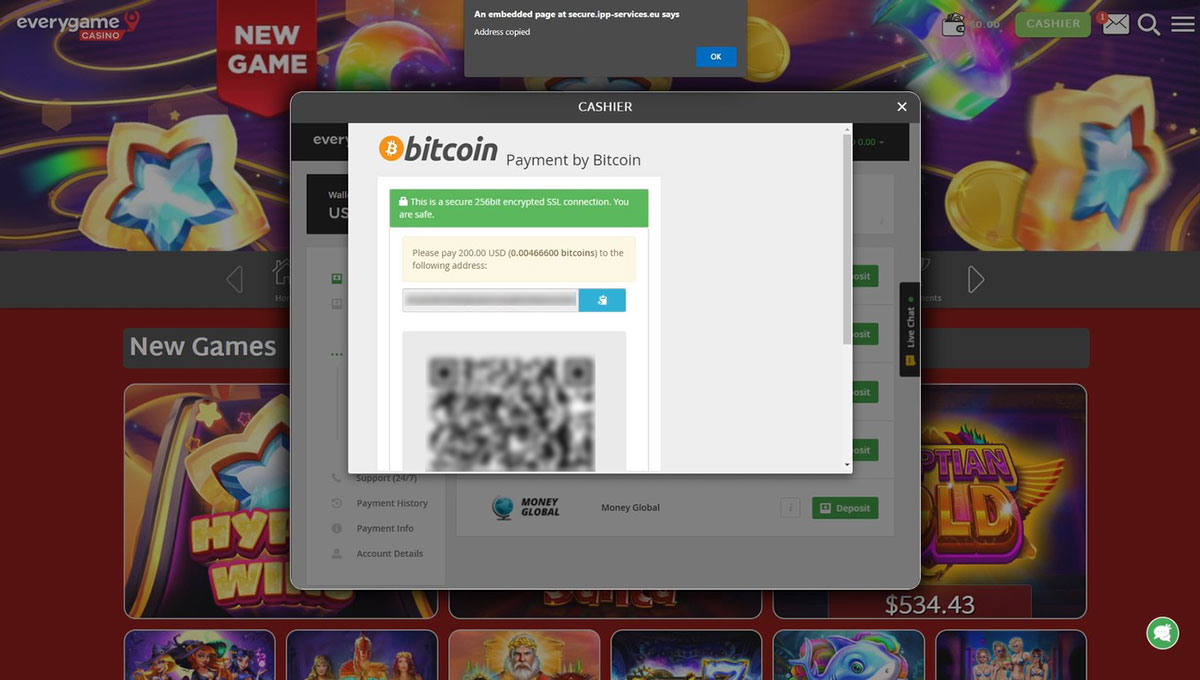 The transaction was rejected on Thursday, January 13th, 2022 and our player received a notification from the casino to get in contact and resolve the issue.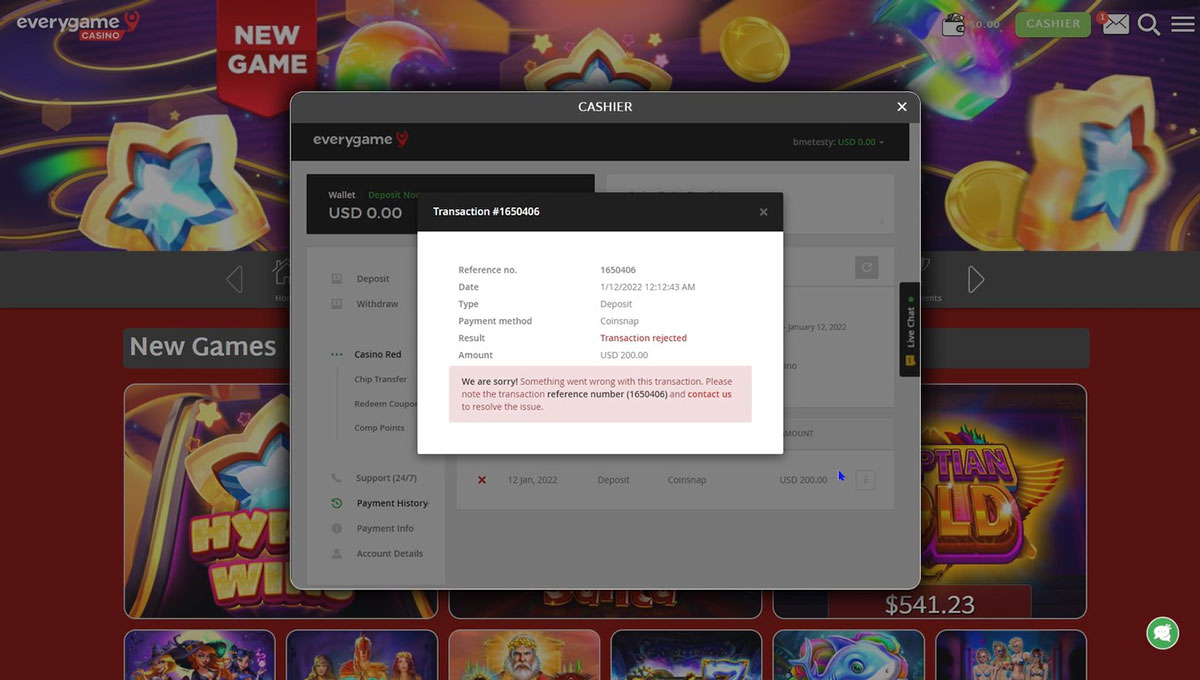 Juggaloroscoe immediately reported the bad news to customer support to inquire more about the whereabouts of his funds. After a quick check-up, the agent asked our tester to confirm the crypto address before proceeding with the query.
Luckily, the funds became visible after a couple of minutes and reflected exactly $198.81, meaning that a small deposit fee is included when topping up with BTC.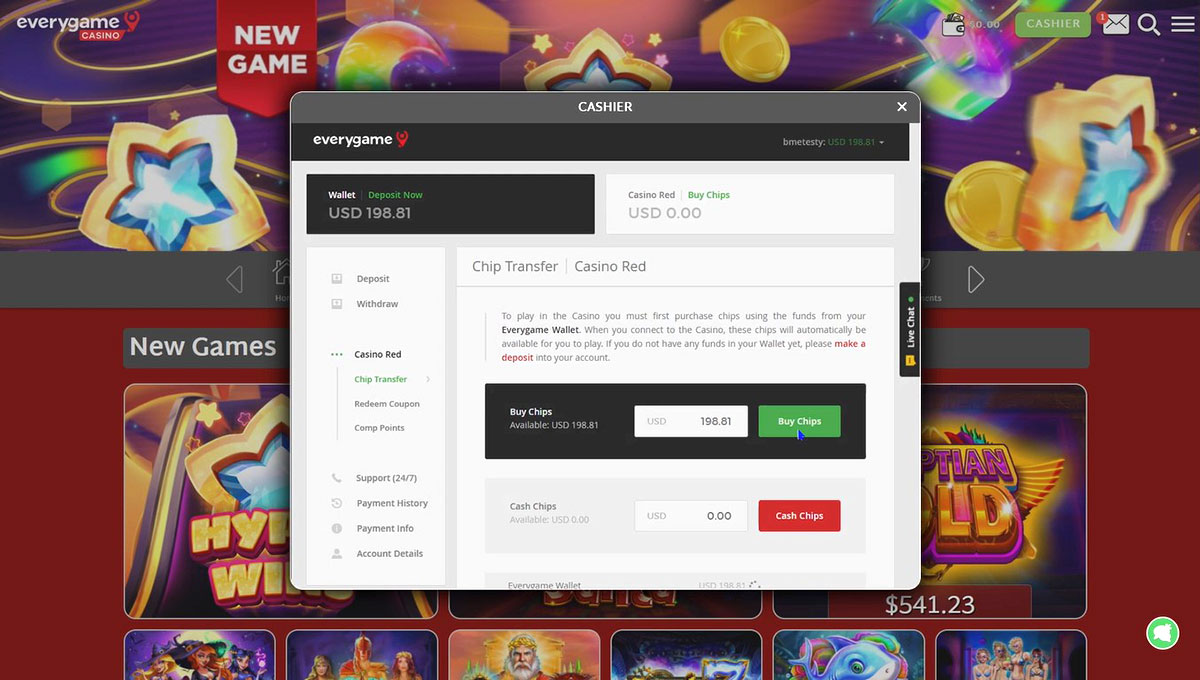 Now, the tricky part. Everygame Casino has a "shared wallet option" meaning that players have to "cash chips" before playing. Once the money is in the cashier, they must BUY CHIPS in order to make them eligible as real money funds and play. For example, if a player deposits $1,000 in the cashier, they can either cash chips for $200 and leave $800 in their shared wallet or use the entire sum.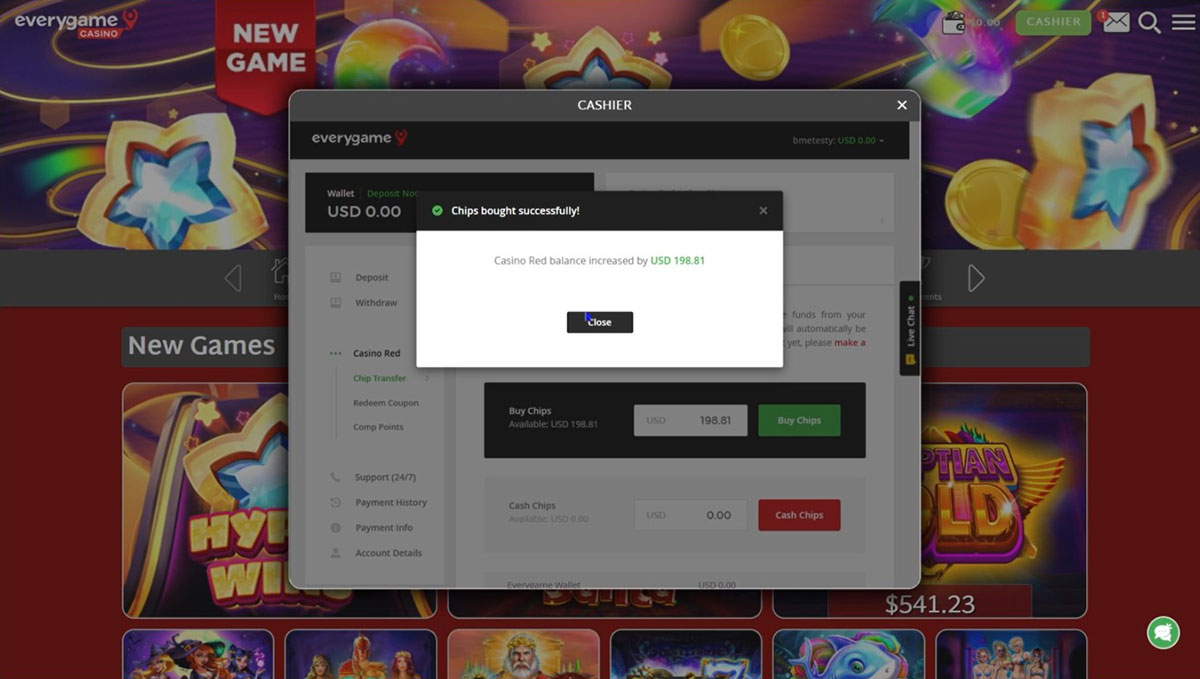 We can't say for sure why it took almost 24 hours for the casino to process this deposit, especially since its estimated time for incoming crypto transactions is up to 10 minutes, but that didn't interfere with our player's patience, so he opened the lobby to finally break some ice.
If you're still not into gambling with crypto but want to learn how to use Bitcoin as a payment method at online casinos, take a peek at our comprehensive tutorial here or on YouTube:
Gameplay
Our tester didn't waste any time and started placing first bets on Blackjack, just to see how his luck is holding before switching to slots. The initial pick was Hyper Wins from Realtime Gaming, released in January 2022. This title brings in 5,000 times the bet thanks to various attractions such as complimentary spins, hyperwin bonus, lucky feature, and hyper prize.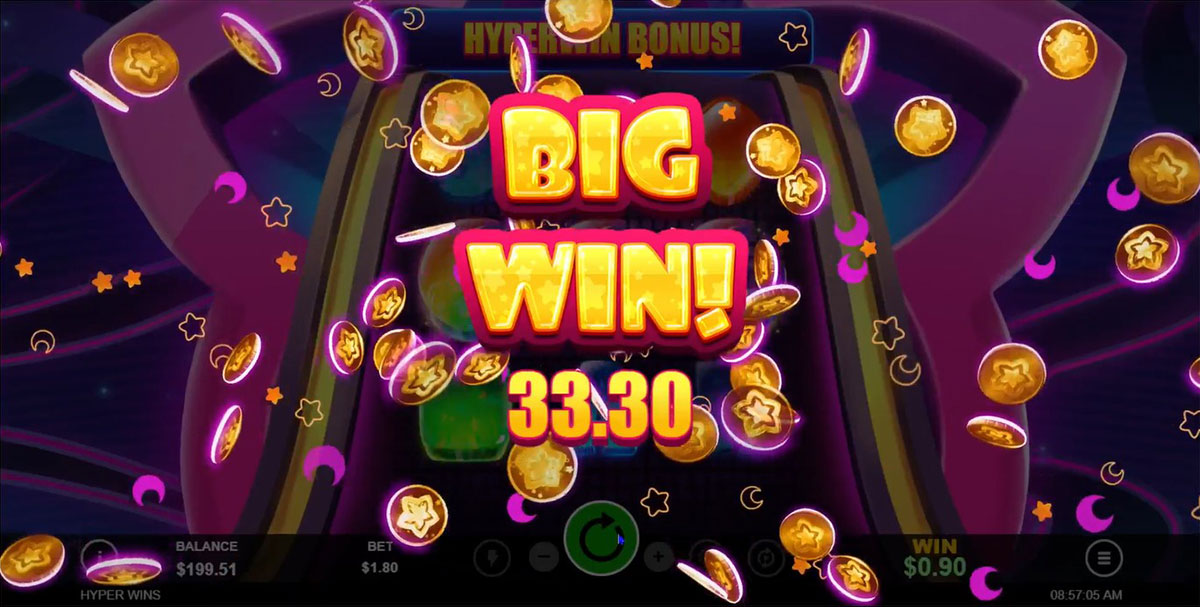 Next wins came soon after while our tester was playing Enchanted Garden, T-Rex, Trigger Happy, Ghost Ship, Spirit of the Inca, Lucha Libre 2, and Texan Tycoon, but nothing truly worth mentioning, to be honest.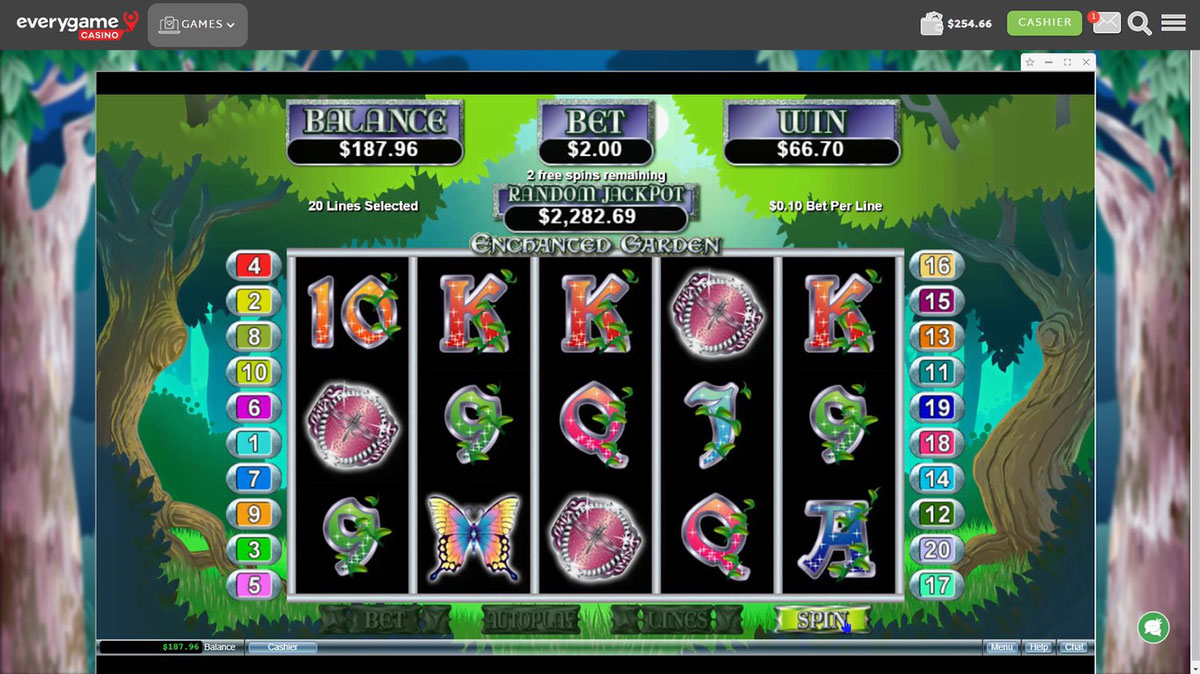 Playing slots at Everygame lasted for about 2-3 days, and Juggaloroscoe managed to pump up the balance up to $350.11 at one point. He kept returning to Hyper Wins and Spirit of the Inca, as they triggered the most prizes, but when the funds fell down to $300.00, our tester decided to pull out the money by selling his chips back to the casino and increasing his wallet balance by the same amount.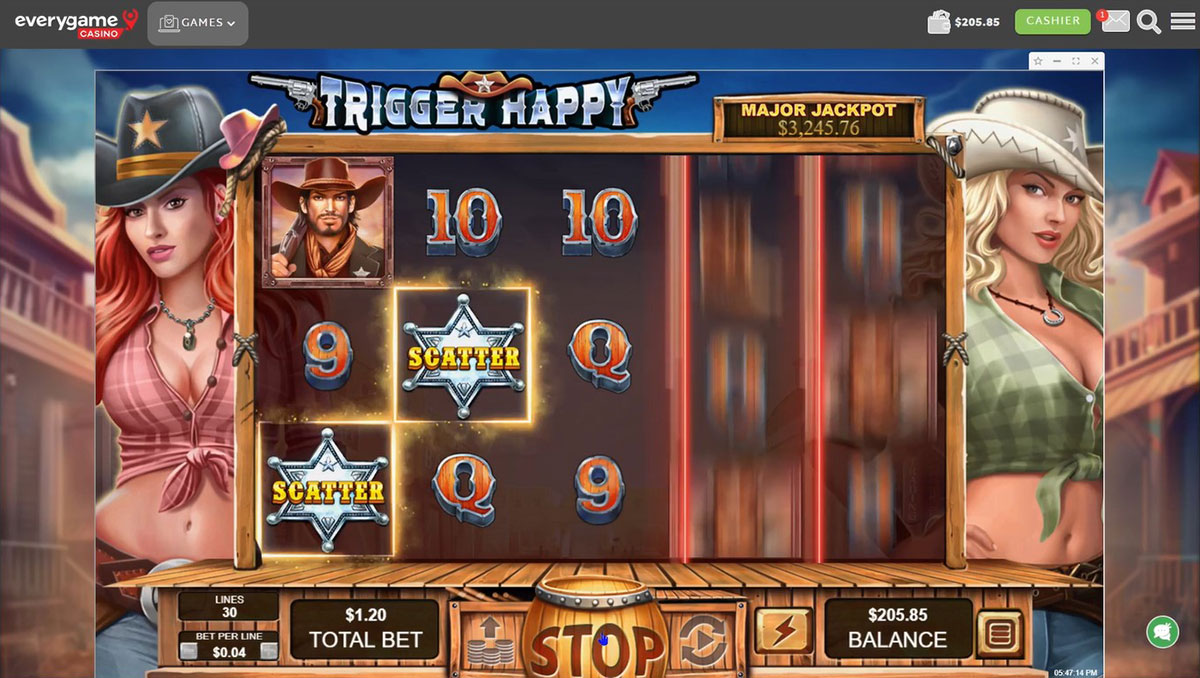 Withdrawal
The minimum amount for withdrawal when using Bitcoin is $100 - $2500 per week. Cashing out in Altcoins comes with the same terms. For other banking methods, the casino imposes different withdrawal terms, such as:
$3000 per week for Check, $2500 per week for Bank Wire Transfer, $2500 for Neteller, Skrill and ecoPayz.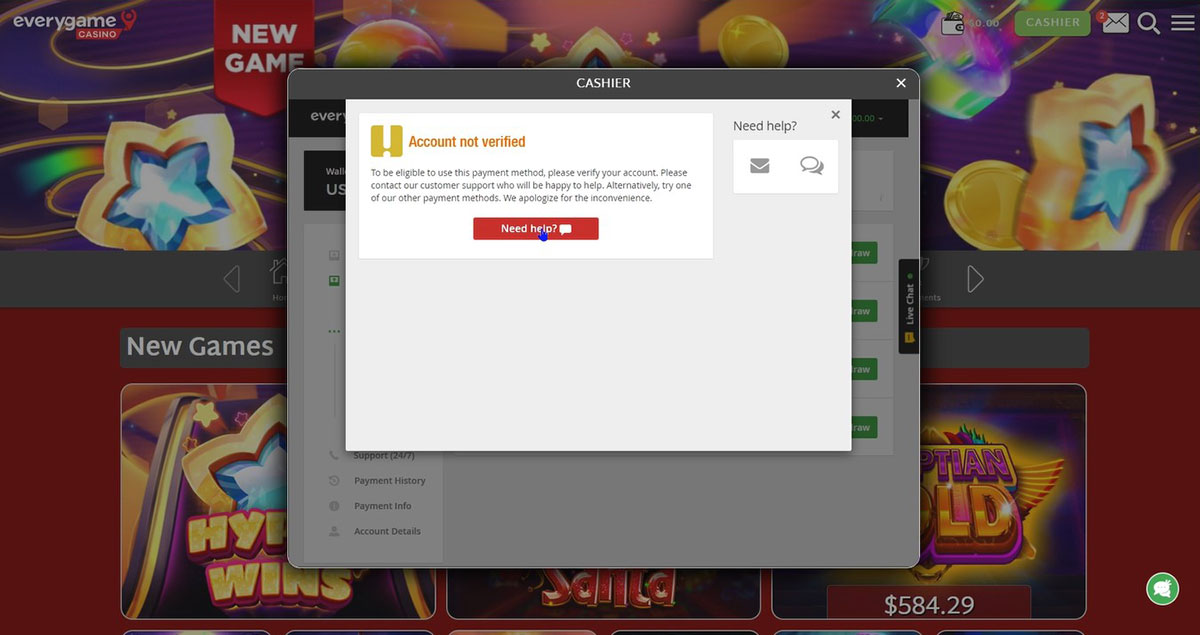 A customer support agent told Juggaloroscoe on chat, that, in order to proceed with the withdrawal, he must provide a valid government issued identification (driver's license or passport), recent utility bill, and bank statement.
On February 7th, 2022 our tester finally submitted a valid payout request of $100.04 via Bitcoin. He waited for verification within the next couple weeks, as he had to resubmit the documents due to some being incomplete, outdated or invalid.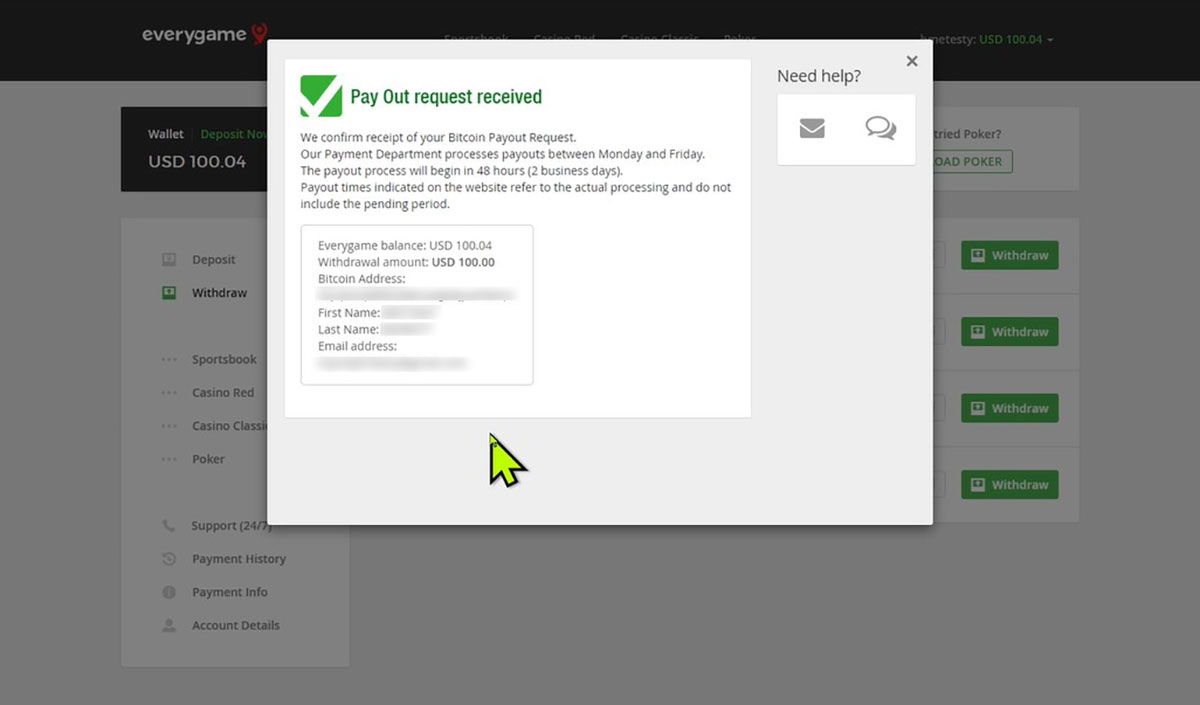 However, after going back and forth with the casino's verification team since 7 February due to deficient documents, our player's withdrawal was finally confirmed on the 21st that same month.
Conclusion
This concludes the trial, but there are several things to keep in mind when playing at Everygame Casino, though. Any communication with support in regards to documents can take 5 days, so if there is an issue after submitting documents, players must wait 5 to 7 days for response. Any subsequent issue or contact on the matter will take another 5 to 7 days and prolongs the withdrawal process significantly.
We hope that our survey of this casino brings new insights about its cashout policies and KYC. Please post a comment to share your thoughts about Everygame with us and other members.
Meanwhile, play responsibly – From the Players, for the Players will return soon!
"players have to 'cash chips' before playing"
From the Players for the Players
Back to articles