Back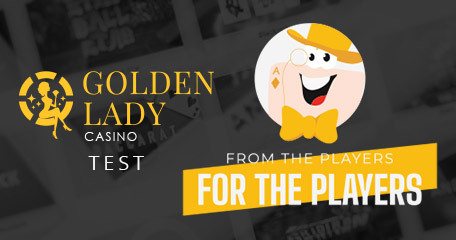 Broken Cashier and Uncooperative CSA Prevent Tester from Cashing out Even After 60 Days
Back in February, our testers marked a significant milestone and conducted more audits than ever before, giving the readers and followers of our comprehensive project, "From the Players, for the Players", a bunch of reasons to keep tracking the industry's most informative and trendsetting analysis to date.
This time, we're back to share facts of the utmost importance about the overall gaming experience at a gaming platform whose online history began in 2013. In case it has caught your attention somewhere along the way, here is what you need to know about depositing, playing, and withdrawing, although the latter is still in the act.
The tested brand is called GoldenLady Casino and as you may have expected, we asked our long-standing tester, Bubbles12, to once again swing into action and see what playing on this site is like.
Before we give you all the details, a quick recap:
Tester of the casino: Bubbles12
Date of registering: WED, February 23rd 2022
Deposit: $200 or 0.0052 BTC via Coinbase on FRI, February 25th 2022
Account verification: None
Withdrawal: Request of $310.00 pending since March 21st 2022
Update: payment received on May 10, after the report was already published
Judging by a two-month payout delay, it's been quite volatile here, so let's see what went wrong at this casino and see if there's a valuable lesson to learn.
Registration
Our tester started the registration procedure as scheduled on 23 February, 2022. To create an account with GoldenLady Casino, you must provide an email address, username and password as your first step. The next phase requires a title, first name, last name, birth date, and mobile phone.
You complete the initiation process by adding a ZIP code, currency, city, country and a secret question with answer for security reasons.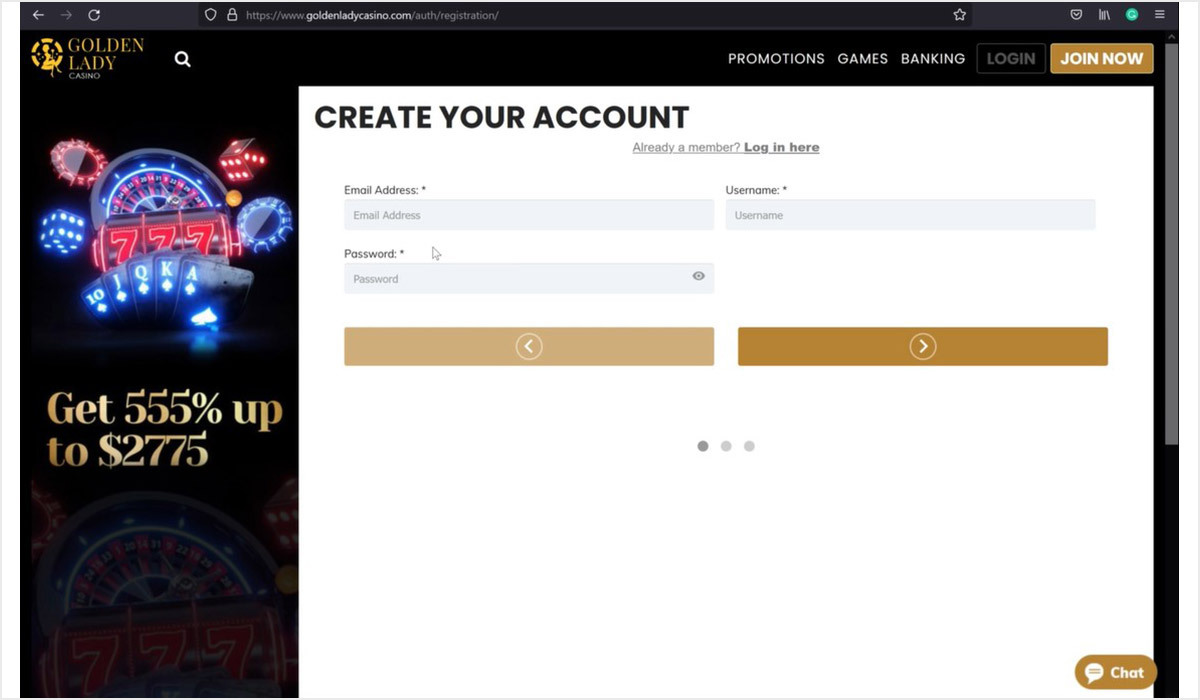 The first problem arose right after registering, as Bubbles12 could not access the cashier at all, not until March 21st (it kept loading constantly). She attempted to access the Cashier using several other laptops and a phone without any luck. Eventually, she decided to contact live chat and see what the issue might be.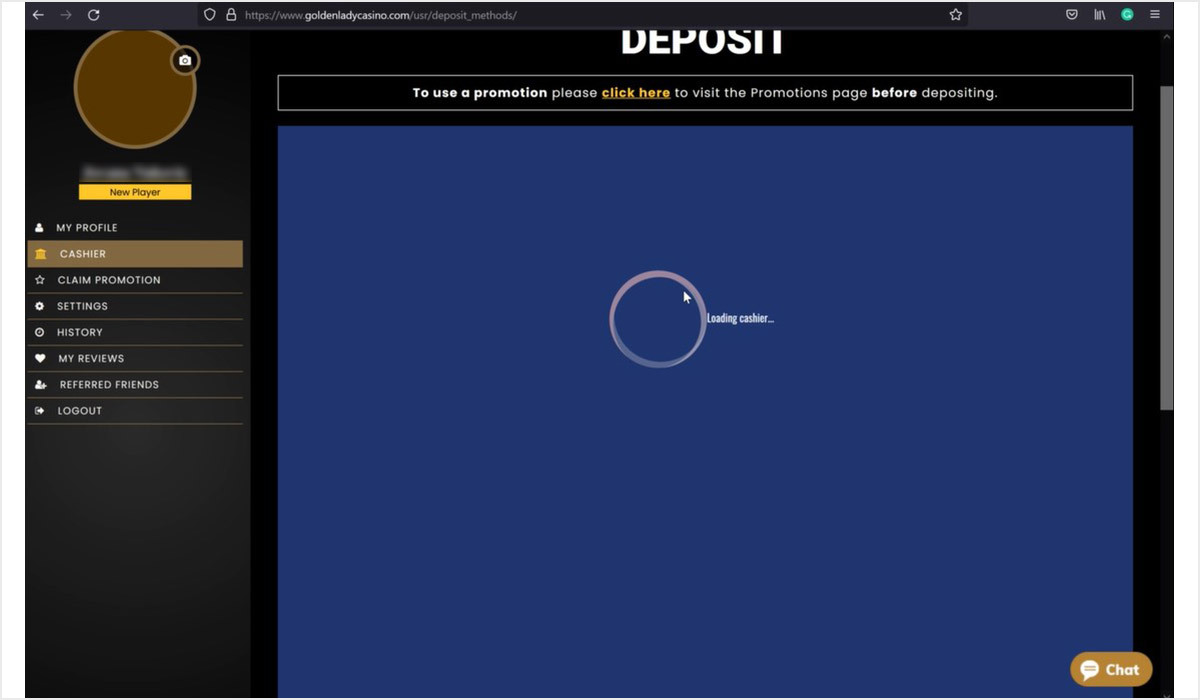 Depositing
After getting in touch with a customer service representative on live chat and trying to explain the persisting error with the cashier, our tester was asked to send a screenshot via email for further help.
The first solution to the problem followed after a couple of minutes, where it was suggested to reset the browser, delete history, and make sure no VPNs (virtual private networks) are being used.
Spoiler alert: it didn't solve the issue with the cashier on February 23rd 2022.
Two days later, however, Bubbles12 visited the cashier once more and…
…was able to make a deposit of $200 in Bitcoin, which was some 0.0052 BTC at that time.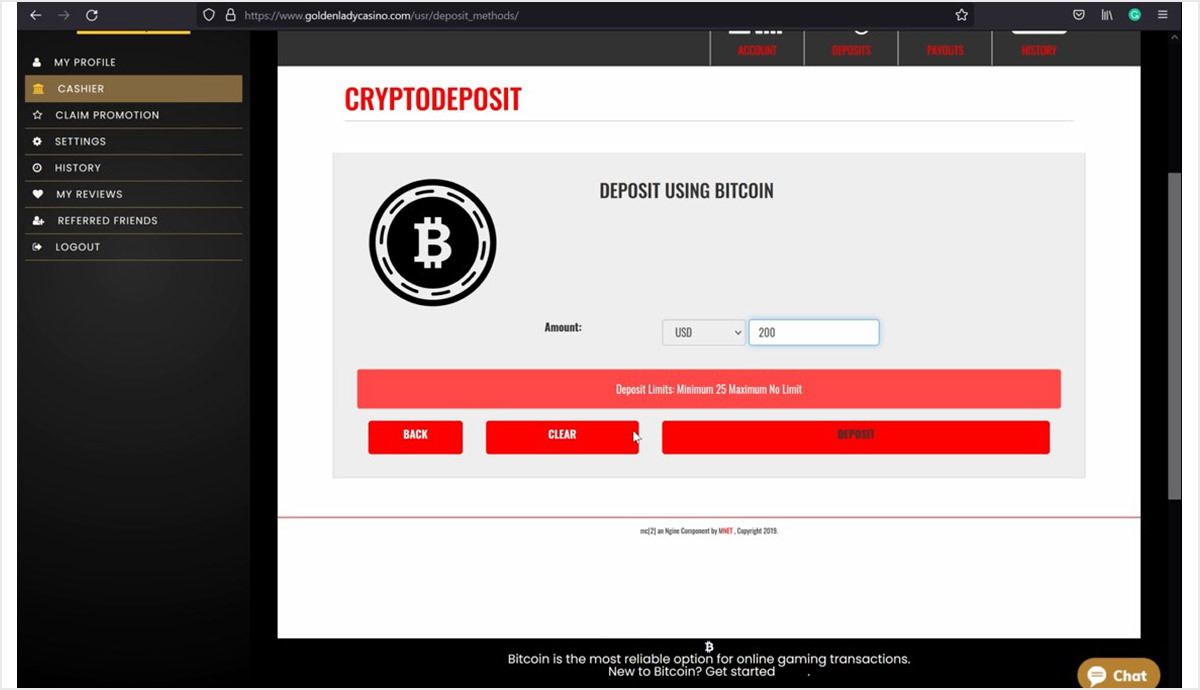 Since the problem with depositing in Bitcoin was mystically solved on February 25th 2022, our player jumped right into action and started browsing the lobby of GoldenLady Casino, which is powered by Betsoft, RIVAL, Tom Horn Gaming and Fresh Deck Studios.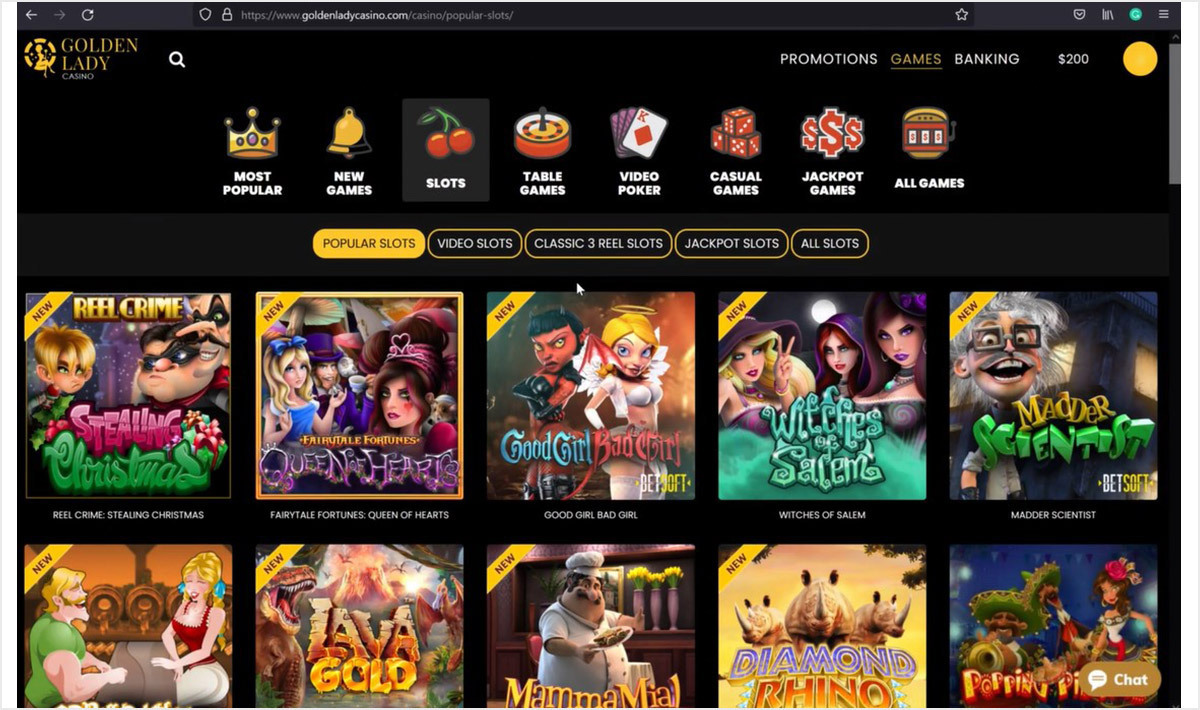 On a similar note, there are around 9+ different ways to fund your account once registered as a member. Of course, depositing a minimum at this place is subject to certain limits and it amounts $25 per transaction.
"the persisting error with the cashier"
If you don't have experience with cryptocurrencies and would like to know how to use Bitcoin as a payment method at online casinos, have a look at our tutorial after reading this test report:
Gameplay
When it comes to gaming, Bubbles12 started with Witches of Salem, a title by RIVAL from October 2021 with a bonus wheel, extra spins, multipliers and jackpots. She continued to explore the lobby with Scary Rich 2, but soon switched to Wrath of Medusa and Chariots of Fire.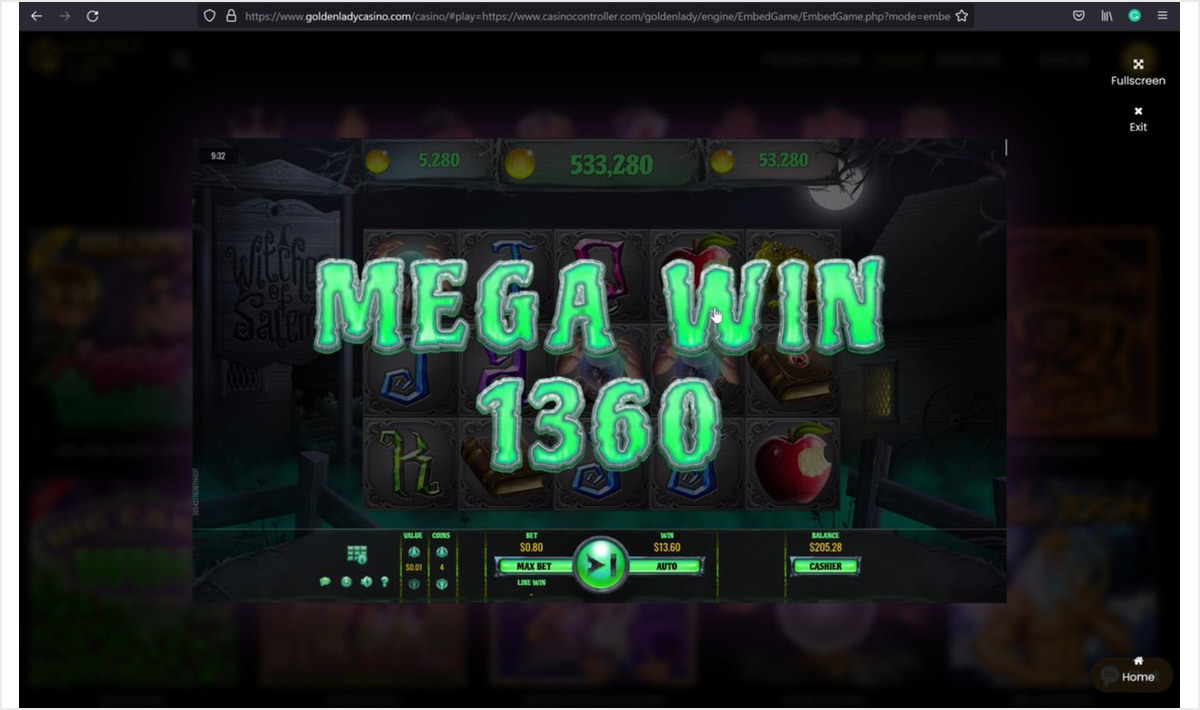 It is when her funds reached $140 that Bubbles12 tried to withdraw her money for the first time. A problem with the cashier prevented her from requesting the desired amount, so she contacted live chat support once again to inquire the matter deeper.
The agent used this opportunity to offer some bonuses and told her that she can send in documents to verify her account once she has placed the withdrawal.
No help there, so Bubbles12 continued to play and picked Rise of Poseidon as her next favorite slot.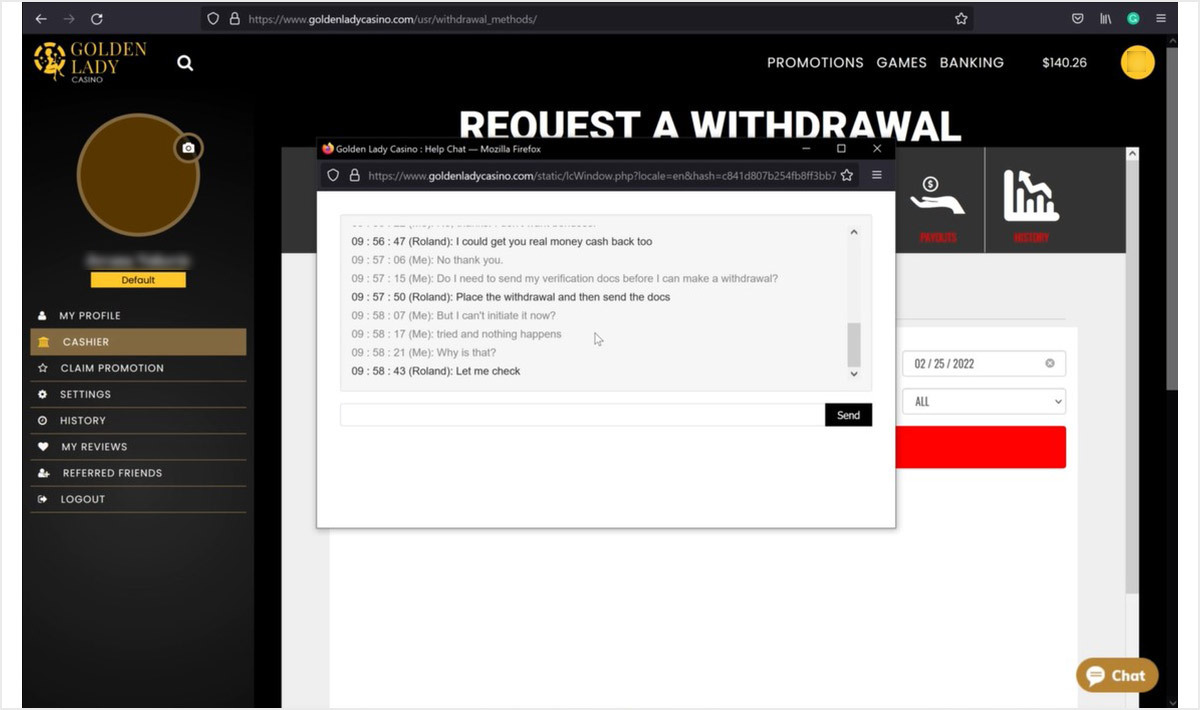 The biggest win for our player happened while having fun with RIVAL's timeless hits, such as Future Fortunes, Queen of Hearts, but she tried to continue the streak of personal records by playing Merlin's Mystical Multipliers, Diggin' Deep, Big Cash Win, Reel Crime Stealing Christmas, 7th Heaven and Ten Times Wins.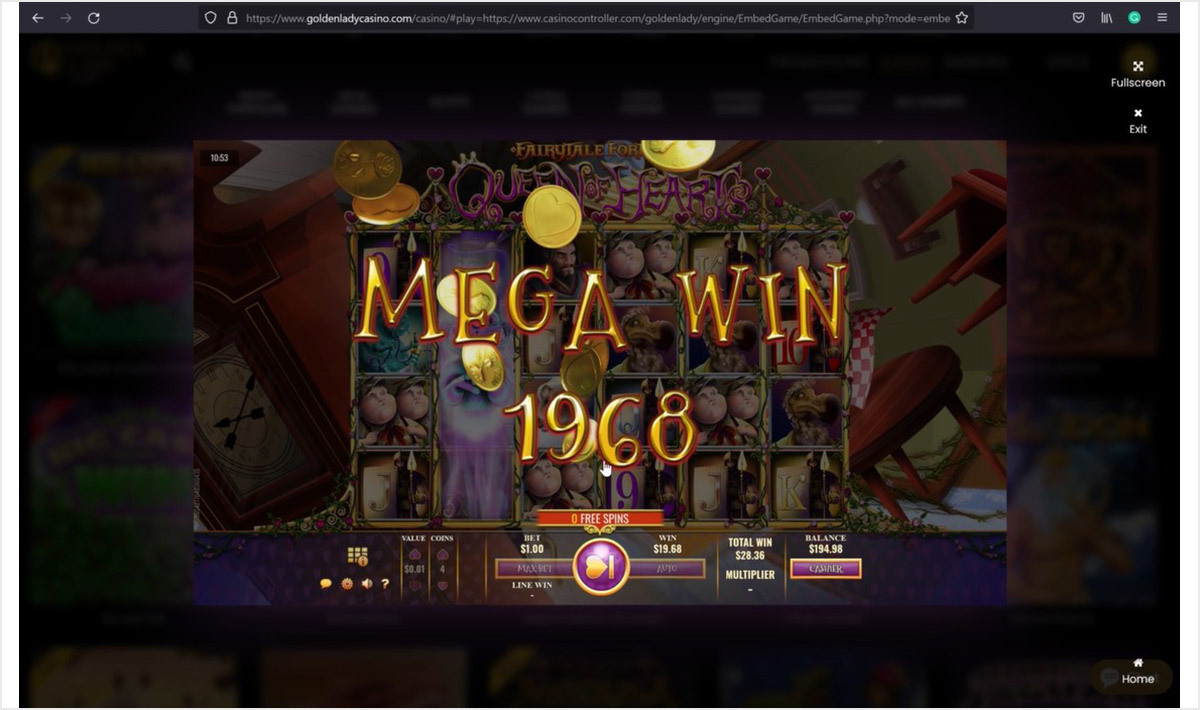 Withdrawal
The sudden change in plot occurs on February 25th 2022 when our tester tried to make a withdrawal via Bitcoin. After playing several slot games, her funds climbed up to $310.81, so trying to pull out some money and check the casino's cashout policy and speed was finally on the agenda.
The minimum amount for cashing out at GoldenLady Casino, according to the information from a live chat agent, is $25 for Bitcoin or $10 for other banking methods.
To request a withdrawal, players must enter the amount they want to withdraw, but Bubbles12 only received a pop-up message stating her payout request was "greater than the withdrawal balance".
She contacted customer support to ask for help and was advised to log out and log in again.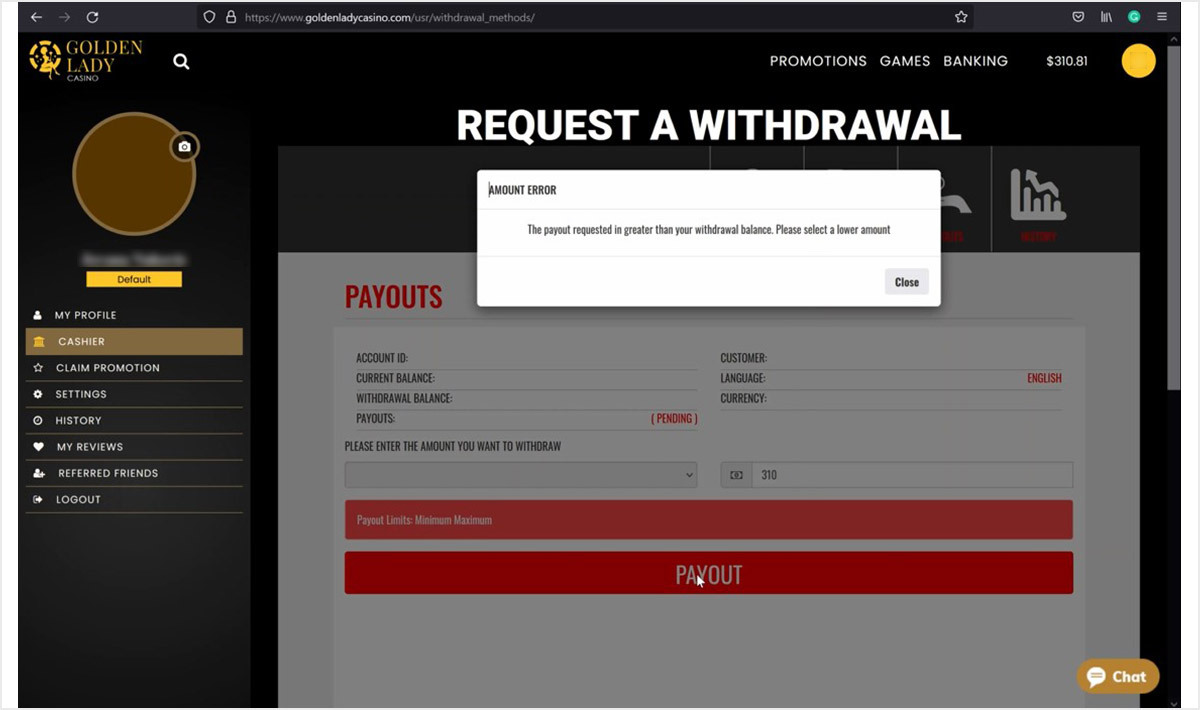 Since the usual approach didn't make any progress, a casino rep asked Bubbles12 to request a lower amount and try with $300 or divide the payout in two and give it another go.
Nothing worked. Even logging in and out for the fifth time or sending a screenshot to the casino.
Our tester's concerns about being scammed grew when the rep said that he hadn't received any email but forwarded the issue to the accounting department.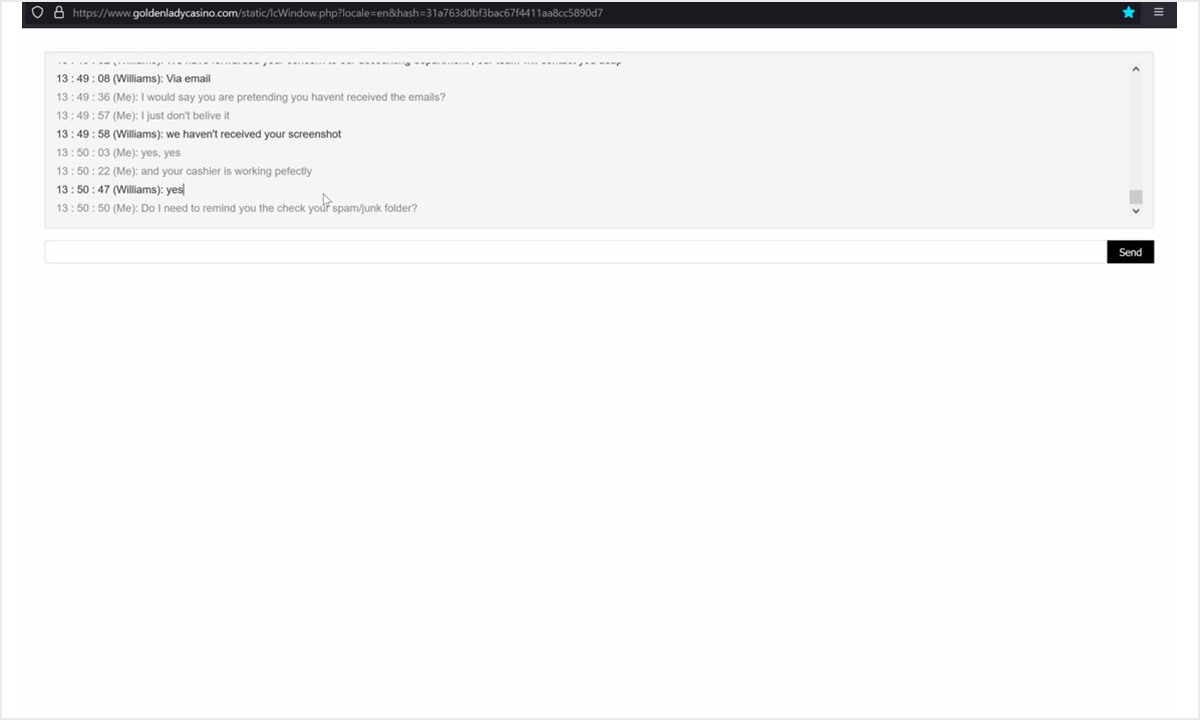 Our tester's withdrawal request of $310 was first submitted on March 21st 2022.
After being totally neglected by the casino's customer support, our player tried to withdraw her money on February 28th 2022 but ran across the recurring problem with the loading cashier. Again.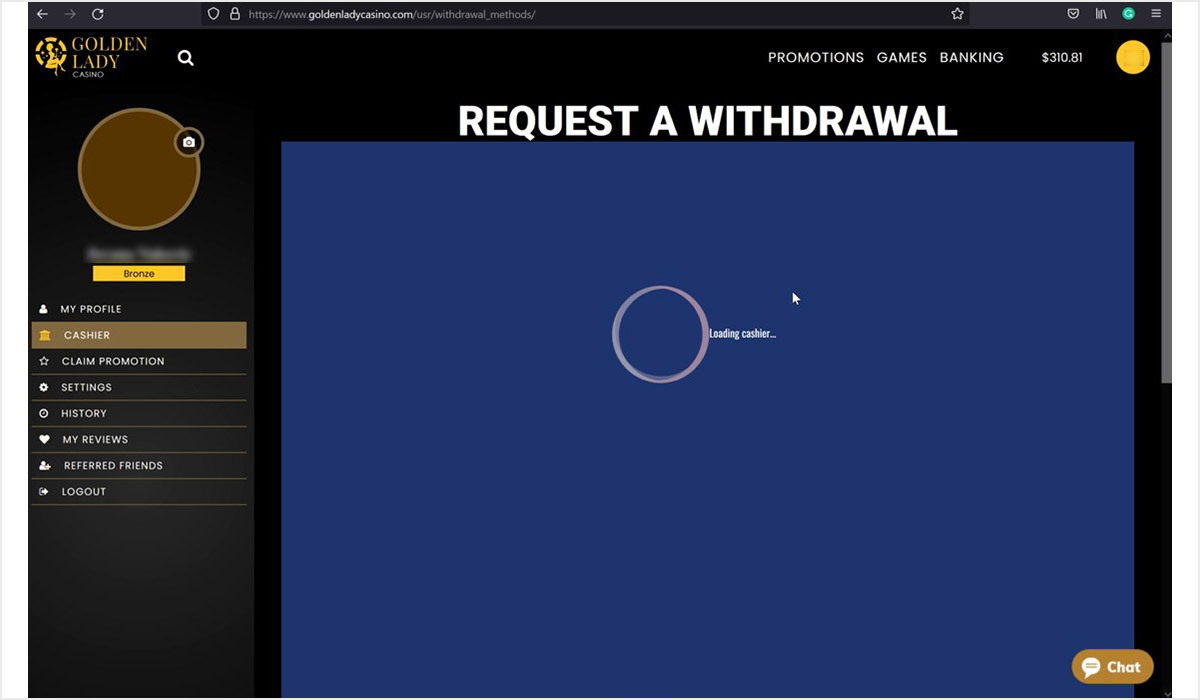 She tried to pull out the funds once more on March 2nd, 8th and 18th 2022, but the agents kept telling her the usual excuses like: "the team is looking into it" and "reset your browser, clear history and try again".
After that chat, no further answers followed that would solve the issue with the cashier. Her payout is still not received or even worse – not being processed by the casino.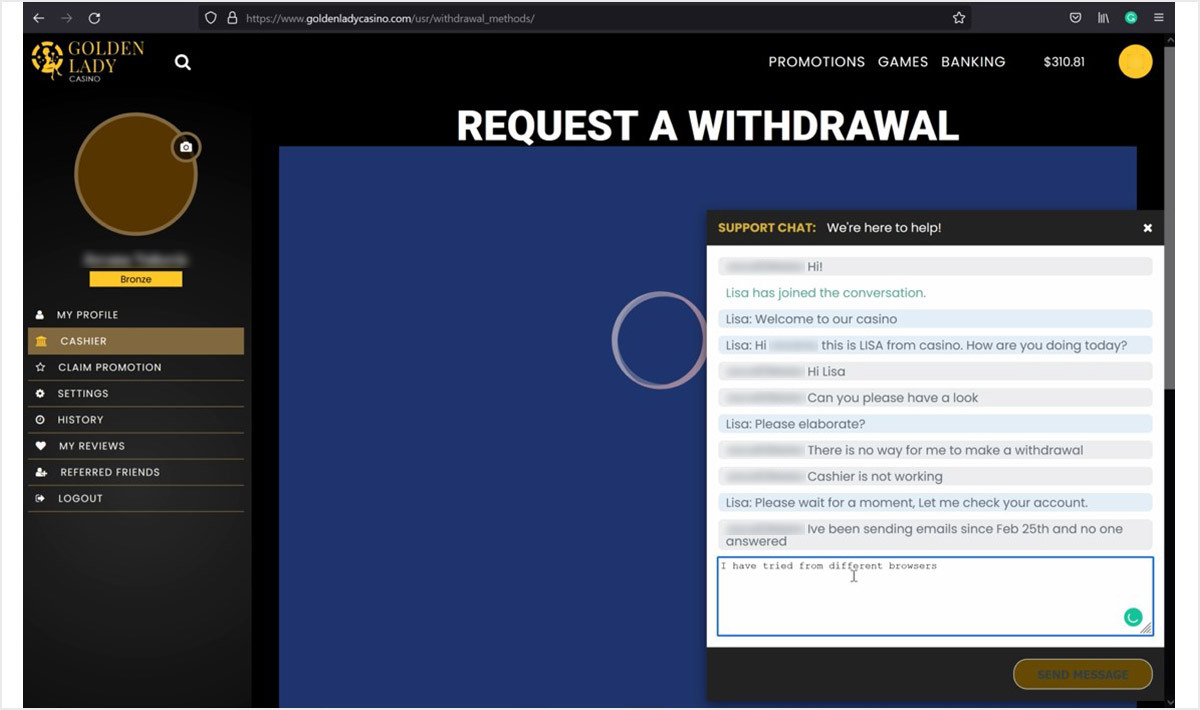 Conclusion
As the report reveals, registering, depositing, and playing at GoldenLady Casino works almost like a charm. If we ignore the non-responsive cashier when making a down payment.
Requesting a withdrawal at this place, however, is a whole different story.
Our tester's endeavor on this site has been a real struggle, mildly speaking, and it's still an ongoing hassle.
Ever since the registration on 23 February, 2022 our player has been facing long cashier loading times and unfulfilled promises by the casino's customer service representatives.
The winning amount of $310.81 is probably lost forever since the last email with GoldenLady Casino from April didn't solve anything and has left the things at a standstill.
We hope that you find her insights and test results helpful.
Don't forget to post a comment and share your thoughts, we would love to hear from you and always appreciate your feedback.
Until next time, play responsibly and stay tuned for the upcoming test reports in our project From the Players, for the Players.
UPDATE: After contacting the casino rep via LCB, our tester was emailed by the casino on May 9, apologizing for the payout delay and asking for an updated Bitcoin address to be sent to the support department. After providing the address as requested, the tester received the money on May 10, in the amount of 0.009399 BTC.
"judging by a two-month payout delay, it's been quite volatile here"
From the Players for the Players
Back to articles