Back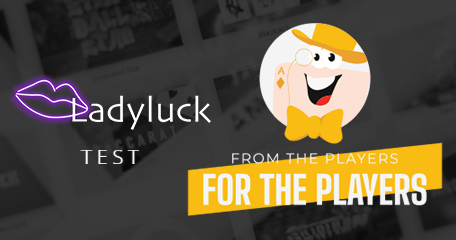 Is KYC Important for Bitcoin Players?
As this month continues to bring new casino candidates with a rising potential to undergo full-scale testing of the service, including depositing, KYC and withdrawal, we turn our attention to LadyLuck – US-friendly, crypto-based gaming destination whose overall user experience and processing times were put to the ultimate trial for the first time in our ongoing project "From the Players, For the Players".
This time, we decided to let our fellow tester Juggaloroscoe do the honors and go the extra mile in presenting specific and relevant information about the brand, part of TheOnline.Casino group that grants players access to a network of sites with one account and accumulates their rewards towards redeeming VIP benefits.
Before we move on, may we remind you of the process in a short recap; the tester must sign up, complete all KYC procedures, place a deposit, play some games and withdraw when ready, so stick around to see if things really took place in this order…
Here's the short version:
Tester of the day: Juggaloroscoe
Date of signing up is August 2nd, 2021
Subsequent to registering, our tester placed a $200 deposit in Bitcoin
Withdrawal requests submitted on August 2nd, August 3rd and August 4th 2021 rejected due to unverified account
KYC documents submitted on August 9, 2021 and approved within a day
A Bitcoin payment in the range of $49.57 (the amount received after a small Coinbase fee was deducted from the requested sum of $50) confirmed and processed on August 10th, 2021
Time to unwrap more details about the verification, so hang around to find out more.
Registration
Once you hit the landing page, LadyLuck offers your three ways to play – mobile, instant or download. Our tester opted for the third variant and easily finished the sign-up procedure in a few steps: username, pass, address, and personal details, you know, the usual piece of information before becoming eligible to access.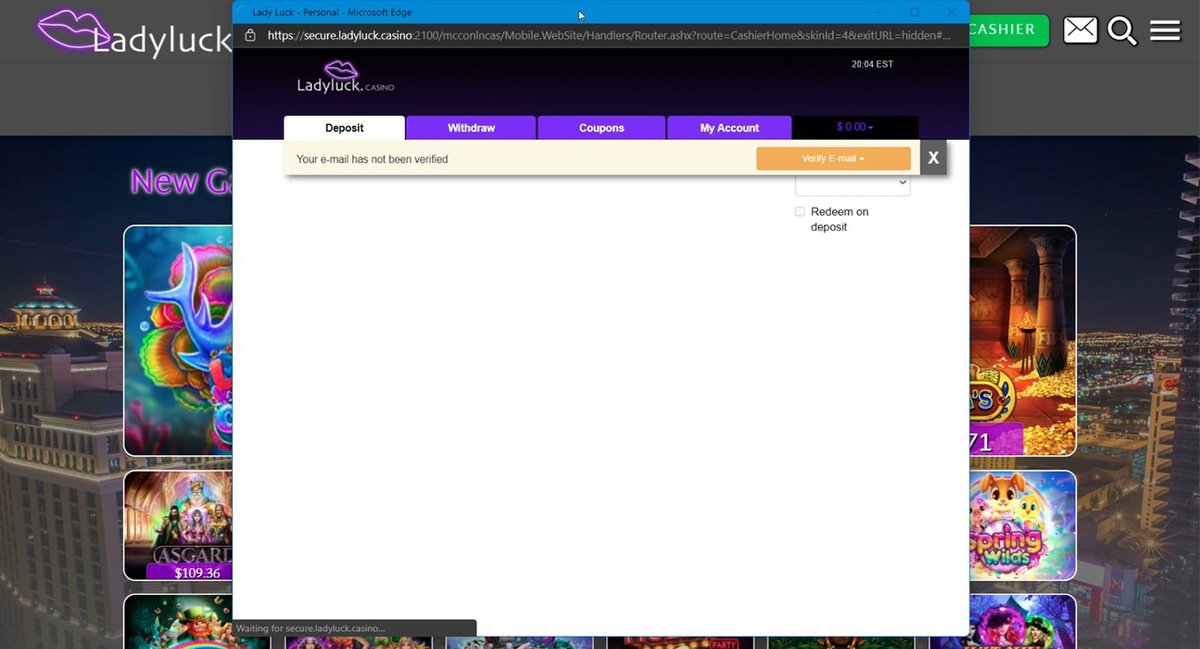 As soon as the initial step was over, Juggaloroscoe had to verify the email address to proceed to depositing. Cashing in occurred the very next minute via Bitcoin, when our tester placed a $200 deposit. Bitcoin deposit limits are, according to the Cashier, $25 minimum and $250 maximum.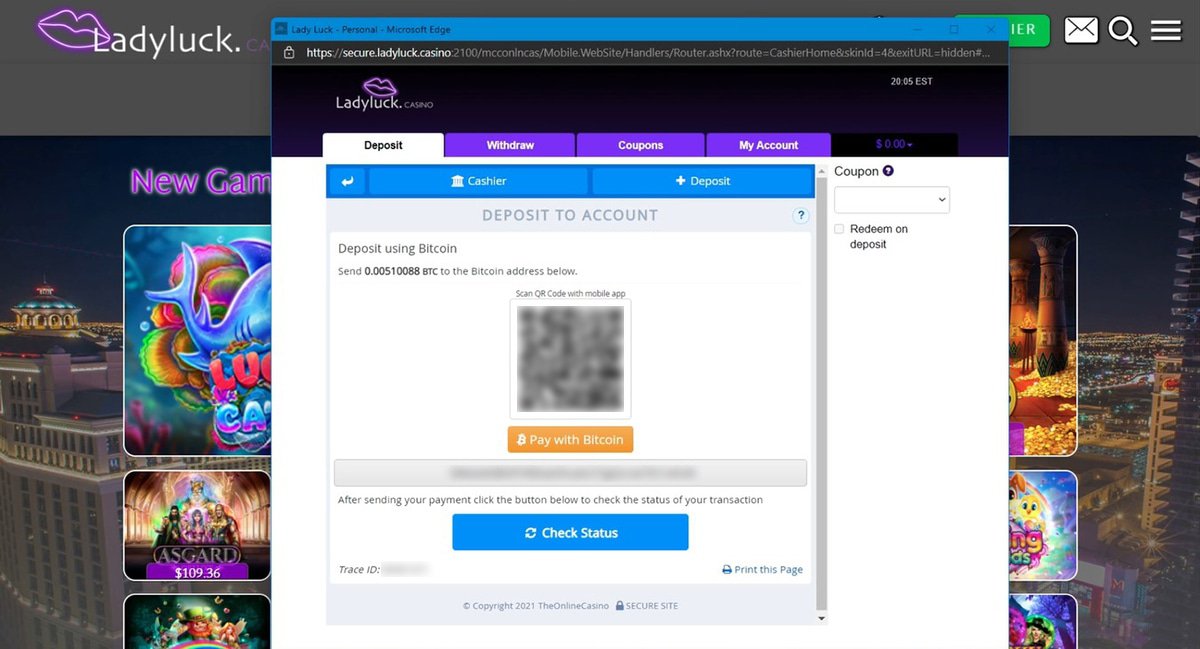 After the operator had confirmed our tester's deposit, there was no time to waste! Juggaloroscoe immediately headed for Bonus Deuces Wild and played a couple of hands, but that's another story.
Depositing
We mentioned that cashing in via BTC occurred on the same day as registering, which is August 2nd.
The deposit procedure worked like a charm, and Juggaloroscoe had their account up and running in no time. The cashier was updated with $200 in Bitcoin seconds after the transaction, which leads us to another exciting part of the test – gameplay.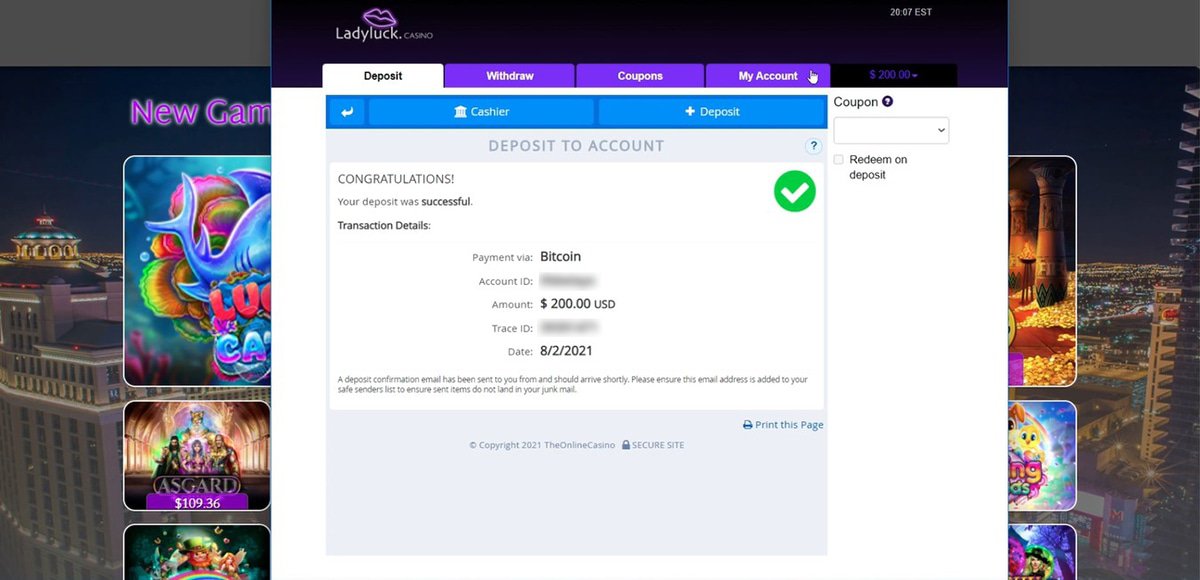 Gameplay
Among the first picks after topping up were video poker and a fishing slot by RTG that we mentioned earlier. However, our tester continued chasing big wins by playing hits like Cash Bandits 3, London Inspector, Plentiful Treasure, and other great titles from the established provider.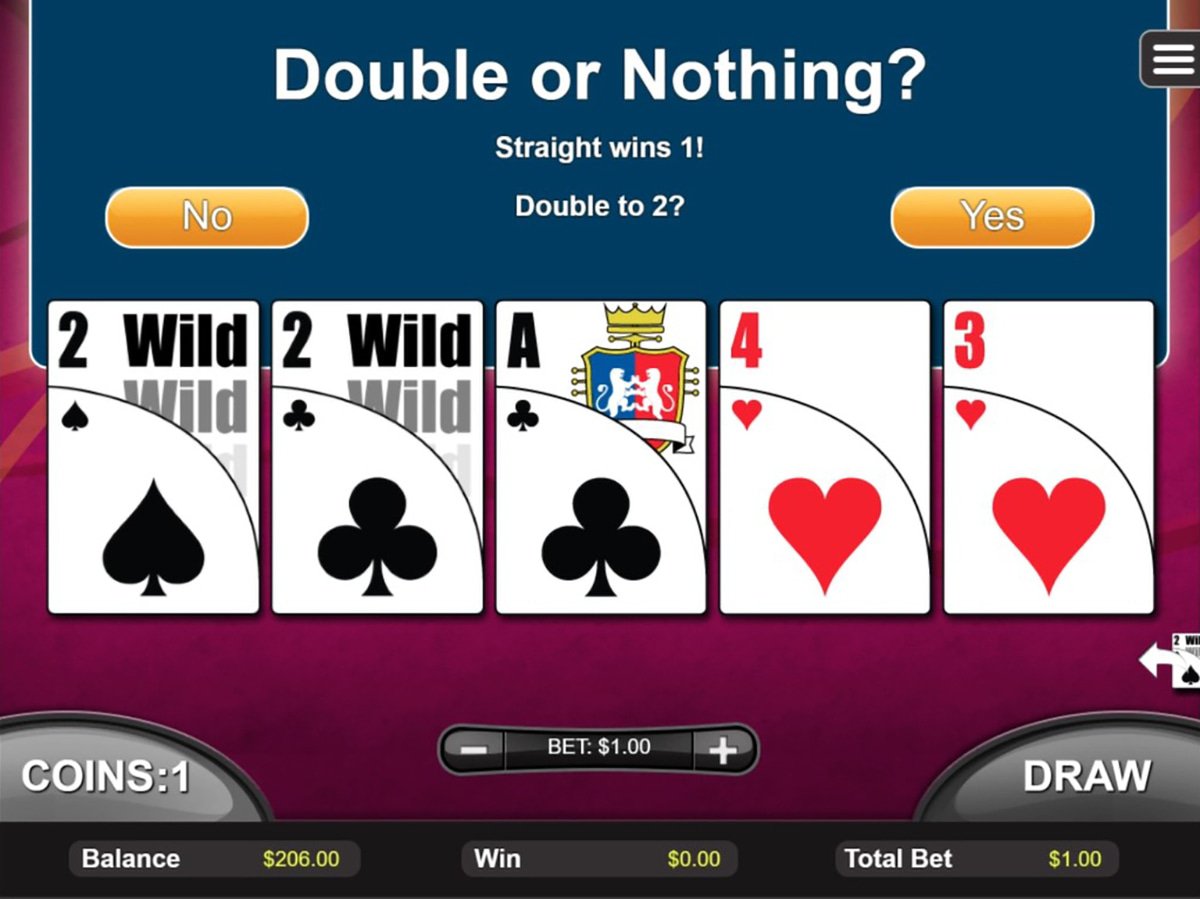 Our tester's buffoonery came to a close when balance reached $50.43 meaning it's finally time to see how the cashing out looked like.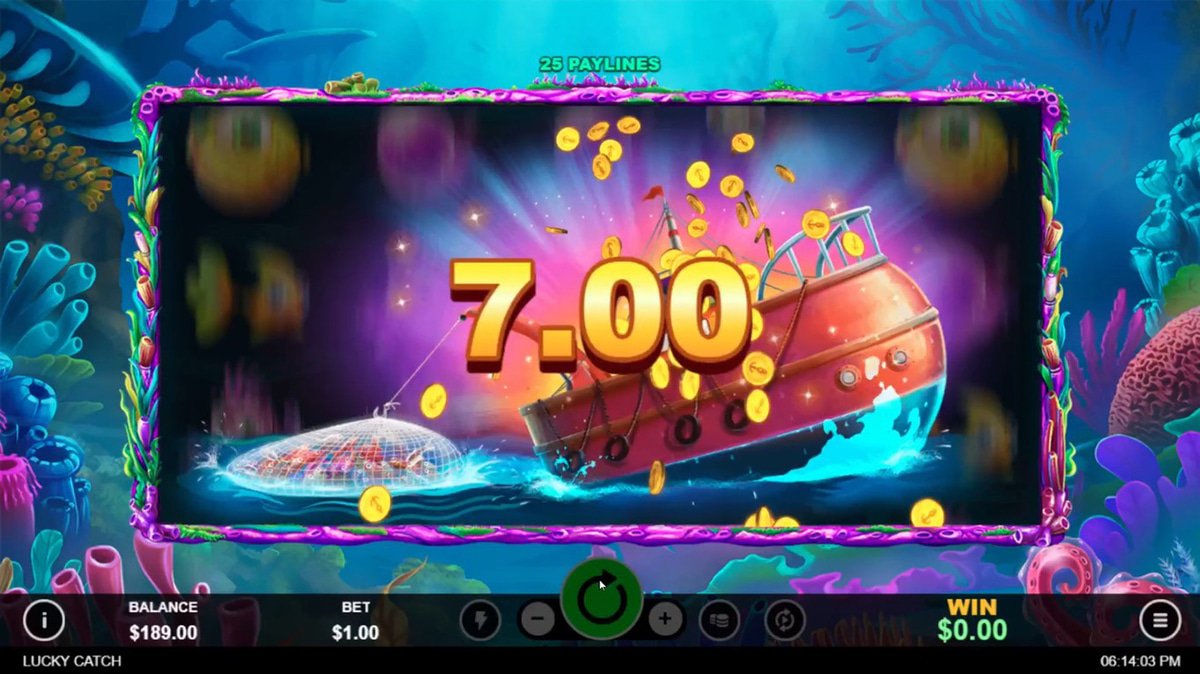 Withdrawal
Juggaloroscoe requested a payout of $50 from the cashier on 2 August, 2021 via the same payment method – Bitcoin. The states payout limits for Bitcoin transactions are $50 minimum and $25000 maximum per transaction, with the stated processing time within one day.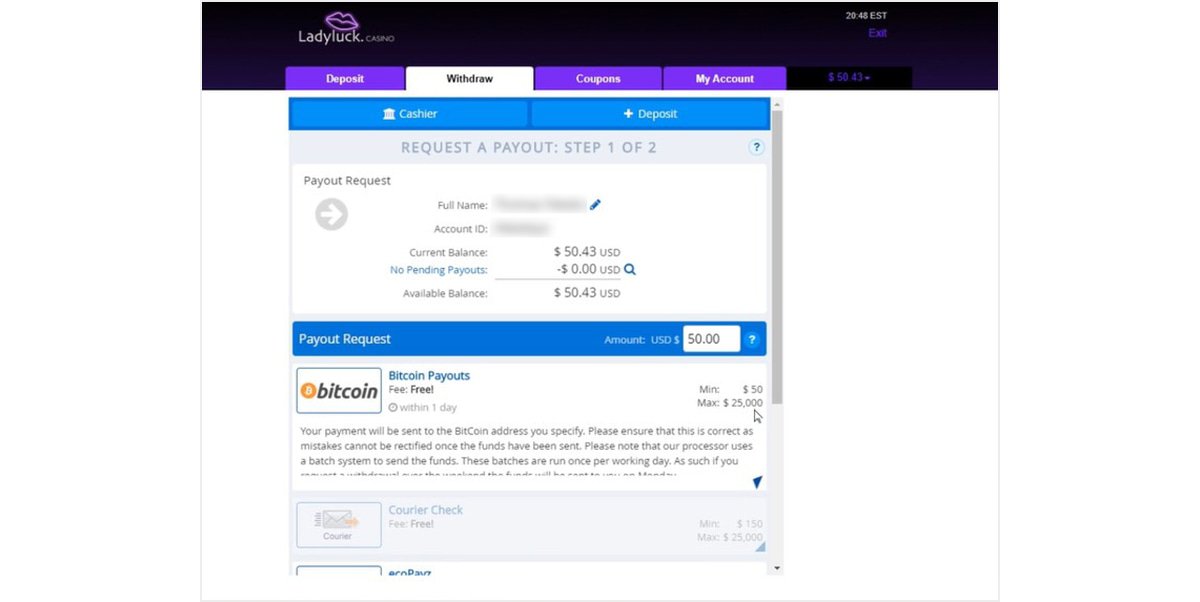 The casino confirmed a transfer of $50 to Juggaloroscoe instantly but since no payout processing happened in 24 hours, our tester made the same request on 3 August, again.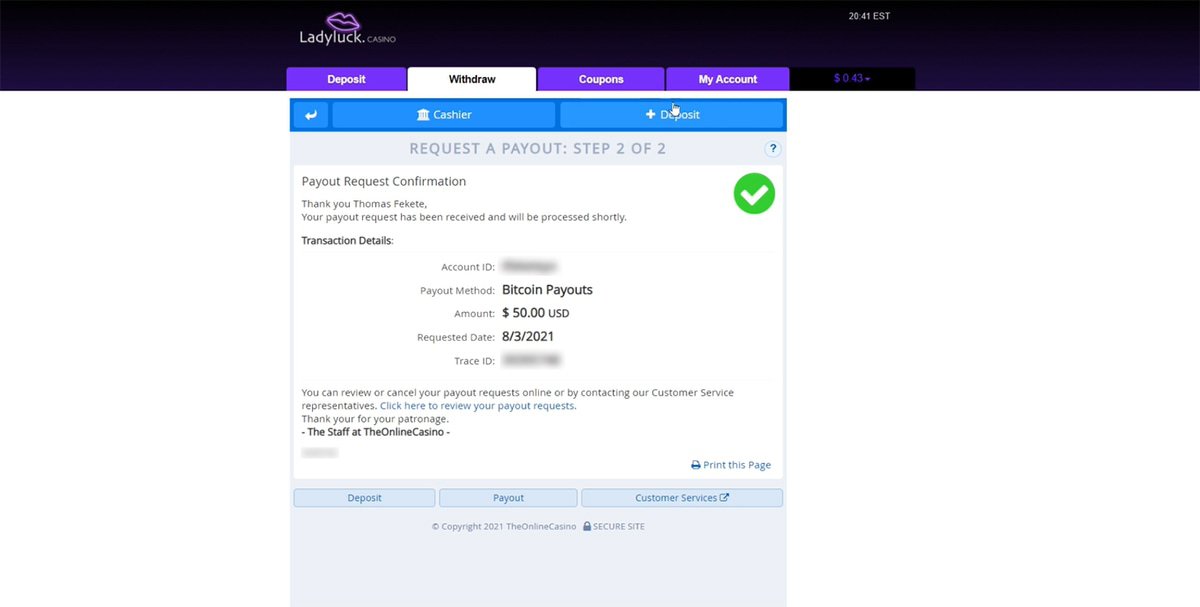 After several declined withdrawals on August 2, 3 and 4, Juggaloroscoe decided to take action on August 7 and contacted live chat to see why their withdrawal keeps getting denied. After a quick check up, the customer support told our tester to send documents for verification to a specific email address, including a form that had to be printed, filled out by hand, signed and also contain a selfie.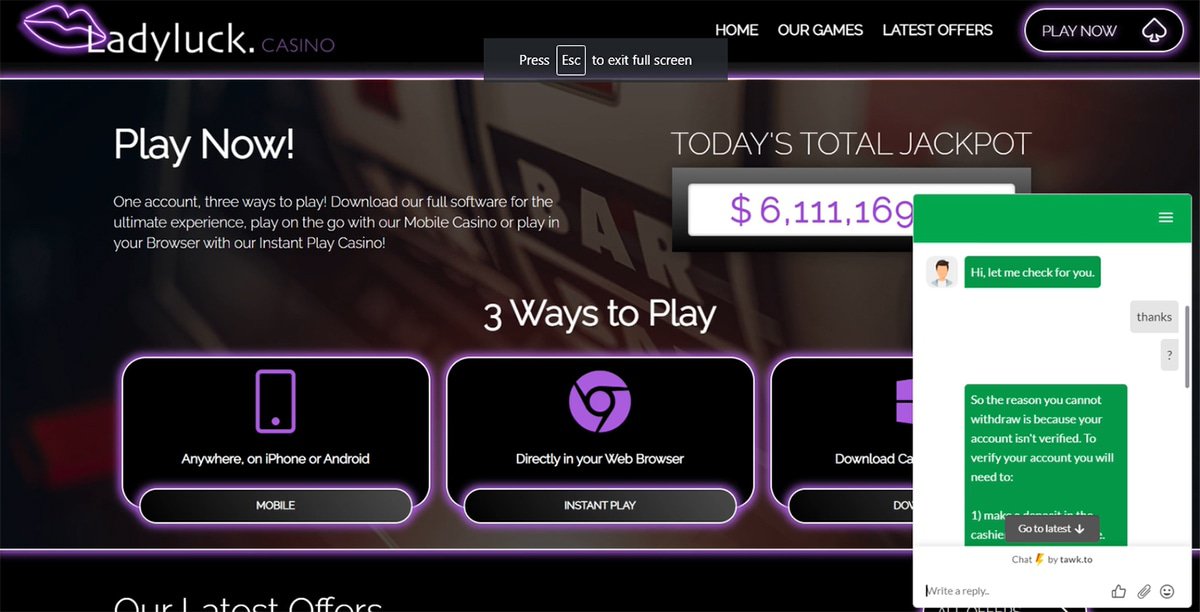 The cashout protocols require from players to wager the deposit at least once, provide proof of ID, address, utility bill, bank statement etc. while credit card deposits must include proof of possession.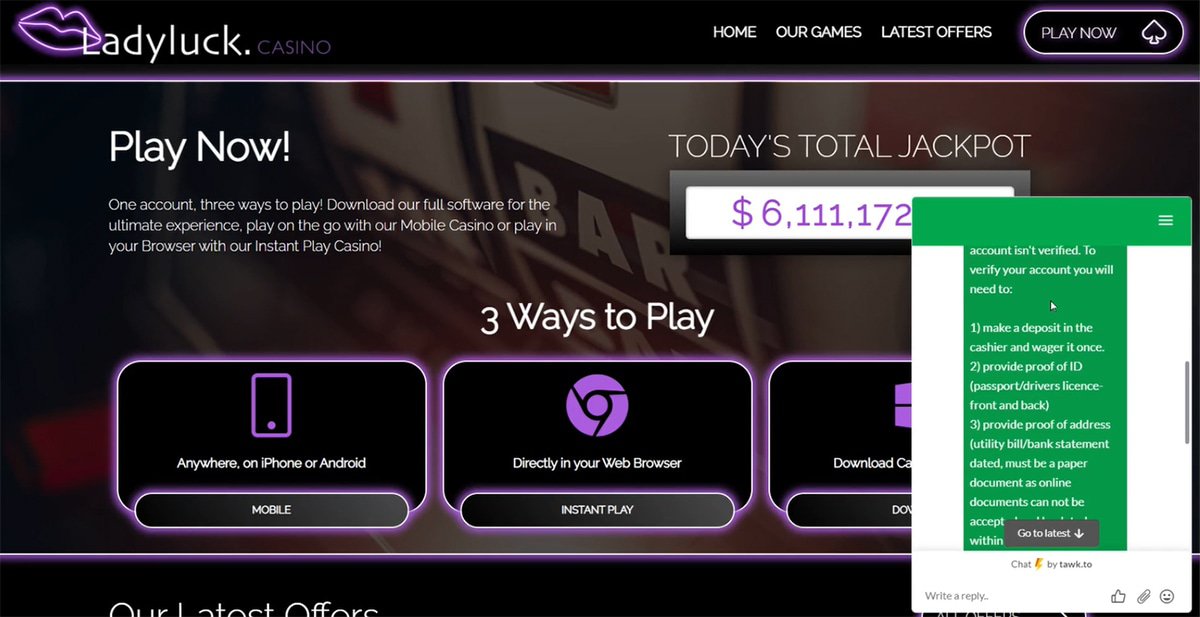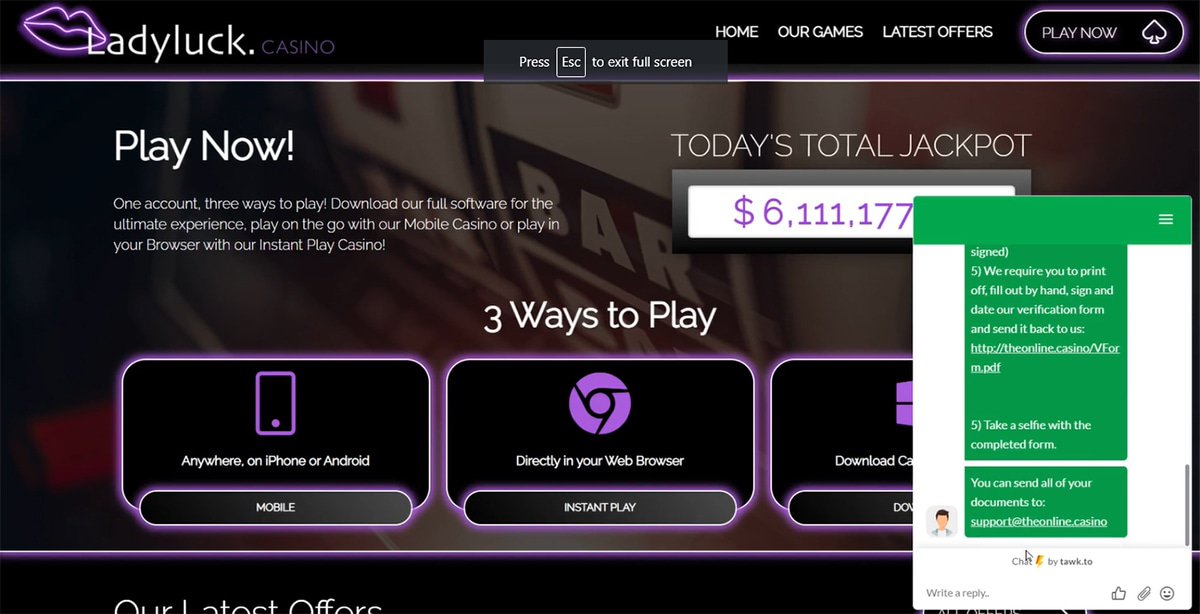 Juggaloroscoe expressed clear dissatisfaction about the entire process, stating that the casino never pointed out that verification was necessary, even after two unsuccessful withdrawal attempts. The agent replied that a note was attached to each refused withdrawal, claiming the account needed to be verified first.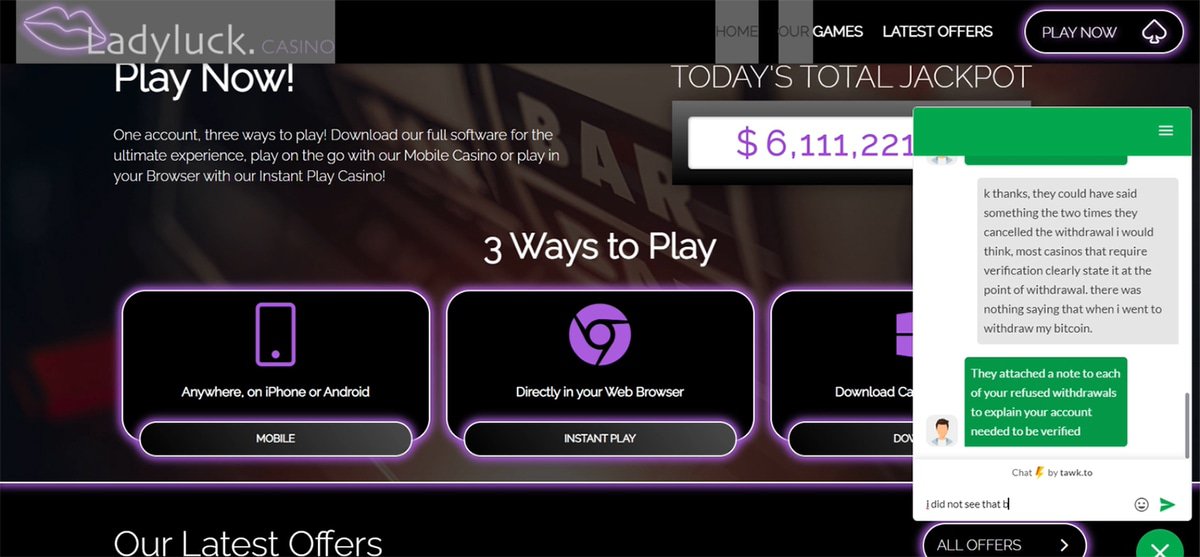 The Terms and Conditions, section Account Verification, state that:
"All withdrawals are subject to audit and are only paid to verified accounts. To verify your account, you will provide us sufficient documentation to prove your identity, complete our verification form and make at least one cash purchase. This cash purchase is for verification purpose only and can be withdrawn with no wagering requirements.
Verification documents may include copies of government issued photo ID, recent utility bills, credit cards, a signed purchase history, a photograph of yourself holding any of these documents, and/or other appropriate or notarised documentation."
Just to be clear, Juggaloroscoe couldn't find any "note" attached to the withdrawals, email or spam folder.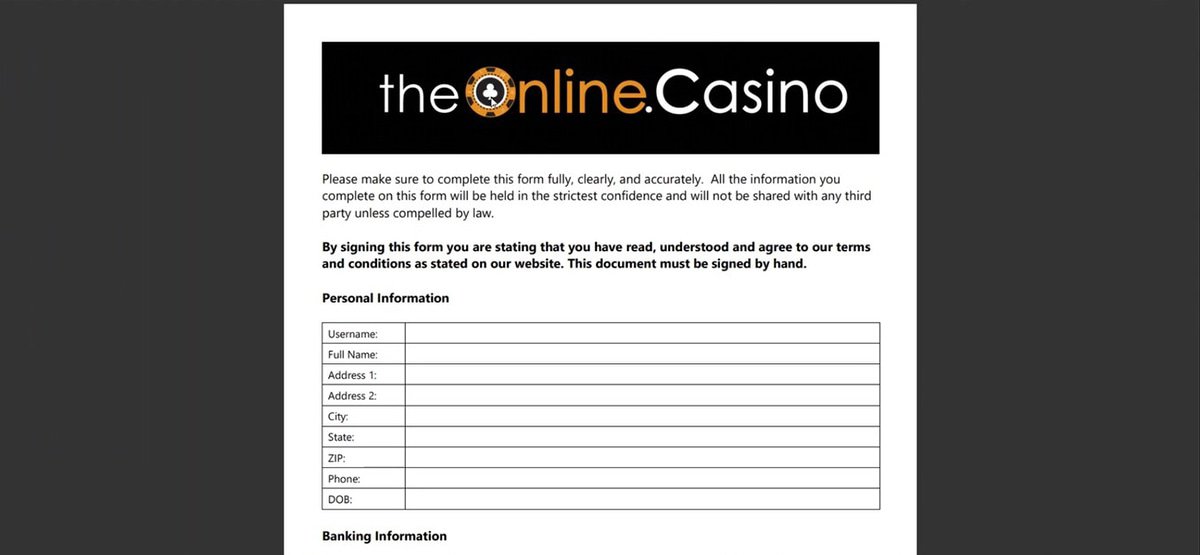 Our tester finally managed to submit all documents for verification on August 9th, request another cashout and receive their payment in the range of $49.57 via Bitcoin (meaning a smaller Coinbase fee is include) on August 10th, 2021.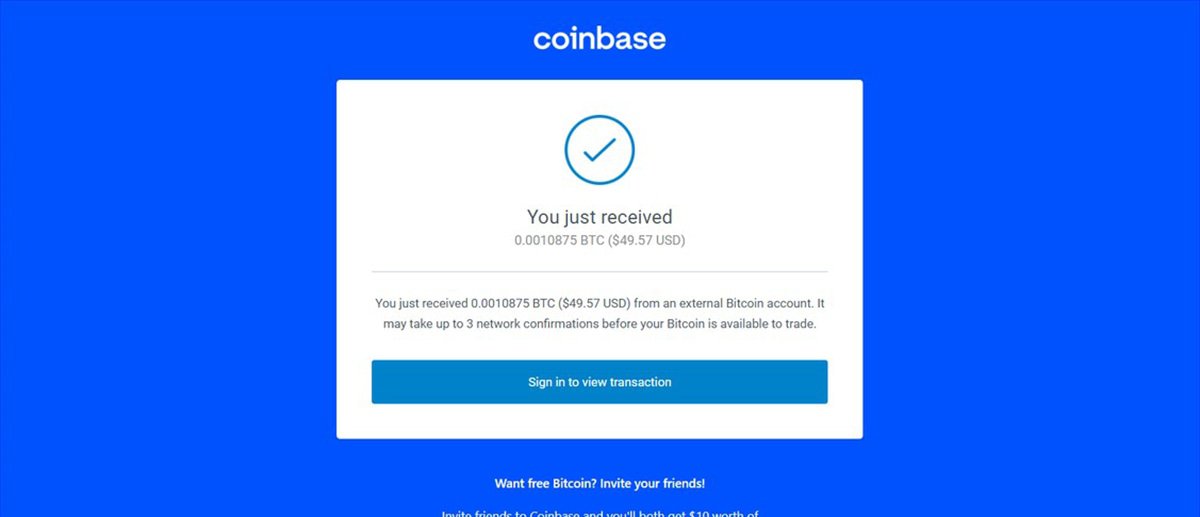 Conclusion
There you have it!
It's time to conclude another online casino test and you be the judge whether LadyLuck Casino makes another important chapter in our project – From the Players, For the Players.
Stay tuned for more reports coming soon and don't forget to comment.
From the Players for the Players
Back to articles