Back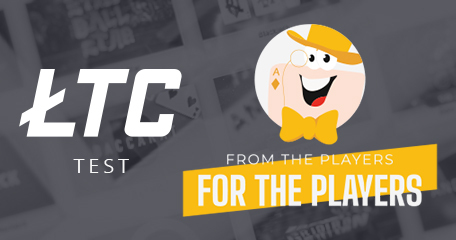 Tester's Big Hopes of Winning After Lightning-Fast Crypto Transactions Shatter in Just One Hour
Our all-encompassing project "From the Players, for the Players" continues to break records in 2022 as we put new brands up to the test to satisfy your curiosity and uncover more about casinos on the global market.
This time we bring hands-on information about one of the casinos you requested in our monthly contest, so thank you for helping us diversify our picks and deliver more valuable facts about online gambling.
To get the job done, we hired one of our regular testers, MarijaS, who shared more than one story about countless online casinos to date. On that note, she recently paid a visit to ŁTC Casino – home of crypto and more than 800 slots, but also a recently launched platform.
As per your request in this month's $500 LCB January Contest: Let's Test Casinos, we gave our tester the go-ahead for signing-up, depositing, playing and cashing out at this crypto iGaming destination and she is back with the following results.
Let's take a quick look at some brass tacks first:
Tester of the day: MarijaS
Date of signing up: Thursday, January 6th 2022
Cashier: Account funded with $200 in Bitcoin via Coinbase
KYC: None
Withdrawal: Request of $49.96 submitted on the same day - January 6th
Payment received on January 6th, 2022 after confirming BTC cashout address
Everything seems legit. Let's dig in deeper!
Registration
Our tester signed up with ŁTC Casino on Thursday, 6 January 2022. Registering an account requires only a valid email address, password, date of birth and cryptocurrency deposit. After accepting terms and conditions, MarijaS instantly gained access to her account and updated her account information by adding first name, last name, username and selecting gender.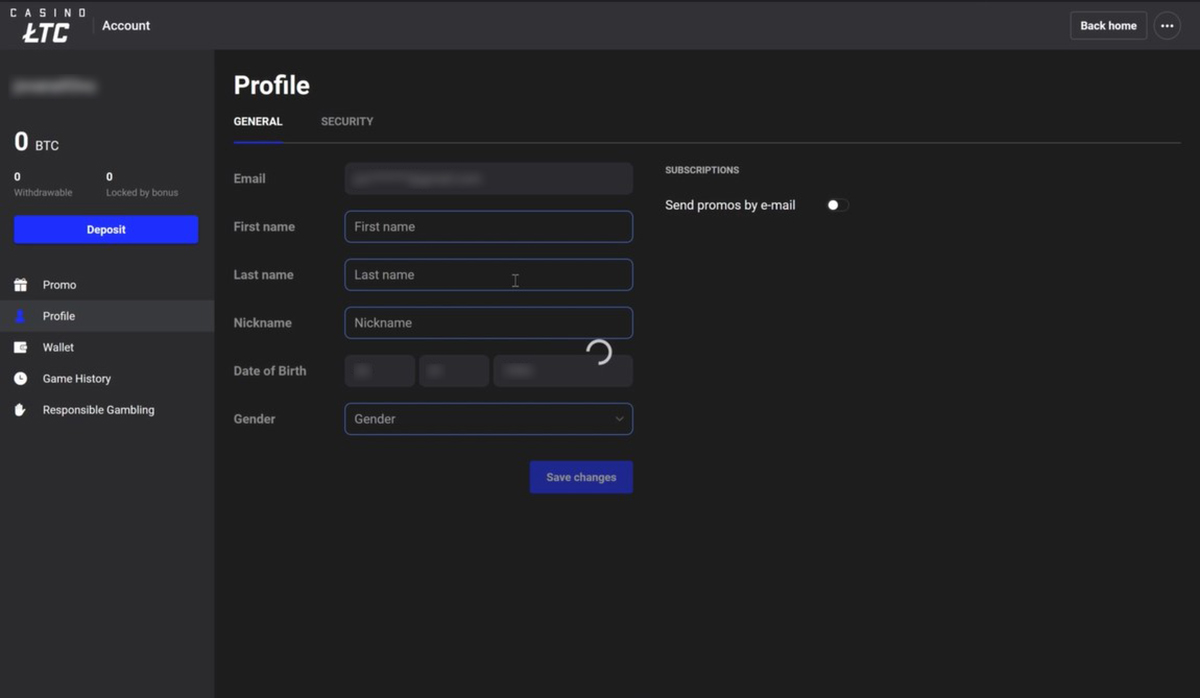 Depositing
She immediately continued with testing by opening her wallet and choosing Bitcoin to top up. This casino also accepts crypto deposits in Litecoin, Ethereum, Doge and Ripple.
With that out of the way, MarijaS waited a couple of minutes after confirming her email address for the transaction to complete. Our tester continued to checkout on Coinbase and top up the account with $200 / 0.0047 BTC, and received $201.78 to her casino account due to BTC value fluctuation.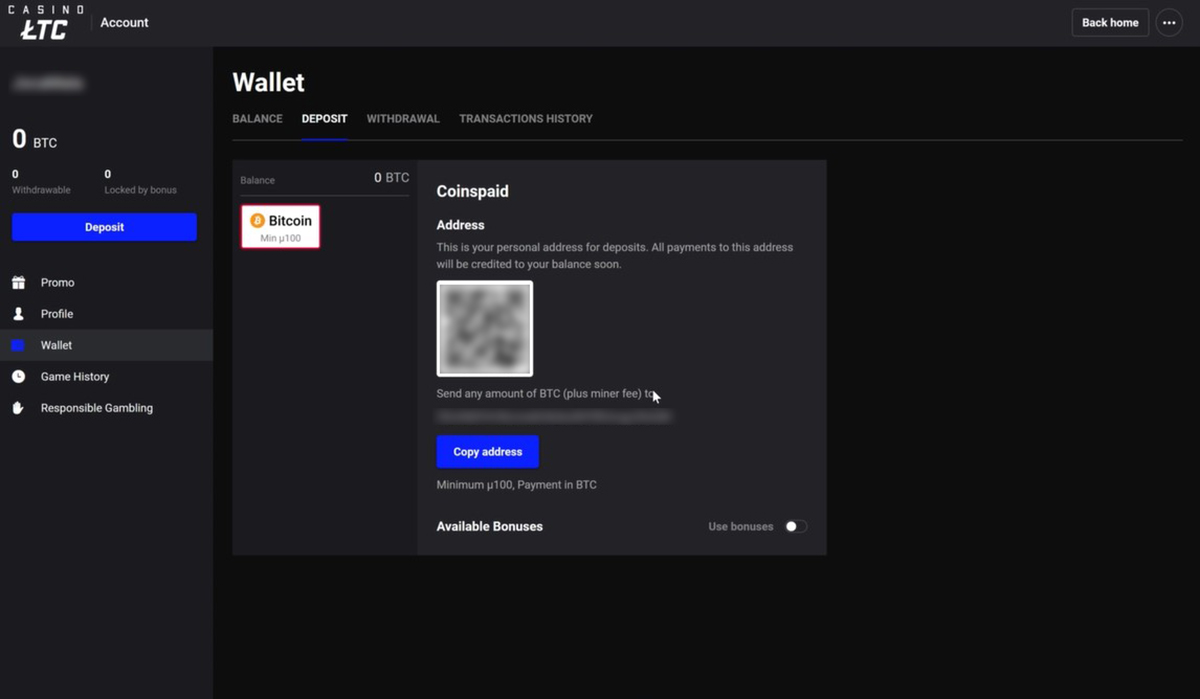 Moments later, she was ready to start playing her favorites with a solid budget, so let's see how that turned out.
Before we skip to gameplay, we would like to remind you how to use Bitcoin as a payment method at online casinos, so take a look at our comprehensive tutorial on this page or on YouTube:
Gameplay
Some ten minutes after joining ŁTC Casino, MarijaS, was ready to give it a go and made her first pick – 12 Zodiacs by Habanero Systems. She soon switched to Spanish Armada 7 Days by Belatra Games where she made a cool win several times.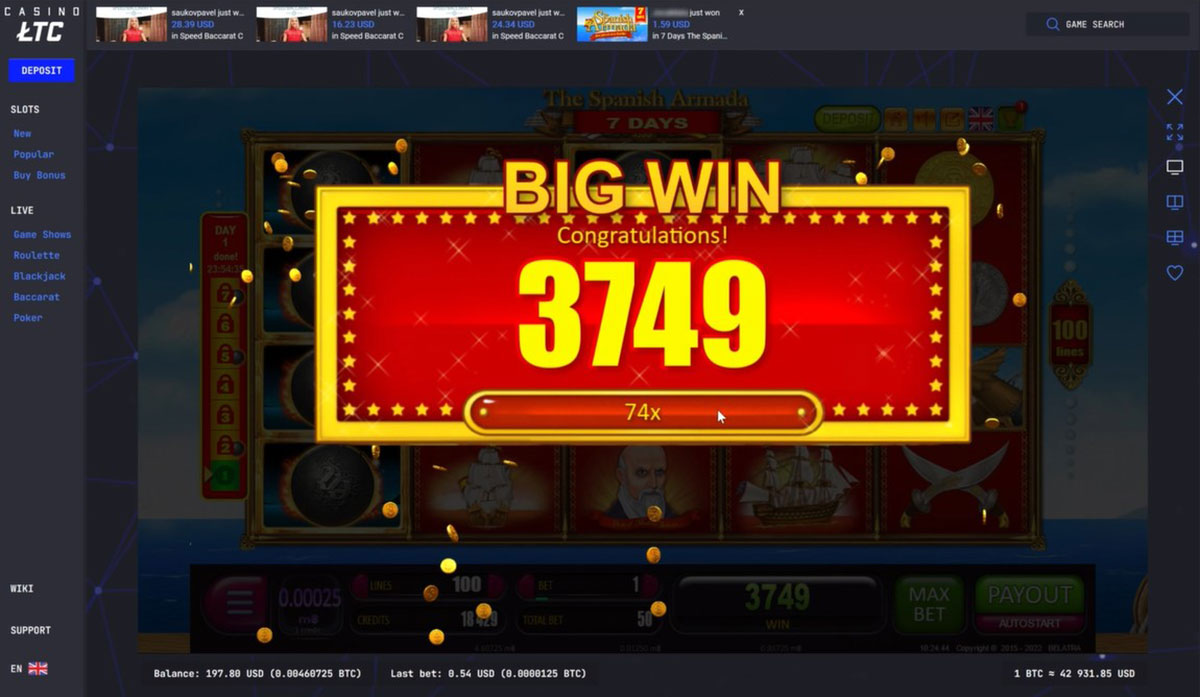 Next on that list were also 4 Symbols from GameArt, Piggy Bank, Zombie Town, Book of Doom, 88 Dragons Bounty by Belatra Games, https://lcb.org/games/slots/belatra-games but… to her misfortune, the funds kept declining more than anything else.
After a while, our tester decided that it was time to "call it a day" and stopped playing when her balance reached $50.06.
Withdrawal
To clarify, at the time of writing this test report, the minimum cashout limits at ŁTC Casino were 0.001 BTC / 0.01 ŁTC / 0.1 ETH / 1 DOGE and 0.001 XRP. The maximum amount for withdrawal depends on the payment method you decide to use, but if the requested amount of withdrawal exceeds the limit of a particular payment system, the total will be withdrawn in installments.
MarijaS' withdrawal request was submitted on January 6th, 2022. She opened her wallet and asked for a payout via Coinspaid of 0.001166 BTC.
This payment was confirmed and received on the same day, January 6th, 2022 and it amounted exactly $49.97 or 0.001166 BTC after value fluctuation.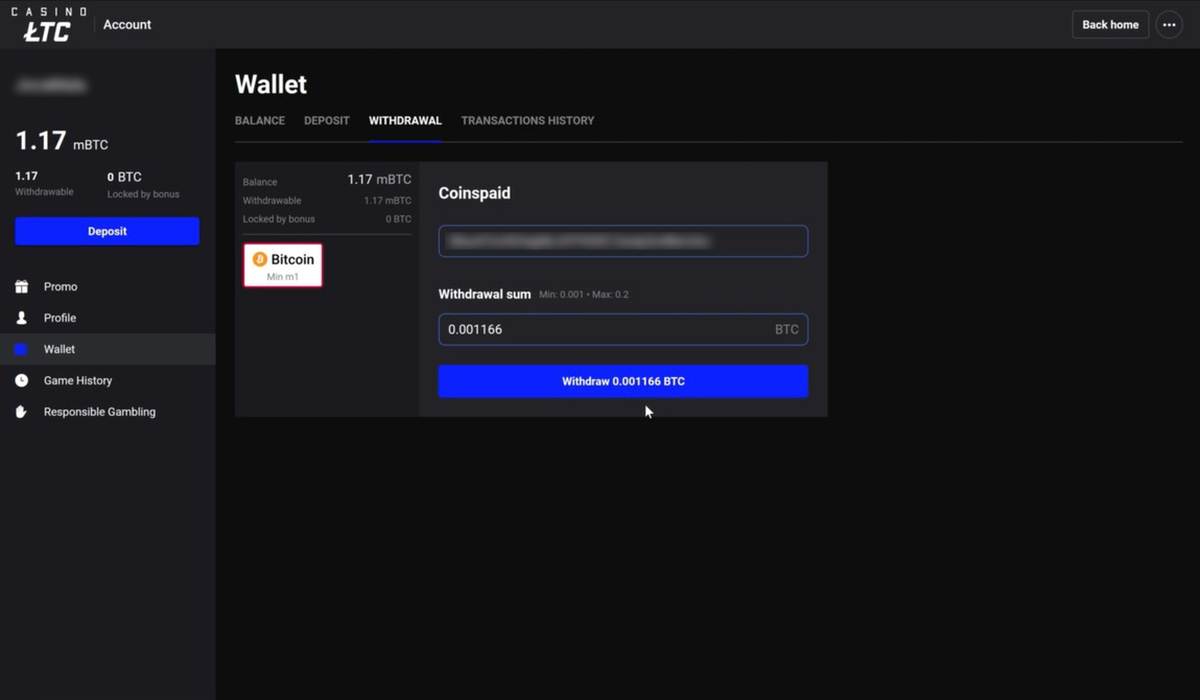 Conclusion
There you have it, fair & square!
Our tester was perhaps unable to reach high winnings at ŁTC Casino, but at least she experienced no difficulties or hitches in regard to signing up, depositing or playing her favorites from Belatra and other providers.
In case you want to learn more about this operator, check out the official forum thread and join the discussion or head to our news category and read how to get in contact with its representative.
We hope that our survey of ŁTC Casino brings you new insights about this gaming station. What is your opinion?
Play responsibly and stay tuned for more casino reports coming soon!
From the Players for the Players
Back to articles