Back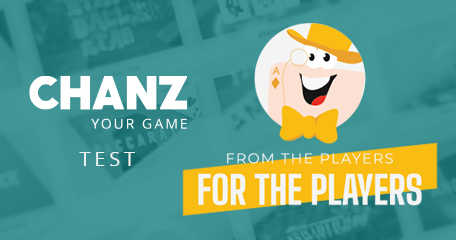 With no signs of slowing down, LCB's project From the Players, For the Players continues to test online casinos for implementation of fair and transparent practices and the best thing about it is - it's done by our own LCB testers.
This time around, we take a look at Chanz Casino and how they fare in this regard. The entire test was performed on 24th of March and includes these steps: sign up, deposit, gameplay and cashout.
Tester of the day: ROUNDER
The sign up was completed on March 24th at 2:42 AM after a simple registration process that included SMS phone verification
€125 was deposited via MuchBetter instant banking method on March 24th at 4:07AM
Several slot games were played with real money we funded the account with
A withdrawal of €20,01 was requested on March 24th, at 6:42 AM
Cashout received on 7:11 AM, March 24th, to the MuchBetter account
Registration
Our tester - Rounder - has signed up with Chanz Casino on March 24th at 2:42 AM.
The registration process consisted of several not too complex steps - the first part of the sign up required the name, surname, email and password, before moving on to phone number, address and other required details.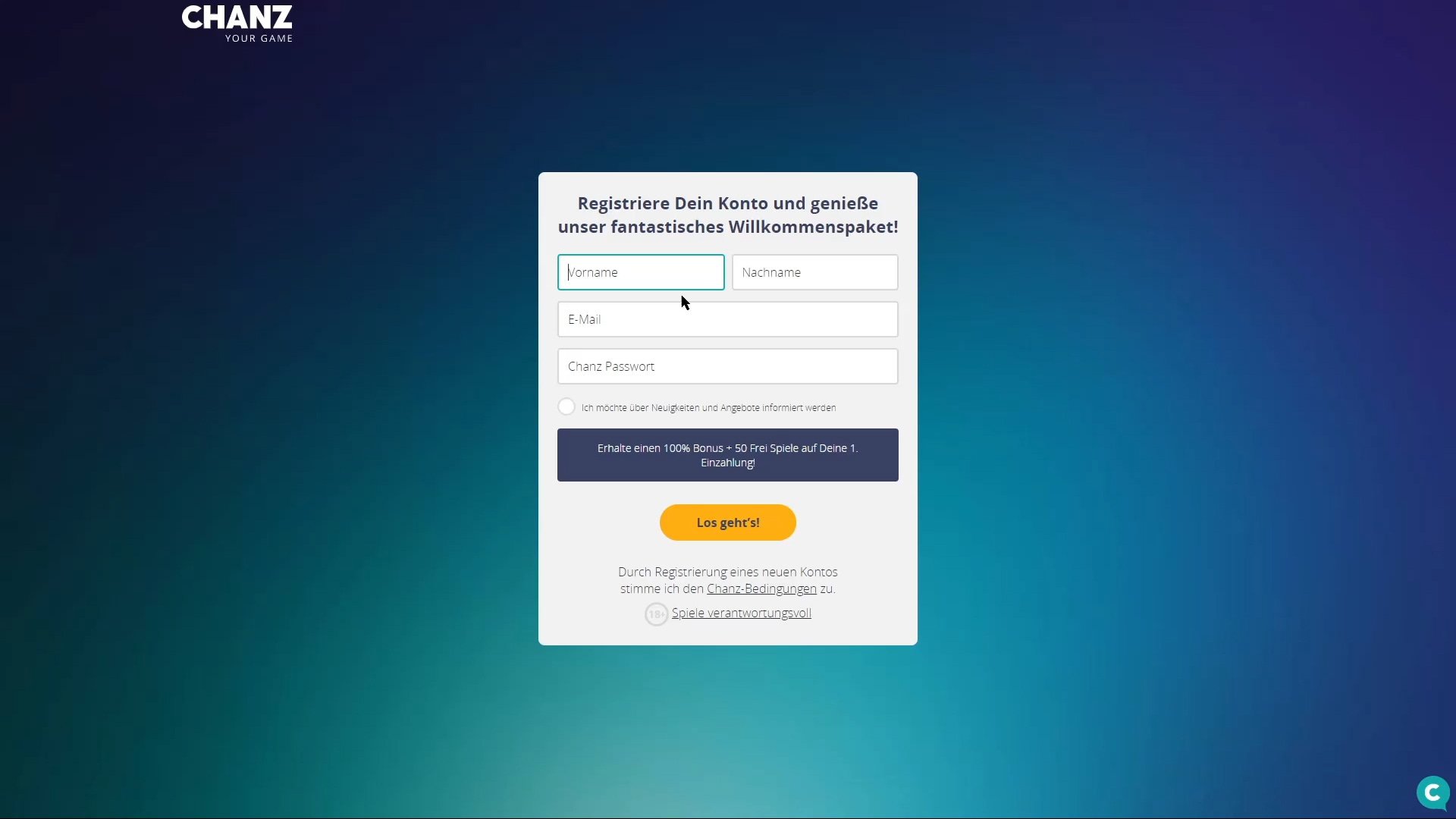 Having completed that, the confirmation code was sent to the tester's phone via SMS. The phone number was verified during the same step - while the test was on the sign up procedure screen - which was extremely convenient.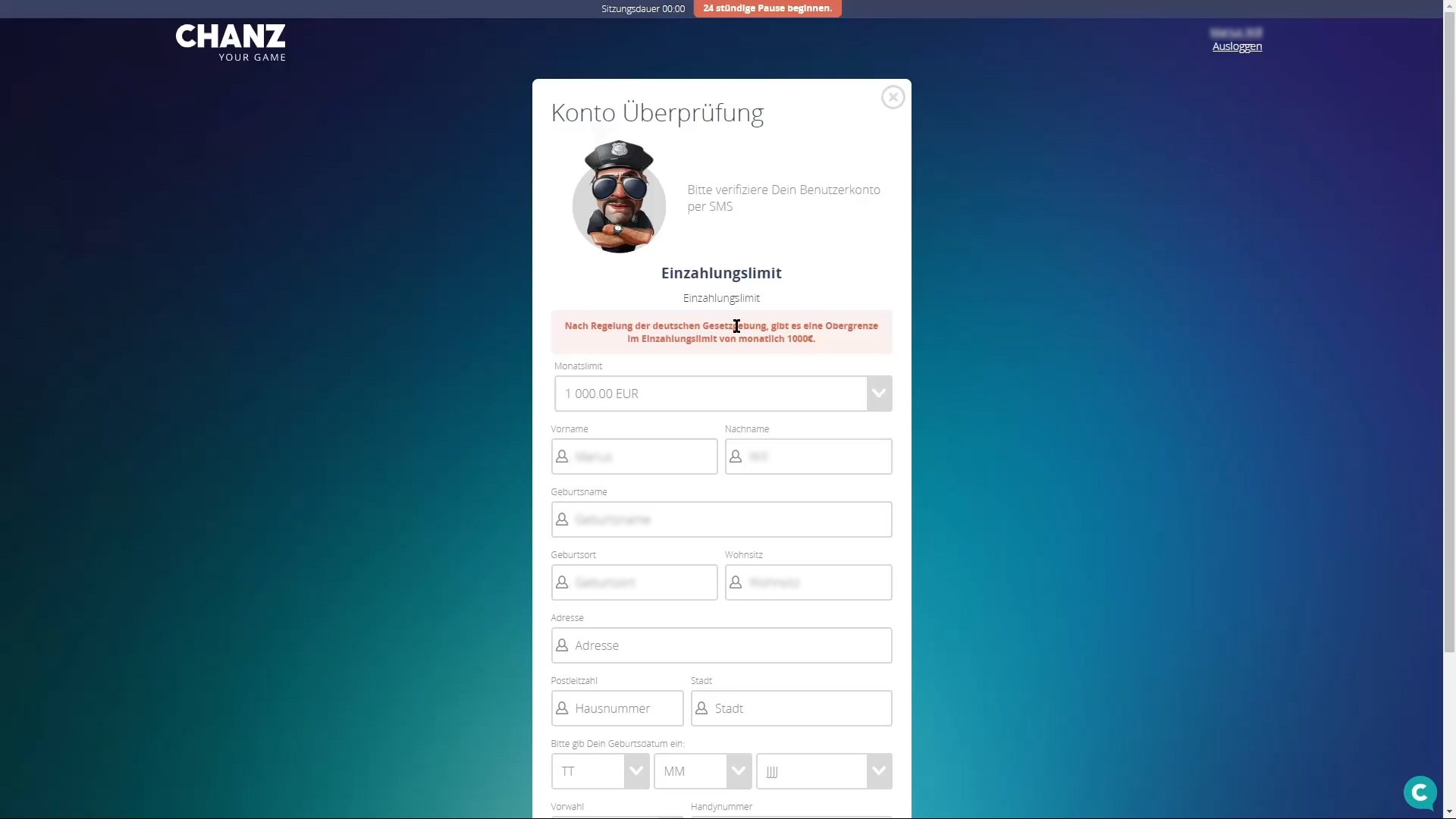 The registration procedure ended with a welcome email by the casino that was received a several minutes later. There were no issues at this stage.
Depositing
Next up, the tester wanted to see how Chanz Casino did when it came to funding the account with money.
His banking method of choice was MuchBetter and we opted to deposit €125.00 into our account.
To deposit at Chanz Casino, ROUNDER clicked the wallet icon while on his account page, entered the desired amount in the corresponding field and opted for this popular instant depositing method that confirms transactions via phone.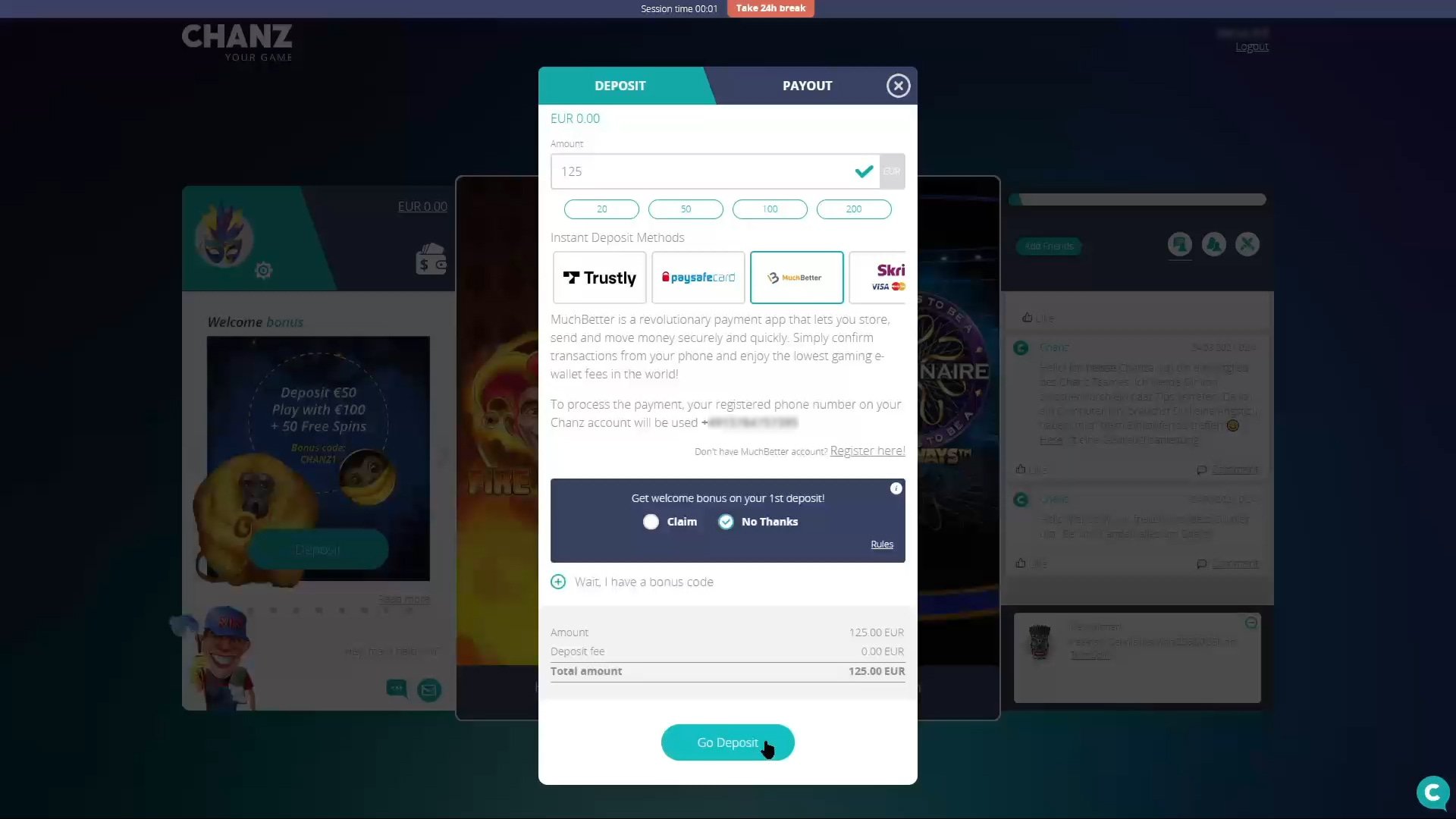 It's worth noting that the tester decided NOT to claim the welcome bonus at the time of deposit. Deposit was completed instantly without any issues.
There was no fee attached to the deposit either, and the whole process was completed on 24th of March at 4:07 AM.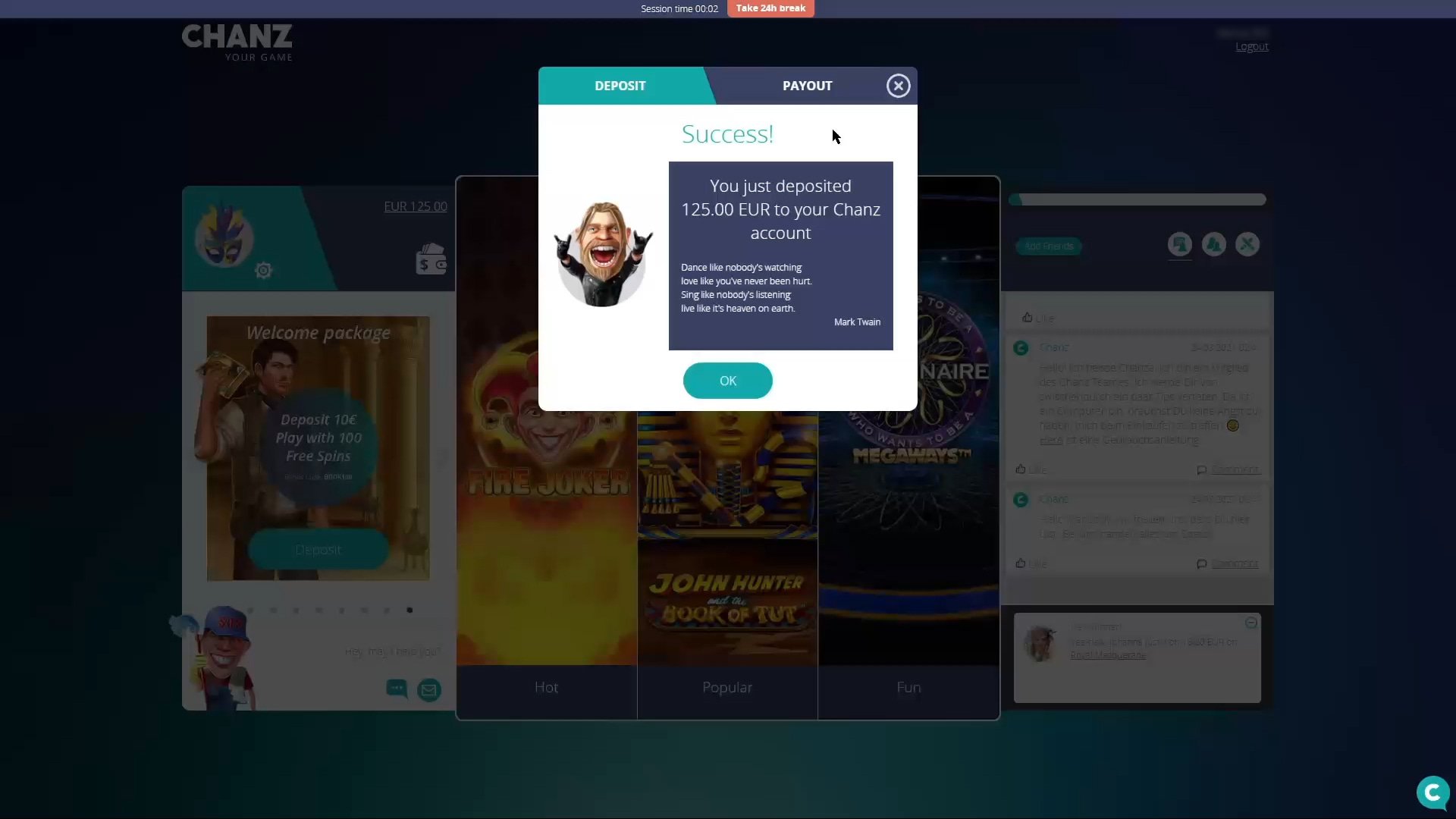 Having funded the account with €125.00 via MuchBetter, ROUNDER proceeded to invest some of that money into gameplay and check the gaming library at Chanz Casino.
Gameplay
He began with NetEnt's "Warlords - Crystals of Power" (the challenge version that had us up against another real-time player), followed by Thunderkick's "Tiger Rush" and "Narcos" by NetEnt. The seesion ended with Thunderkick's "Carnival Queen".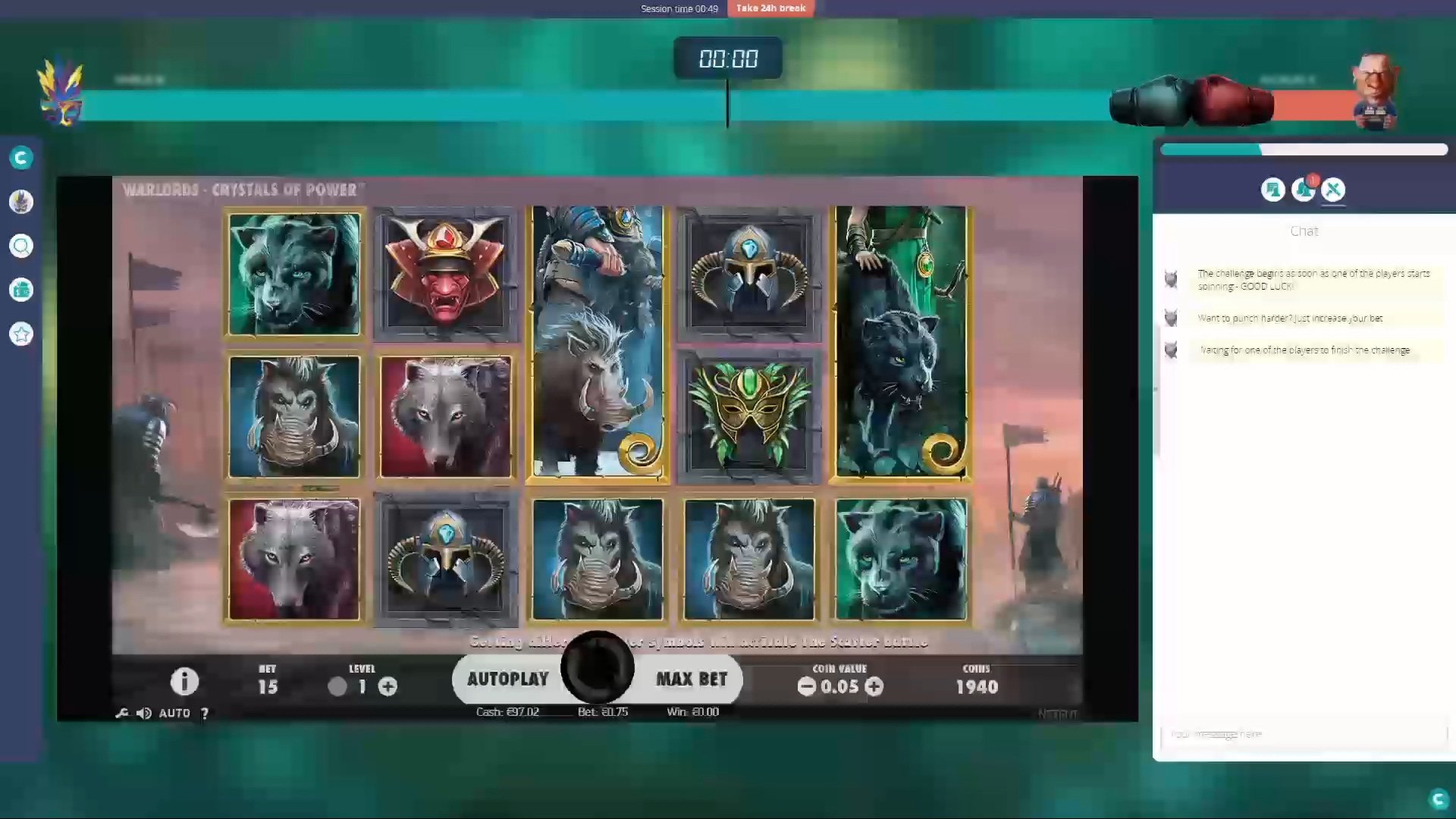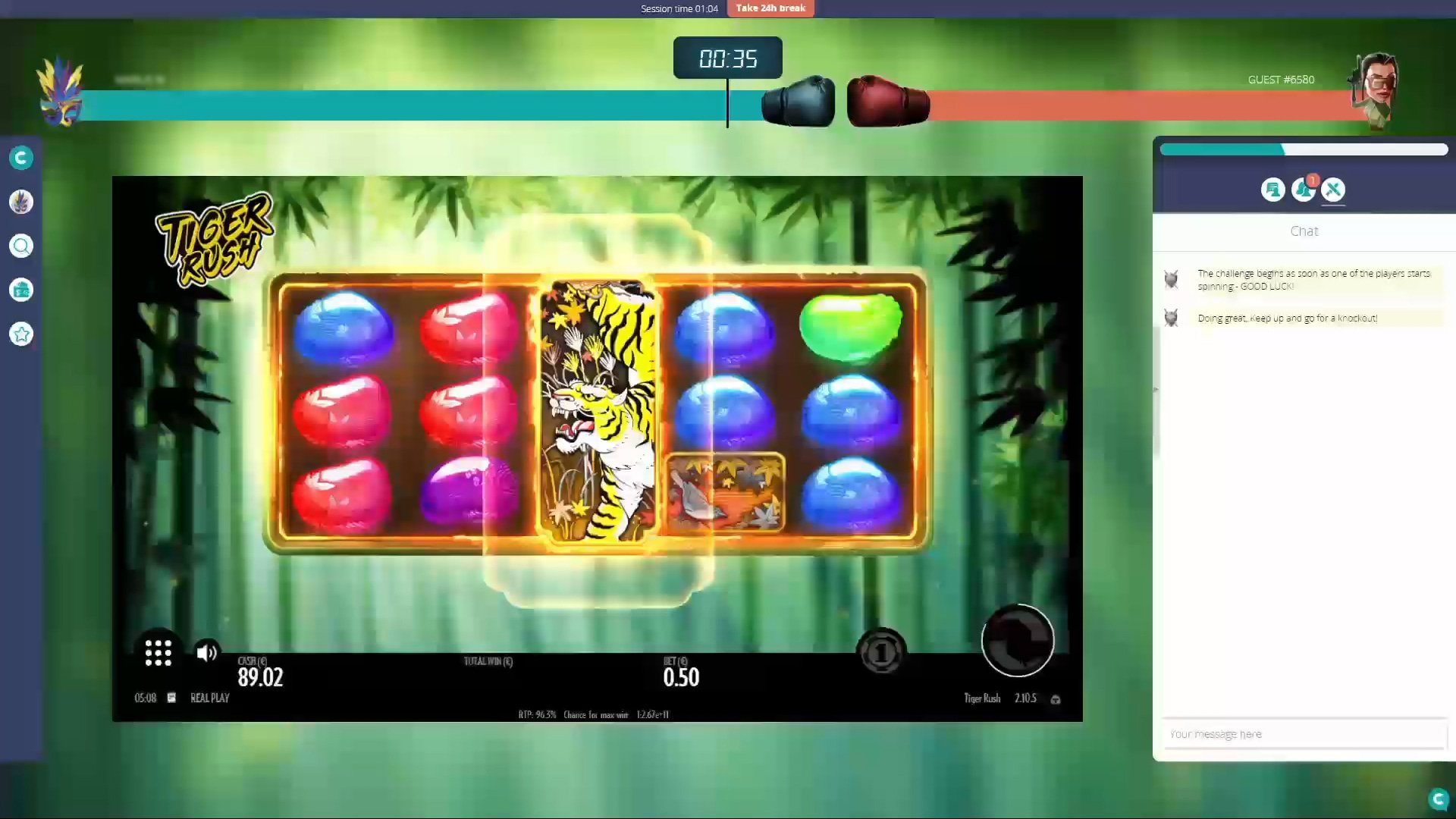 There were no issues encountered during the gameplay session.
During this stage, our tester discovered that Chanz Casino adheres strictly to regional regulations: having played from Germany, he was forced to take a mandatory 5 minute break after one full hour of playing games, which is a signal that the casino respects rules of individual jurisdictions.
Cashout
On March 24th at 6:42 AM, our tester requested the remaining funds of €20,01 to be withdrawn to our MuchBetter account.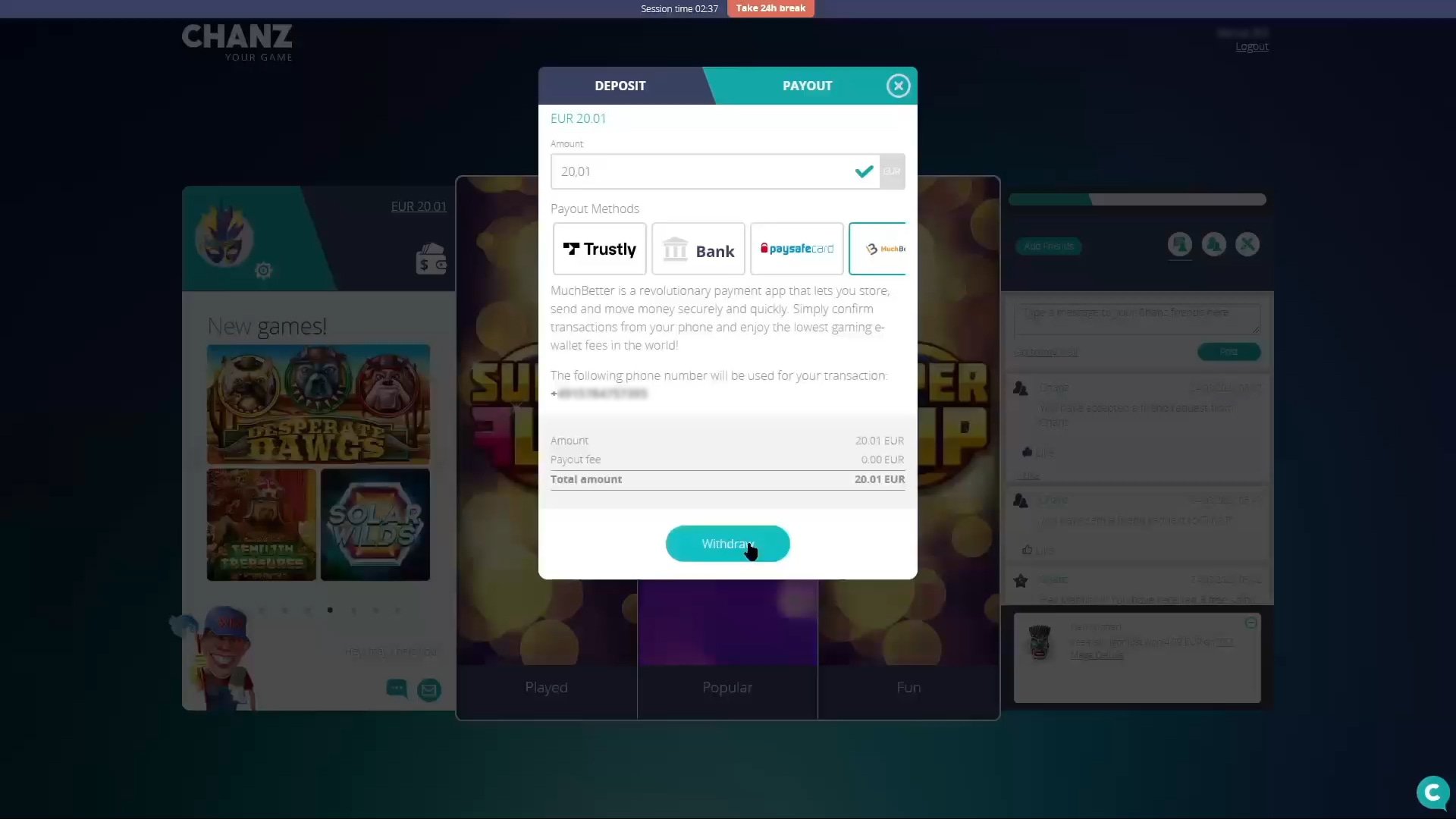 He got the confirmation screen saying that the withdrawal request was successful and that it will be processed shortly.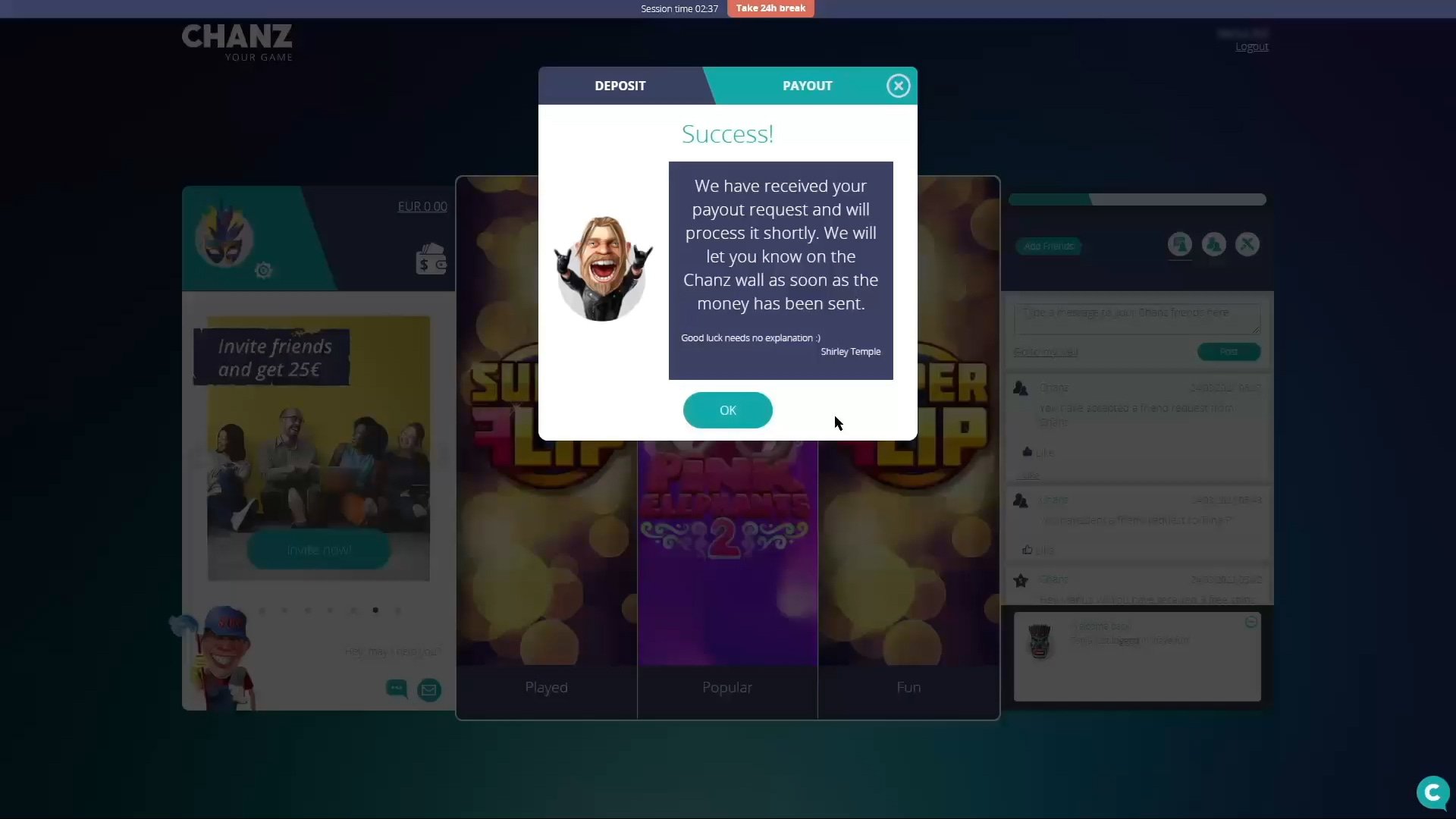 He even received a very personalized email by the casino's staff that the cashout "should arrive any minute now".
At 7:11 AM on the same day - only 29 minutes after the withdrawal request - the cashout has been credited to the MuchBetter account.
The cashout process went smoothly, completely hassle free and was completed in no time. Our tester was not required to complete the KYC identification procedure prior to cashing out – he checked and coudn't find the option to upload documents, nor anything about the casino's KYC process itself.
He did, however, find the following in section 4. Payments of the casino's Terms of service:
Chanz will not accept a deposit from you or make a payment to you from your Chanz account in excess of EUR 2,000 (whether as single payment or related transactions) before your identity, age and place of residence have been sufficiently verified. Therefore we may request that you provide us with additional information and documents (e.g. copy of your passport or ID card, proof of address such as a utility bill, etc.) within reasonable time. Failure to provide the requested information may lead to us confiscating any winnings on your account, returning the original deposit or remaining balance, as the case may be, to you (subject to reasonable charges) and closure of your Chanz account. We are required to verify your identity in order to comply with mandatory requirements under anti-money laundering and terrorist financing laws.
Reading this, the tester concluded that the casino does not require a player's identity verification in order to approve and process payout requests up to and including EUR 2,000. Rounder's withdrawal request was submitted for a sum of €20,01 and he was paid out without any documents needed or questions asked.
Final Thoughts
To summarize, the experience at Chanz Casino was smooth sailing all the way through, and our tester was able to successfully and without any problems complete all the steps up to and including the withdrawal.
That was the whole process, from start to finish, of our From the Players For the Players test of Chanz Casino.
Remember, you can join the discussion and follow everything related to this project at THIS FORUM THREAD.
Have you played at this online casino before? What was your experience like? Let us know in the comments below!
"Our tester was not required to complete the KYC identification procedure"
From the Players for the Players
Back to articles