Back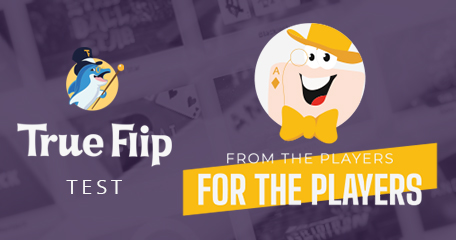 Welcome to the newest report from the LCB's inclusive project 'From the Players, for the Players,' as we bring you our tester's findings at True Flip Casino!
Now entirely in force and well-established — promoting responsibility, accountability, and transparency across the iGaming realm — the settings of this endeavor are familiar: We have our tester R0UNDER and his feedback about the casino's sign-up process, depositing, and withdrawal practices.
Then, we have you, our readers, and LCB joined in our perpetual mission to bring more value to players worldwide.
Timeline is, as always, rapid and short, enabling our team to bring you more insights worth reading and impartial facts worth knowing:
Date of registration: March 13, 2021
Date and amount of the first deposit: March 13, 2021, €166.82 (in BTC, plus fee)
Date and amount of the second deposit: March 13, 2021, €78.77 (in BTC, plus fee)
KYC: Traditional, including uploads of documents
Date and amount of withdrawal request: March 15, 2021, €93.96
Withdrawal received: March 16, 2021 (within 22 hours)
And with that, we're ready to unravel what we've learned.
The Establishment
True Flip Casino is a Curacao-licensed hub with a portfolio that delivers releases from reputable gaming developers, including NetEnt, Evolution Gaming, BetSoft, QuickSpin. The lobby consists of traditional table games (blackjack, roulette, craps, poker), online slots live casino and several unique in-house titles.
While True Flip Casino does not run a conventional loyalty program, there is a comprehensive bonus policy in place. Thus, players get to receive additional rewards and perks, particularly if they utilize TF token, a custom in-house currency existing within the Ethereum ecosystem.
The latter is indeed a novelty. As such, the final verdict on usability depends on whether you're a traditionalist or progressive one, but it's worth noting in terms of the casino's inventiveness.
All things considered…
…our team thought that this casino might just be a great candidate for our testing project. Thus, let's see how R0UNDER's experience unfolded.
Registration
The casino uses traditional methods to register new players: You provide your email, select a preferred fiat currency (even if you're to use cryptos), enter your user name, and proceed to fill a pop-up window with your personal information.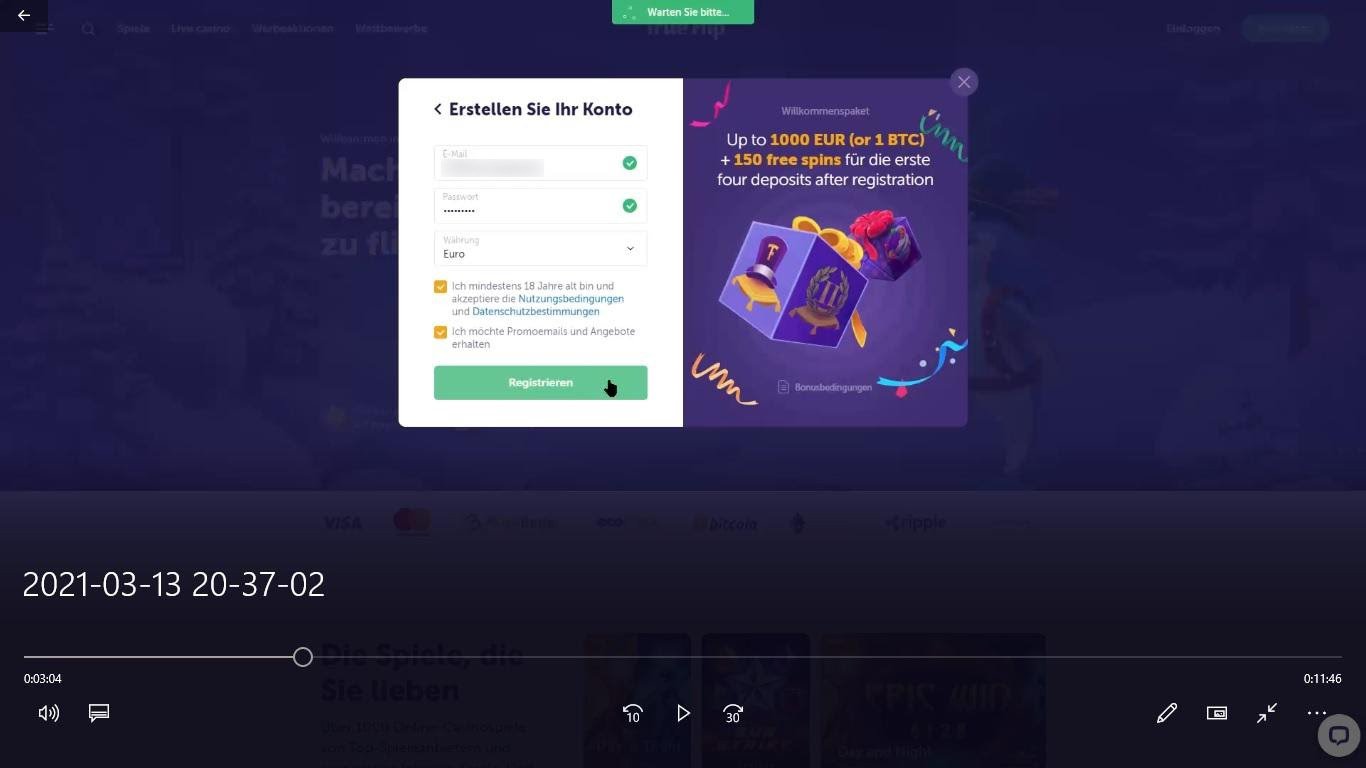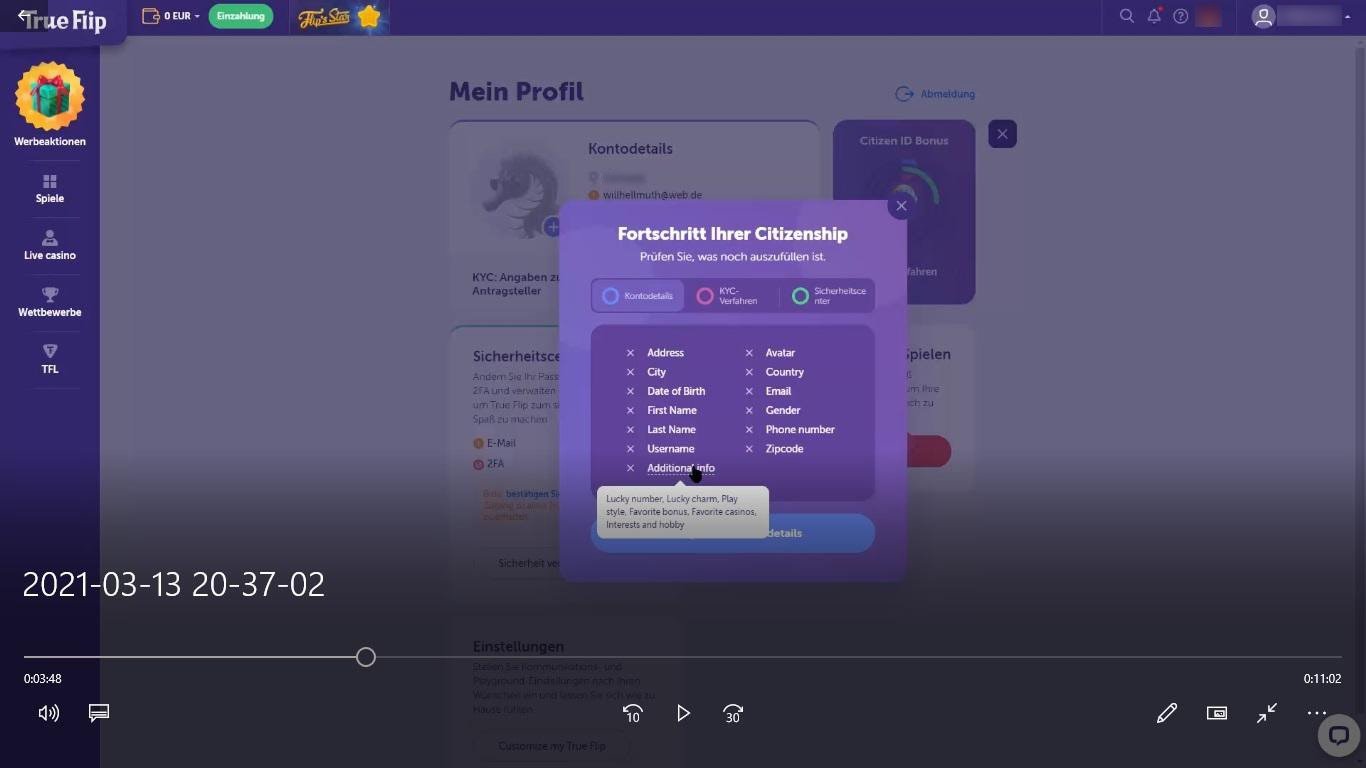 A verification email in your inbox completes the initial registration process.
The KYC portion includes uploading your passport, driver's license, ID card, or resident's permit. You can select which document you want to share with the casino. You also have to provide a selfie as additional information.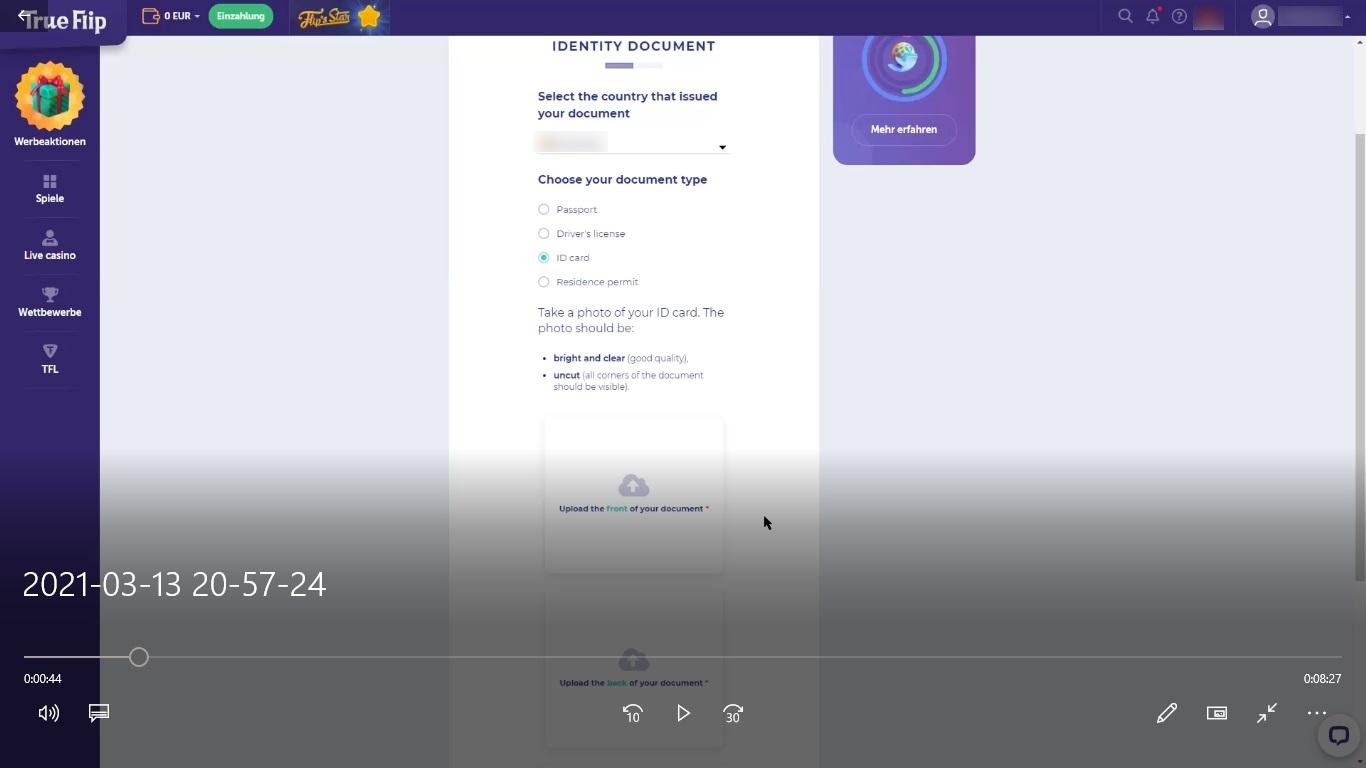 As R0UNDER's extensive video archive suggests, the whole experience was smooth and efficient. With his foothold established at True Flip Casino, our tester was ready to make the deposit.
Depositing & Gameplay
As a general rule of thumb, this venue has a very easy-to-use UI, whether you consider homepage, registration steps, account profile, or gaming experience, featuring many white areas to allow readability. Little green and red icons give you quick info about steps you checked and those you still have to conduct, which allows for good visibility and accessibility.
So…
As you define your cryptocurrency — Bitcoin in this case — the depositing process takes no more than a couple of minutes: In R0UNDER's case, it was five minutes for the first deposit and one minute for the second one. Both transactions came with small fees, €1.82 and €1.67, respectively.
The tester first deposited €166.82 on March 13, but he started losing the money quickly. When his balance dropped down to 0.00083872 BTC (or €37.73 at the time of gameplay), he decided to withdraw this remaining amount.
However, he was unable to do so, as he found that the minimum withdrawal limit for bitcoin transactions is 0.002 BTC. In contrast, the minimum withdrawal amount for all other available payment methods (except SEPA) is €10.
As part of every casino testing project, it is imperative that we show the cashout process whenever it is in our power to do so and the circumstances allow. To attempt a cashout, the tester had to continue playing and build a balance of at least 0.002 BTC.
That is why our tester deposited for the second time on March 13 in the amount of €78.77 worth of BTC and continued wagering on slot games.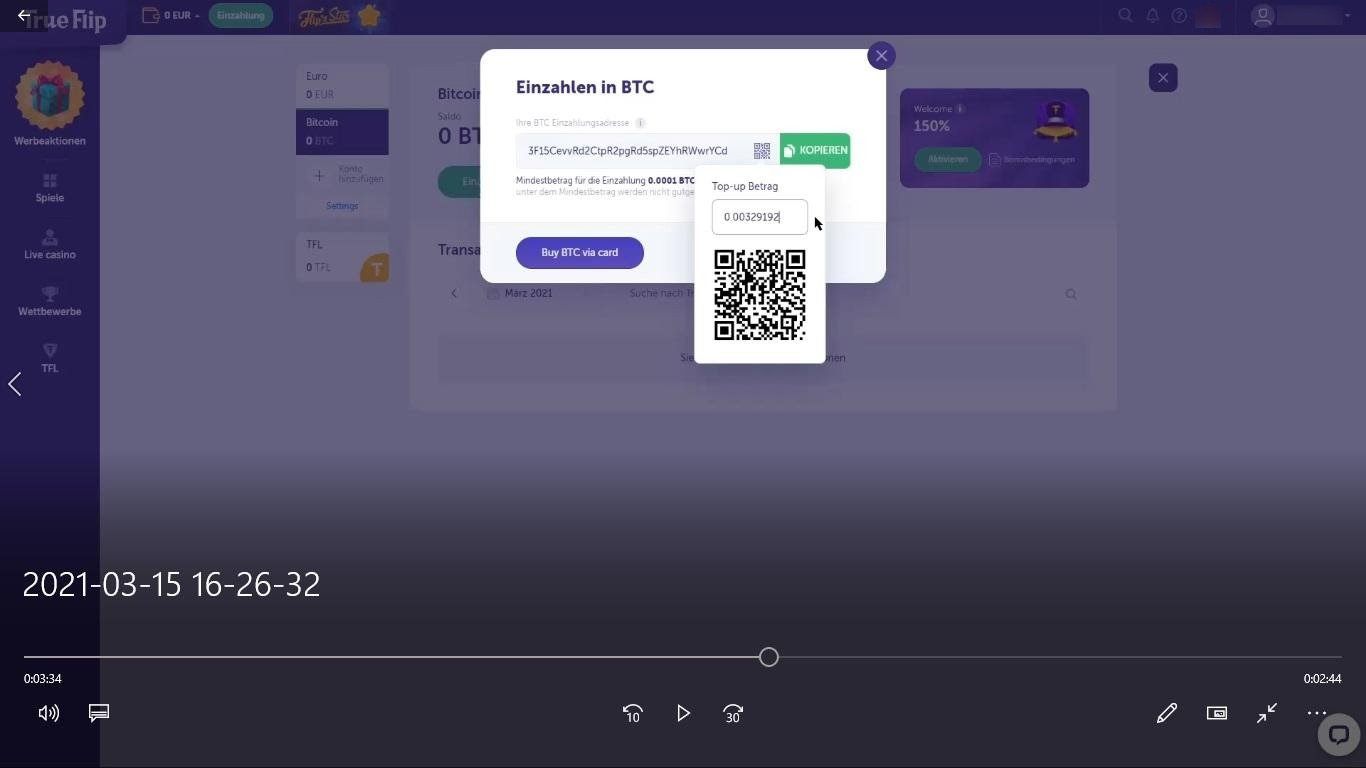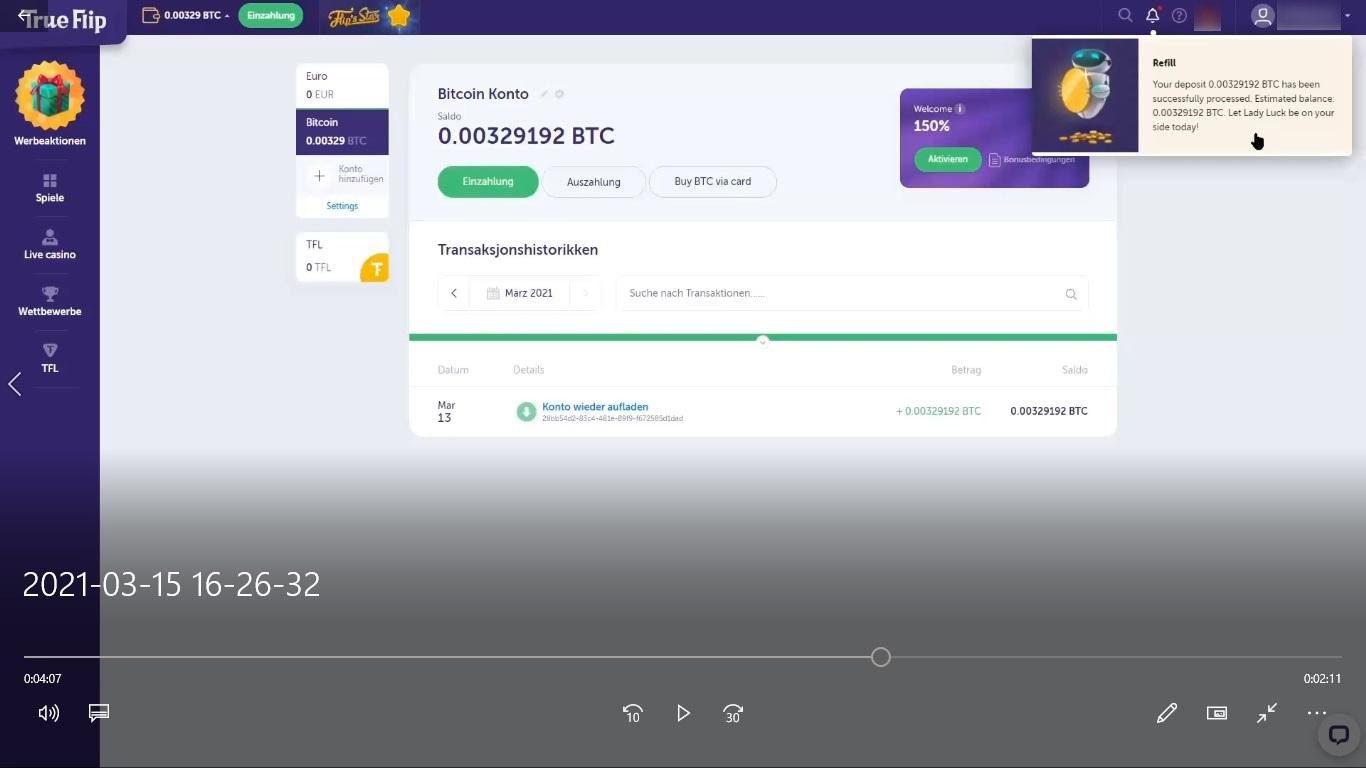 The pop-up window in the upper right corner of your screen gives you info about concluded deposit processing, and you get the confirmation at your cashier.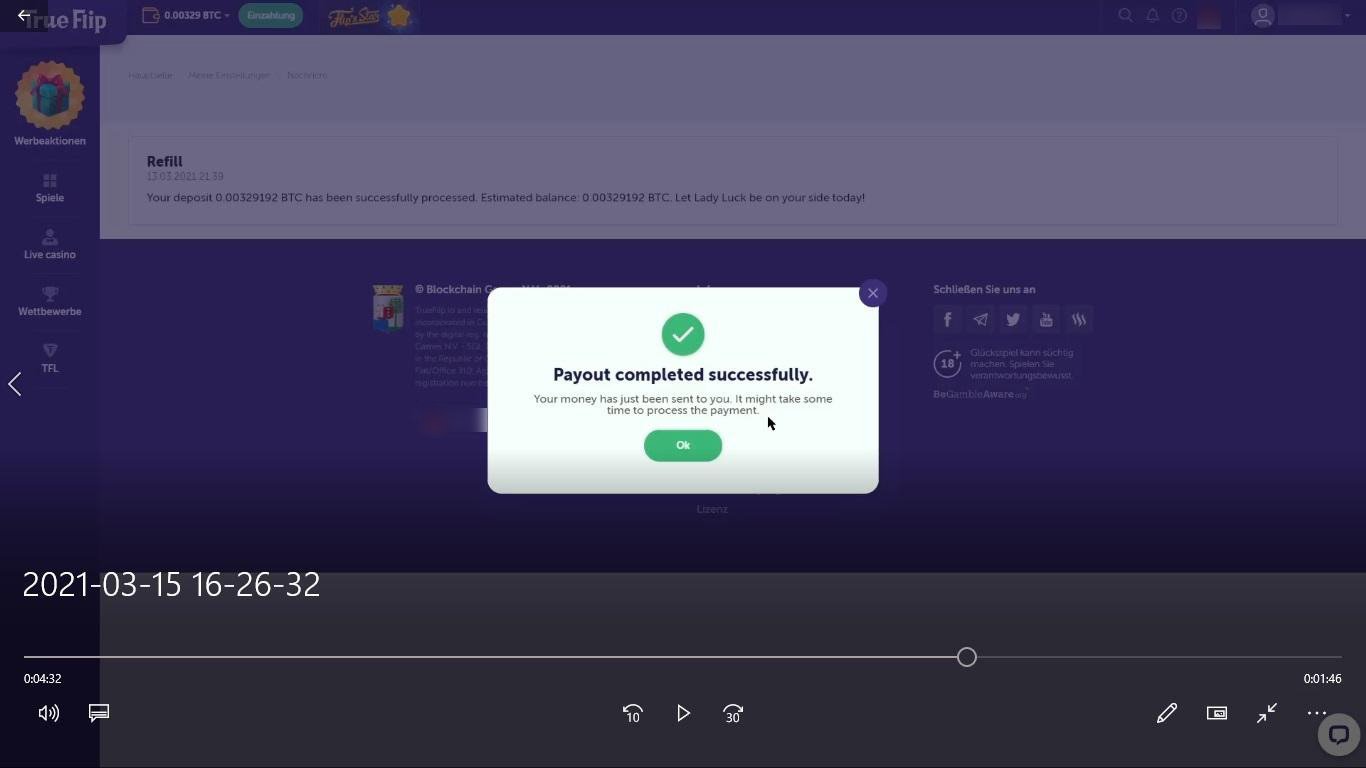 Also, at this moment, the icon Payment Verification in your profile turns from red to green, giving you a real-time update.
And, with this box checked and funds at his account, R0UNDER went on to entertain himself with some well-deserved fun, spinning wheels and reels of Big Bass Bonanza and Eye Of The Storm, among others.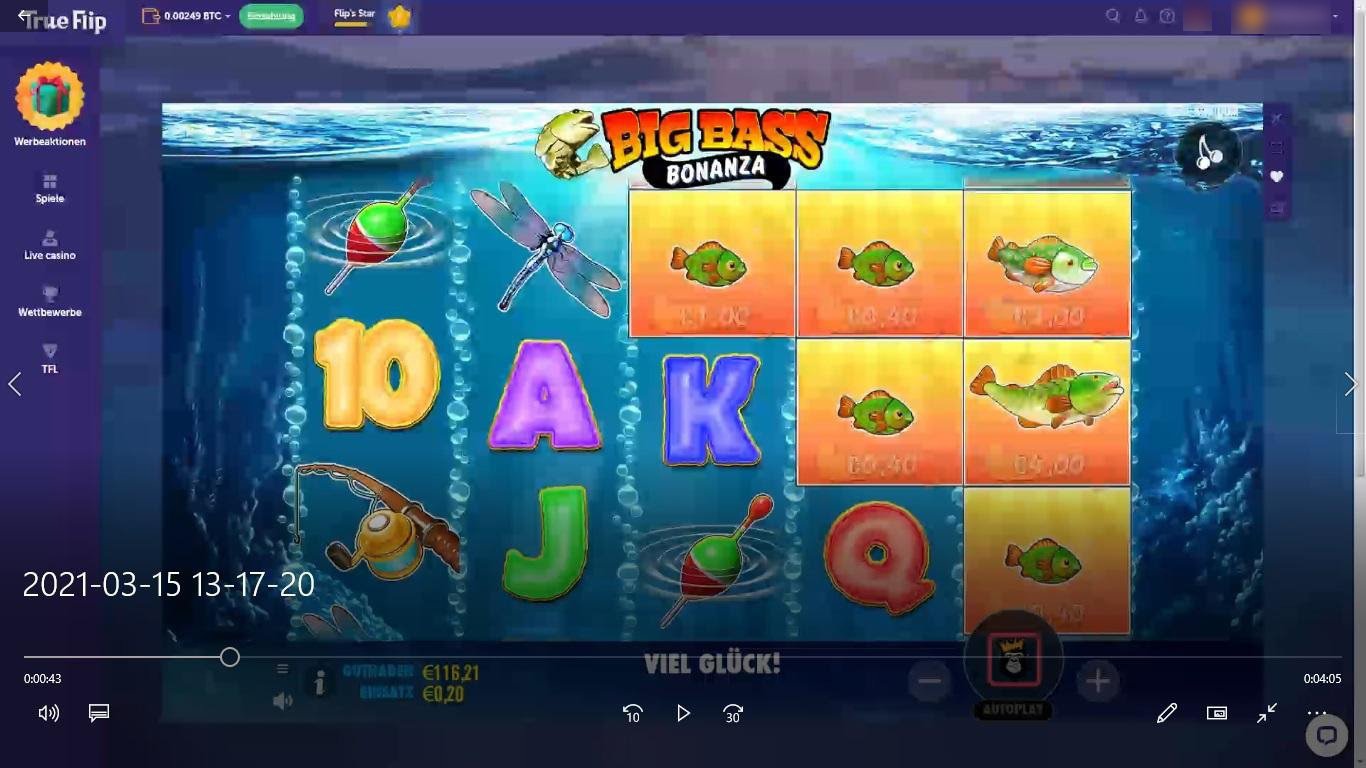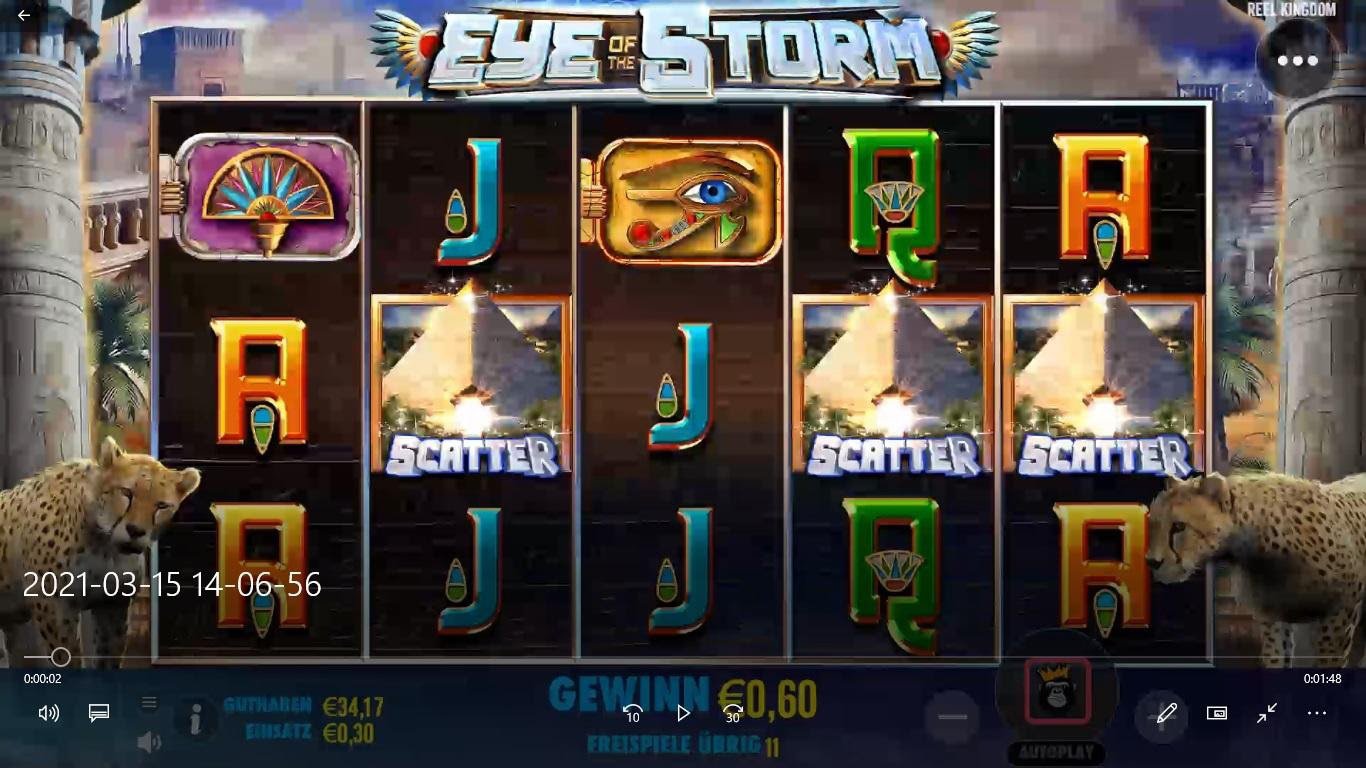 Withdrawal: Two-Step Verification, One-Day Payment
As is the case with all testers in this project, operating under well-devised policies to cover all angles of the casinos' operations, R0UNDER went ahead and submitted a €93.96 cashout request.
True Flip Casino uses two-step verification during the withdrawal: An email and 2FA code sent to your mobile device.
This phase of the test turned out to be quite efficient as well. Additionally, all the necessary steps are color-coded in the UI, allowing good tracking of your progress.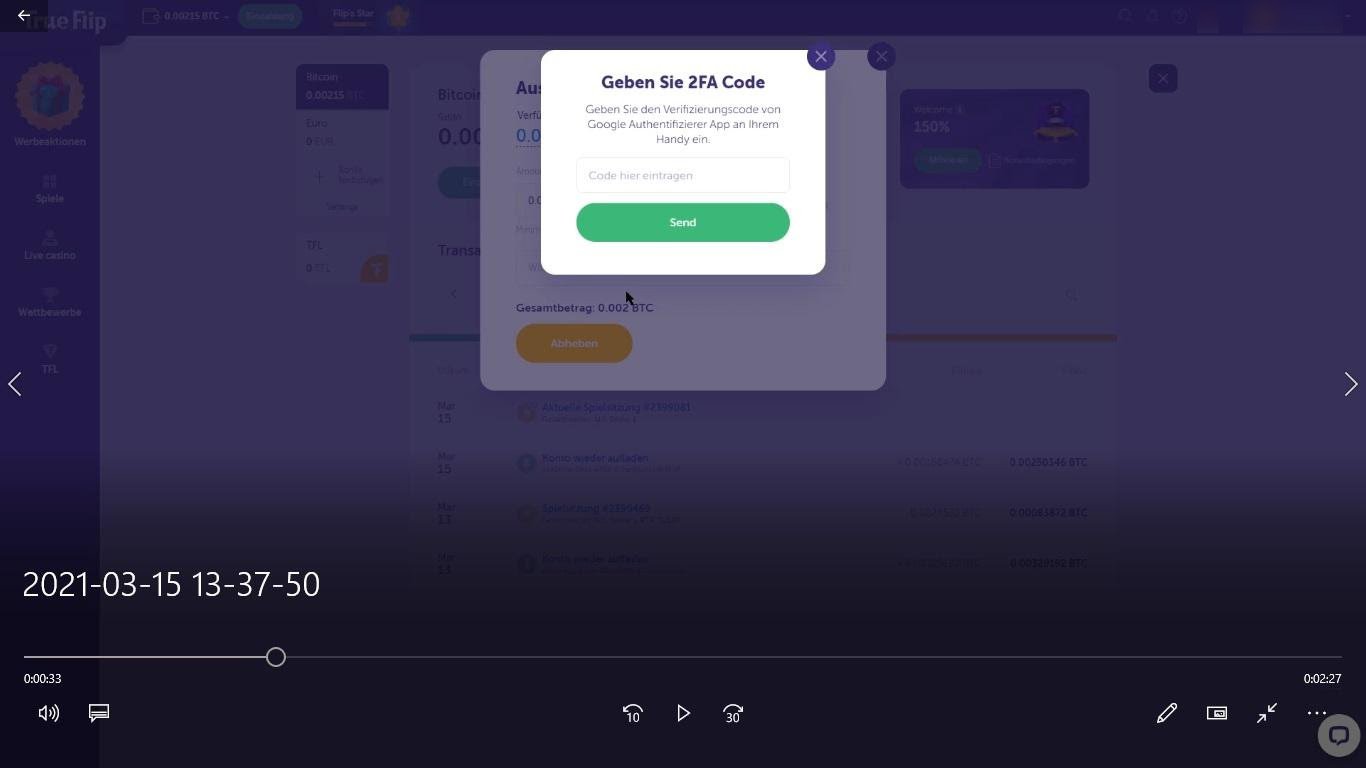 Almost 22 hours later, the funds were in R0UNDER's BTC wallet.
Final Thoughts
When we take R0UNDER's experience at True Flip Casino into consideration, the test unfolded in a comfortably predictable way without any major obstacles on the road to cashing out. Nonetheless, what matters are your conclusions, and as always, we'll leave those to you — our readers and members — as we look forward to your feedback.
If for no other reason than because 'From the players, for the players' is all about you and about LCB's everlasting dedication to raising awareness about responsible gambling, in conjunction with improving the online gambling industry for the better.
Stay tuned for another report, stay safe, be well, and have a good one, LCB'ers.
"the test unfolded in a comfortably predictable way without any major obstacles"
From the Players for the Players
Back to articles