Back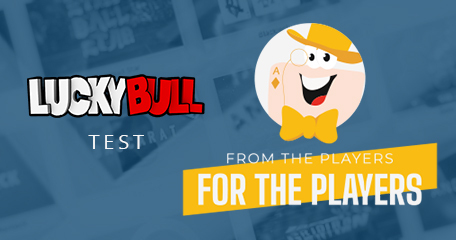 Another iteration of From the Players, For the Players tests, in which our testers check the accountability, reliability and transparence of online casinos regarding their registration, deposit, KYC and cashout policies, has taken us to Lucky Bull Casino!
Our tester, R0UNDER, has taken to himself to put this Malta-licensed, non-US friendly gaming hub under scrutiny and here we bring you his accomplishments in a matter-of-fact manner, focusing on specific steps of his experience.
Before we get to the gist of it all, here's the brief summary of the entire test:
Tester of the day: R0UNDER
Date of registration: 14th June 2021 at 09:02 AM
KYC document upload and verification: June 14th at 10:43 AM. The tester never received feedback regarding the approval of documents.
EUR 165.00 deposit made on June 14th 2021 at 11:40 AM via MuchBetter. No fee was attached to this deposit.
First cashout attempt made on June 14th at 12:41 PM, in the amount of EUR 50.15 via MuchBetter. This cashout was cancelled due to AML policy.
Second cashout of EUR 50.15 requested on June 14th at 15:20 PM via bank transfer
Cashout amount of EUR 50.15 via bank transfer received on June 17th 2021 at 08:38 AM.
Registration and Verification Process
R0UNDER registered with Lucky Bull Casino on June 14th at 09:02AM.
The simple registration procedure went without a hitch: after filling in his personal data such as email, address and phone number, he received an email to confirm his account. After confirming, he completed his personal information to gain the access to his account.
Next came the verification of his identity, which means uploading the ID documents in the account menu.
He uploaded his documents on June 14th at 10:43 AM under the tab KYC Document without any prior request from the casino.
The tester proved his identity with his ID card, front and back, as well as his bank's recent account statement for address verification. This is also necessary to confirm the bank account as the first withdrawal – as he would later discover – can only be made to the bank account at Lucky Bull Casino.
Finally, the last document he needed to upload was his proof of the deposit method which, in this case, was the confirmation of his MuchBetter account.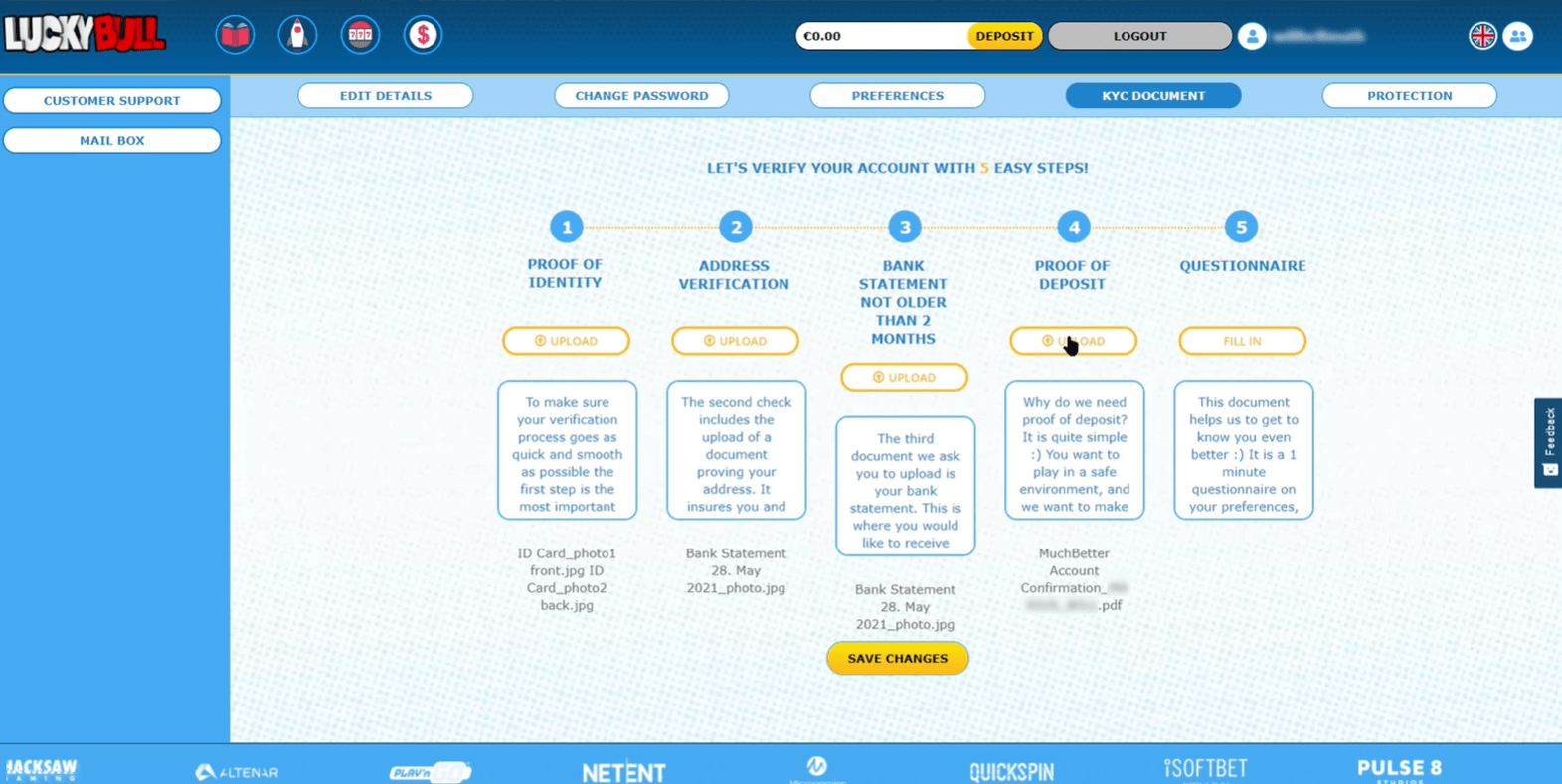 Having uploaded all of these documents, the live support chat agent ensured him that everything is okay and that he will be contacted by the casino's department regarding his verification.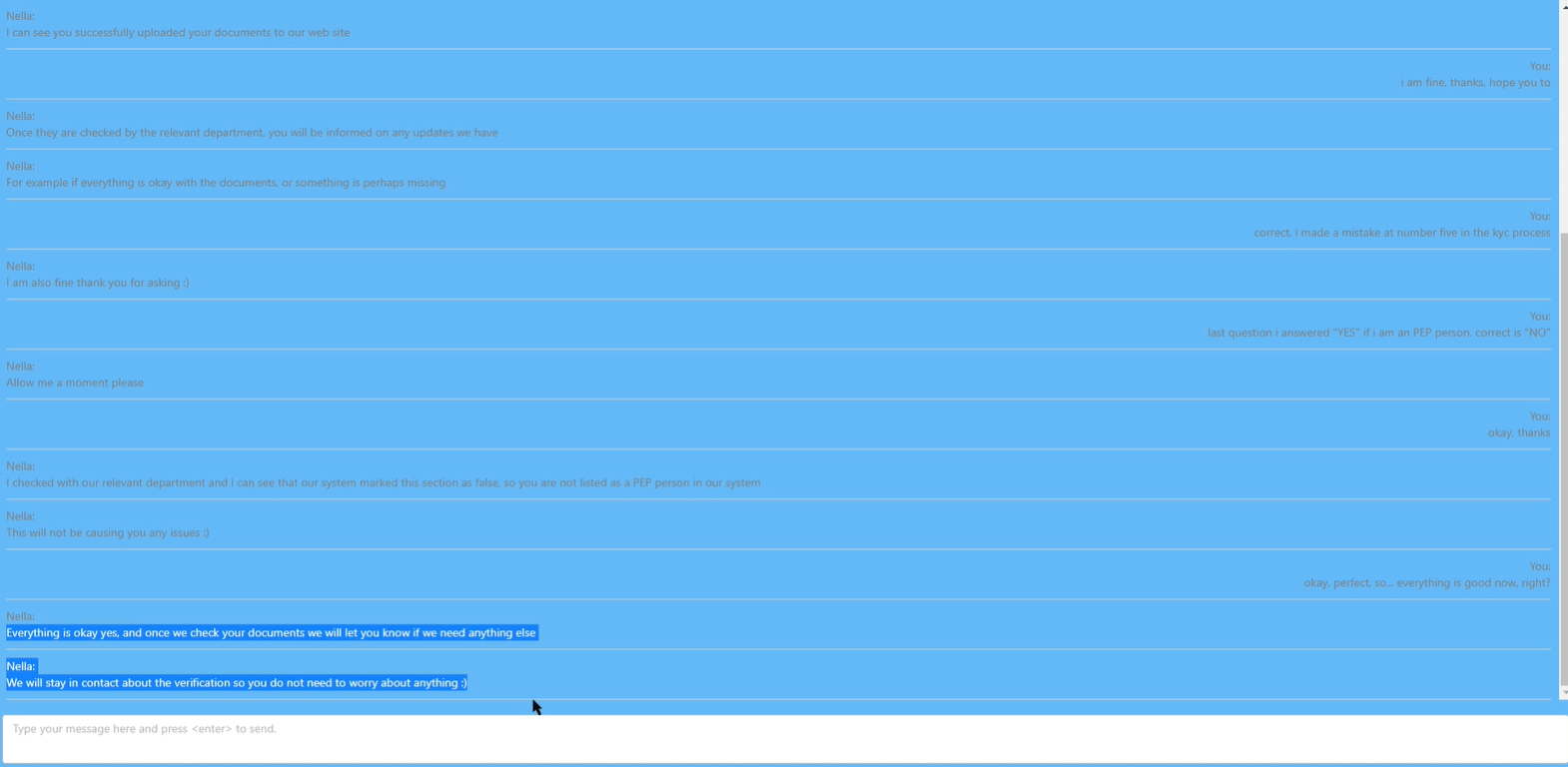 Even though this confirmation message never came from Lucky Bull Casino, and his verification status remained "In Progress", he was still able to deposit and, as we'll see, withdraw his money.
Deposit and Gameplay
On June 14th, at 11:40 AM, R0UNDER deposited EUR 165.00 to his MuchBetter account. There was no accompanying fee to this.
Almost immediately, he received the same amount into his casino account. At this time, he also opted not to collect the casino's welcome bonus as he wanted to test the casino's policies when it comes to playing with straight cash.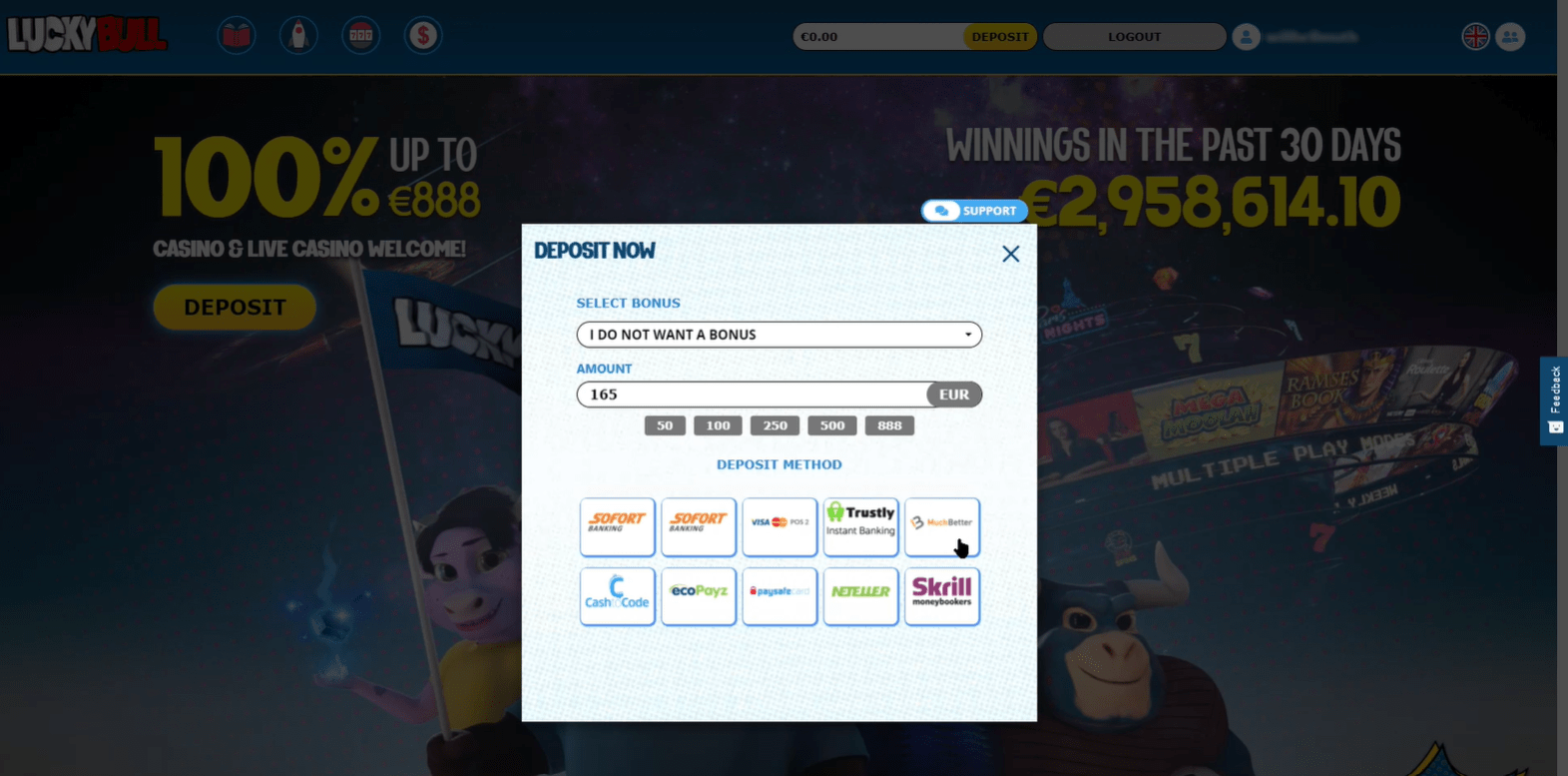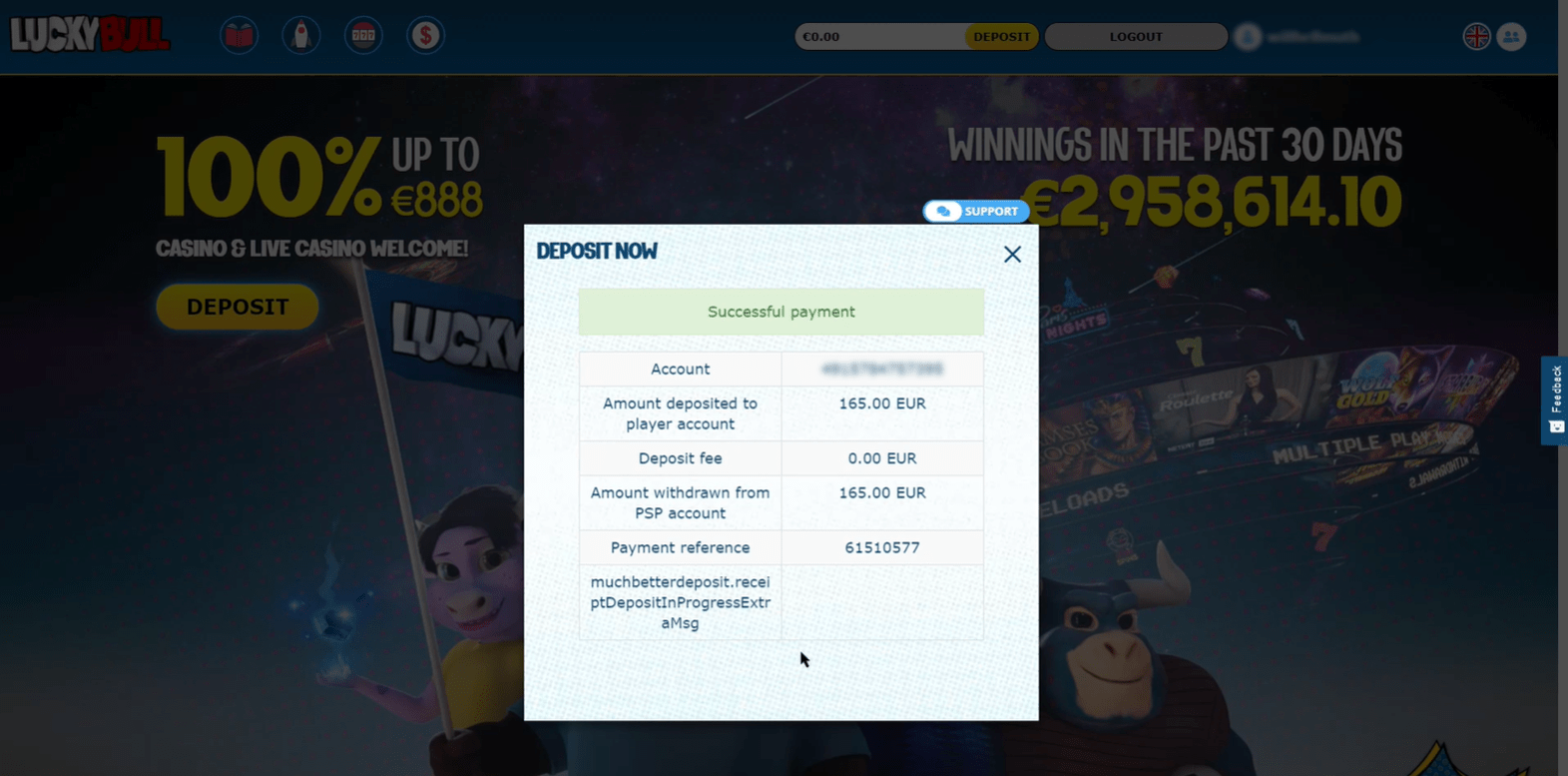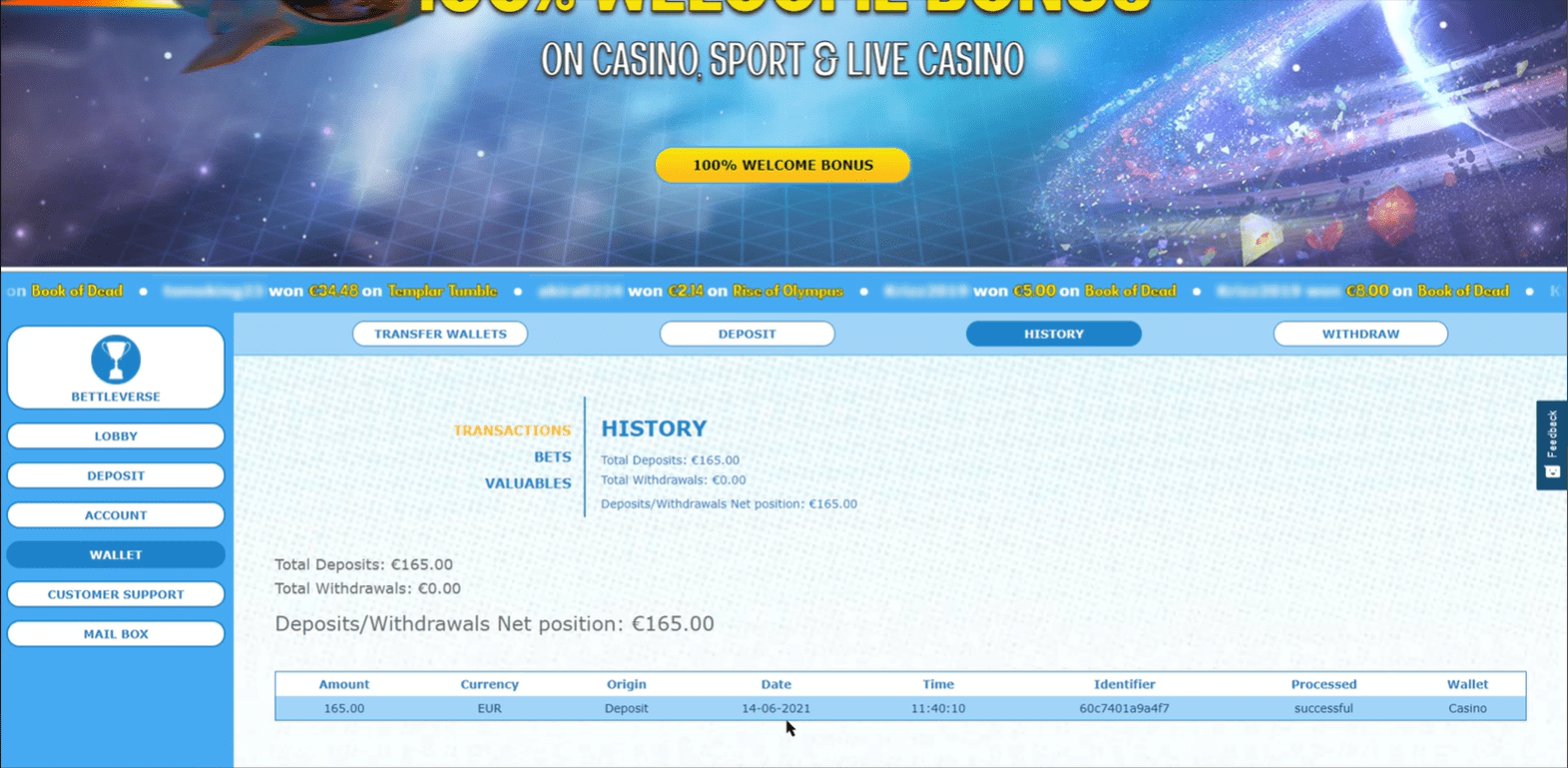 After depositing, R0UNDER got to the casino's gaming lobby and decided to try his luck with Emerald's Infinity Reels by Relax Gaming and Wizarding Wins by Booming Games.
Withdrawal
After a lengthy gameplay session, R0UNDER decided it is time to cashout his remaining amount of EUR 50.15.
On the same day, June 14th, at 13:41 PM, he requested the cashout of the said amount via MuchBetter. He was sent a code by SMS to confirm this withdrawal request.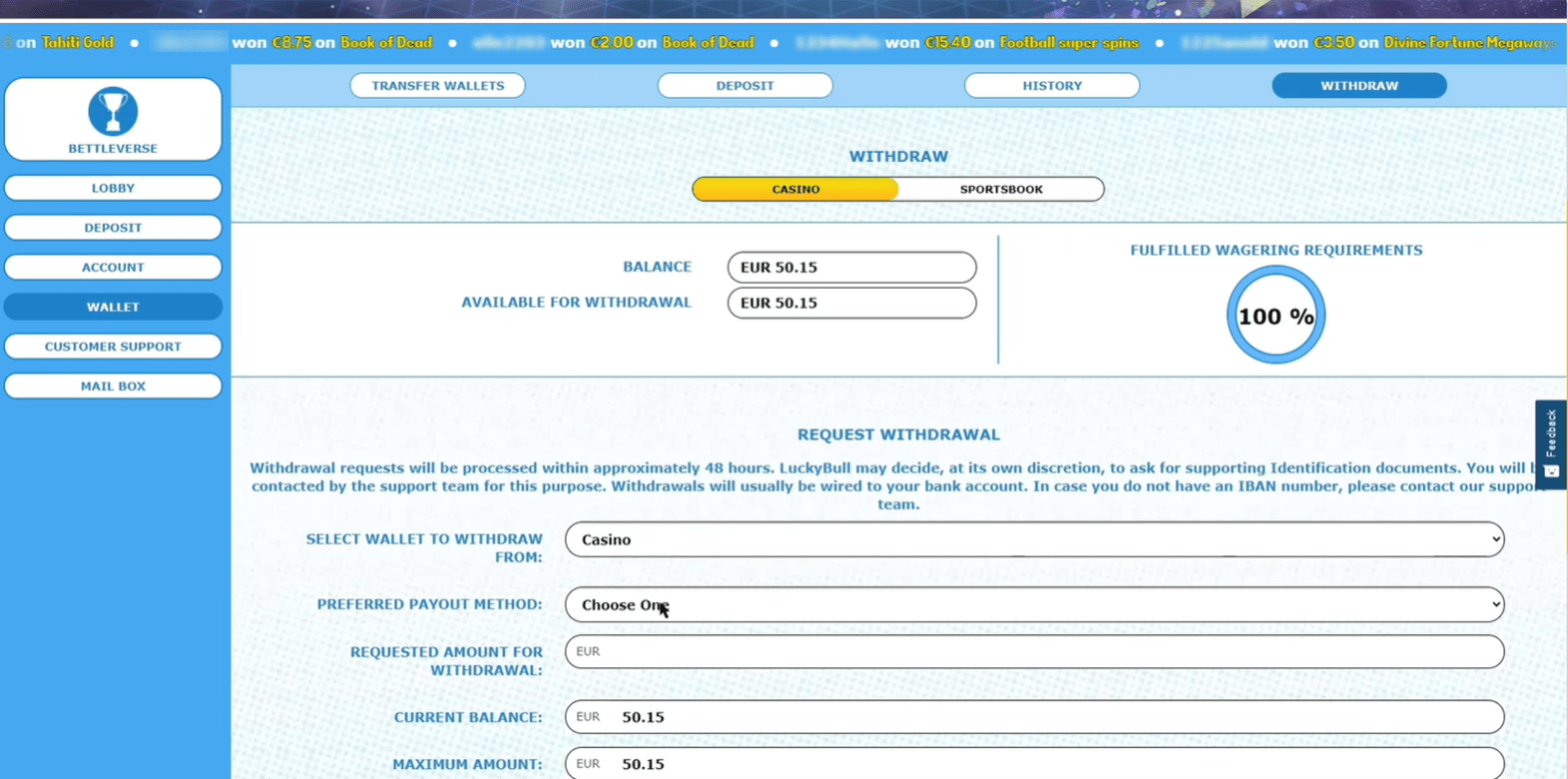 Despite getting the confirmation that the withdrawal was successful, his MuchBetter wallet did not receive any money, which should be instantaneous.
He decided to ask the live support about this. He was informed that his first payout needs to go through his bank account due to casino's anti-money laundering policy, as per Lucky Bull's T&Cs. The agent said this is a standard procedure every player at this casino needs to go through. Here's what the Terms, section Anti-Money Laundering Policy, say:
"LuckyBull may, in its sole discretion and in accordance to the licencing compliance rules and an internal risk assessment, require a first payment of winnings for the Player being released as the bank transfer wire with a purpose of completing the KYC verification checks."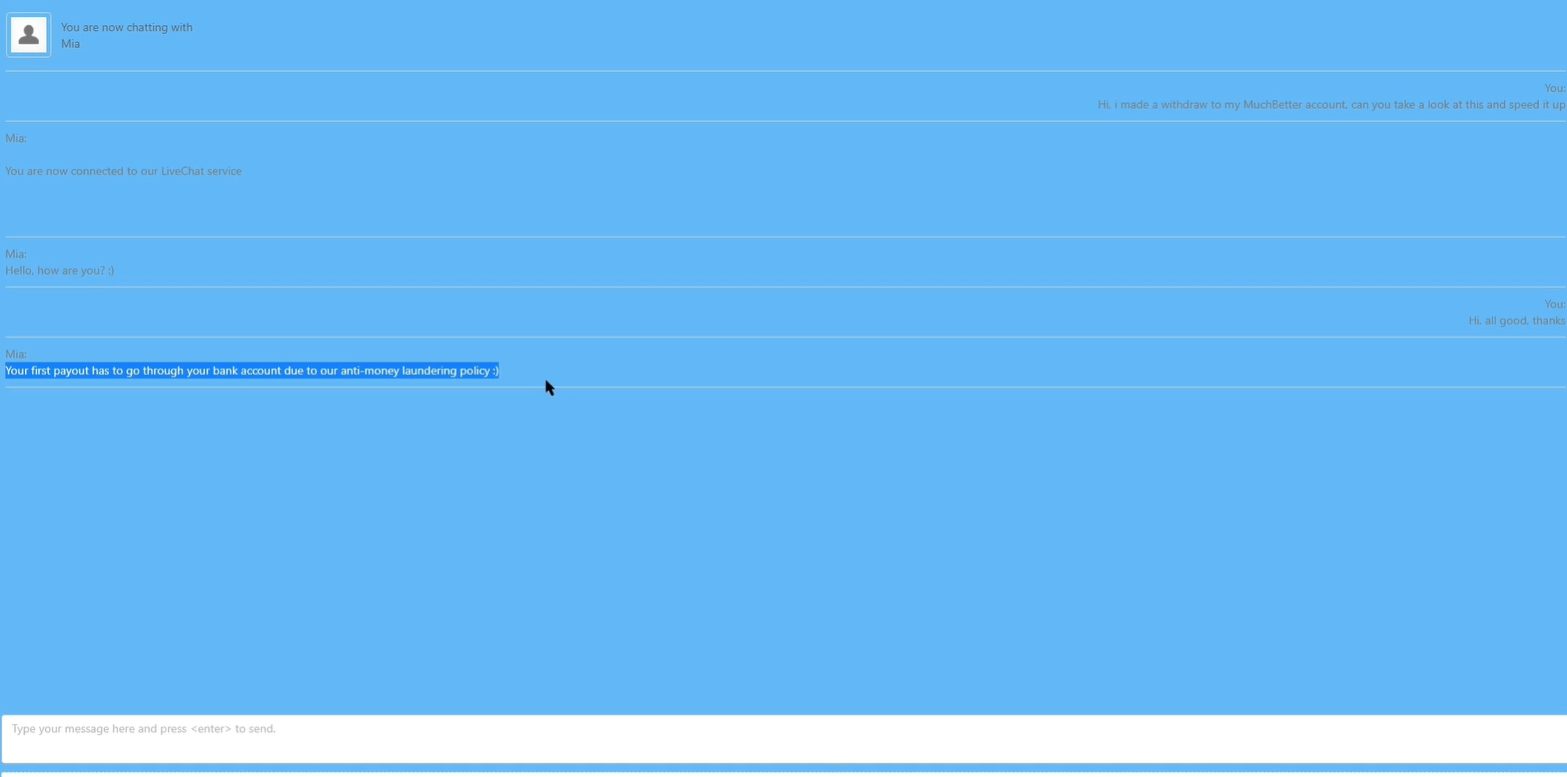 Knowing this, R0UNDER then cashed out his remaining balance via his bank account on June 14th at 15:20 PM.
His entire sum, EUR 50.15, came to his bank account on June 17th at 08:38 AM, thus concluding his test of Lucky Bull Casino. The casino's payment information states that withdrawals via bank transfer take 1-2 days, but they are not to be held responsible should the payments take longer than that. On this occasion, our tester received his money within the stated timeframe.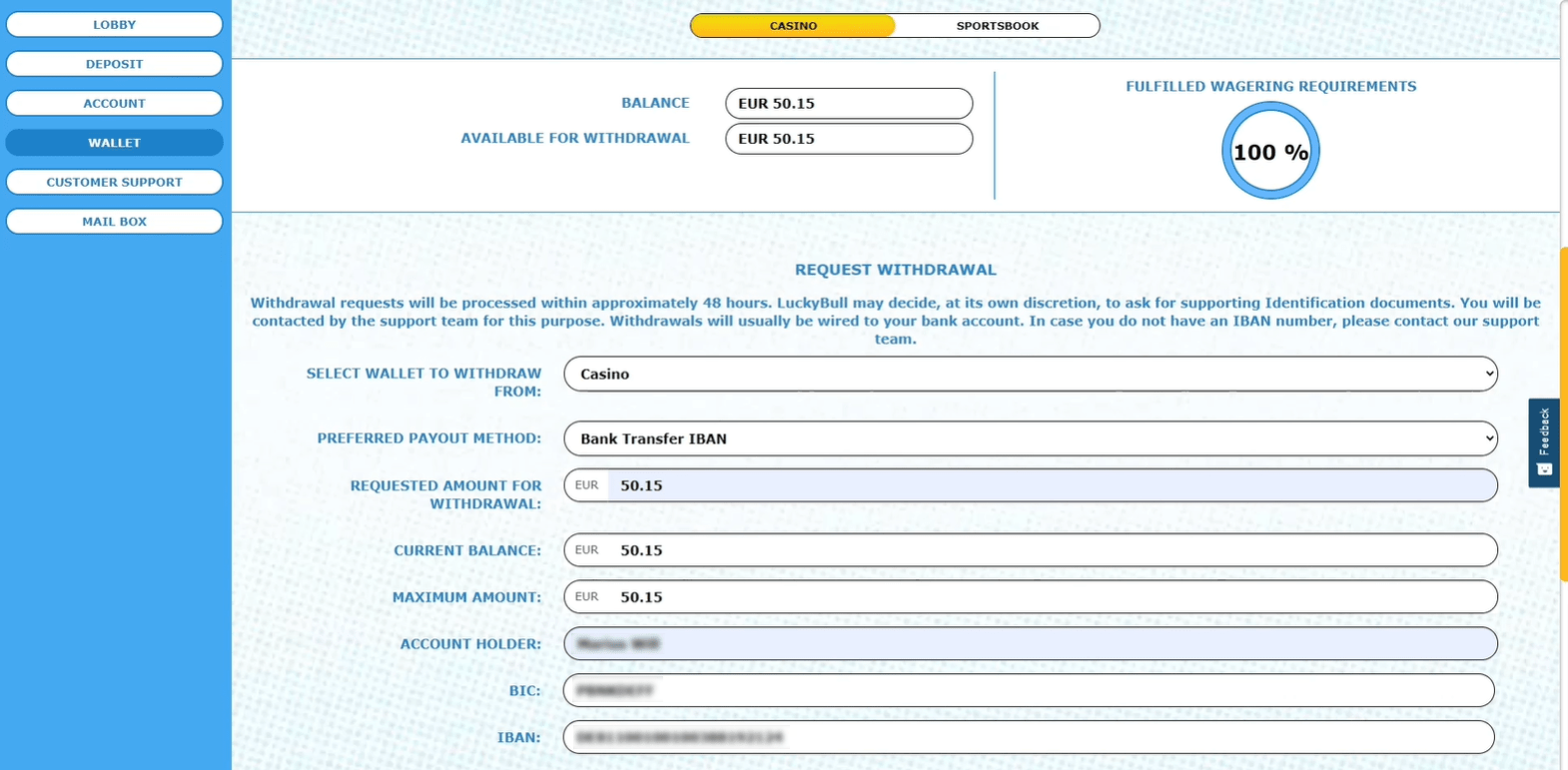 Conclusion
This was the entire procedure of R0UNDER's testing experience at Lucky Bull Casino.
To read our full review of this casino, head out to this page.
Do you have your own experiences of this online casino? If so, shout them out in the comments below and stay tuned for more From the Players, For the Players test reports.
From the Players for the Players
Back to articles