Back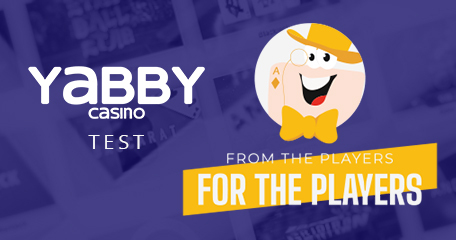 No KYC for Bitcoin Players?
The last month has seen a fair share of casino candidates with a strong potential to undergo our in-depth testing. After we uncovered some interesting facts in recent test reports, we turn our attention to another Bitcoin-friendly platform for online gaming, named Yabby Casino – a go-to hub with special offers for each day of the week that easily extend players' experience for a longer period of time.
If you're an avid follower of our ongoing project "From the Players, For the Players", it may not surprise you that our fellow tester Juggaloroscoe did the honors once again and went that extra mile in unveiling specifics about the brand.
Before we tell you in detail all about their savoir faire at US-friendly Yabby Casino, let's go through some preliminaries in a short recap.
As per usual, the tester must open an account, place a deposit, complete KYC if any, play a game or two to their liking, and withdraw winnings.
In a nutshell, the testing looked like this:
Tester of the day: Juggaloroscoe
Date of signing up is Thursday, July 29th 2021
After logging in, our tester cashed in a $200 deposit in Bitcoin
KYC was not required for Bitcoin withdrawals where depositing was also done in Bitcoin
Withdrawal request of $50 submitted on Friday, July 30th 2021
Payment of $50.20 in BTC (amount slightly higher than requested due to BTC value fluctuations) confirmed on the same day
Want to read some more? Let's see together how things unfolded for Juggaloroscoe at length.
Registration
Our tester registered an account with Yabby Casino on July 29, 2021. With regards to the registration process, there are three steps in total, requiring each new member to provide account information like username, password, and currency, address and personal details such as gender, birthday and phone number. The account is verified right after a successful email confirmation, so no hassle there.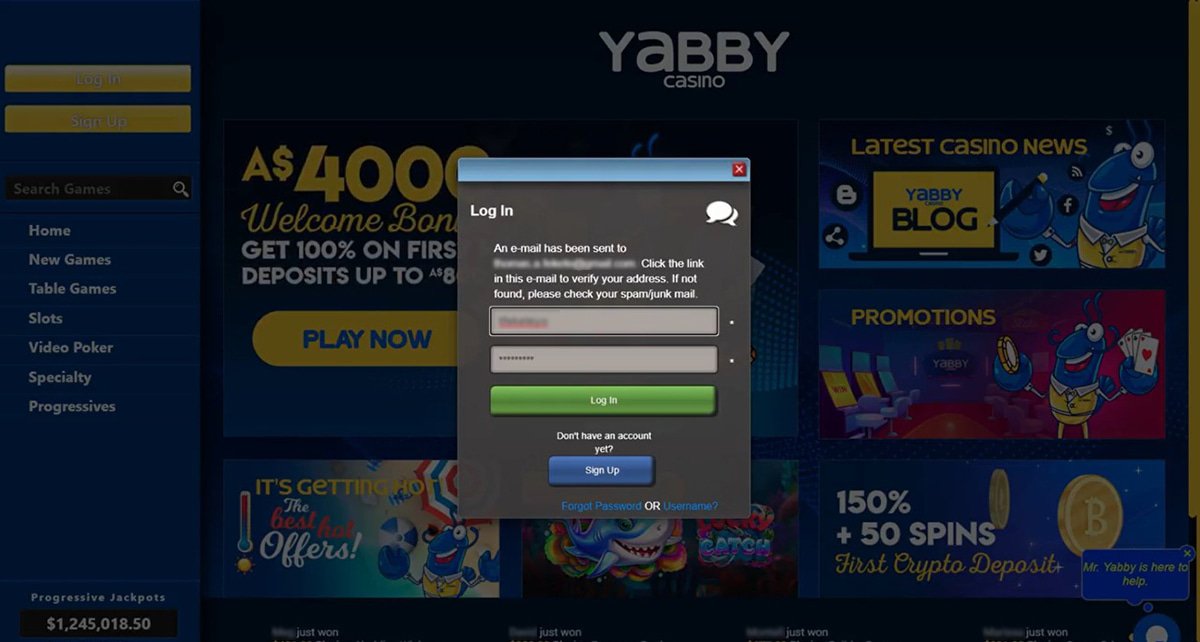 In just a couple of minutes, Juggaloroscoe was ready to visit the cashier and place a deposit in Bitcoin, so let's jump to our next chapter – putting some money into the bank.
Depositing
By hitting the yellow Cashier button in the upper left corner of the screen, you can enter the menu with deposits, withdrawals, coupons and other account related bonuses. There are several ways of depositing, including crypto, credit and debit cards. Juggaloroscoe opted for Bitcoin, and entered $200 into the box.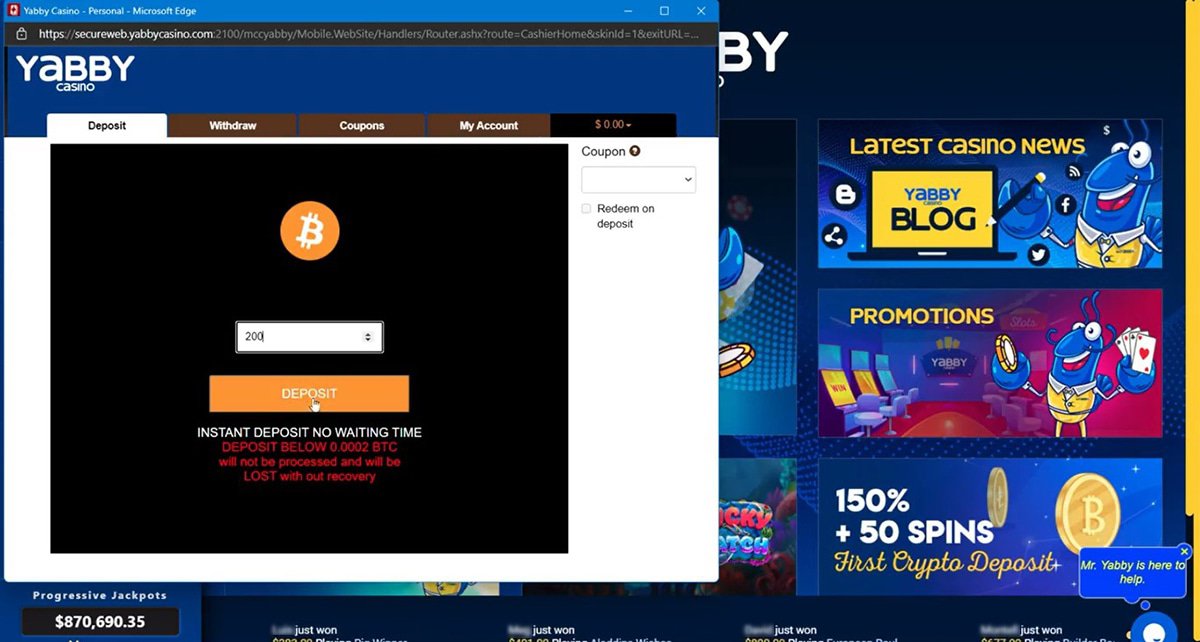 The protocol immediately takes you to the QR page with encrypted address where the amount is displayed in miliBits and the invoice status is automatically changed once the transaction is complete.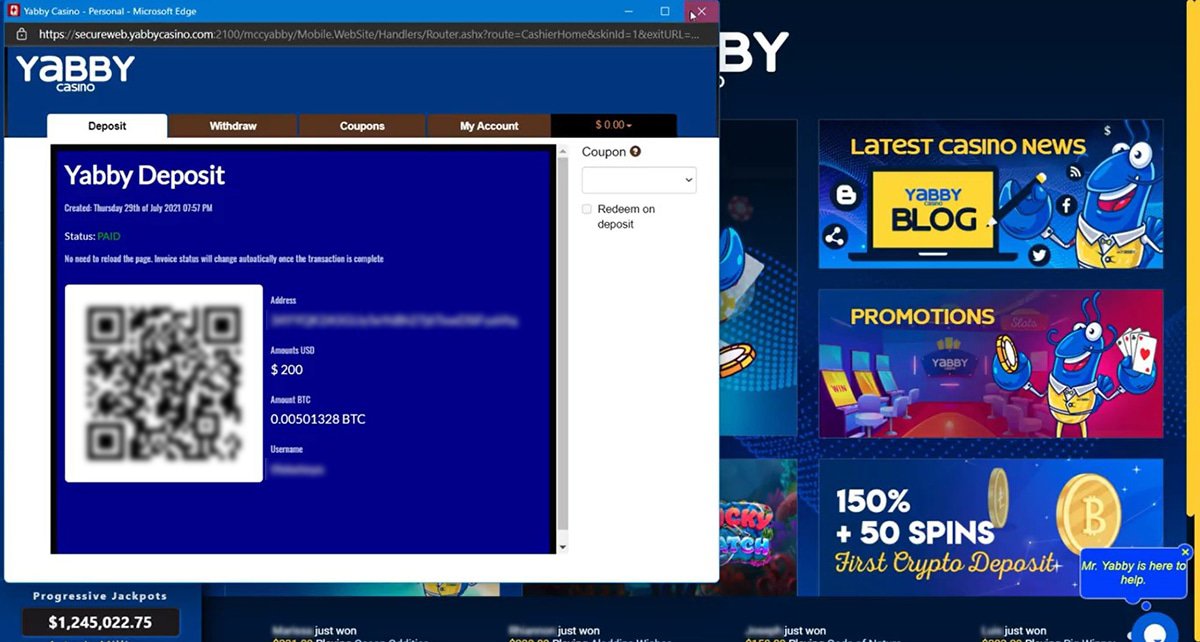 It goes without saying that the entire procedure went through without any problems, enabling out tester to repeat the login process, refresh the cashier and get ready for some gaming. The cashier was updated with $200.64 in a matter of 60 seconds, which easily takes us to the next part of our test – playing.
Gameplay
Yabby Casino is an RTG-powered playhouse, so Juggaloroscoe's first picks after topping up were classics like Coyote Cash and a pirate-themed slot from 2015. Before continuing though, our tester went through the Terms and Conditions/Deposits and Withdrawals section, reached out for help via live chat in regard to the minimum withdrawal.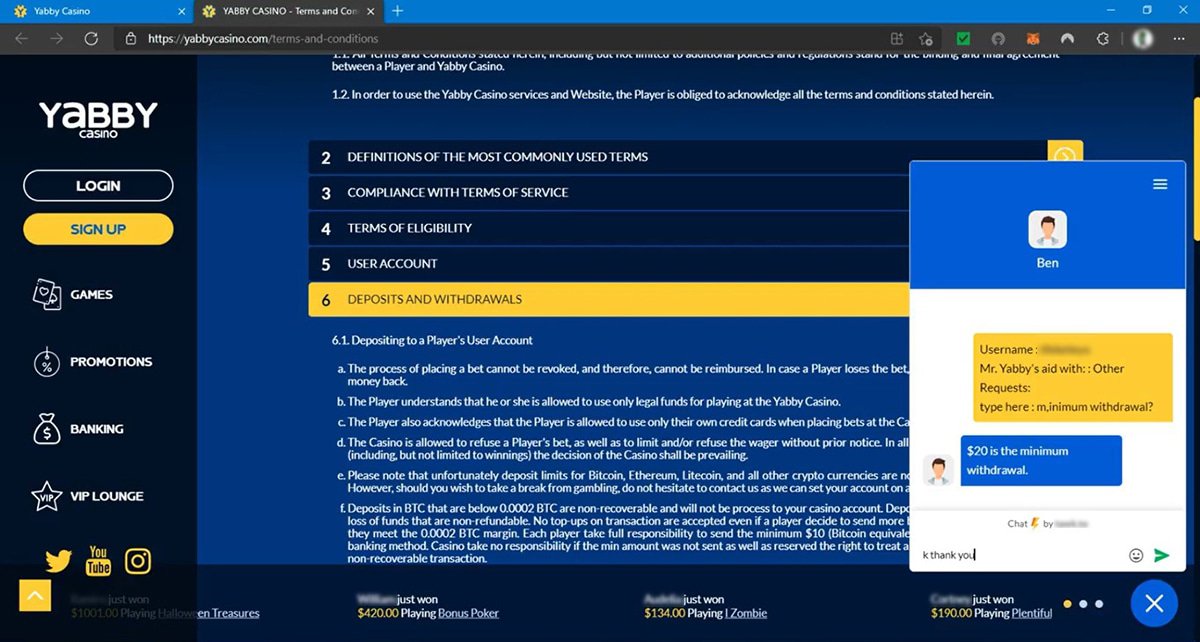 After receiving the answer that the minimum withdrawal is $20 which corresponds with the limit stated by the Cashier, it was time to get some reels rolling and make the most of RTG's 2013 hit with high variance, solid 97.5% RTP ratio and a random jackpot.
Since nothing worth bragging about happened over the course of 10+ minutes, chasing wins continued with Jackpot Pinatas Deluxe, a 2021 edition with complimentary spins and a win multiplier.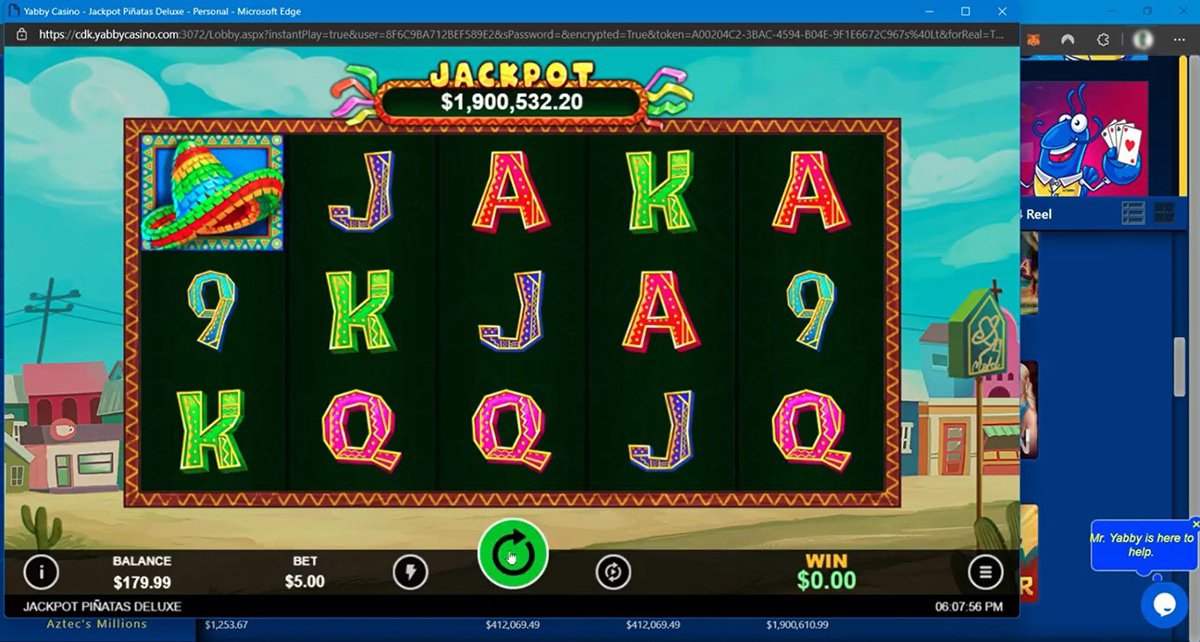 Our tester's gaming session also included Ghost Ship, Trigger Happy, 777 and Lucky Catch, the provider's most recent addition to its exemplary portfolio.
After playing their favorite selection of slots, it was finally time to initiate the next part of the test – cashout.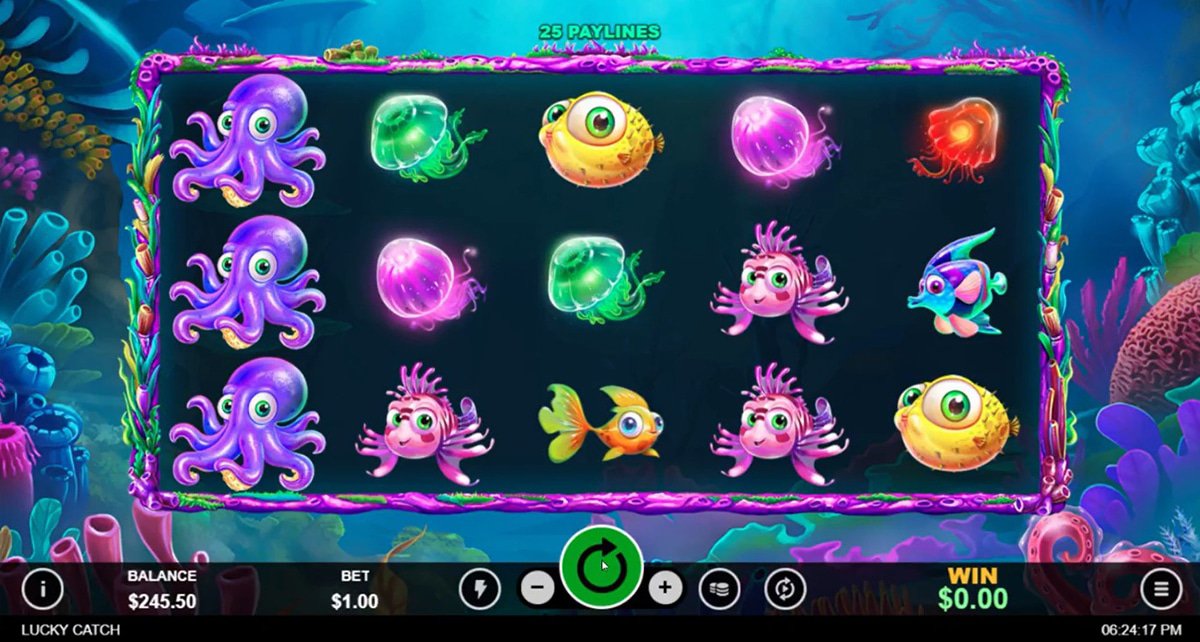 Withdrawal
Juggaloroscoe issued a payout request of the remaining funds from the cashier on July 30th, 2021. The soon-to-be-claimed amount was $50 in Bitcoin, and the cashout process should demonstrate the casino's processing times, additional fees if any, and KYC.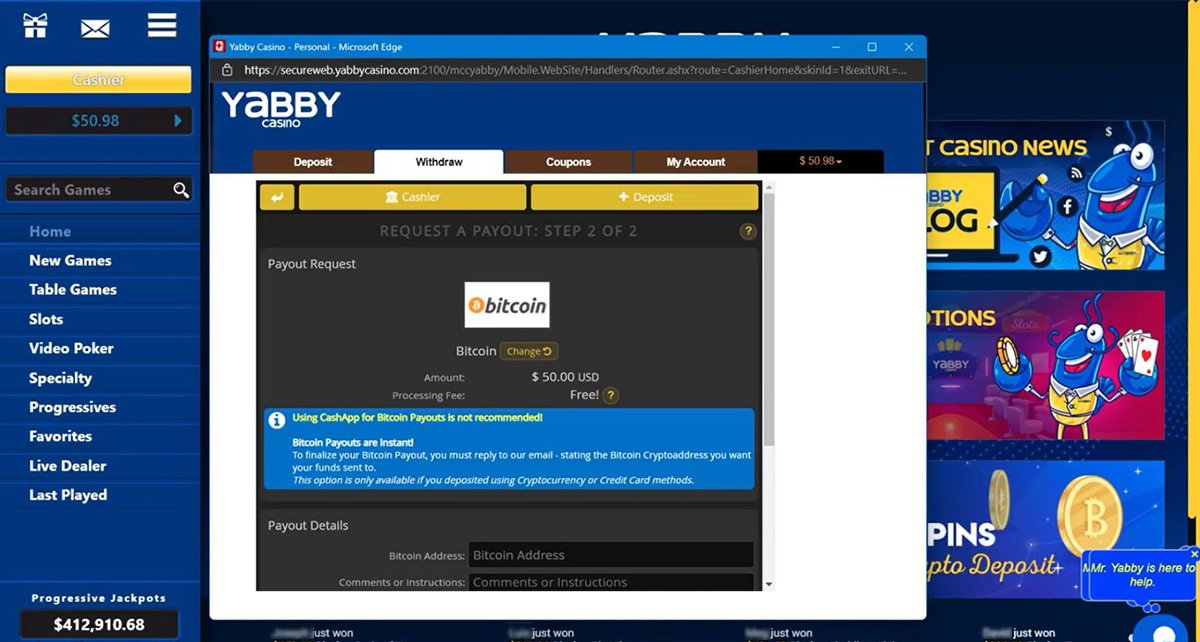 On that note, it's important to mention that Yabby doesn't require any identification or additional documents to be sent for Bitcoin withdrawals if the deposit was made in crypto. Ergo, our tester received the requested amount within the same hour on Friday, July 30th 2021 – no questions asked.
The payout request confirmation email landed at exactly 7:00 PM, requiring our player to reply with the crypto address to finalize the transaction.
Conclusion
This concludes another compact test, allowing you to learn more about Yabby Casino's depositing, KYC and withdrawal practice. It also marks another considerable chapter in our revolutionary project – From the Players, For the Players where players test online casinos and provide you with first-hand feedback from A-Z.
Hope you're considering to open an account here; we don't see a reason why not!
In the meantime, stay tuned for more reports coming soon.
"our tester received the requested amount within the same hour"
From the Players for the Players
Back to articles