Back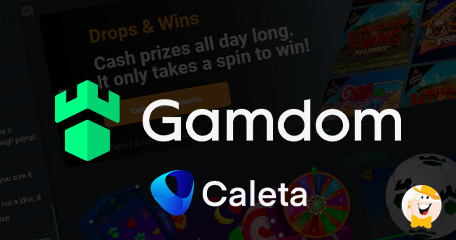 Slot Battles to Gives Players a Chance to Compete Against Friends and Build Strong Community
One of the most popular crypto-friendly casinos on the market, Gamdom, is back with more news this month as it now gives players a unique chance to compete against friends in Slot Battles thanks to Caleta Gaming, a game design and development company from Brazil.
The goal is to build a stronger community around the casino brand by presenting a new and social way for customers to enjoy their favorite slots.
Changing the Game
Almost one year after the launch of Gamdom Strike, an exclusive CS:GO-themed slot developed for the casino, where players can change team during the game and buy features, Caleta Gaming is starting a new game-changing project with the operator.
As of February 2022, Gamdom players will be able to challenge one another in dual-screen competitive Slot Battles, where contestants who win the most points in a certain set of spins or feature buys collect the other player's wager!
As one of the latest innovations from Gamdom Casino, a gaming platform powered by Caleta Gaming, Slot Battles will give customers a chance to play their favorite titles against friends and build a stronger community around the brand. It has been confirmed that the feature will launch with premium content from the provider, including classic slots like Gamdom Strike and Ocean Richies too.
"Our players are increasingly demanding social and engaging experiences, and traditional slots were not always delivering this," commented Gamdom founder, Felix Römer.
The founder also said that Slot Battles are a totally new concept imagined to change the way people enjoy great slot games. According to an early feedback from players, the project is showing positive results, and Gamdom will enhance this unique competition with new features over the coming months.
Co-founder and CEO at Caleta Gaming, Fabíola Jaeger, is proud to see Gamdom launching a pioneering new feature as the studio's content solutions are a perfect match for social gaming. The provider will continue to work closely with the casino in the future to ensure the new concept develops and grows.
Increasing Games Distribution in 2022
Months have passed since Gamdom joined forces with AffPapa, the ultimate directory dedicated to iGaming affiliates and operators.
Thanks to this and earlier agreements, the Bitcoin-ready site for online gaming now operates in more than 25 markets. AffPapa provides all the support and solutions needed to skyrocket the business and increase its visibility across multiple territories. This milestone cooperation has enabled Gamdom to build a notable footprint in the iGaming industry.
On the other side, Caleta Gaming is ready for continuous growth in 2022. The company has reached the goal of 90 in-house developed games and it intends to expand its presence in the LATAM market by the end of the year. An increased distribution of games developed by the studio is also one of primary goals in the upcoming period.
Source:
"Gamdom and Caleta change the game with Slot Battles", focusgn.com, February 15th, 2022.
"chance to play their favorite titles against friends"
General Gambling News
Back to articles