Back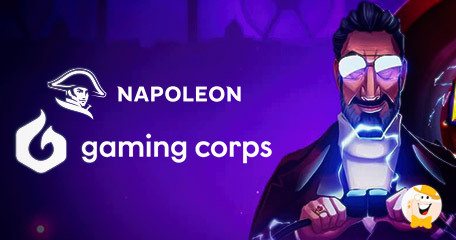 GamingCorps, even after several successful collaborations that the company has concluded recently, continues to expand its list of partners by teaming up with another big name – Napoleon!
The developer announced a new collaboration just a few weeks ago and said that it joined forces with the Gaming Innovation Group to launch its portfolio even further.
However, already in the first days of the New Year, the company again found a way to expand further – this time to Belgium!
Reaching New Audience!
Gaming Corps will strengthen its presence in Belgium by joining forces with one of the leading casinos in the region, Napoleon.
''Napoleon has built its reputation over its 40-year history to become the market leader''
As part of the deal, Napoleon will gain a wide range of incredible online casino releases that are proven to be one of the most popular among players across the globe.
If you decide to check out the operator's offering, you will be able to join your favorite entertainment with Plinko, Penalty Champion, Tikiz N Juice, Coin Miner and Jet Lucky 2, and other fantastic releases!
What a Deal!
Company representatives are confident this is another significant agreement...
Philippe Joos, Chief Product Officer at Napoleon, commented: "Napoleon wants to offer the most thrilling and responsible entertainment in a safe and protected environment. Partnering with Gaming Corps fits this strategy and we are thrilled to add its games to our portfolio. Our deciding players are always looking for great and innovative content so we do the same. In Gaming Corps, we've found a studio that offers multiple genres of games at a premium level with a strong roadmap for delivering more."
Danielle Calafato, Head of Commercial at Gaming Corps, said: "We're very excited by the initial results we're seeing with Napoleon and to have added another operator with such a strong reputation is a testament to the portfolio we have. This deal from start to finish has been a swift one and it has been a pleasure to work with the team throughout. Our thanks to Napoleon for their support and we look forward to our ongoing partnership."
The deal comes after the company took a step towards another ever-growing market, Greece, just a few days ago.
We believe that 2023 will bring many more surprises. We will wait with impatience!
Source:
"Gaming Corps Goes Live with Belgian's Leading Operator, Napoleon'', europeangaming.eu, January 19, 2023.
"The developer announced a new collaboration"
General Gambling News
Back to articles