Back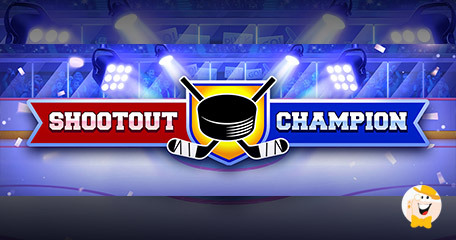 Players now have an exciting opportunity to step onto the ice and transform their shots into substantial victories with Gaming Corps' latest arcade sensation, Shootout Champion.
Crafted by the burgeoning Swedish game developer, this instant win game revolves around the thrilling world of ice hockey. Participants will face off against a towering goalkeeper, striving to illuminate the scoreboard with successful goals.
The objective is simple: accumulate as many goals as possible without encountering the goalie's defenses. Each successful goal contributes to the player's earnings, with the option to cash out after each triumphant attempt. However, if a shot gets blocked, the game comes to an end.
Players have the freedom to customize their experience, adjusting the goalie's difficulty level anywhere between 1 and 24. Naturally, the greater the challenge, the higher the potential rewards.
This release marks yet another significant milestone for Gaming Corps in what has already been a remarkable year. It follows the successful launches of titles like Raging Zeus Mines, Paddy's Payout, Luke E. Chance and the Book of Luck, and the most recent addition, Wild Woof.
What Was Stated
Connor Blinman, Head of Games at Gaming Corps, expressed his enthusiasm, stating that Ice hockey holds a special place in their hearts in Sweden, and he is thrilled that they now have very own ice hockey-themed game to offer. Their dedicated team of developers continues to put in tremendous effort to deliver exceptional titles, and they've once again created a game that he believes will provide players with an exhilarating experience.
Shootout Champion also provides operators the option of a highly branded product, strengthening the connection between the brand and its audience. He is eagerly anticipating offering Shootout Champion to partners as their portfolio continues to grow in strength and appeal.
He added:
"We are constantly aiming to expand and improve on our exciting portfolio of games as we continue to provide thrilling games for players to enjoy, and they can look forward to several more game releases we have in the pipeline for this year."
About the Brand
Gaming Corps is a dynamic and innovative software provider in the gaming industry. Based in Sweden, this up-and-coming company has been making waves with its cutting-edge game development. Their portfolio boasts a diverse range of titles, each showcasing a unique blend of creativity and technology.
With a keen focus on delivering engaging player experiences, Gaming Corps has successfully ventured into various genres, from arcade games to immersive video slots. Their dedication to quality and innovation is evident in every aspect of their work.
What sets Gaming Corps apart is their ability to tap into popular themes and trends, ensuring that their games resonate with a wide audience. Whether it's the thrill of an ice hockey shootout or the excitement of a mythical adventure, players can expect top-notch graphics, seamless gameplay, and thrilling features.
Source:
"Gaming Corps invites players on to the ice in Shootout Champion ice hockey game", europeangaming.eu, September 7, 2023.
"arcade sensation"
Casino Games
Back to articles