Back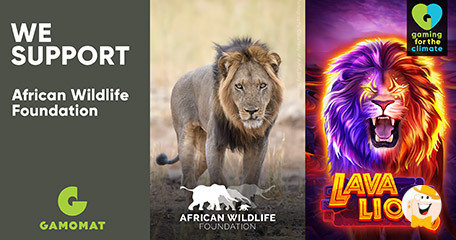 GAMOMAT, a prominent independent software developer specializing in slot games, has extended its Gaming for the Climate initiative by adding Lava Lions to the campaign, supporting the African Wildlife Foundation (AWF).
Lava Lions, initially launched in June 2021, has been a blazing success, captivating players with its stunning graphics that showcase Diamond Wilds, Volcano Scatters, and the high-paying stacked Lion symbol. The game now joins the Gaming for the Climate project, through which GAMOMAT donates a portion of its net revenues from select games to aid conservation projects.
The latest addition to GAMOMAT's lineup will contribute to AWF's mission of promoting regional conservation strategies and engaging communities in land-use planning and restoration efforts. A key focus lies in supporting land conservation and forest management. AWF also collaborates in managing protected areas to ensure long-term sustainability.
The funding from AWF aids conservancies in implementing patrol strategies to combat illegal wildlife trafficking. Furthermore, efforts are made to enhance landscape connectivity between Tsavo West and Tsavo East National Parks, as well as adjacent community-based conservancies and ranches, restoring overgrazed areas. Overall, the project aims to preserve a vast habitat spanning 42,000 square kilometers, which serves as home to approximately 430 lions.
What Was Said
Lava Lions joins Book of Oasis and Monkey Mania as the third title under the Gaming for the Climate initiative, fostering continuous support for climate protection. Since 2021, Healthy Seas has received revenue from Book of Oasis, while Monkey Mania has been supporting Borneo Orangutan Survival (BOS) since its launch last year.
Bragg operator partners can access Lava Lions through Bragg HUB, and it is also available for social gaming via Whow.
Speaking on the latest project, Dietmar Hermjohannes – Founder of GAMOMAT said:
"Our Gaming for the Climate initiative is continuing to have a positive impact in fighting back against the environmental decline we face today. It's with great pride that we welcome Lava Lions into the initiative and we expect this latest addition to contribute to the cause."
About
Gamomat is a prominent and well-known independent software developer specializing in the creation of high-quality slot games and casino content. Based in Germany, the company has gained recognition for its innovative approach to game development and its commitment to delivering engaging and entertaining gaming experiences to players worldwide.
The company's portfolio includes a wide range of slot games, each crafted with meticulous attention to detail, captivating themes, and visually appealing graphics. Gamomat's slots often feature exciting gameplay mechanics, including various bonus rounds, spins, and unique features that enhance the overall gaming experience.
Gamomat games are designed to be compatible with both desktop and mobile platforms, ensuring that players can enjoy their favorite titles on various devices, providing convenience and accessibility.
Source:
"GAMOMAT expands Gaming for the Climate initiative with Lava Lions", gamomat.com, August 1, 2023.
"aid conservation projects"
General Gambling News
Back to articles