Back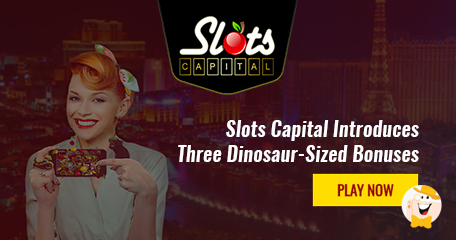 Witty casino blogger at Slots Capital, better known as Slots Lotty, has published an article about the venue's most recent promotional spree - Dinosaur Species and Jurassic Casino Bonuses. If you are a movie fan and good at simple math, it might be quite interesting to take a look at what she has to offer – after all, being caught up in the excitement surrounding movie blockbusters such as Jurassic World: Fallen Kingdom can only launch tantamount casino offers or maybe even THREE of them!
By claiming to have seen a dinosaur grazing in the swamp, naively calling it Thinkhesaurus, Lotty, funny as always, actively strives to her humorous side and confirms to have gazed another one sleeping all day. She named him a Dinosnore, but the real dilemma arose when she tried to name the third prehistoric creature and simply decided to borrow a well-known word, Thesaurus. Clever, isn't it? If that didn't crack you up, here's a new joke she came up with: "Why ­did the dinosaur cross the road? - because chickens weren't invented yet!"
Okay, I think we had enough of Lotty's humor in one article and it's time to announce three casino bonuses that are available until the end of the current month. Play from June 22nd to June 30th at Slots Capital and get a 150% bonus with coupon code, JURASSIC150 or increase the odds by collecting a 250% bonus, whose coupon code comes with a slightly different digit, JURASSIC250. Of course, if that doesn't rock your boat, maybe a 300% bonus will. For each of the bonuses, there is a maximum deposit of $500 with no maximum cashout, but you ought to pay attention to wagering requirements nevertheless.
Down at the venue, a wide selection of quality slots and table games from Rival is all it takes for you to fly, so if you own a desktop or a laptop, push the download button and enjoy the weekend. ROAR!!!!
"available until the end of the current month"
Promotions & Bonuses
Back to articles