Back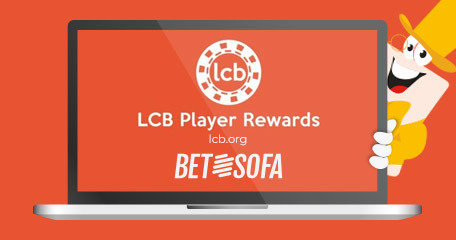 New Casino Available Under Member Rewards on LCB
As three new brands enter our list of participating casinos under the Member Rewards Program (Kakadu, Arlekin and Fairspin) last week, we are back to announce one more operator who gained its exclusive status on LCB.
If you're down for new purchases in our shop by adding more LCB Chips to your balance, join in as we celebrate the addition of BetSofa to the roster! This is no ordinary sofa, however, as it comes with more than 80 software suppliers, cutting-edge payment solutions, and a portfolio of over 4000 titles…
With that out of the way, let's get you all worked up and ready for the next batch of coins!
How to Find BetSofa in Member Rewards
Operated by XXL Services N.V. this gaming site is regulated by the laws of Curaçao, meaning that players from all around the world are welcome to hop on.
For those who are reading an article about Member Rewards for the first time, it's about helping you and other LCB'ers on our site to increase their stash of chips for making a first deposit and then redeem them by purchasing items in our shop.
To learn more about how LCB Member Rewards work, please follow the link and see why it is one of the best casino and player oriented programs on the internet!!!
LCB appreciates your contributions to our site and we really mean that. Almost every registered forum member (and so far there are 165,886 of them) has joined our special program at some point, which helped them receive copious amounts of LCB Chips that can be used for purchasing of items in our geo-located shop.
These tokens can be accumulated in several ways, however; either by making a first deposit at any of the participating online casinos (the most common way) or by contributing to our community with daily forum posts, comments, casino rating, slot rating and so on.
To qualify for more $3 LCB chips, register a new account at BetSofa Casino today by using our PLAY button on the review page. Once you make your first deposit here, you're on the way to getting a chip boost which can later be found in your profile on our site.
Deposit eligibility includes straight deposits, LCB exclusive deposit bonuses or welcome/sign-up bonuses. Here's how to proceed as a guest on LCB:
Select BetSofa from the list of participating brands or go to its review page
Hit PLAY to get redirected and register/login with the casino
Make a first-time deposit once you open an account there
Return to the LCB page and get prompted to register or sign-in
After logging in, return to our participating sites
Enter casino username on the claim form and click the 'Claim $3' button
That's all, folks!
Once you have some chips in your balance on LCB, browse our Shop and choose your favorite gifts or deals whenever you're ready!
Remember, you can choose between shopping vouchers, blue chip, or $25 worth of mBTC, Ethereum and other cryptocurrencies, including tangible gifts like mugs and T-shirts with our logo!
More Opportunities for LCB'ers
As you find your way to BetSofa Casino and our Member Rewards, give it up to multitasking as this platform allows you to play 4 different games at the same time. Namely, this gaming option is focused on lifting the excitement to a higher level.
Moreover, you will find a pretty nice welcome bonus here, including a variety of other bonuses and exclusive offers. There are plenty of other promotions, so make the most of them by collecting daily perks and enjoy the ride!
"tokens can be accumulated in several ways"
LCB News
Back to articles